Country dancing and the beach! These two do belong together! And there is Country dancing at the Gaslamp Restaurant & Bar! If you live in Long Beach or nearby and are looking to line dance, thank goodness for The Gaslamp! Located at 6251 Pacific Coast Hwy, Long Beach, CA 90803 at the corner of PCH and Loynes Dr. It is very noticeable along PCH surrounded by Belmont Park, Belmont Shores, Marina Pacifica, Naples, and Alamitos Heights. If you live in the Huntington Beach part of the coast it is about 10 miles north on Pacific Coast Hwy.– about a 15-20 min. drive.
Is the Gaslamp a good place to find country dancing? The Gaslamp has one night a week devoted to country dancing. It is a small but really great place to go country dancing. You can learn from the lessons taught and get to know some of the great people that make it their habit to dance there every week.
The Gaslamp isn't exclusively a country-western venue, so country dance fans will be looking at just their "Country Thursdays" for a chance to partner and line dance. Country Thursdays are DJ only. The Gaslamp does have live entertainment on Fridays–Sundays featuring, every Friday the great 80s cover band "Knight Ryder" and then great classic rock tribute bands every Saturday! And lastly, come out for Gasplamp's "Sunday Bruch with Live Music." Wednesday is a Karaoke night.
Tribute bands on Saturday Nights (either passed or still upcoming!)
Amy Winehouse Tribute
Led Zeppelin Tribute with "Spirit of Zeppelin"
Johnny Cash, Willie Nelson, Waylon Jennings Tribute
Tom Petty & Fleetwood Mac Tribute Bands
Journey Tribute
Selena Tribute with "The Como La Flor Band"
Elton John Tribute with Kenny Metcalf
Prince Tribute with "Erotic City,"
Iron Maiden Tribute with "The Iron Maidens
Rolling Stones & Rod Stewart Tribute with "Stones & Stewart"
Oingo Boingo Tribute with "Dead Man's Party"
And on 11/9 come out for their "90s Palooza" featuring tributes to the Red Hot Chili Peppers ("Red Not Chili Peppers"), Smashing Pumpkins, Blink 182, Green Day, Weezer and Seattle Grunge.

Also scheduled into next year is:
Metallica with "Damage Inc."
Bruno Mars with "24K Magic"
Depeche Mode with "Strangelove"
Guttermouth with "Authority Zero"
Rage Against the Machine with "Renegades of Rage & Toxicity"
Click here for more information and ticket or cover charge pricing:

Days Open/Hours/Admission
The Gaslamp Restaurant & Bar is open Wednesdays–Sundays. Wednesday 5 pm to 1 am, Thursdays–Saturdays, 5 pm to 2 am, and Sundays 10 am to 10 pm. On Wednesdays, there is NO cover. Thursdays there is no cover before 8, so come early to get in free! The cover after 8 is $5.00. On Friday and Saturday, the cover charge (or ticket price) varies with the tribute band featured. Check the ticket information link, but in some cases like Thursday nights come early to get in free.

Click here for more information and ticket or cover charge pricing:
https://www.ticketweb.com/events/org/156482?pl=gaslamp
https://www.facebook.com/events/680414482427123/
Country Thursdays at the Gaslamp!
But now, let's talk more about Country Thursdays! Again, come before 8 to avoid the cover charge of 5.00. Things get going before the lessons, so come out and get a burger and some drinks from the bar. DJ Michael Grant plays a great mix of country favorites–classics and current. Overall the subdued lighting creates a nice relaxing feel.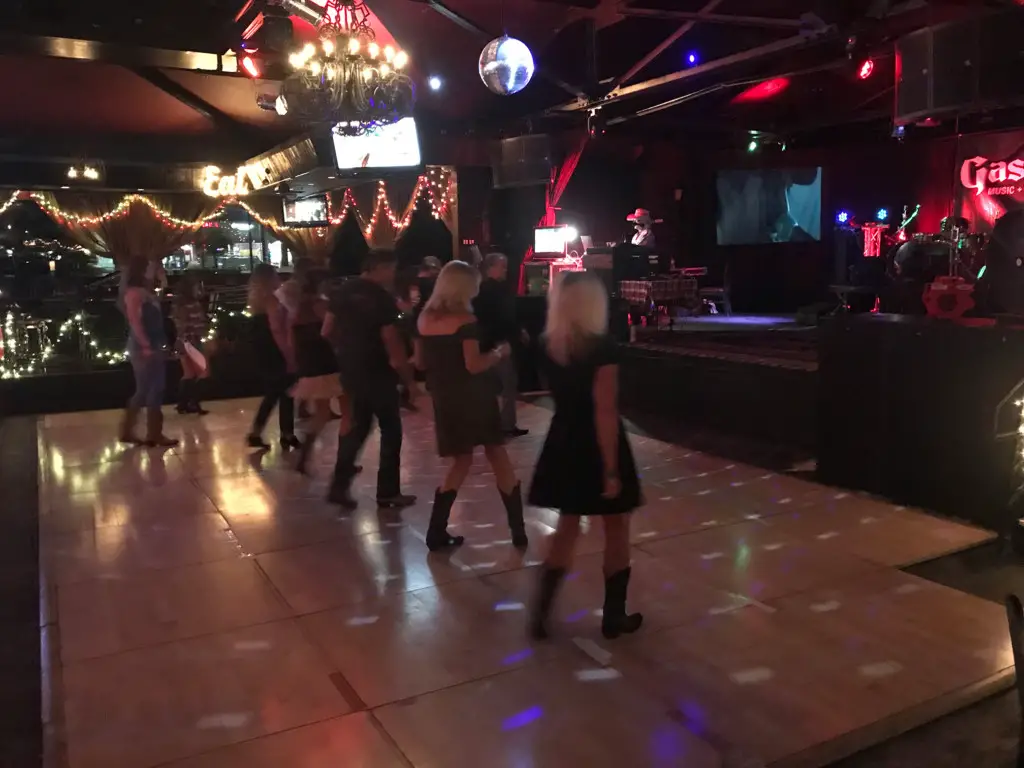 Lessons – Thursday Night, 7:00 pm & 8:00 pm
Cindi Massengale, who also can be found teaching over at Cowboy Country is the weekly teacher here. She's great! Cindy has taught country dancing for 7 years, (and has been an aerobics instructor for 25!) As she takes everyone through the steps she is very succinct and thorough with tons of repetition.
Her experience as a dance instructor is obvious to the small but appreciative crowd on Thursday nights at the Gaslamp. She will call out to everyone: "What's the most important thing in dancing" to which the regulars shout back "Fake it, 'til you make it!" Cindi typically teaches two beginner line dances on Thursday nights at 7:00 & 8:00.
My Night at the Gaslamp
I knew about some country dancing going on at this place called the Gaslamp, and I finally was able to check it out! Honestly, for some reason, my expectations for the Gaslamp were pretty low, but I ended up surprised at how cool it is.
It is a large restaurant with the bar as a center point. Then, right next to the bar is the dance floor and then against the wall the stage where live bands play on other nights, but also where the DJ sits for the Thursday night country night. The floor is a wood portable dance floor that does need some work. There's tape on the floor holding the section together and it is a little warped–I didn't mind this since it causes it to have some give. But the floor is a little sticky. I'm used to sliding around quite a bit while line dancing, but not Thursday! There is some baby powder on the floor in front of the stage to help get a little more slide.

The Thursday night I was there Cindi taught the new line dance "Mr. Lonely" to Midland's new song and then later "Drink in my Hand" to Eric Church's song of the same name. Both of these dancers were beginner level dances and pretty easy to pick up. Cindi did teach some alternative steps for the Mr. Lonely dance.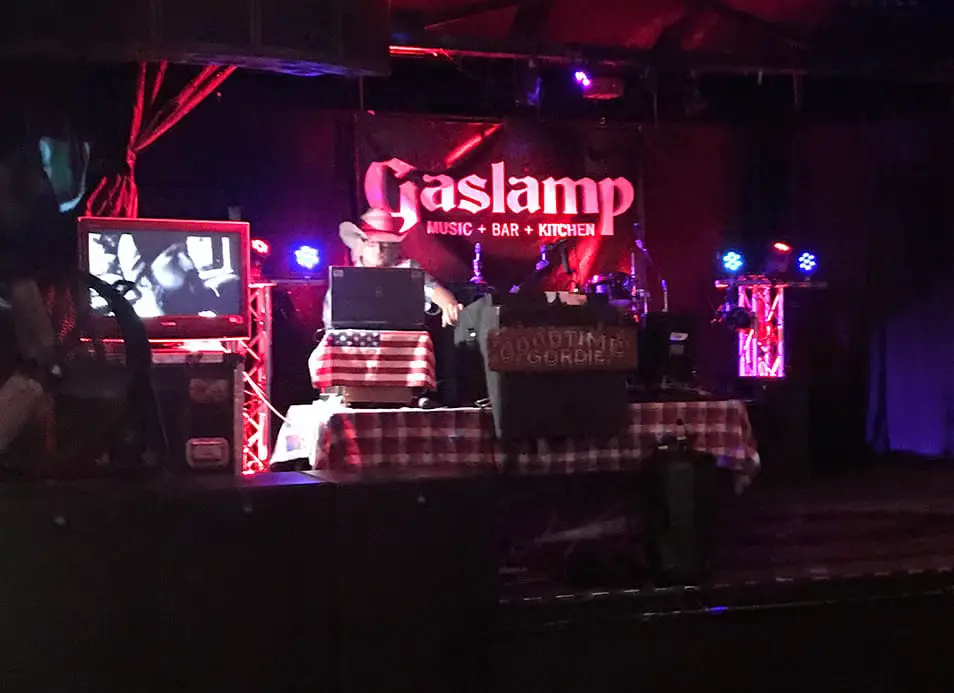 I had a great vegan cheeseburger for dinner and got in on lots of called line dances. The floor is also fairly small accommodating about 20 people max. Typically there are about 10-12 people. Every country dancing bar seems to have its regulars and I did really like the small intimate country dance family that seems to hang out there every Thursday. I met some very nice people and got to do a lot of dancing. Happy I stopped into the Gaslamp.

But, did you know…
Some may remember the Gaslamp as "Bentleys" with an actual Bentley car in the large front window. Well, that big space is now the live music stage where the DJ is set up and from which Cindi teaches the line dances from now every Thursday night. If you can come out you may, like me, promise to make it back sometime in the future!