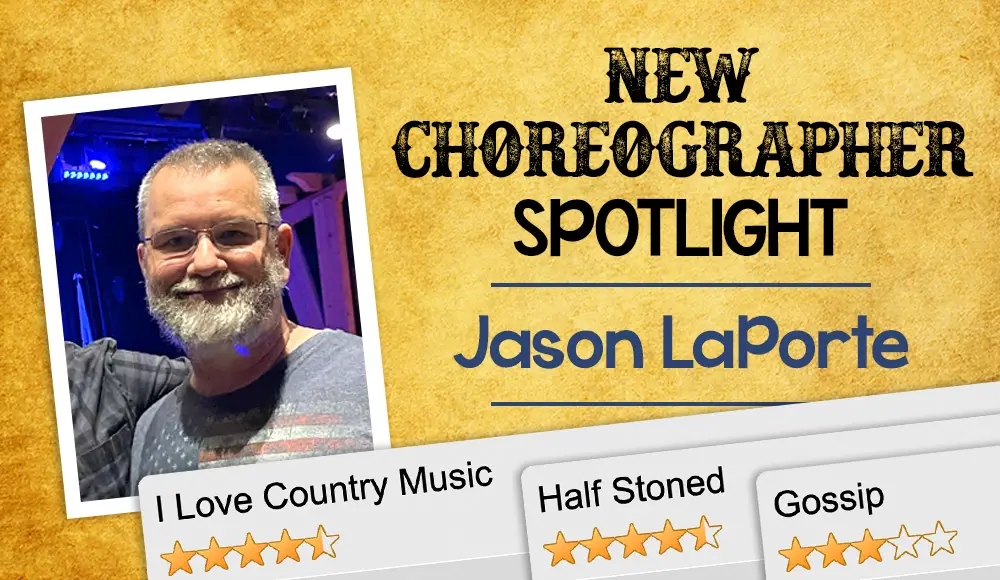 Since I've been line dancing at my local country bar there have been a handful of times when a well-known choreographer was "in the house!" I remember the first time at the Ranch when I saw Rick Dominguez there! That was exciting. Then Julia Wetzel stopped by a couple of times! But also to be noted is the Ranch's teachers themselves are also choreographers, Kerry Kick & Shelly Graham, having 26 dances between them!
But recently I was excited to find out there is now a new choreographer also in our midst! Jason LaPorte, who I thought was just another one of the great line dancers there, has also been trying his hand at line dance choreography! So, I'm excited to spotlight him today, and let you know about his dances and also a little bit about himself and his method or how he does it! I'll share the video and Copperknob links to the dances, but first, it's all Jason! So, take it away Jason…
Well, I am a native Southern Californian and have been a computer programmer for over 40 years. I live in Orange County with my beautiful wife Lily. My love for dance started after I watched the original Footloose movie when I was 19! I was so interested that I ended up taking a full year of dance classes at Orange Coast College and started dancing at local clubs.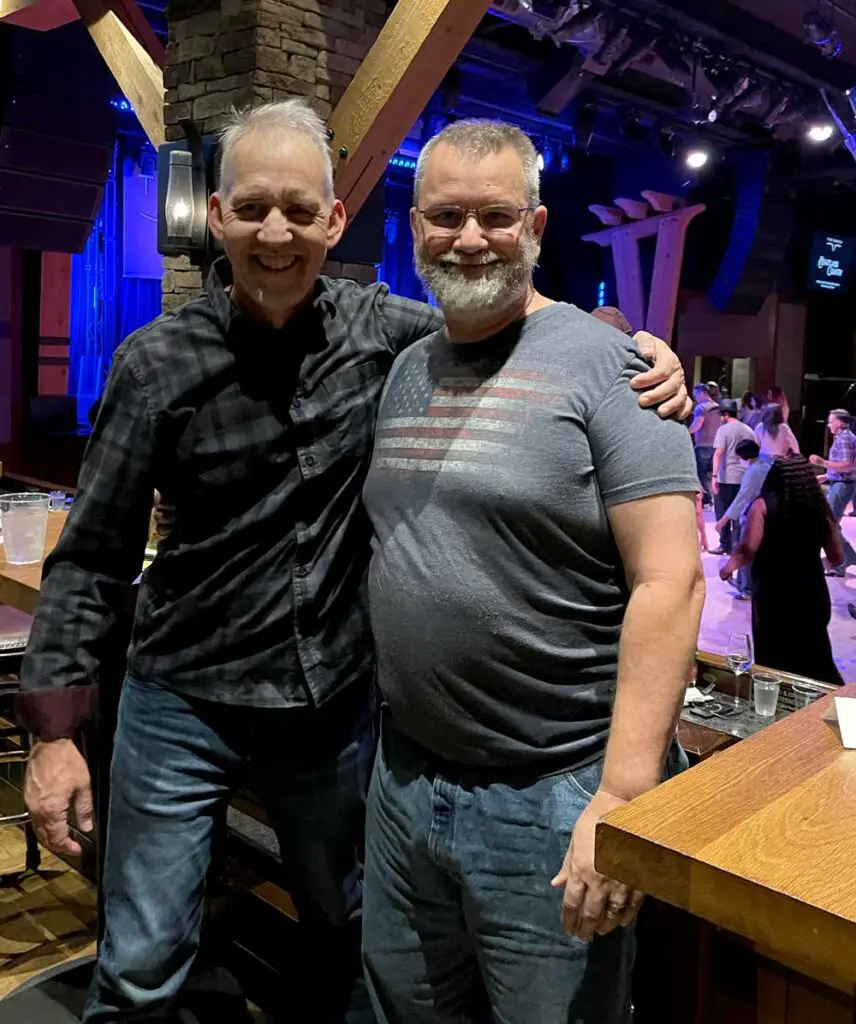 Jason & I at The Ranch Saloon, Anaheim, CA.
But it was in 1998 that I was introduced to Country Dancing. I took a line dance lesson and learned My Maria! Well, as you might guess, I was hooked and have been line dancing ever since! I started at Cowboy Palace in Chatsworth and then danced at Montana's in 2001, where I've danced regularly ever since. Besides California, I've danced in clubs in Oregon, Georgia, and Florida–in too many to list!
But, now I guess you could say my dancing journey has taken a new turn when last year, in June of 2022, I came up with my own choreography for the song I Love Country Music. Since that first one, I now have two more–Half Stoned and Gossip! I'm hoping people do check them out, and give them a try. I also now have a list of some other songs I'm interested in also doing some choreography for later down the road.
---
---
I Love Country Music
| | | | |
| --- | --- | --- | --- |
| Count: 48 | Wall: 4 | Level: Improver | Tags: 2 |
Choreography: Jason LaPorte, USA – August 2022
Music: I Love Country Music by Kane Brown
Step Sheet: Click here to download
Copperknob: Click here for Copperknob page
After learning and now brushing up on Jason's first dance I Love Country Music, I think improver is the right description. At 48 counts there's a little more to learn than a typical dance, but a lot of it is fairly simple and easy to get. I love the dance and think he did a great job with it!
While I'm no expert, I feel like Jason certainly has a talent for this, and hope to see more coming our way from him! For Jason's first line dance, I ask him about it and really wanted to sort of get an insider view of how people come up with dances.
He told me about when he first heard Kane Brown's song Like I Love Country Music, he decided to go out on a limb and try to do some choreography. The first steps that came to him were the 5 rocks and the turn when Kane sings "I love you like I love Country Music."  After that, he said the rest of the steps just fell into place!
He is thankful to local instructors Kerry Kick and Cindi Massengale who helped him write his first-ever step sheet! Click on the Copperknob link above to check it out! And if you happen to get a video of this dance where you dance, please upload it to YouTube and Copperknob. I know Jason will appreciate the support!
And one last fun note about the song I Love Country Music is the music video from Kane Brown for it. It was shot at The Nashville Palace, which in Nashville is THE line dancing spot! Click here for more info on the Nashville Palace and to see check out the video!
---
Half Stoned
| | | |
| --- | --- | --- |
| Count: 32 | Wall: 4 | Level: Intermediate |
Choreography: Jason LaPorte, USA – January 2023
Music: One Thing At A Time by Morgan Walen
Step Sheet: Click here to download
Copperknob: Click here for Copperknob page
As you hopefully can tell, I was very excited to meet Jason and find out about the first line dance he did, but then before I knew it, he was talking about his next one! Since then, Half Stoned has been taught locally several times and I really like it.
I talked to Jason about this second effort of his and he said when he first heard Morgan Wallen's song, One Thing At A Time, the steps just flooded into his mind. Within two hours, he had three-quarters of the song choreographed. Within a week, he had his first draft of the step sheet completed!
However, when he danced the ending, it actually seemed far too advanced for most dancers. So he set out to find a different ending that was easier, and he came up with 4! After polling his dancer friends of different skill levels that responded fairly positively to the different options he ended up keeping 3 of the alternate endings and has included them on the step sheet!
Note: For the Half Stoned dance, and the final one below (Gossip), even though the steps are simple, the dance is fast, which can make them a challenge for beginning and improver dancers.
I really like the feature on Copperknob for line dances that allows anyone to upload their demo or teaching video for a dance. When checking out the step sheet page for Jason's Half Stoned I thought it was cool to see that a group of dancers in Indonesia had learned Jason's version of the song One Thing at a Time and added their demo. Check it out below. I think it is a good nod to Jason that he is on a roll and should keep creating line dances for everyone to enjoy!
---
Gossip
| | | |
| --- | --- | --- |
| Count: 32 | Wall: 4 | Level: Intermediate |
Choreography: Jason LaPorte, USA – March 2023
Music: Gossip (feat. Tom Morello) by Måneskin
Step Sheet: Click here to download
Copperknob: Click here for Copperknob page
But wait, Jason wasn't done! When I first started talking to him about doing this blog post to highlight his dances, he told me he actually had a third one in the works! He finished it in March and here it is!
One thing I thought was interesting about it was it is for a song from the same artist that did the song I'm Begging You, which many of us know about because of Roy Verdonk's great line dance to it. In the case of this dance, a friend of Jason and his wife Lily had asked him if he could create a line dance for Måneskin's song, Gossip! 
At first, he wasn't really sure he would be able to do it, but he gave it a shot.  He told me that by the second chorus, the dance steps flooded into his mind and within 2 hours, the first draft of the dance was written.  It only required one slight change to finalize the step sheet.
Check out Jason's demo for line dance Gossip below!
---
Thanks for checking out Jason LaPorte's line dances. Hopefully, we'll see more from him! He's got that list of songs he's anxious to dance to, of course. I'd also like to do more "Choreographer Spotlights" in the future, so if you have a choreographer you'd like to see spotlighted let me know! I especially like the idea of supporting and promoting a new up-and-coming one! Also, check out another choreographer spotlight that I've done for Julia Wetzel here!
---