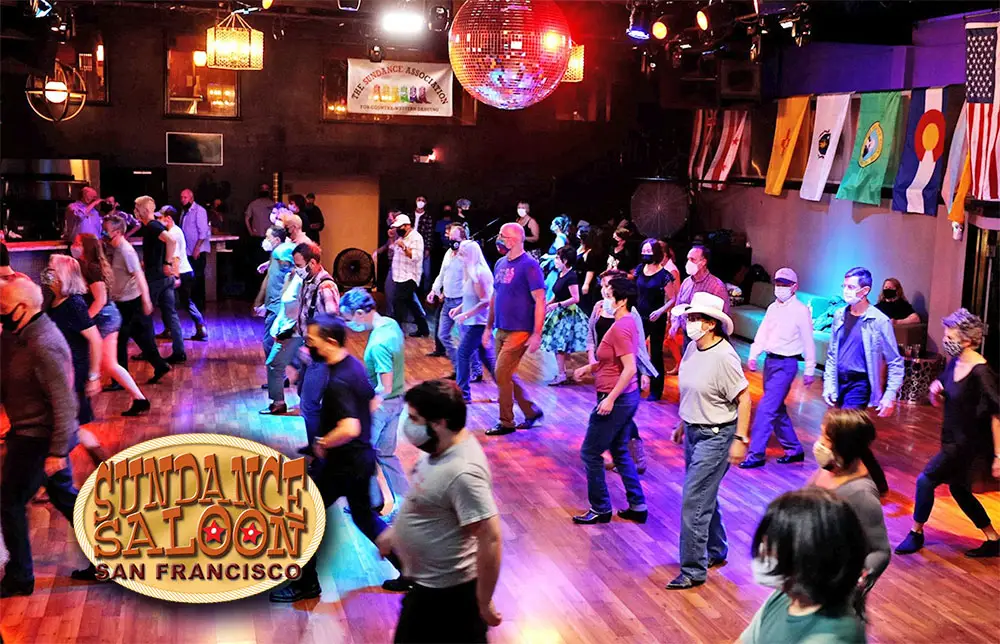 If you are in the San Francisco Bay Area and want a good country club to experience, I definitely recommend that you check out the Sundance Saloon. This dance venue is certainly a must-visit for those looking for a good country dancing hot spot in one of the most vibrant cities in California. But what exactly makes Sundance Saloon so worthy? 
Sundance Saloon is an amazingly diverse country dance club, providing country-western dancing for the LGBT community and its friends. Founded in 1998 as a non-profit run entirely by volunteers, Sundance Saloon offers country dancing with its different themed nights and even dance classes.  
In the rest of this article, I will go over what you should expect when visiting the Sundance Saloon, their dancing schedule, and how you can become a member of this fantastic establishment. Let's get started!
---
Country Dancing at the Sundance Saloon in San Francisco
When it comes to dancing at the Sundance Saloon in San Francisco, you should know a few things. Firstly, this dance club is known for its extreme diversity, welcoming people of all ages, religions, orientations, and walks of life. It is an LGBTQ-friendly country bar. Furthermore, they promote an extremely friendly atmosphere of acceptance and fun. 
The dance floor at the Saloon is pretty sizable, and they frequently offer outdoor dancing as well. The space is roomy, and the atmosphere is exciting, giving you plenty of reason to let loose. 
The dress code is listed as casual attire, though it's widely known that many patrons opt to dress up in complete cowboy get-ups when they dance. Sundance also recommends that people wear smooth-soled cowboy boots to better be able to slide across the floor when dancing. I love that they say this! This is one of the first things to know about getting out on a country dance floor! 
If you don't quite know how to do any country dances, you shouldn't fret as Sundance Saloon also offers dance classes for beginners. 
---
Sundance Saloons Dancing Schedule
Sundance Saloon is currently only open for two days a week for line dancing and Two Stepping. However, they do offer other dance-related events throughout the week. 
Their standard dancing schedule for "Two-Stepping & line dancing" is as follows:
| | |
| --- | --- |
| Sunday | 5:00 pm-10:30 pm |
| Thursday | 6:30 pm-10:30 pm |
It's important to remember that you will need a valid ID and be 21 or older with proof of vaccination to get into the club. 
---
Special Themed Nights at Sundance Saloon
Glow night. A glow-in-the-dark-themed dance night where guests are encouraged to wear fun outfits that will light up under the dim light. 
Sundance Saloons anniversary party. A massive party that is free to attend celebrating Sundance's 24 years of country dancing.
Sundance Stompede. A four-day western-themed dance party that happens once a year and includes a ball, fun dance nights, and dance workshops. 
Sundance Pride Dance. A fun-themed dance night supporting the gay pride movement and celebrating their accomplishments. 
Beach party. A fun night where everyone is encouraged to show up wearing swim attire to dance that night. 
Member appreciation night. A dance night specifically designed to thank all of its members for helping make Sundance such an incredible place. 
The Castro street fair. A fun night of dancing out in the street with friends. 
Halloween Party. A fun Halloween-themed dance night complete with a costume contest. 
The Holiday Ball. A ball specifically designed to celebrate the holiday season is considered the most memorable event of the year. 
As you can see, this dance club is constantly throwing fun and extravagant dance nights that are certainly worth adding to your dancing bucket list. 
---
Sundance Saloon Dancing Classes 
As far as country dance lessons go, Sundance offers regular dance classes on the days they are open. So if you are looking to learn how to line dance or Two-Step, you are in luck on Sundays and Thursdays. 
You can have a dance lesson on the days and times that follow:
| | |
| --- | --- |
| Sunday | 5:30 pm-7:15 pm |
| Thursday | 6:45 pm-8:00 pm |
Sundance also occasionally offers dance class workshops, one of which you can find during their Sundance Stompede. As of this writing, they were currently offering a 3-week dance series where you will participate in a program to learn the West Coast Swing. However, it's essential to register as far in advance as possible since these classes fill up quickly!
But besides this, this fantastic country dance club always offers new fun dance classes and experiences, so you should frequently check in to see what they are currently offering. A great way to do that is by checking out their Facebook page. Also, check out their website for more information about the lessons and their great list of all the instructors!
---
---
How To Gain a Sundance Saloon Membership
If you genuinely love the atmosphere at the Sundance Saloon, you might want to consider becoming one of its members! As I previously stated, Sundance is a nonprofit organization, and the admissions they charge guests for entry hardly cover their expenses. They offer several membership packages as a way to honor people who help fund the club with donations. 
By becoming a member, you will receive perks such as:
A membership card.
A quarterly newsletter.
Access to membership meetings.
Free admission to the member appreciation dance night.
A special discount on the saloon. 
Different levels of membership include:
| | | |
| --- | --- | --- |
| Membership Type | Perks  | Cost |
| Turquoise | Basic perks. | $40-$59 |
| Copper | Basic perks, a free pass to the Sundance Saloon. | $60-$119 |
| VIP Silver | Basic perks, two free Sundance Saloon passes, and a member notepad.  | $120-$299 |
| VIP Gold | Basic perks, five free Sundance Saloon passes, member notepad, Hoedown admission or discounted Stompede pass. | $300-$599 |
| VIP Diamond | Basic perks, ten free Sundance Saloon passes, a member notepad, and a Sundance Stompede pass. | $600-$1499 |
| VIP Platinum | Basic perks, VIP annual pass to Sundance Saloon, member notepad, VIP pass to the Sundance Stompede | $1500 or more |
As you can see, there are quite a few member options if you plan on frequenting this dance club regularly. However, if becoming a member isn't entirely within your budget, no worries, as you can still just pay the regular admission cost of $7. Pretty cheap, by a lot of cover charge standards out there!
---
Final Thoughts 
Sundance Saloon is one of the most exciting country dance clubs in the San Francisco area and is a MUST if you love country dancing. The extreme diversity and the kind atmosphere are unique compared to many dance clubs and often leave its patrons coming back for more dancing excitement! Check out their website for more!
---
Sources 
---