Getting a pair of boots for the dance floor really isn't rocket science! So, you can relax this will be easier than you think!
The main thing is to limit your choice to designs with leather out-soles. The reason you need the leather sole is to be able to turn easily on the balls of your feet and slide. A rubber sole is going to cause friction and put the brakes on too much.
For me, my entry point into wearing western boots was dancing, so I started here. I now know most people are buying boots for actual work or to complement their look. Hence many boots have a rubber sole for just plain walking. So, be sure not to end up buying one of these.
The following are some recommendations for some good boots for dancing that have the leather sole, but are also made by reputable brands, and have the right price point. The right price point is not too high, not too low. Most of these are at a mid-range price, I think this is a good strategy for buying boots. Affordable, comfortable, and will last a while. But I have included some higher-end boots as well.
Best Men's Western Boots for Country Dancing
Ariat Men's Circuit Patriot Western Boots – Square Toe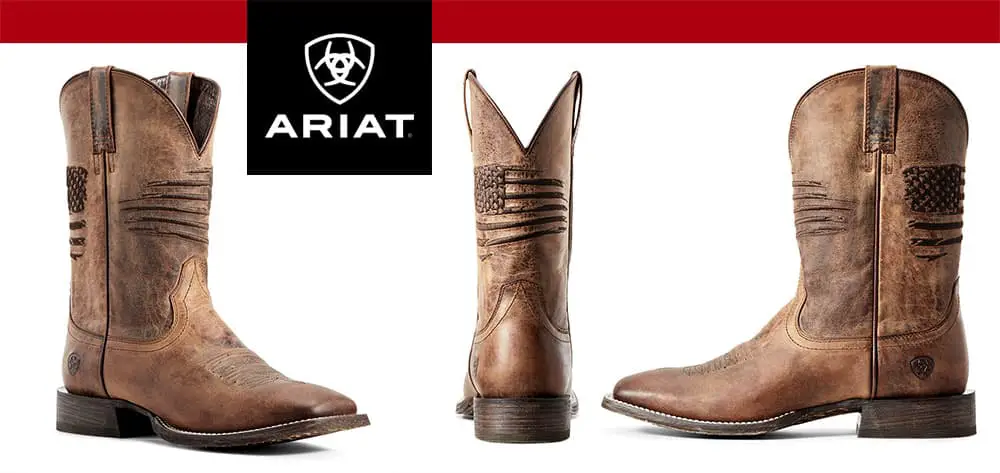 My first suggestion for some solid cowboy boots for country dancing is the wildly popular Ariat Men's Circuit Patriot Western Boots available on Amazon. Many 4 and 5 star reviews; people love the comfort of these boots, the distressed brown look as well as the flag detail.
The big advantage of going with a square toe is comfort! If you spend 3-5 hours dancing at your local saloon you will want to be comfortable. The wide toe box enables your foot to spread out. Your foot isn't being squeezed the whole time you're wearing the boot!
With the wide toe box, it also stands to reason you will find a boot that fits you faster when trying out square toe boots. So, especially if you want to purchase your boots online, if you like this look you may have a great chance of nailing it quicker.
Stockman heel
American flag design on shaft
Leather outsole
Pull tabs
Square toe
Full-grain leather
Leather lining
If you're not a fan of the square toe boot, no worries scroll on!
---
Moonshine Spirit Crazy Horse Vintage Western Boots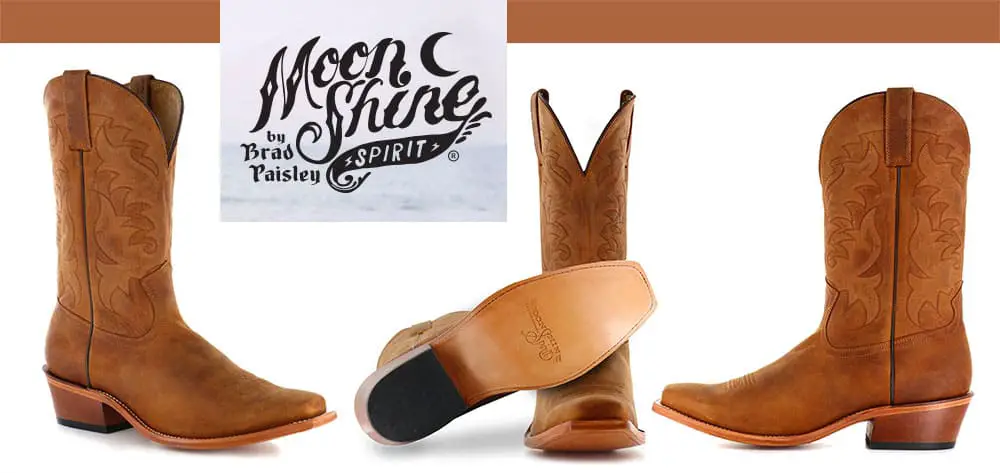 My second recommendation is a pair of boots that really caught my eye for looks and after looking into it had great reviews as well. The Moonshine Spirit Men's Crazy Horse Vintage Western Boots available on Amazon. The Moonshine Spirit is a celebrity brand by Brad Paisley that has been around for several years now. These have a leather outsole and receive largely 4 and 5-star reviews.
As you can see from the photo, they are just a beautiful pair of boots. It is a boot line is that it is made in Mexico by Bootbarn and is their exclusive brand for Brad Paisley. I personally love the light look of this boot, but if it is too light for you, a leather conditioner can be applied to darken up. The great reviews indicate they are appropriately priced and will hold up well over time.
Distressed full-grain honey leather
12″ Shaft Height
Tonal stitching and scroll pattern
Fashion square toe
Leather outsole
Cowboy heel
Leather lined
Thermoplastic heel counter
Cushioned leather insole
---
Cody James Men's Pirarucu Exotic Boots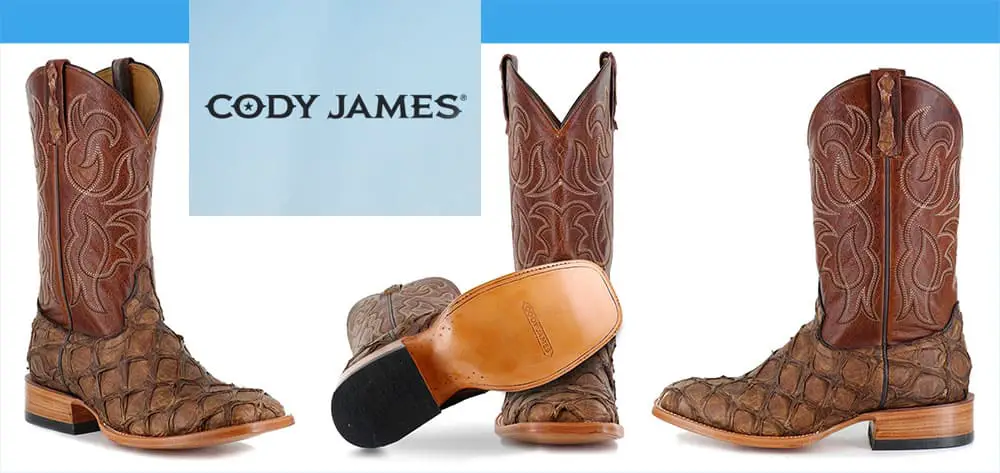 My last pick for a good pair of boots for dancing is something a little more exotic (and expensive), but if you are wanting something a little different and want to stand out here are a pair of really great head-turning boots! The Cody James Exotic Boots are available on Amazon.
Pirarucu is a type of fish with large scales found on the Amazon river. These boots are very sought after and in addition to the exotic look are extremely soft and comfortable. These have leather outsoles, but also have the broad square toe like the first boots on my list.
Full-grain leather and pirarucu leather
12″ shaft
Embroidery on the upper shaft
Broad square toe
Pirarucu overlay on pull tabs
Leather lining
Roper heel
Leather outsole with rubber heel cap