Finally, you got your boots and you googled "best western shirts for country dancing" and you've landed here again. Welcome back! Consider bookmarking the site that way you can have everything country dancing at your fingertips.
Country dancing is for everyone! It brings a smile to my face when I see new people join the fray. As far as the outfit is concerned, you're looking for a combination of function and fashion. As usual, my list contains recommendations for any budget.
Let's start with the women and work our way to the mens shirts.
Great Western Shirts for Women on the Dance Floor
Now don't feel intimidated if this is your first rodeo. It's okay if you don't know your Boot Scootin' Boogie from your Elvira. At least you'll look the part, feel comfortable, and enjoy your time. That's what country partner & line dancing is all about, having fun with the community.
That being said, nobody wants to look out of place. These shirts will scream "I belong" and you'll fit right in with the country dance floor scene. The first up is…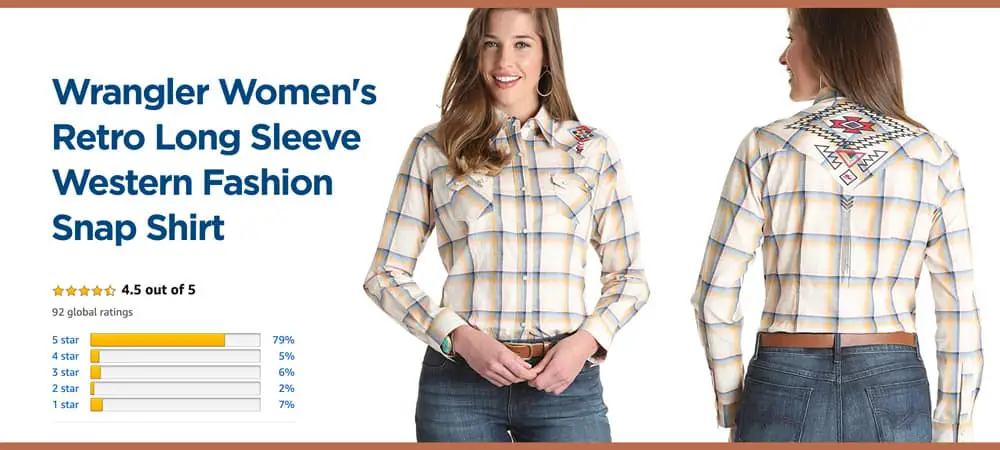 Wrangler Women's Retro Long Sleeve Western Fashion Snap Shirt is 100% cotton. That's important because of the many benefits of the cotton material. Cotton is a great option for hot weather or dancing the night away. The material is soft, natural, and breathable – which is important for dancing as you want to be comfortable.
I like the look of the Ivory plaid color the most. The shirt has two front pockets that give it the western look. It's a nice button-down shirt with a large variety of styles to choose from. But is such a clean-cut formal look is not for you, check this out….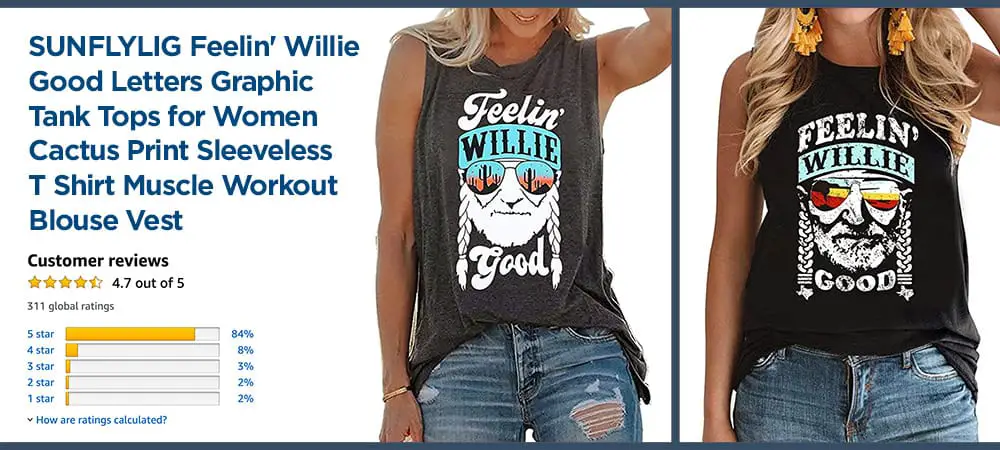 Feelin' Willie Good Willie Nelson Vest Top Casual Tee pairs with jeans, shorts, leggings or a short skirt. It's a cotton blend that's lightweight and gives you a lot of room to breathe.
Women's tank tops are another country staple. This one has a silly version of Willie Nelson's face on it, which is hilarious. The shirt will definitely attract attention with the face of the musical icon Willie Nelson sporting his signature look.
Cute, Versatile Tops (Some Dance Floor Favorites)
Third up we have a graphic tee. You can never go wrong with a graphic T-shirt. It's a great fit for the country dancing scene and is a staple of country culture. The cotton blend material makes the shirt lightweight and stretchy. Great for long dance sessions and an active night out with the gals.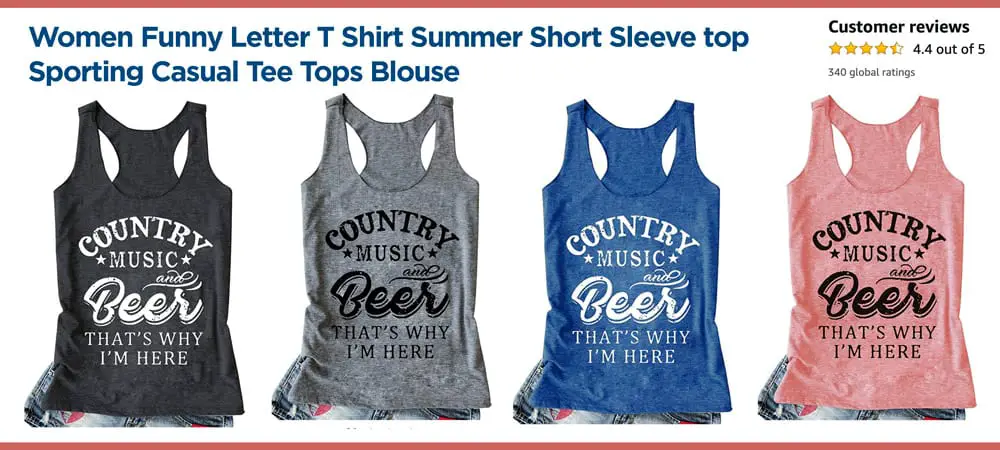 LANMERTREE Country Music and Beer That's Why I'm Here T-shirt has all the spunk of a great graphic T-shirt without attracting much attention. But if someone does read your shirt, they might get a kick out of it because of the funny answer it gives to "why I'm here." It makes a great gift and is very affordable–you can't go wrong with this one!
To complete your look, match the shirt with a pair of jeans or shorts, boots, and maybe some accessories. But keep wearing this tank top anywhere you like! Let your friends and family know about your love for country music and dancing!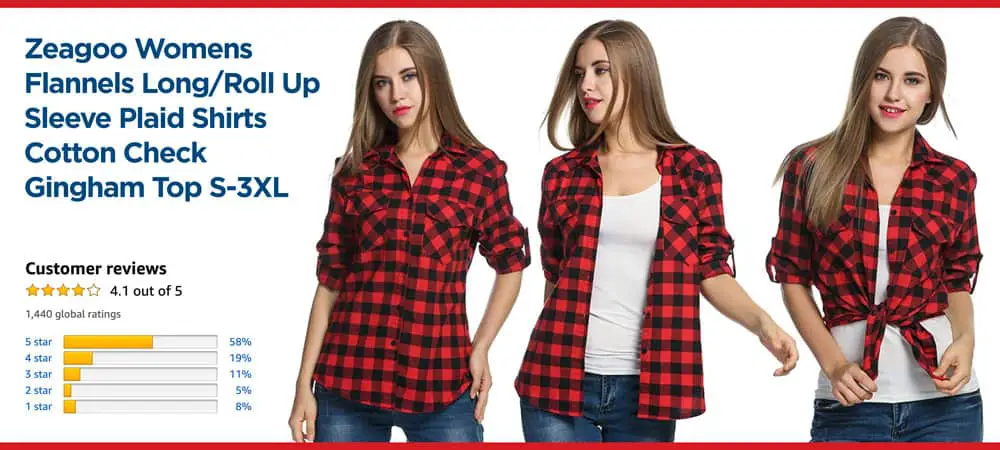 Zeagoo Womens Flannels Long/Roll Up Sleeve Plaid Shirt. This shirt tends to run a couple sizes smaller, so if you like a loose fit order 2 sizes bigger. Wearing the shirt will make you look more youthful and compliment your contoured figure.
Great for showing off your shape and attracting attention depending on the color you choose. What's even more amazing is how versatile it is. You'll look slimmer and more attractive in different weather, scenery, and temperatures.
Whether you're wearing a dark auburn hat with matching boots or you love to accessorize, Zeagoo's flannel has your back. Wear it with anything, anywhere, and everywhere… it just looks that good.
Great Shirts for Dancing for Men
As we've stated in the What to Wear Line Dancing: A Practical Guide, you really want moisture-wicking apparel. And that's never been more true than when a big man steps onto the dance floor and haves himself a good time. Which – there's nothing wrong with at all – but sweat on the dance floor could be harmful.
Dancing involves a lot of movement and quick motion that can really make a man perspire. So fellas my recommendations for you is to stay covered. That means no tank tops, cotton shirts, long sleeves, and a thin undershirt as the first line of defense.
Going Full Cowboy on the Dance Floor!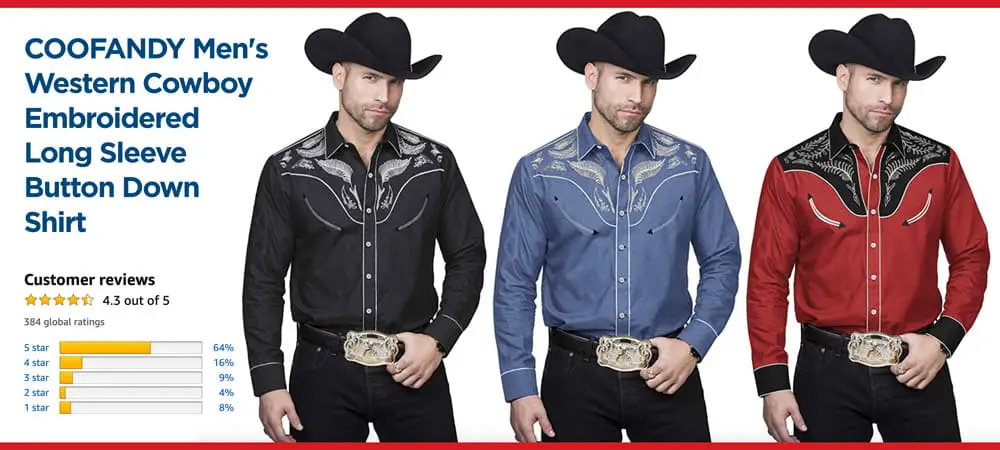 You can go full-on cowboy with the Men's Western Embroidered Shirt by COOFANDY. The western cowboy men's shirts are made of 98% cotton with a really nice embroidered floral design. It has long sleeves and screams 'wild wild west'! The slim fit cut will allow you to tuck the shirt into your bootcut jeans or chinos.
You're going to turn heads in this eye-catching shirt. And when you step on the floor all the ladies will be itching to see your moves. Trust me, with the confidence you'll receive from wearing this immense button-down, you won't disappoint.
Maybe just Half Cowboy…
Cinch Men's Classic Fit Long Sleeve is a good place to start for most men. Cinch T-shirts tend to run a tad big, so if it's your first time buying a cinch shirt you might want to get one size smaller. The classic fit is incredible because it allows you the flexibility and breathability of a shirt that you're used to wearing.
That is especially important when it comes to bigger guys. Now you can definitely boogie down on the dance floor without being sweaty and stinky. It's got one big front pocket, long sleeves, and made up of 100% cotton.
It ticks all the boxes that you need for a men's shirt.
Dancing & Classic Flannel for the 'Everyday Man'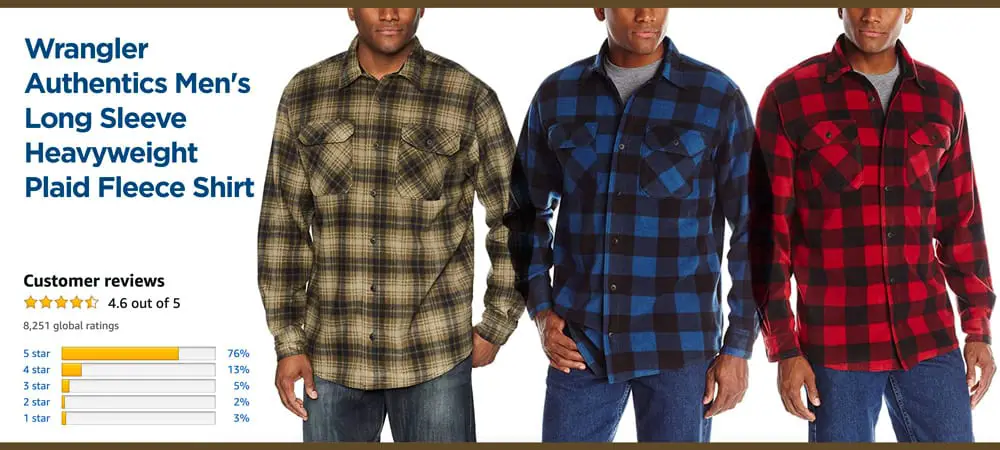 Wrangler Men's Long Sleeve Flannel Shirt, this one also meets the 100% cotton standard. The Wrangler flannel is a nice fit for most body shapes. It will not hinder your movement while you dance because it's a relaxed fit. As you know flannel shirts are a classic country staple and somewhat timeless. You can wear the mediumweight top as an overlayer or underlayer depending on your needs.
You're going to look stronger and more masculine in this classic flannel button-down. The best part about this shirt is you can wear it anytime, anywhere. Flannel shirts are a tried and true staple of fashion, not just country fashion. In short, you're going to look and feel great when you're country dancing or anything else for that matter.
Beyond what you're Wearing while Dancing…
Hey, above all remember that country dancing is supposed to be fun so let loose and enjoy yourself. If you get stuck ask the person next to you for some help. I know your neighbor will be more than happy to help you get better.
Country dancing is about the community coming together and having a good time. And if you're in California I'll see you on the dance floor.