Hey you're back! From dance tutorials to clothing recommendations CDT can have you country dancing faster than you can sing Dolly Parton's 9 to 5. So consider bookmarking our site sugar that way you can have everything country dancing at your fingertips.
Without further ado here are my recommendations for the best country dancing for both men and women. But boys you'll have to stick around until the end and wait your turn because ladies always go first. But click here if you want to snap down to you're picks!
Let's go shopping!
What Do Women Wear When They Go Country Dancing?
Well ladies we're in luck because there's a much larger variety of clothing options compared to men. So to keep it simple: what you're looking for is a nice pair of jeans to complement perfectly chosen country dancing shirt and cowgirl boots.
Want To Look Good While Country Dancing?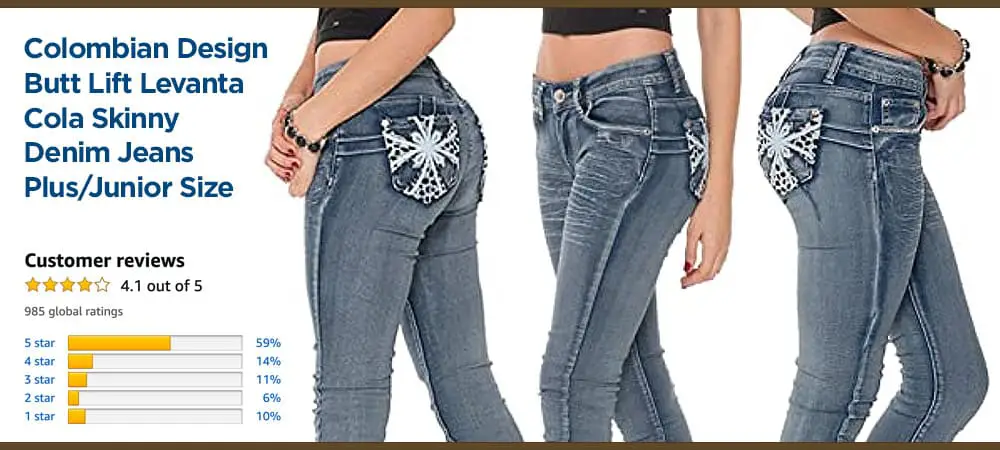 Fashion2Love won over my heart with these fabulous jeans that really just accentuate your bootylicious curves. These form-fitting jeans might look a bit restrictive but are surprisingly stretchy, but I don't recommend doing the splits in them – plus – there's no room on the country dance floor for that.
The butt lift feature is definitely noticeable, and the pant legs get snug at the ankles so the jeans really slim your body shape, and showcase your curves. You're going to get lots of looks and then we'll offer you drinks when you're spending the night out with your gals dancing oh because these jeans are going to make you look that good.
What makes the jeans even more amazing is a fact that you can pair them with just about anything. You can wear it with a top and a blazer, it will look nice with a blouse, pair with heels or tennis shoes… these jeans are show stopping and versatile and are completely worthy of a spot in your wardrobe.
The combinations are endless!
---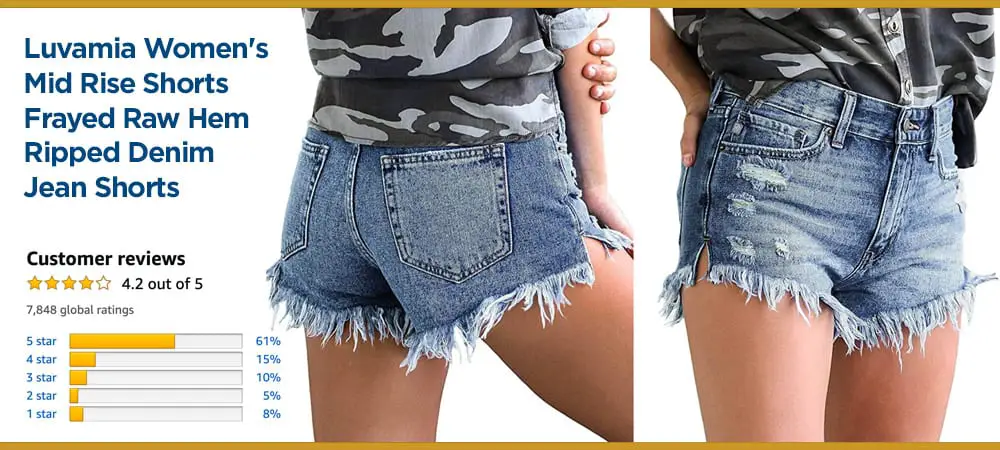 With a material ratio of 85% cotton, 10% polyester, and 5% elastane you can bet on the stylish jean shorts to be durable, flexible, and most importantly breathable. Trying on the Luvamia best seller will showcase your smooth silky legs without being too revealing.
You will look and feel confident, alluring, and fierce – not just while you're country dancing – but everywhere you go. You'll make heads turn, jaws drop, and cows jump over the moon, think – Jessica Simpson in Dukes of Hazzard – yeah, that level of cool.
That's a bucketful of awesome at just a little over $25. The best part is you can pair this with almost anything, not only is it a country staple, but the frayed leg ends give off an edgy appeal.
---
Western Country Dancing Jeans For Most Women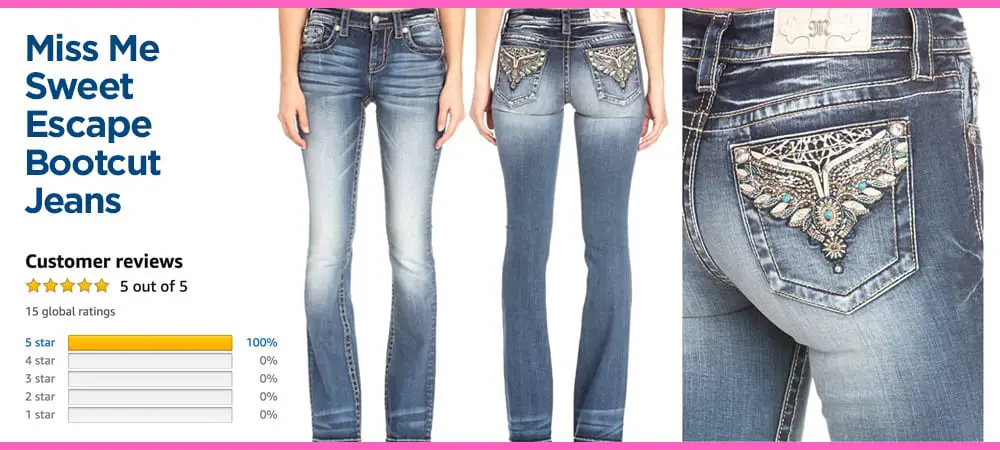 When you're looking for stylishly head-turning and a plain jane jean just won't due – Miss Me – has you covered with these fabulous eye-catching jeans. Featuring an embellished studded abstract design in the back, whiskering, fading, contrast stitching, and a 5-pocket design.
Spray a little perfume, pull up these jeans and match them with heels, or boots and you're going to get looks from jealous women on your night out around the town, country dancing, or wherever your night may take you.
Spotting women pull their men a little bit closer as you smile and strut by, I'd say that's worth $105 wouldn't you agree? If you said yes then you've found your perfect country dancing jeans (they're mine too).
---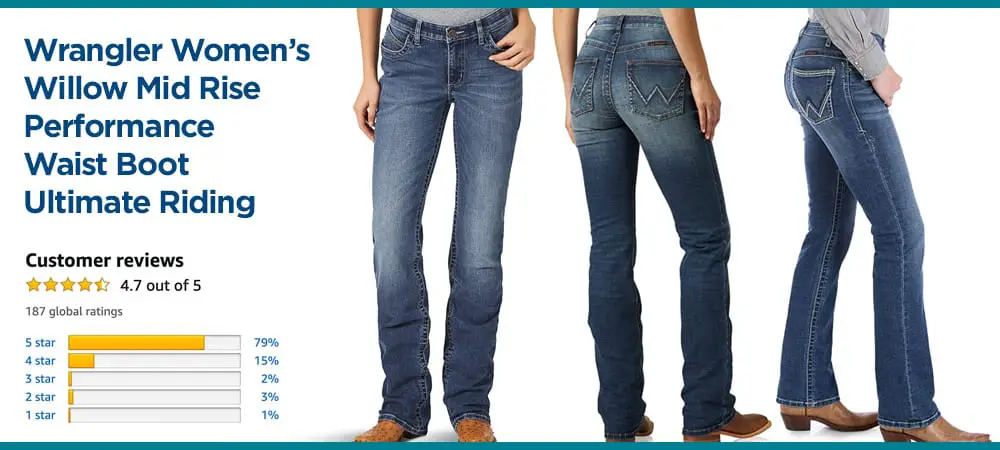 These boot cut riding jeans were actually made for horse riding, but they look great and will compliment your figure lady-figure quite nicely. The Wrangler Ultimate Riding Jeans ride high in the back, fit snugly around your waist and actually boast deep pockets just like men's jeans!
At 76% cotton, 23% polyester, and 1% spandex these Wranglers are soft on the inside, form-fitting, and long-lasting. Thanks to the polyester your jeans won't fade in color with a handful of washes and allow you to stretch whether you're country dancing or mounting your favorite stallion.
The Ultimate Riding Jean is Wrangler's answer to the feedback they received about the itchy stitching issue of their Q Baby jeans.
Now just remember – these are boot cut jeans – so if you don't wear boots along with the jeans the pant legs will likely drag underneath your footwear.
---
Best Country Dancing Jeans For Men
Now that the ladies and I are done shopping it's your turn men – but don't worry – I'll be your guide as well. You're in luck because I'm going to give you the best jean recommendations from a woman's perspective.
For you, we'll be looking for a balance between being comfortable and functional. We don't want your jeans to be too tight in case you need to protect us.
---
Country Dancing Tonight Loves This Slim Fit Jean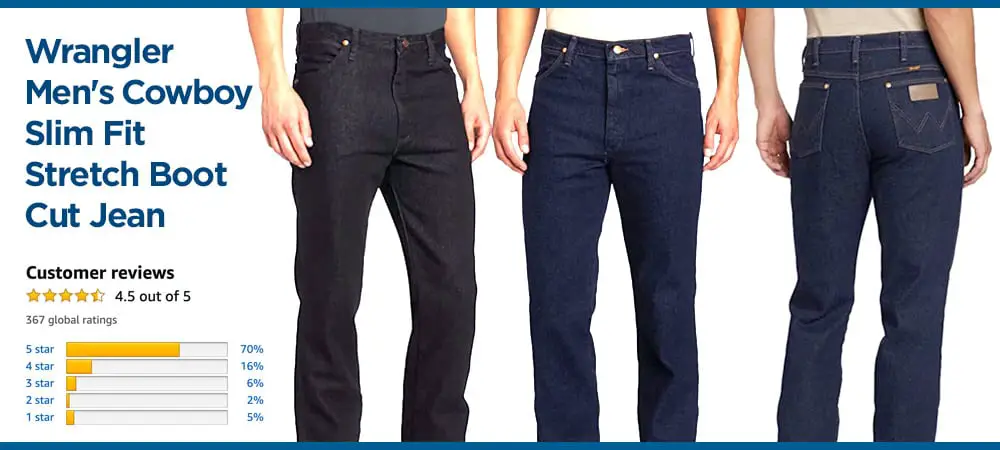 Put on these pants to become a cowgirls dream guy, have a photoshoot, make it a poster, and post it on your lady's bedroom wall. When you think of cowboy you think of a strong, masculine man and these jeans will help you pull it off.
These Wranglers are 98% Cotton and 2% Spandex besides making you look like a cowboy calendar model they'll also keep you cool while you show off your country dancing moves.
---
The Country Dancing Jean For Every Man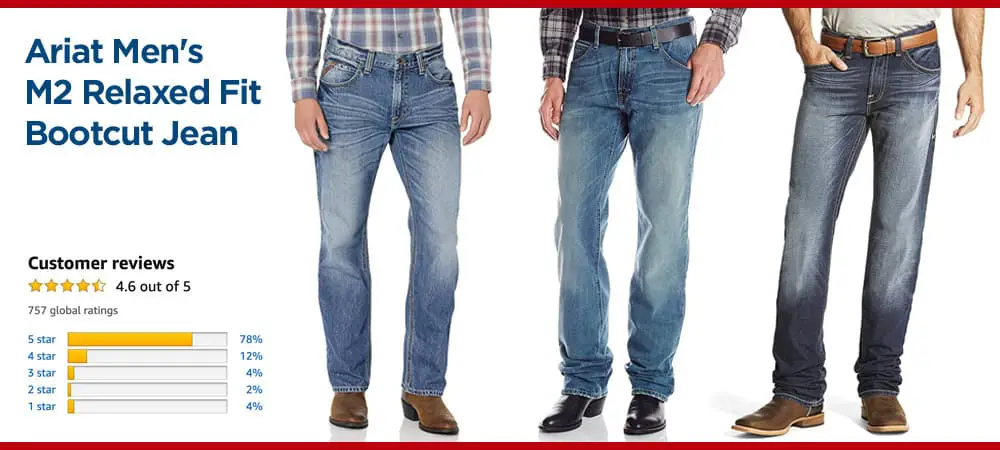 Fellas these jeans are perfect for the everyday man and if you tuck your shirt into the fitted waistline it will give you a stronger appearance. You'll have an authentic cowboy look when you pair Ariat's jeans with boots, look slimmer, and more confident and there's nothing a woman loves more than that.
With it being 100% cotton you'll enjoy the durability and how cool it keeps you during hot weather and active country dancing sessions.
As an added bonus they'd look great on every man from teens trying to dress up a bit, to an elder treating his lady to a good time under the stary night's sky.
---
Conclusion
These are just a few ideas but what you're really looking for is being comfortable and having a good time with your favorite guys and gals. Country dancing is about getting the town together and just having a good ol time so try not to overthink the fashion.