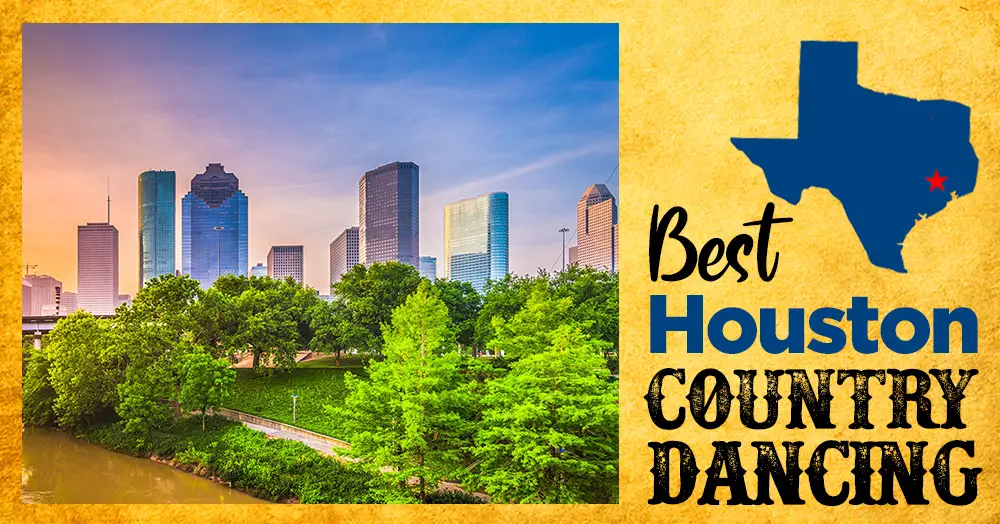 For Houstonians, the question is: are you an "Inner" or an "Outer?" When you check the city of Houston out on a map you'll quickly notice it is encircled by two interstates: the 610 and further out, the larger interstate 8. Those inside the smaller, tighter loop of the 610 are your "Inner" Houstonians. These people enjoy easier access to the downtown and business district of Houston, while those further out enjoy the affordability of housing, things more spread out, and a life that is more family-friendly. So, the question is: are you in or out?
In gathering the places in the Houston area where there is country dancing going on, it is interesting to note that it's all out! Are there any places downtown to go country dancing and listen to live country music? Please email me if there are!
But, honestly, it seems appropriate and stands to reason that country dancing is a little more "out in the country." So wherever you are whether an "inner" or "outer" you'll be on the outskirts of Houston to track down these country dancing watering holes! Check out the Google map below to see what I mean!
With about 10 great spots (including 2 franchises), you have lots of choices for dance communities to get involved with and put down your country dancing roots. But you will most likely have a little drive since these are spread out in the "outer" area of Houston. But they are all fabulous fun country dance clubs, so good luck choosing!
But, also one thing to note: If you are really looking for a good line dancing community that focuses on the current and popular line dances, of all these spots one, in particular, takes the prize: Neon Boots!
For the map above I ordered them in a counter-clockwise fashion (like the direction you dance on the dance floor!) And then spiraling in, concluding with Britt Beresik's Cross The Line Dancing (which isn't a country bar, but an opportunity for lessons).
The 10 best places for country dancing in Houston include Buck Wild Country Dance Club, Rowdy's (2 locations), Whiskey River (2 locations), Mo's Place, Stampede Houston Country Dance Club, The Westwind Club, Neon Boots, and Britt Beresik's Cross The Line Dancing.
10 Houston Venues for Dancing At-A-Glance
Click on any of the list or any of the location pictures to jump down to more about that dance venue.
See below for some quick at-a-glance information about each place. Address, website, and what days to go there for country dancing. Then click on the pictures to jump down to learn more about that Houston area dance venue.
One thing that really helped me gather up some information about these hot spots was a YouTuber/Musician from Alabama named David Bridwell. David hits up anywhere and everywhere in Texas to get a chance for an open mic and the opportunity to sing his songs to the crowd. But, what is unique about David is that he also enjoys bringing us along on his adventures via his YouTube channel. Check that out here. But, for this article watch the video below documenting when he went to 6 of these Houston dance halls! And, God bless you, David Bridwell–you even tried out some dance floors!
---
1. Buck Wild Country Dance Club
Beginning in the south of Houston for great places to go dancing you have Buck Wild Country Dance Club. Located on West NASA Parkway it is conveniently accessible from Interstate 45. This one is near Clear Lake and in the Bayway Village shopping mall.
While first on the list, it is the last one mentioned in the video above, and as mentioned there is line dancing going on here with a good crowd and a good mix of ladies and dudes that come out and enjoy showing off their line dancing chops!
Buck Wild is a pretty big place with a large dance floor and the longest bar In Texas! There's also 3 room, 2 DJs, giant video screens, a mechanical bull and pool tables. You could say there is much fun to be had at Buck Wilds!
Hours & Cover Charge
Dance Lessons
---
2. Rowdy's Webster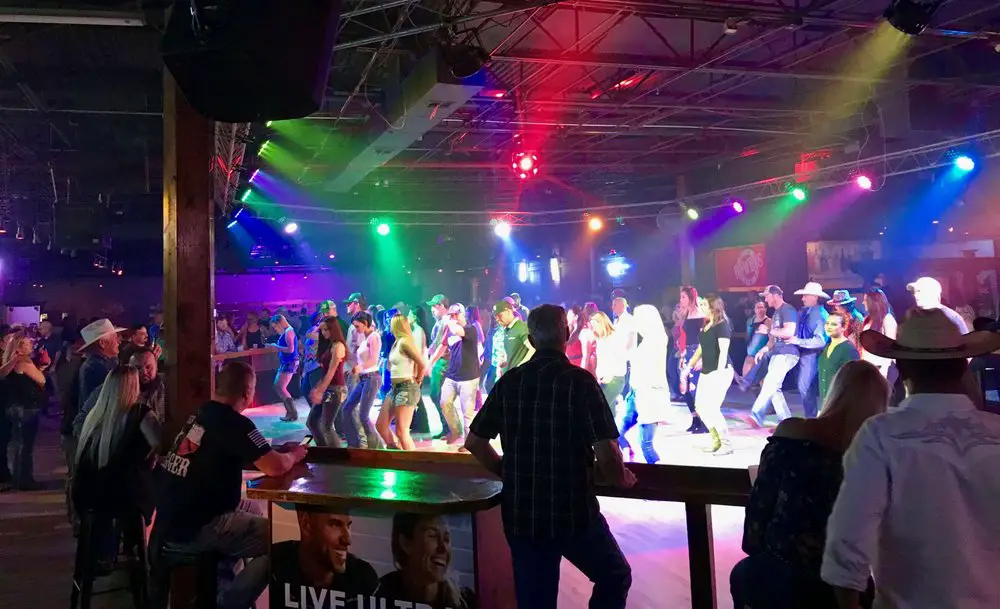 For the #2 place to go dancing in Houston, check out the 1st Houston Rowdy's franchise: Rowdy's Webster!
But, before you go, check out the Yelp reviews! Like the other Rowdy's (below), Rowdy's Webster doesn't have great reviews. There seem to be some issues going on. But there is some dancing and even some free line dance lessons, so just try to be ready for what might go wrong and good luck!
Days Open & Weekly Lesson Schedule
Cover Charges
---
3. Rowdy's Spring
Weekly Lesson Schedule
Cover charges
---
4. Whiskey River North
For the 4th place to go country dancing in Houston we have the first of another franchise in Houston: Whiskey River. The first one to check out is Whiskey River North! Whiskey River North may not be the largest dance hall in Houston (That one goes to Stampede). It is actually a small to medium size dance floor, so a little more intimate. While Whiskey River North may not be huge, they do claim to be the best!
Whiskey River North, is just off of Tomball Parkway, 25 northwest of downtown, Houston.
Hours of Operation:
Cover Charge:
At Whiskey River North they have a "Guest List" you can sign up for on their website. Do this and you will get free admission before 10 pm! See their website for the current schedule of events.
---
5. Mo's Place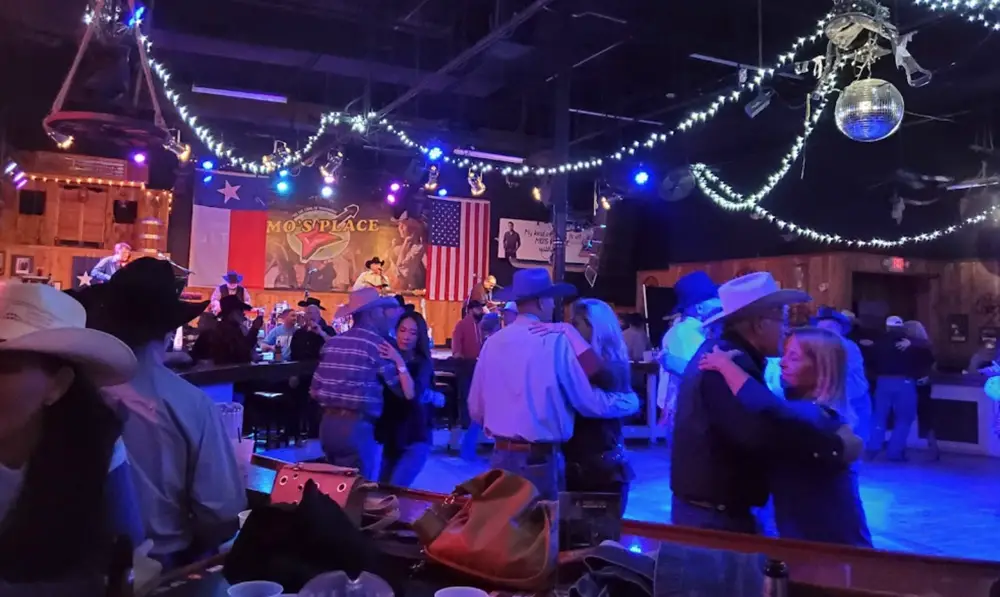 If you watched David Bridwell's video above you know Mo's was his favorite spot of the bunch he visited. It seemed largely because of how Mo's is a historic spot for country music having hosted many greats over the years. Mo, the owner, according to David, seems to be the instigator to get these acts into his place over the years. You can see on their photo wall Mo posing with many of these awesome country music stars over the years.
I think that is often what makes a honky-tonk feel like an authentic honky-tonk–that country music history. These of course make great places to country dance, and there is country dancing at Mo's!
If you are largely drawn to honky-tonks and dancehalls for the live music check out Mo's event calendar page here.
Mo's Place is located in Katy, TX about 25 miles west of downtown Houston conveniently off of the 10 (Mason Road exit).
Hours of Operation: 7 days a week, 10 am-2 am
---
6. Whiskey River West
Whiskey River West has a similar feel and schedule to its North Houston counterpart. Located in Richmond, TX about 25 miles west of the downtown Houston area, taking the 69 and then the Westpark Tollway toll road out to South Peek Road.
Like Whiskey River North, this similar venue is also open Thursday-Saturday with similar hours (see below).
Hours of Operation:
Cover Charge & Schedule
At Whiskey River West they also have a "Guest List" you can sign up for on their website. Do this and you will get free admission before 10 pm! See their website for the current schedule of events.
Law Enforcement and the military are always free.
---
7. Stampede Houston Dance Club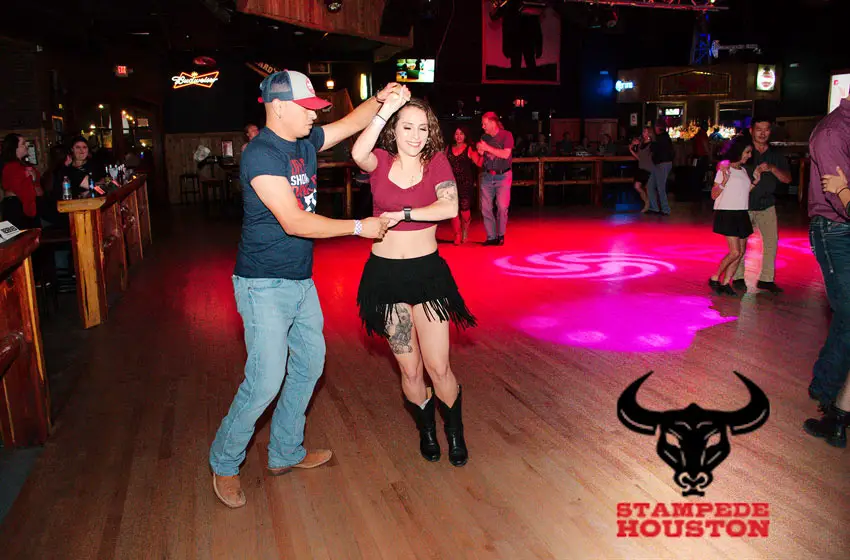 Moving on to the next great country dancing opportunity in Houston is Stampede Houston located off the Eastex Fwy, in North Houston. Stampede Houston has the largest dance floor in Houston at 3,500 square feet. Check out the promo video below to get a glimpse!
The Stampede is only open Friday and Saturday nights, but you can see that it is a nightclub on fire when the weekened hits. Dance Lessons are on Friday night at 8 pm and are FREE! The Mechanical bull is also free.
Reservations are encouraged as you plan your night out at Stampede Houston, check their page that has all the details. Check out their site here for more information.
---
8. Westwind Club
Next at #8 is the Westwind Club on Guhn Rd. south of the Northwest Fwy. The Westwind is said to be one of Houston's best-kept secrets! The great thing about Westwind is that there's Two Stepping going on there and it is a true Texas country dancehall.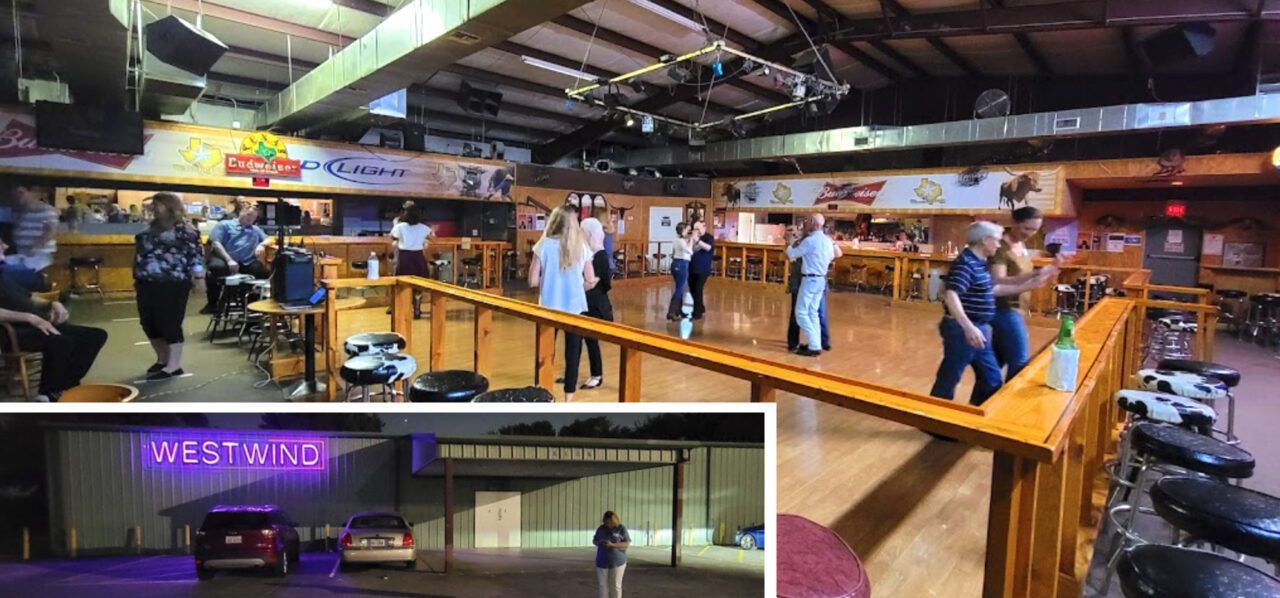 Opening in 1992, it is said to have "the smoothest dance floor this side of the Rockies." It is open for drinks, music, and dancing three nights a week with a DJ Friday and Sunday and live music on Saturday nights-from new country artists to country legends. And the Westwind DJs are great and even throw in some oldies, rock, and hip-hop toward the end of the night.
Cover Charge & Hours:
---
---
More Great Places to Dance
Also, if you are closer to the Dallas-Fort Worth area or maybe in the Southern California, Nashville, TN, or Chicago, IL areas, check out these other articles that round up even more great places for country dancing! (57 more places to dance!)