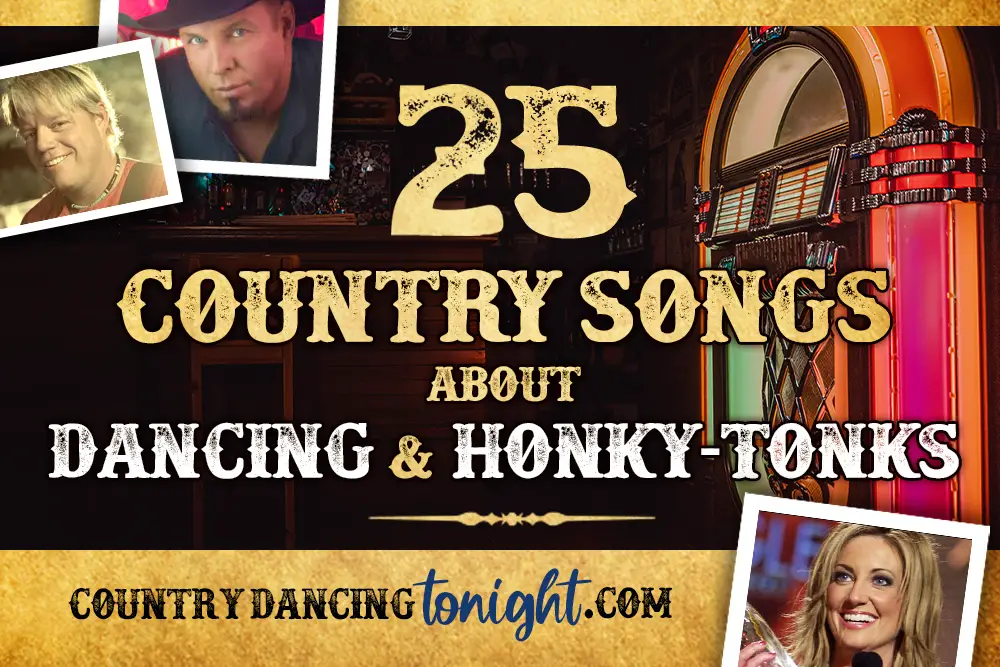 As someone that enjoys dancing in a county bar and especially the Two Step, it is always fun when the country song we're dancing to actually has some lyrics about country dancing and all things dancing or honky-tonks–the place where we usually are at that moment! It is perfect poetry when we're dancing to lyrics that are about us dancing!
For a while now I've been wanting to try to capture all the songs I've noticed that have this in them to put in a good list. Here are twenty-five I've gathered together for you to consider. Hopefully, you enjoy this as a new playlist, or if you're a DJ, use this as a resource for songs to play for your hardwood dance floor crowd.
The best country songs about dancing include classic and contemporary. The newer often are neo-traditional country songs and include artists like John Pardi, Midland, and Cody Johnson. Often these songs about country dancing focus on honky-tonks, the place where we find country music and dancing.

In each of the songs I've listed, I've noted if the lyrics are about partner dancing or line dancing and what type of dance it is good for-Two Step, a Cha Cha, or a line dance.
Look over the list, which also serves as a clickable table of contents to details about each song below. I've listed these by year, but also click down to my chart that sorts them by BPM and what kind of country dancing might work with these songs. Also, check out my article on good songs for the Two Step here.
And as a bonus, I have my Spotify playlist embedded here to just quickly play them all!
---
1. The Dance by Garth Brooks (1989)
---
2. Slow Country Dance by Mary Chapin Carpenter (1989)
---
3. Twist & Shout, by Mary Chapin Carpenter (1990)
---
4. Boot Scootin' Boogie by Brooks and Dunn (1991)
To me, the mystique of this song and then the actual line dance choreography (there are actually many line dances now for the song) that followed is that it is about a fictitious dance that didn't exist called The Boot Scootin' Boogie. Word has it that Ronnie Dunn when writing the song simply meant it as a tribute to line dancing.
I wonder if, in Ronnie Dunn's mind, it was a good way to describe all line dancing! In the music video which shows a live show, it does look like some sort of line dance happening–I saw some pivot turns!
---
5. Life's a Dance by John Michael Montgomery (1992)
I can for sure relate to the looking for courage part of this song. And as a new dancer, it certainly applies to the dance floor: sink or swim you gotta give it a whirl!… You learn as you go!
---
6. I Just Wanna Dance With You George Strait (1998)
---
7. We Danced by Brad Paisley (1999)
---
8. Take Me Out to a Dancehall by Pat Green (1999)
---
9. I Hope You Dance by Lee Ann Womack (2000)
---
10. I Love This Bar by Toby Keith (2003)
---
11. Buy Myself a Chance by Randy Rogers (2008)
---
12. We're Gonna Dance by Cody Jinks (2008)
---
13. Why Don't We Just Dance by Josh Turner (2010)
---
14. Footloose by Blake Shelton (2011)
---
15. I Don't Dance by Lee Brice (2014)
---
16. Dance Her Home by Cody Johnson (2014)
---
---
17. Heartache on the Dance Floor by John Pardi (2016)
Note: Stephen Pistoia's line dance for Heartache on the dance floor is a great dance and for sure one of my favorites see the video below of his demo and also a link to where you can see more about the dance on this site: 50 Popular Line Dances that Everyone Loves!
---
18. Heartache Medication by John Pardi (2019)
---
19. Every Little Honky Tonk Bar by George Strait (2019)
By the way, if you are as fascinated as I am with honky-tonks, check out my article that really looks at what a honky-tonk is–its history and more! Check it out here!
---
20. Honky Tonk Time Machine by George Strait (2019)
And speaking of honky-tonks and what they are like…I've got a great article that really looks at what a honky-tonk is and what makes it special. Check it out here!
---
21. Honky-Tonk Hardwood Floors by Cody Johnson (2021)
And speaking of Billy Bob's, check out my article on the great honky-tonks to visit in Dallas-Fort Worth, Texas here! There are some interesting things to know about Billy Bob's and the other 11 venues covered!
---
22. Two to Two Step by Midland (2021)
---
23. Heaven's Jukebox by Jaden Hamilton (2021)
---
24. Boots by Aaron Watson (2021)
---
25. You In a Honky Tonk by Randall King (2023)
---
All songs by BPM
| Song | Artist | Year | BPM |
| --- | --- | --- | --- |
| We're Gonna Dance | Cody Jinks | 2008 | 74 |
| Boots | Aaron Watson | 2021 | 80 |
| Honky Tonk Time Machine | George Strait | 2019 | 82 |
| I Don't Dance | Lee Brice | 2014 | 92 |
| Heartache Medication | John Pardi | 2019 | 95 |
| You Look Good in a Honky Tonk | Randall King | 2023 | 104 |
| Slow Country Dance | Mary Chapin Carpenter | 1989 | 109 |
| Buy Myself a Chance | Randy Rogers | 2008 | 110 |
| I Just Wanna Dance With You | George Strait | 1998 | 114 |
| Dance Her Home | Cody Johnson | 2014 | 114 |
| I Love This Bar | Toby Keith | 2003 | 115 |
| Heartache on the Dance Floor | John Pardi | 2016 | 116 |
| Heaven's Jukebox | Jaden Hamilton | 2021 | 116 |
| Two to Two Step | Midland | 2021 | 118 |
| Why Don't We Just Dance | Josh Turner | 2010 | 122 |
| Every Little Honky Tonk Bar | George Strait | 2019 | 122 |
| Boot Scootin' Boogie | Brooks and Dunn | 1991 | 130 |
| Take me out to a Dancehall | Pat Green | 1999 | 132 |
| The Dance | Garth Brooks | 1989 | 134 |
| Life's a Dance | John Michael Montgomery | 1992 | 135 |
| Honky-Tonk Hardwood Floors | Cody Johnson | 2021 | 135 |
| We Danced | Brad Paisley | 1999 | 146 |
| I Hope You Dance | Lee Ann Womack | 2000 | 151 |
| Footloose | Blake Shelton | 2011 | 174 |
| Down at the Twist & Shout | Mary Chapin Carpenter | 1990 | 192 |
---