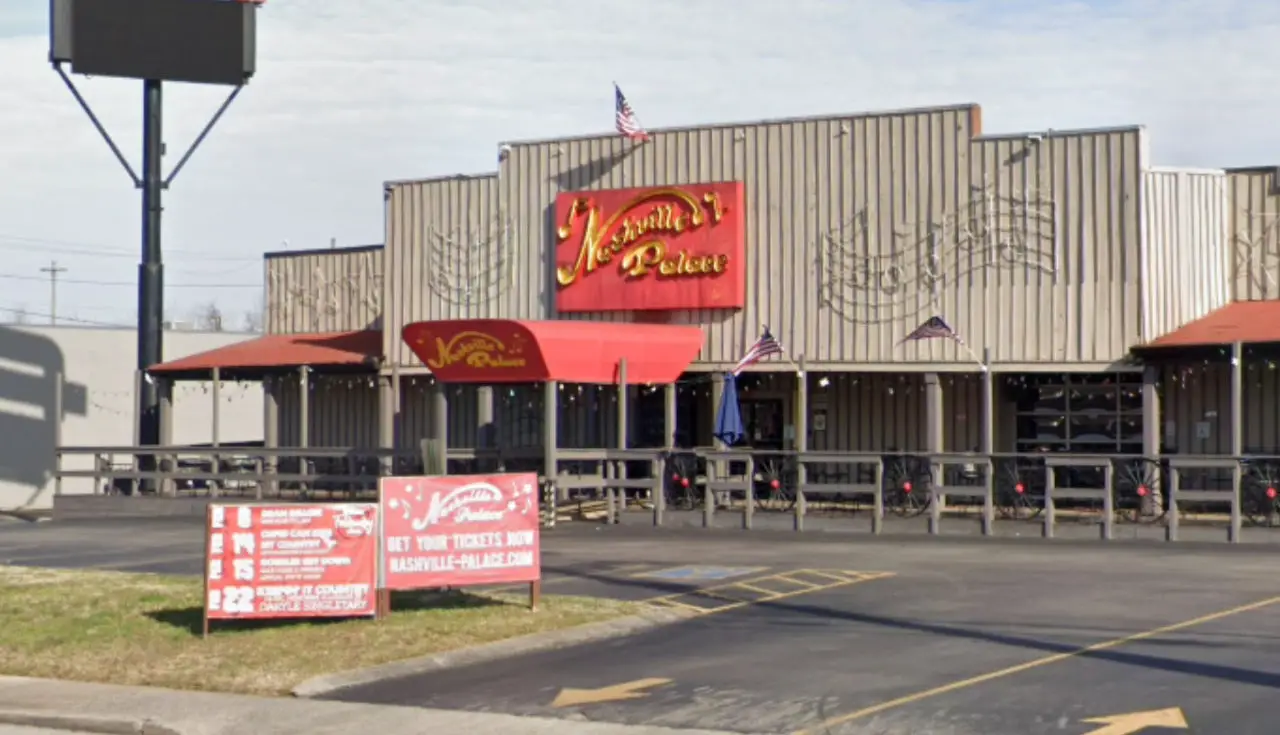 Nashville is considered by many to be the heart of country music and dance! It is after all home to legendary country venues such as The Country Music Hall of Fame & Museum as well as the historic Ryman Auditorium. The Nashville Palace is another legendary place where the dreams of many country musicians have come alive! Visiting Nashville is simply a must if you are a fan of country music, dance, and old western antics. With music carrying the nightlife of Nashville, line dancing is another activity that people all over the world come to enjoy.
The Nashville Palace is Nashville's #1 line dancing bar. With a large dance floor, wooden rustic decor, live music events, and a tasty pub food menu, line dancing fans from all over come here every weekend to enjoy music, great food and drinks, and country dance!
If you love country dancing, both two-stepping and line dancing and you either live in Nashville or are visiting, then you simply have to visit The Nashville Palace! Here, you will be greeted with live music and dancing, and a homey atmosphere. This place though is truly all about the music, both country, and beyond! However, is it the best line dance destination in Nashville? Well, let's find out!
---
The Nashville Palace, Nashville's Only Serious Line Dancing Venue!
If you're in Nashville and you like line dancing and want to do the Electric Slide or Slappin' Leather, you can! There are many places to do some country line dancing in Nashville. However, if you are a serious line dancer and want to dance all night to all the current and challenging dances out there, it's all about the Nashville Palace! This means you'll have to head out of downtown over to Music Valley, or Opryland as it's also known.
This is widely understood in the local dance community in Nashville: The Nashville Palace is the place to go dancing on a Friday or Saturday night for real line dancers.
The Nashville Palace has a very large dance floor as well as live music, great DJs, great food, and more.
They also offer experienced line dance instructors that help you stay in the know with what is happening with line dancing and bring along all the newcomers as well.
Dance lessons at the Nashville Palace take place on Saturday Nights from 7:30-8:30. The organizers invite people to learn how to line dance and country dance with their practiced professionals such as "The Nashville Palace Angels." The charge is $7 and it's undeniably a great class to get some good country dance experience. 
Line Dancing Time Slots at The Nashville Palace:
| | |
| --- | --- |
| Monday  | Closed. |
| Tuesday-Thursday | 2 pm-11 pm |
| Friday | 9 pm-2 am |
| Saturday  | 7:30 pm-2 am |
| Sunday  | 11 am to 11 pm |
---
The Environment Of The Nashville Palace
So, now that we've established The Nashville Palace is the place for dancing, what else is it like? The Nashville Palace is truly a not to be missed country music and dance hall and Honky Tonk in the Nashville area. The magic about this place is found in the combination of the music, dancing, ambiance, food, and drinking with friends.
At the entry door, you'll find a sitting area that has tables and comfortable chairs alongside a full-service bar where you can order a few drinks and food (both of which are excellently rated by people all over the world for their outstanding quality) and do your eating at the private dining room.
Next, you'll find the most attractive quality of the palace, the stages. Set up in a way that allows you to express your dancing style to your heart's content. Another stage is also set up for musicians and professional dancers to come up and show off their skills. 
---
History Of The Nashville Palace
Once the home of several country musicians and TV shows like "Hee Haw" and "Nashville Now", the live music venue now known as The Nashville Palace was just another "bar" back in the late 70s when John A. Hobbs became the founding father of  "Jerry Reed's Nashville Palace." Jerry Reed was the main attraction of the palace as he was quite famous during that time. 
The Nashville Palace since then has become a haven for up-and-coming country musicians, as well as some golden oldies that still have the spark and flair to pull in the crowds.
Also, it needs to be mentioned some obvious household names in country music that have played at the Nashville Palace! Johnny Cash, Waylon Jennings, Alan Jackson, Randy Travis, George Jones, Roy Acuff, Mel Tillis, Jack Greene, Porter Wagoner, and many more have performed at the Nashville Palace over the years!
Fun Fact: Randy Travis didn't just play at the Nashville Palace, but once upon a time, he was a cook and dishwasher there too! Check out the great tribute wall they have for him.
The Nashville Palace is located only a little more than a mile north of the Grand Ole Opry House (just north up Opry Mills Drive) and is truly an iconic fixture in what makes Nashville what it is today.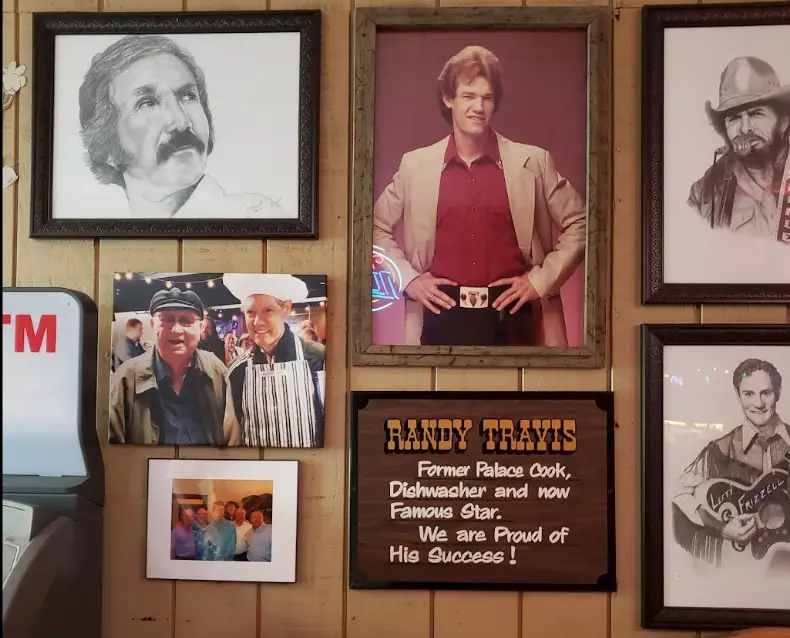 ---
Nashville Palace Hours & Location
Located at 2611 McGavock Pk, Nashville, TN 37214. See hours below:
| | |
| --- | --- |
| Sunday  | 11 am-11 pm |
| Monday  | 4 pm-10 pm |
| Tuesday-Wednesday | 5 pm-11 pm |
| Thursday | 2 pm-11 pm |
| Friday-Saturday | Noon-2 am |
---
Other Events At The Nashville Palace
The Nashville Palace has an undeniable versatility when it comes to its events and amenities. Check out the typical schedule below for what is happening during the week and click here to see the current live music planned.
| | |
| --- | --- |
| Sunday | Dance sessions with The Nashville Dance Club (7:30-8:30) Dancing till 10:30 |
| Monday | Live Entertainment (4-10 pm) |
| Tuesday | Live Music + Dance practice sessions (7-9 pm) |
| Wednesday | Live Entertainment (7-11 pm) |
| Thursday | Live Entertainment (7-11 pm) |
| Friday | Dueling Pianos (7-10 pm) |
| Saturday | Country nights – Dance lessons (7:30-8:30 PM) with the Nashville Palace Angels |
For the latest info on any of the events going on click here: The Nashville Palace Facebook Page
---
Meeting Spaces at the Nashville Palace
| | | |
| --- | --- | --- |
| Name | Banquet Capacity | Reception Capacity |
| General Space | 800 | 800 |
---
Dueling Pianos Sessions
One big reason people from all over the United States tend to visit The Nashville Palace is because of its event variety. One example is Dueling pianos (which takes place every Friday from 7-10 pm.) is a piano competition to see who can play the best and the fastest. 
An average dueling pianos show regularly includes two to four piano players. They can work in groups over the course of the evening, taking crowd-mentioned tunes. For the most part, tips are normal when a melody demand is made, and need might be given to a tune with a bigger section bill. Upon a tip, the players will frequently play the battle melody of anything that school is mentioned as well, which frequently brings about offering battles among graduated class and understudies of different colleges in participation. 
Benefactors can likewise demand that a group of people be welcomed in front of an audience. By and large, this is to commemorate a birthday, single woman party, unhitched male party, commemoration, or other events of such type. The player then plays out a "call down" in which the member (or members) is humiliated in a fun and goofy way. Call downs might be satires of notable melodies, or essentially unique material planned to create a response from the crowd.
---
What Country Fans Have To Say About The Nashville Palace
Like any other club, the Nashville Palace has seen its fair share of history and fame. Today, it is a very different place from what it used to be. Thus, in order to understand it better let's take a look at some of the latest reviews that talk about the Nashville Palace as it stands today.
"This place was close to our resort so we were there off and on….. music was always good, food was filling (fried bologna sandwich….yummy). Drinks reasonable. The thing we enjoyed was Matt our waiter for a couple of visits. He was funny and quick to grab extra drinks and our food! If you go sit in Matt's area, he will do all he can to make it an enjoyable time!" – by Dynarider
"Walked in here on the off chance and really liked the atmosphere. Great band playing and lots of people dancing. We had some food to eat which was very good and not too expensive. Great night" – by Blodwin52
"A great honkytonk! Really enjoyed the music! Don't change a thing! Good food, relaxed atmosphere, not overly crowded for lunch, and good traditional country music." – by Greg E.
---
Other Dancing Venues in Nashville and Middle Tennessee
While the Nashville Palace is your best option as a real line dancer, there are other spots in the area to also find some dancing. Also, check out my other extensive article on dancing venues in 15 Best Country Bars for Dancing in Nashville and Middle Tennessee!