There aren't many bars in Maryland that fit the needs of us country dancers. They might have the music, but do they have the dancing room and the crowd to go with? Likely not! Finding a bar that one can go to and fully express their locked-in 'fun' effortlessly alongside other dancing friends isn't easy, but if you're in Hanover, MD not to worry – The Original Cancun Cantina is perfect!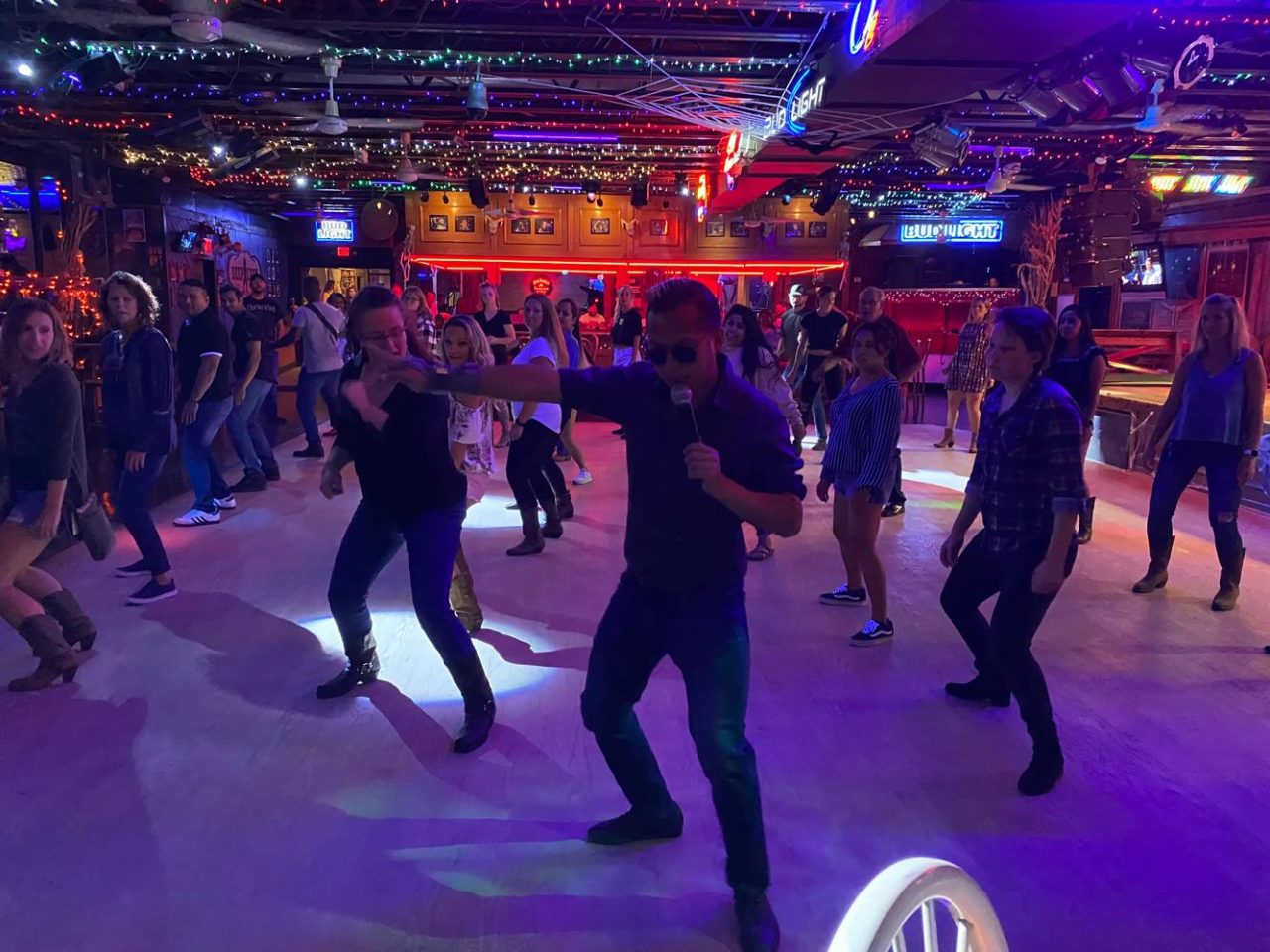 Maryland's Original Cancun Cantina is the place for country dancers! At The Original Cancun Cantina, you'll find country line dancing on Wednesdays, and Saturdays, couples dancing on Fridays, and salsa dance lessons on Sundays. The club is located at 7501 Old Telegraph Rd, Hanover, MD 21076, USA.
Whether you were two-stepping ever since you can remember or you're a cowboy with two left feet looking for some practice, at The Original Cancun Cantina you'll be given an atmosphere that is unmatched in the United States. A place for you to dance, sing songs, and be thoroughly entertained. Read on to learn more about what could be your next dancing destination! Check out their promo video below which really gives a great picture of what it's like!
---
The Most Daring Bar In Maryland – The Original Cancun Cantina
With six bars, a restaurant, pool tables, sand, and palm trees, cutting-edge lighting, high-quality sound, two stages, and huge dance floors all under one rooftop, this is a combination that hard to beat! The Original Cancun Cantina has what it takes to rethink the country/rock and roll club experience for a developing fan base in Maryland, D.C., and the surrounding region.
With a balance of new country and southern rock, Cancun is basically a dance club with metropolitan cowboys and cowgirls rushing to a night of fun with line-dancing, singing, and of course drinking. On Saturday evenings, Cancun Cantina highlights a wide dance floor for line dancing and other events. You can also always choose to cozy up to the wooden barrels circling the floor to snatch a brew from the Daisy-Duke-clad servers. Other highlights include the "Best Body" challenge on Friday evenings.
---
Country Dancing at the Cancun Cantina – Live Music and a Fun Crowd
Maryland's most blazing club has numerous amenities, but for country dancers in the area, this is a go-to spot. Two stages make it unique and the dance floor is plenty big enough for a great crowd of line dancers to dance together. There are two dance floors in the venue and they are huge!
Check out the video below to see what a typical night-out line dancing is like at the Cancun Cantina! And if you like the line dance they're doing, which is Outlaw, and want to learn it check out the details about it on my page called 20 Beginner Line Dances You Need To Know.
Something very cool to note about the Cancun Cantina is that choreographer Mark Paulino has taught here, and even shot a great video recently showing off his new choreography for the line dance Rude Dude! See the video below!
Also, speaking of Rude Dude, last year this line dance really took off and was pretty hot. I included it in my list of HOT Line Dances We Can't Get Enough Of. Check it out!
---
Endless Amenities and Expansive Entertainment at the Cancun Cantina.
The Cancun Cantina Live brand is one of the most established and biggest live entertainment venues in Anne Arundel County. The setting highlights north of 10,000 square feet of open space for dancing and having fun no matter what it takes. With a total of 6 bars, a restaurant, pool tables, sand, and palm trees, the indoor and open-air space offers visitors an astonishing atmosphere for entertainment.
The Original Cancun Cantina represents considerably diverse music genres and cultures to appease and satisfy all. The restaurant offers a full menu that makes certain to satisfy all types of pub cravings, along with a pool table room. 
Whether you are one of their regulars, a VIP, a celebrity artist, a first-time visitor, or even a world explorer you should make a point to visit The Original Cancun Cantina as an unquestionable requirement.
Here is a list of their top amenities:
Private Lot Parking
Bike Parking
Outdoor Seating
Pool Table
Free Wi-Fi
Outside Smoking Area
Wheelchair Accessible
Full Bar
TVs
Clean Restrooms
DJ, Live Music
The best nights to visit if you are a country music and dance fan, have to be Wednesday (ladies' night), Friday (Live Country Band), and Saturday (Country Line Dancing).
What Time Is The Original Cancun Cantina Open?
| | |
| --- | --- |
| Monday, Tuesday, Thursday | Closed |
| Wednesday, Friday – Sunday | 5:00 PM – 12:00 AM |
Event Calendar At The Original Cancun Cantina: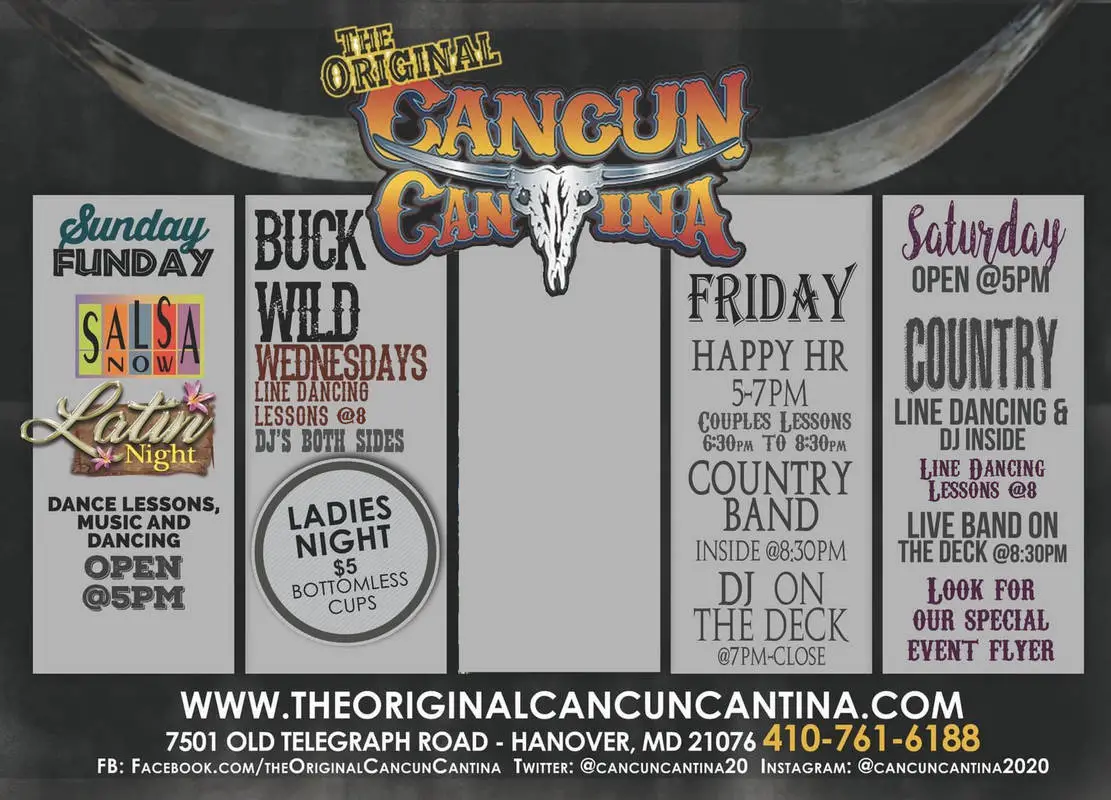 | | |
| --- | --- |
| Sunday: | Sunday Fundays with Salsa now! And an exemplary Latin night! With dance lessons, music, and dancing (Starts at 5:00 PM to 2:00 AM)  |
| Wednesday: | Buck Wild Wednesdays – Line dancing lessons at 8, with DJs at both sides (8 pm -12 am) additionally, there's a Ladies Night on Wednesdays with $5 bottomless cups.  |
| Friday: | Happy Hour(5 – 7 pm) – Couples lessons (6:30 to 8:30 pm) – Country Band Inside (8:30 pm) – DJ on the deck (7 pm 'til close) |
| Saturday: | Open at 5 pm, Country line dancing and DJ inside – Line dancing lessons (8 PM) – Live Band on the deck (8:30 PM).  |
The Original Cancun Cantina – Additional Services Offered
| | |
| --- | --- |
| Catering Services | Birthday Parties |
| Fundraising Events | Non-profit Events |
| Banquets | Meetings/Conferences |
| Corporate Events | Holiday Parties |
| Social Events | Team Building Events |
| Private Parties | Team Building Events |
| Weddings | Concerts |
The Original Cancun Cantina – Top Queries
"I'm from Texas and I really miss the west coast swing and two-stepping. If I show up without a partner is this the type of place where I can just dance with randos? And what days are strictly country music?"
Friday is a strictly country-music day where people from all over the states join in the fun and have a great time dancing and laughing with each other. It doesn't make a difference if you show up alone or not, the Original Cancun Cantina has an environment that makes you feel at home. From the randos to the people working there, we are all there to dance with each other and have a good time doing so! 
"What nights do they play Caribbean music?"
Caribbean music is played on Sunday nights. After all, at The Original Cancun Cantina, Sunday is referred to as "Sunday Fundays" to get you in that Caribbean vibe. 
"Do they only play hip-hop/R&B on Thursday nights? If not, what other nights can I go to get a good DJ playing modern hip-hop?"
The Buck Wild Wednesdays are the way to go if you're looking for DJs that play just the modern hip-hop beat your heart desires, that too from both sides of the stage! There are also line dancing lessons on Thursdays so you can join your country companions in their line dancing competitions.
Original Cancun Cantina (FAQ)
Q) Does Cancun Cantina take reservations?
Yes, you can make a reservation by calling +1 410-761-6188. Pick a date, time, and guestimate your party size, and depending on availability you can book a table all to yourself.
Q) Does Cancun Cantina have outdoor seating?
Yes, Cancun Cantina has outdoor seating in an oasis-like setting with palm trees, soft lighting, and wooden outdoor furniture.
Q) What forms of payment are accepted?
Cancun Cantina accepts credit/debit cards as well as cash.
Q) How is Cancun Cantina rated?
Cancun Cantina has a 3.5-star rating with over 200 stellar reviews.
---
The Original Cancun Cantina – When In Hanover, Don't Miss It!
Even though The Original Cancun Cantina has had its fair share of ups and downs it has an immensely better club/live show scene that brings in country music and dance lovers from all over. The new owners and the executives have made a few genuinely necessary updates and upgrades, especially, the addition of more restrooms and a more welcoming interior. The staff is friendly, the bouncers avoid your direction except if you misbehave, and the people are usually friendly and fun to party with.  
Additional Cancun Cantina features also include smoke machines, fireballs, bubbles, and, surprisingly, a water feature by the stage. It's about as an all-out country club as you can expect in Maryland with an interior space designed to let loose your inner cowboy/cowgirl! If you are a regular, leave a comment about your impressions, if you are passing through Hanover anytime soon, be sure to stop by this great country dancing spot!
---