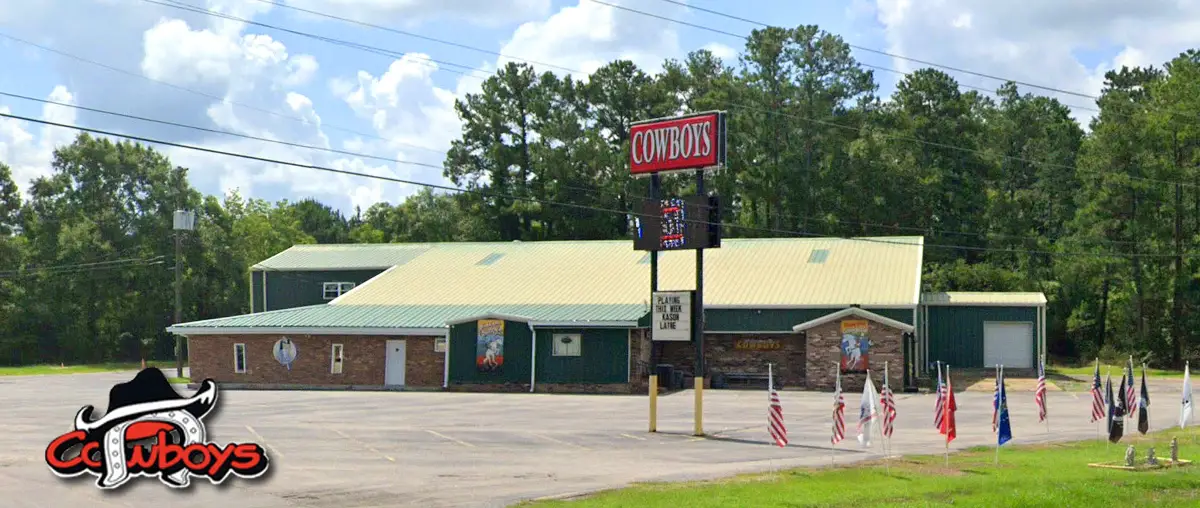 If you live northwest of Talahasee, FL, or in south east Alabama, you may be familiar with Dothan! Dothan is only the 8th largest city in Alabama, but is known as the "Peanut Capital of the World!" But it is also a city with the great country music and dancehall, Cowboys!
Cowboys is a large, award-winning venue hosting live country music Thursday-Saturday, followed by DJs. Whether you are new to the Two Step, a line dancing fanatic, or simply want to spectate, you'll feel at home on this friendly, lively dance floor. 
This big, classic honky-tonk is located at 4657 S Oates St., Dothan, Alabama 36301. If you enjoy live music and dancing to your favorite country songs, head here for a wild night of music, fun, and mingling!  
Besides music, the venue has cheap drinks, pub snacks, pool tables, large screens to watch games, and even special events like their Wednesday game nights. There's something for everyone at Cowboys! Read on to learn more about their country music nights and other ongoing events.
---
What To Expect at Cowboys
Cowboys is a simple name for a legendary establishment, and one thing you can expect is a good time! This music and dance club was voted one of the best country music venues in the entire country, and according to GAC, the best honky-tonk in Alabama – but it's found at the tiny map dot of Dothan, Alabama, along South Oates Street! 
From the live music and dance floor to the expected mechanical bull, Cowboys is a genuine country bar made perfect for a fun night out with friends or that significant other.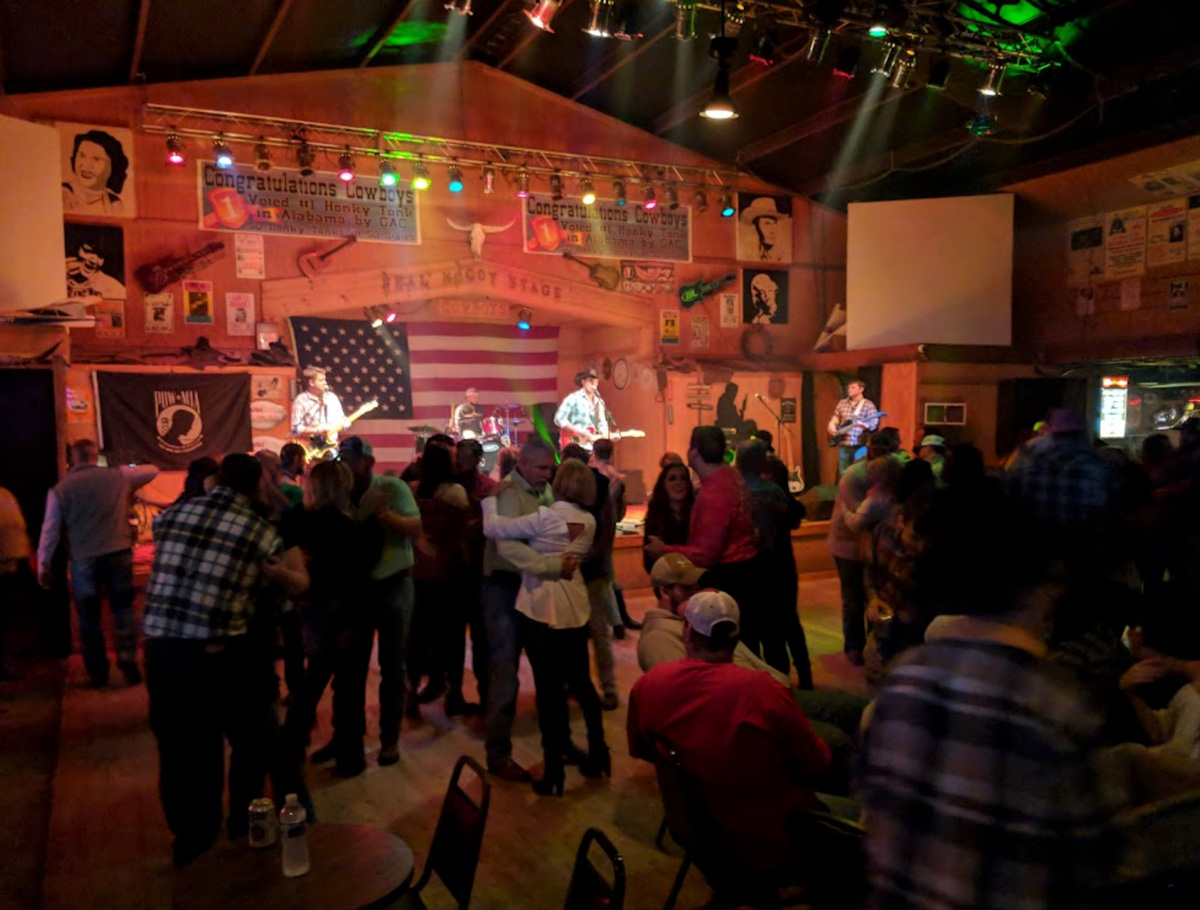 The venue attracts a varied crowd. You can find people of all ages and backgrounds, from serious dancers to those just looking to dance a little and have some fun. Also, take note that the place allows smoking. Non-smokers may find they're enjoying themselves too much to notice, yet those with health concerns should be aware. 
You can sign up for a card membership your first time at cowboys. It's quick and easy, so there is nothing to stress over. They'll issue you a temporary one, but you can become a fully-fledged card member if you return.  
Cowboy's is open Wednesday-Saturday nights late into the early morning hours. Wednesdays are game days, and Thursday-Saturday nights feature music around 7 pm. The cover charge is $10, but ladies typically get in for free before 9!
---
Cowboy's Hours of Operation and Cover Charge
| | |
| --- | --- |
| Sunday-Tuesday | Closed |
| Wednesday | 6 pm-2 am |
| Thursday-Saturday | 7 pm-2 am |
| | |
| --- | --- |
| Cover Charge (Thursday-Saturday only) | 10.00 (ladies free 7-9 pm) |
---
Drink Specials & Entry
| | | | |
| --- | --- | --- | --- |
| Wednesday | Thursday | Friday | Saturday |
| No cover  | Cover (ladies free entry 7-9 pm) | Cover (ladies free entry 7-9 pm) | Cover (ladies free entry 7-9 pm) |
| Free corn hole, pool, and Texas hold 'em poker | Drink specials 7-9 pm | Live music all night long | Drink specials 7-9 pm |
---
Live Country Music at Cowboy's
Live country music is guaranteed at Cowboys Thursdays-Saturday nights. Doors usually open at 7 pm, and bands start shortly after. They have an elevated stage and full-scale sound system that enables top-notch performances.
Top local artists and popular out-of-town groups are known to perform at Cowboys regularly. Headliners have included Clayton Christopher and the Appalachian High Band, Anna Lynn Ferris, and Wesley Spangler. Big names like Alabama, Billy Ray Cyrus, and Hank Williams Jr. have also made appearances here. See below for a more extensive list of who has played at Cowboys in Dothan.
After the bands finish their sets, a local DJ takes over. Some play predominantly country, while others play an eclectic mix. You might hear pop, rock, rap, or dance between country music sets. 
Overall, Cowboys is a great place to watch live music or get into the spirit of country music. If you're more into spectating than dancing, there's no shame in sitting back and enjoying a drink from the sidelines. 
As promised here's a larger list of who has played at Cowboys:
Aaron Tippin
Andy Griggs
Atlanta Rhythm Section
Bachman Turner Overdrive
Billy Currington
Billy Joe Royal
BJ Thomas
The Boxmasters
Chubby Checker
Cledus T. Judd
Colt Ford
Colin Raye
Confederate Railroad
Craig Morgan
Darryl Worley
Daryle Singletary
David Lee Murphy
Dierks Bentley
Diamond Rio
Doug Stone
Mustang Sally
Trick Pony
---
Country Dancing at Cowboy's
The dance floor is expansive and can accommodate about 100 dancers. Line dancing and partner dancing are common. It's the type of place where you can get away with dancing however you'd like! See the video below for a little glimpse of some dancing going on during their live entertainment. 
Currently, they do not offer dance classes at Cowboys. However, people are pretty friendly. It wouldn't be out of place for someone to teach you on the spot. You can feel free to jump in and join a line dance from time to time too.  
---
Drinks & Pub Food at Cowboy's
Cowboys is a big venue with 4 bars and a snack bar. The full bar serves beer, wine, liquor, and mixed drinks. 
The bartenders are known for being outgoing and encouraging a good night out. If you're not sure what to drink, I'm sure they can help you out with some suggestions. Or, try their bourbon straight from a tap!
Happy hour and drink specials are usually from 7-9 pm. Thursday night deals have included 25-cent beers and 50-cent well drinks. Saturdays, the prices for Happy Hour go up ever so slightly to $1 for canned beer and well drinks.     
---
Special Events at Cowboy's
Wednesday Game Nights: Wednesday is officially game night. The bar opens at 6 pm, and there is no cover. The games are free as well. Try your hand at Texas hold 'em poker or corn hole. There are three pool tables available for use as well.
Male Review: On occasion, Cowboys will host male review nights. Check their online schedule for dates and bookings. Party packages and table reservations are available if you're planning a big night out of this nature.
Comedy Nights: Touring comedians visit Cowboys from time to time. Check the calendar if you're interested in seeing some live stand-up.
---
Hosting Private Events at Cowboy's
For those looking to host your own country music and dancing events, you can rent space from Cowboys. The rental area is cleverly named the Other Side and can seat 50 people. Amenities include a dance floor, tv screens, a full bar, and a sound system.   
Cowboys has a good space to accommodate any special event, including weddings, birthdays, graduations, and more. They can also connect you to a caterer and country music DJ options. 
---
Final Thoughts
Cowboys has an easy-going vibe that is perfect for mingling with all types. The live music is great for country music fans as well. Dancing is definitely an option and is enjoyed by many. 
The non-threatening environment makes it comfortable for dancers of all levels and backgrounds. While there are no formal classes, the people are friendly and might even casually teach you a move or two.  
If you're a country fan and looking for a solid music and dance venue, Cowboys is excellent! 
Did you know?
Cowboys seems to be a common name for country bars and dance halls around the country-and why not!? So, just don't confuse Cowboys in Dothan with one of the other establishments out there. So, far I'm aware of these other spots:
Cowboys – Orlando, FL (check out my post)
Cowboys Red River – Dallas, TX (check out my post)
Cowboys Dancehall – San Antonio, TX (website)
Cowboys OKC, Oklahoma City, OK (website)

If you know of other "Cowboys" country dance honky-tonks, please let me know in the comments below!
---
Sources