Are you a fan of country dancing and country music? Is line dancing with big crowds, whether alone or with friends, what you seek? Then get your legs warmed up for one of the best line dancing nights of your life at Cowboys Orlando! For those of you country fans that live in Orlando or are visiting this is a hotspot that will quench all your "country cravings"! 
Cowboys is a large country dance hall with Orlando's biggest hardwood dance floor. Cowboys offers FREE line dance lessons on Thursday-Saturday nights! Considered one of the best country dance venues in Central Florida, this venue is located at 1108 S Orange Blossom Trl, Orlando, FL 32805.
Cowboys Orlando is a massive entertainment complex that can host over 1000 people and features a 15,000 sq ft. hardwood dance floor – the largest in Orlando. The wide-open space, country vibes, and southern hospitality make this place perfect for dancing the night away! 
To learn more about this iconic country dance venue keep on reading. Also, check out the video below to see what this club is really like on a busy night!
Cowboys Orlando – Orlando's #1 Country Line Dancing HOT Spot!
Established in 1969, by Bob and Ollie Sullivan, what started off as a humble country bar has grown to become one of Orlando's largest country line dancing venues. The entire complex is around 20,000 sq ft.. and includes seven bars, outdoor patios, billiard and pool tables, and ample parking space.
At capacity, the club can entertain over a thousand people with the dance floor being the club's main attraction. The interior of the place is what you would come to expect from any typical country bar; a large open area with several bars, pool tables, and seating along the walls while in the middle, taking center stage, the very spacious dance floor! 
As a line dancing destination for Orlando, recently with the annual Sunshine 'N line dance convention in town, the bar was delighted to welcome renowned choreographers Madison Glover & Jo Thompson Symanski as they led the dance floor in their new dance 3 Tequila Floor. Check out the video below!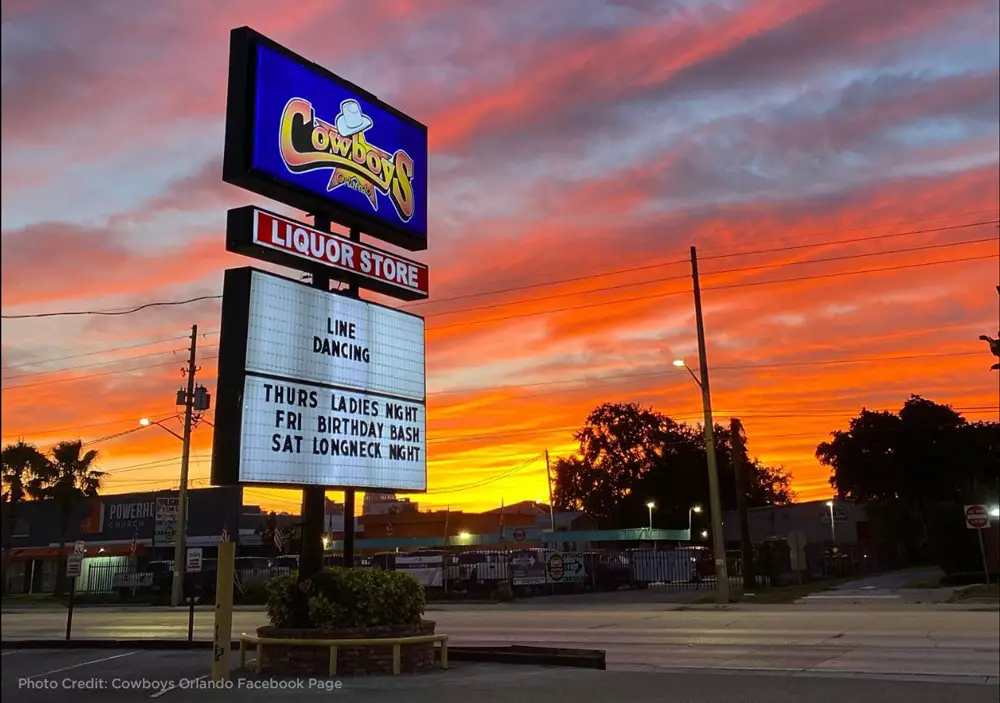 Cowboys Orlando has been around for over 50 years and is still owned by the Sullivan family. That is a long time and in that period it has seen its fair share of highs and lows. Today, the bar is a popular destination for country fans and is usually packed on weekends. You will find a mixed crowd here with metropolitan cowboys and cowgirls of all ages (18+ of course) flocking in for a night of country dancing!
---
Amenities, Events & Drink Specials at Cowboys!
Cowboys Orlando only operates on Thursdays, Fridays, and Saturdays. Read on for the rundown of what happens, but also check out their facebook page or instagram for the latest information.
Thursday is "ladies' night" and as such, ladies that are 21 or older have free entry. Girls that are 18+ have to pay a $2 cover. Women are also served $2 drinks and free beer and draft wine from 8 pm-11 pm.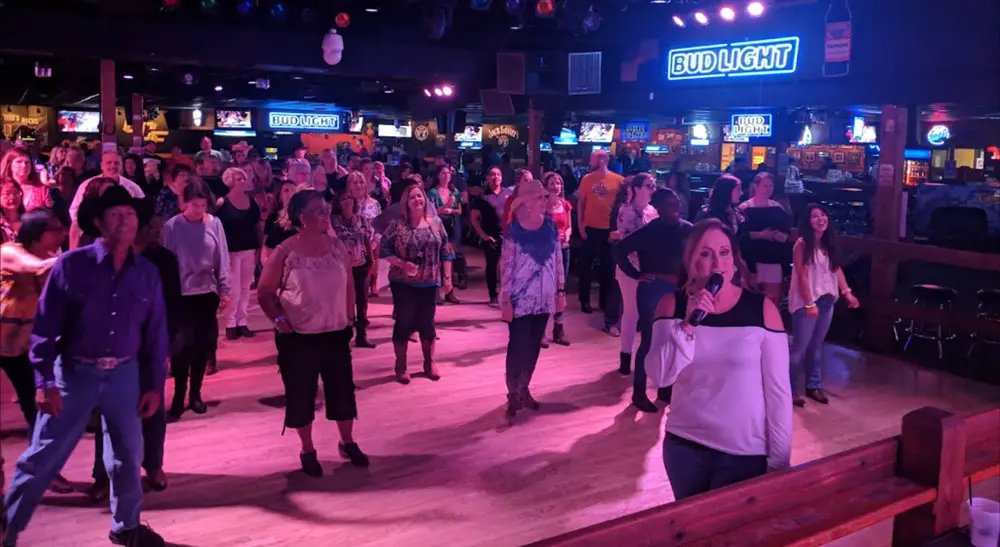 Everyone coming in early also gets to enjoy free line dancing classes with Nicole DeMarey who is likely to be your line dance instructor. If not, there will always be someone else to take the reins. 
Thursday
Every Thursday night the bar also hosts cowboys contests that offer prizes to the best-dressed cowboys/cowgirls at the club. 
Friday
Fridays are dedicated to "Birthday Bashes" where all attendees 21 years and older get two free drinks that they can cash in whenever they want during the course of the night. There is a $5 cover charge for everyone 18+ years of age. Free line dancing lessons are from 8:30 pm-9:30 pm.
Saturday
On Saturdays, the bar offers $2 Bud Light beers and a host of other drink specials. Free line dancing lessons are also offered on Saturdays at the same time.  
The bar also offers a large free-to-use parking area which is lighted and patrolled ensuring your vehicles stay safe and secure.
After a night of dancing, drinking, and having fun no doubt you would have worked up an appetite. Cowboys Orlando has you covered there as well. Step out and you can enjoy some greasy and delicious western food served out of a food truck that is parked outside from 8 p.m. to 2 a.m. every Thursday, Friday, and Saturday.
To round up what you get when you come out to Cowboys Orlando:
8-acre private and secure parking Lot
Big beautiful porch area with outdoor patios
Pool tables
7-8 fully stocked liquor bars
Inside and outside smoking area
Wheelchair accessible
Motorbike parking
HD TVs playing your favorite sports
Food truck
DJ, Country Music
FREE line dancing classes
The best night to visit Cowboys Orlando, especially if you are a woman, is Thursday. With Thursday being "ladies' night" you simply can't go wrong! 
---
When Is Cowboys Orlando Open?
| | |
| --- | --- |
| Thursday-Saturday | 8:00 pm-2:00 am |
---
Event Calendar
| | |
| --- | --- |
| Thursday: | Ladies Night ($2 cover for ladies, $12 for men) – Free Line Dancing Lessons (8:30-9:30 pm) – $2 Lady Drinks (8:00-11:00 pm) – DJ on the deck (9:30 pm 'til close) – Cowboys Contests |
| Friday: | Free Line Dancing Lessons (8:30-9:30 pm) – DJ on the deck (9:30 pm 'til close) – Friday Night Birthday Bash! |
| Saturday: | Free Line Dancing Lessons (8:30-9:30 pm) – DJ on the deck (9:30 pm 'til close) – $2 Bud Light Beers |
---
What Is Cowboys Orlando Like Today?
In terms of the interior of the place, not much has changed. The club still has a barn-like wooden interior that is decked out with signage, memorabilia, and all things western. 
What has been upgraded is the sound and lighting system that has really added to the environment and flavor of this place. Another new addition is the fully decked out pickup truck, wrapped up with Cowboys Orlando branding, parked out front, that lets you know instantly that you are at the right place!
The 50+ TV screens encompassing the area, loud and high-quality music, and lighting make everything in here seem that much more dramatic and entertaining. 
In the past, many complained that this place wasn't living up to its true potential. However, post-Covid, the club seems to have picked up again and in many ways gone back to its roots; line dancing, attractive drink specials, and friendly staff!
---
Frequently Asked Questions
Q) Does Cowboys Orlando have dance lessons other than line dancing?
Unfortunately, no. This is a shame given the club's large dance floor. If you are a fan of the Two Step and other partner dancing you won't see much of that here.  
Q) How old do you have to be to get in?
You need to be of at least 18 years of age or older and have a valid ID in order to get into the club. 
Q) What forms of payment are accepted?
Cowboys Orlando accepts most major credit/debit cards as well as cash. There is also an ATM right at the front door for customer convenience. 
Q) How is Cowboys Orlando rated?
Cowboys Orlando has a 4.5/5 rating on trip advisor with over 80% positive reviews. 
---
A Review Of Cowboys Orlando
Cowboys Orlando might very well be a country dancing hotspot but there is still a lot more that this place can offer. Adding more partner dance lessons such as Country Waltz, Two Step, Country Swing, and even the Cha Chas can really help make full use of that beautiful hardwood dance floor. 
I can't help but feel that this place still isn't living up to its full potential. Apart from the lack of dance variety, I wonder if the club could also host live music events and concerts. However, that being said Cowboys Orlando is still an extremely popular country bar that many Orlando locals really love and gravitate to. 
The place has a rich history, and enjoyable atmosphere, and is generally packed on weekends. Even though some would argue its location isn't ideal, it is still just about a 15-minute drive from downtown Orlando and close to many of the city's major attractions. 
---
Final Thoughts
The only way to know if Cowboys Orlando can quench your thirst for country dance and music is to visit the place and experience it for yourself. At the very least you will likely walk out of here having brushed up on a few line dance moves! Also if you are closer to the Tampa Bay area check out my post comparing two great places to dance out there: The Dallas Bull vs. The Stockyard.
Did you know?
Cowboys seems to be a common name for country bars and dance halls around the country-and why not!? So, just don't confuse Cowboys in Orlando with one of the other establishments out there. So, far I'm aware of these other spots:
Cowboys – Dothan, AL (check out my post)
Cowboys Red River – Dallas, TX (check out my post)
Cowboys Dancehall – San Antonio, TX (website)
Cowboys OKC, Oklahoma City, OK (website)

If you know of other "Cowboys" country dance honky-tonks, please let me know in the comments below!
---