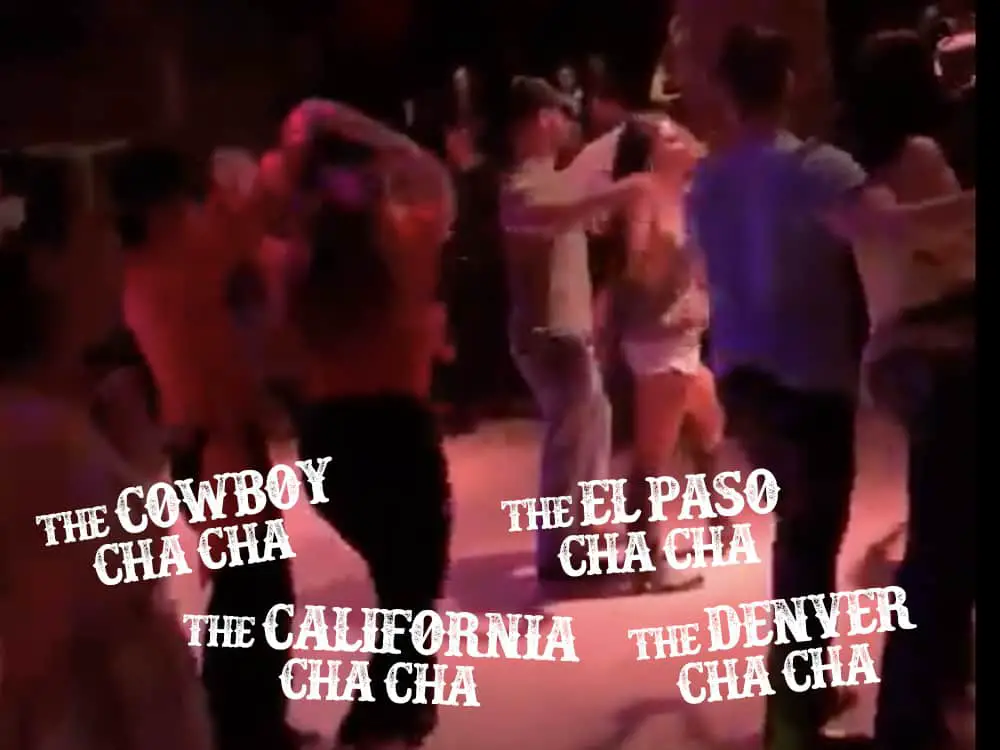 When you are out at a country bar for a great night of dancing with friends and hopefully with that special significant other, you'll notice the night will break up into different sections with different types of dancing. This really adds to the fun and variety throughout the night.
The first obvious types are line dancing and then partner dancing. But if you stick around, you'll notice the partner dancing also breaks down into different types as the night progresses.
Typically you'll see mostly Two-Stepping going on, but also there will be West-Coast Swing dances called depending on the club, but also Partner Cha Cha dances. This last one is what this article is about! I think the Cha Cha partner dances are universally loved by everyone. You can count on a crowded dance floor every time they're called.
The FOUR most common partner Cha Cha dances in country dancing are The Cowboy Cha Cha, The Denver Cha Cha (also known as the Colorado Cha Cha), The California Cha Cha & The El Paso Cha Cha. The Songs that these are danced to have a fairly slow beats per minute (around 100 bpm), and are interchangeable with any of these Cha Cha dances.
What is a Cha Cha dance and how is it different from other partner dancing?
The Two-Step, West Coast Swing & Partner Cha Cha Dances all have signature steps, but the foundation for the steps is largely tempo or speed of the song's rhythm.
The graphic below shows where on the spectrum of tempo these dances live. So, the songs that have a slower bpm (beats per minute) work well with dancing a Western Cha Cha partner dance.

But I have been just wondering why? Why do the Cha Cha dances seem to work with the slower tempo songs? To find the answer I reached out to Brian Barakauskas. As a professional dancer who has competed, performed, and taught for many years, (and as a really great dude!), I knew he could help me out!
He said that when we are dealing with country dances speed goes back to the grassroots of dancing. People just liked particular songs and came up with steps that worked for them. But, basically, all cha cha dances are 3 Steps into 2 beats of music. But how a specific Cha Cha dance feels will be dictated by the specific music.
So, the Cha Cha just happens to be danced to slower songs. Its beginning is very arbitrary, but the main thing to know is that it incorporates 3 steps in 2 beats of music.
When someone put those steps together they weren't thinking about anything official. It was just they liked the song and came up with the steps. So, a little history and insight from a great dance pro!
What are Some Popular Songs that Western Cha Cha dances Can Be Danced To?
Depending on the bar you are in and what the DJ likes to play, you might hear the same slow tempo songs played for your typical Cha Cha dance. But there are so many great slow country songs that could work. Here's a chart with 14 that I quickly rounded up. Neon Moon by Brooks and Dunn I would say is by far the most popular Partner Cha Cha dance song played. It has a fairly slow BPM at 102 which makes it easier to keep up with. My Maria, on the other hand, while slow enough to be considered a Cha Cha tempo will pose more of a challenge.
| Song | Artist | BPM |
| --- | --- | --- |
| You | Chris Young | 95 |
| Neon | Chris Young | 99 |
| Ain't Nothing 'Bout You | Brooks & Dunn | 101 |
| Neon Moon | Brooks & Dunn | 102 |
| Honey Bee | Blake Shelton | 103 |
| Drinking Problem | Midland | 103 |
| How Country Feels | Randy Houser | 105 |
| Getting You Home | Chris Young | 107 |
| I Don't Want This Night to End | Luke Bryan | 112 |
| Center Of My World | Chris Young | 113 |
| I Just Want To Dance With You | George Strait | 114 |
| Why Don't We Just Dance | Josh Turner | 122 |
| My Maria | Brooks & Dunn | 123 |
Following are some details and particulars of the four Popular Western Cha Cha dances. Bookmark this post to keep these in mind and have some great teaching video's a click away. One further note about the steps… As stated above a Cha Cha is known for 3 steps in 2 beats. So you'll often hear (and maybe want to say to yourself as you dance it "Cha Cha Cha." But you'll also often just hear "triple step" as people teach a Cha Cha.
1. Cowboy Cha Cha
| | |
| --- | --- |
| Count: 80 | Progressive Partner Dance |
Choreography: Unknown (or possibly: Dick & Geneva Owsley Matteis)
Step Sheet for the Original "Traveling Cha Cha": Click here to download.
Step Sheet for the West Coast "Cowboy Cha Cha": Click here to download.
Of all the called Cha Chas today the Cowboy Cha Cha (also known as the Traveling Cha Cha) is the most popular. It is a progressive dance or traveling dance going around the floor. It does take a little time to learn at 80 counts. The Cowboy Cha Cha has 5 parts to it know as:
Basic Cha Cha
Turn and Face
Pivot-1/2 Turns
Lady's Part (or Walk-Walks in the Traveling version)
Around the World (aka Weave the Basket)
Each part is done twice. Like with many dances there are things that you can add to spice it up. It's super common and pretty fun when the guy bows or tips his hat (click here if you need one!) when he turns the lady to face him in part 2. The "Around the World" part which brings the lady or follower around the guy, is a chance for them to add spins as they're traveling around. At the end of that, the dance begins again.
One thing to know is that it seems more common that this Cha Cha dance is done with the Walk-Walks. This is where it gets the name of Traveling Cha Cha! I've included a 3rd video below if you want to learn this version.
The one with the turns seems to be common on the West-Coast. This is how I learned it and I get why its called the "Lady's Part" as the man sort of gets to show her off as the lady does full turns clock-wise and counter clock-wise as you travel (instead of just walking). Downloadable step sheets for both included above.
The first video is a demo that shows the Cowboy Cha Cha during a fun bar competition I competed in last February in 2020, before things got locked down. This was the first of 3 partner dances. It wasn't a surprise they had us all do the Cowboy Cha Cha!
The following video is a good lesson that shows the 5 parts mentioned above and explains and demonstrates them very well. But this is the West-Coast Cowboy Cha Cha that includes the lady doing the full turns on part 4.
---
2. The Denver Cha Cha (also known as the Colorado Cha Cha)
| | |
| --- | --- |
| Count: 28 | Stationary Partner Dance |
Choreography: Manny & Alice Rodela
Step Sheet: Click here to download.
While I really love the Cowboy Cha Cha dance, I have really come to love the Denver Cha Cha as well. It might be my favorite of the Cha Chas now. But first a funny story! When I first started dancing at my local bar, it was the Denver Cha Cha that happened to be my first partner dance lesson.
The nice lady that was there to also learn it with me was about as clueless. I remember the sheer misery as we struggled to try to keep up with everyone. But I've come along way and now it's all muscle memory and just another dance I love to hear called.
What is unique about the Denver Cha Cha is that it is not a progressive partner dance. It does not have you and your partner traveling in a circle around the dance floor. Because of this some people refer to it as the Stationary Cha Cha.
The dance can actually be done as a couples dance or line dance. There is the same footwork for both people and it is done in a stationary way like a line dance. This is what makes this one unique and different from the other cha chas. It's called the Denver Cha Cha but also know as the Colorado Cha Cha, having originated in Denver, Colorado. Also to add to some confusion this dance was originally called the Cowboy Cha Cha! And word has it that they still call it that in Denver!
Like a lot of these dances it can work for songs from about 100-116 bpms.
As these different cha chas have different versions and such it took a little research to sort it out, one great resource here was the website of James R. Ingram. He's done a great job going into great detail about the Denver Cha Cha and I've also included his video below.
Also, while I've included a step sheet for this dance above check out this crazy version by James Ingram! Never seen someone put something like this together before, but might be a help.
---
3. The California Cha Cha
| | |
| --- | --- |
| Count: 28 | Stationary Partner Dance |
Choreography: Unknown
Music: Turnin' Me On by Blake Shelton (111 bpm) or Smooth by Santana (120 bpm)
Of the western cha cha dances that I've learned since I've been country dancing, the California Cha Cha was the last one I learned. I was so glad to finally learn it because it is just a great dance and really a lot of fun!
It is another progressive circle partner dance but is very different with the lady on the inside of the circle, the gentleman on the outside (instead of them both facing the direction they're going. There's some walk, walks, this cool switching of hands and also some chasing that goes on. It's all too hard to explain, but there are just some really fun aspects to it and it has such a fun and exciting feel to it once you get it down.
Candy Sherwin suggests dancing it to Smooth by Santana and at 120 bpms it just makes it a little more exciting than it already is.
---
4. The El Paso Cha Cha
| | |
| --- | --- |
| Count: 28 | Progressive Partner Dance |
Choreography: Unknown
Step Sheet: Click here to download.
While I am fairly well-versed in the first 3 of these cha cha dances, I've yet to really get much time with the El Paso. I did learn it one night at Cowboy Palace out in Chatsworth California but haven't revisited it yet. This one is also known as the Wiggle Cha Cha. I'm assuming that is from the part that the teacher referred to as "Swivle swivle" in the video below.
---
So, there's the 4 popular and well-loved cha cha dances out there, but please please comment if you have more information on any of these dances and if there's more I can add. I know there is some confusion out there about which is which and of course, it has to do with the region of the country your in and if there's a different version being taught.
One thing to know is that everyone loves the cha cha dances. Why? They're just more romantic. With all those slow country songs being used you can't help but get some great romantic lyrics to dance to.