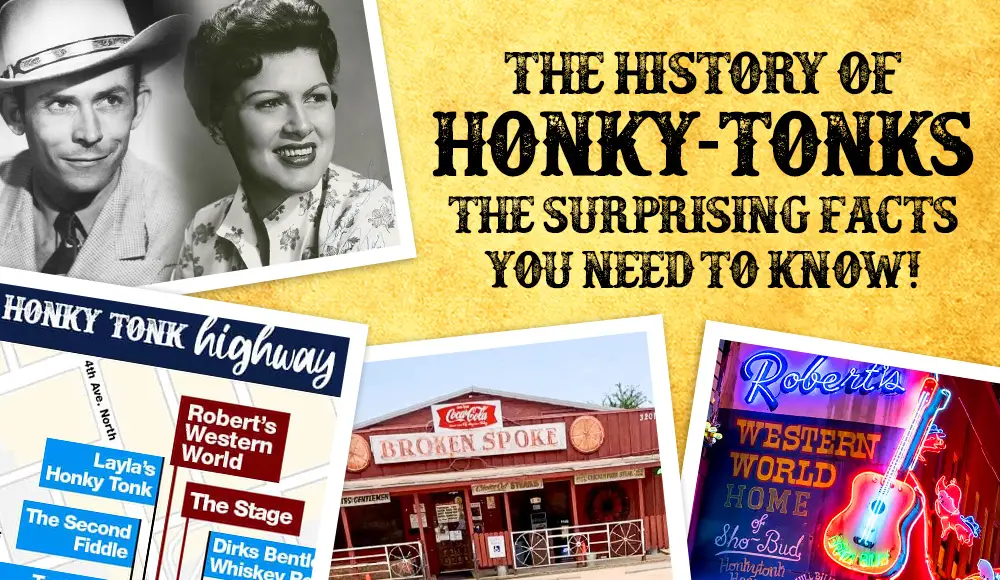 Are you a honky-tonk man or woman? I bet you are—otherwise, you probably wouldn't be visiting this blog! Have you ever wondered about the history of honky-tonks and how they're related to honky-tonk music? If so, then read on! And next time you're out for a night of Two Step, Country Swing, or line dancing, you might be able to impress your country dancing partner or friends with these facts about honky-tonks! 
A honky-tonk is a bar where people dance and drink to live country music. That's simple—but the history of honky-tonks is more complex. The word "honky-tonk" has an unclear origin, and the evolution of honky-tonks is deeply tied to the history of country music.
---
Contents
The Origin of the Term "Honky-Tonk" Is a Mystery
Honky-Tonks Have Evolved Over More Than 130 Years
Nashville Honky-Tonks Had a Key Role in the History of Country Music
The Origin of the Term "Honky-Tonk" Is a Mystery
On our journey through the history of honky-tonks, our first stop is the term "honky-tonk" itself. There's not much certainty around its origin. Or much agreement about whether to leave the word unhyphenated as "honkytonk" or make it two separate words as "honky tonk"! Merriam-Webster, which hyphenates the term, says the first form of "honky-tonk" referred to a type of club, not to a style of music, and emerged in 1889. The definition is "a usually tawdry nightclub or dance hall, especially one that features country music."
Some Theories About the Origins of "Honky-Tonk"
Where did this funny-sounding creation come from? Unfortunately, Merriam-Webster states that the origin of "honky-tonk" is unknown, and there doesn't seem to be any agreement about it among other sources. Some say the term might've been cowboy slang around the Texas-Oklahoma area in the late nineteenth century.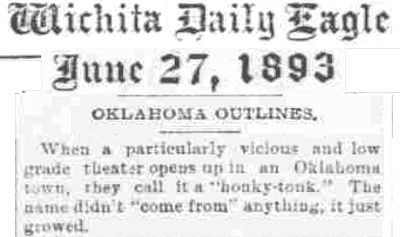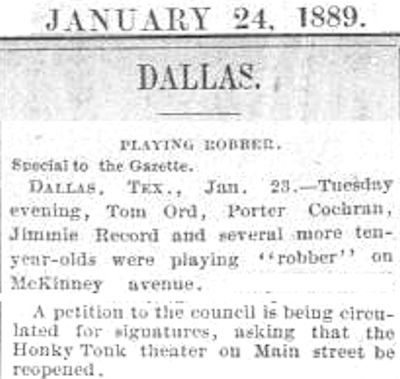 In 1889, a Fort Worth, Texas newspaper did refer to an establishment called "the Honky Tonk theater," which provided unsavory adult entertainment. That might've been where the term first showed up—as well as a reference point for cowboys seeking entertainment on cattle drives. But there's no definitive information about what exactly "honky-tonk" meant to them or how they might've used it.
Another hypothesis is that the term "honky-tonk" is an onomatopoeia. That's right—just as the words "buzz" and "hiss" sound like the actions they describe, "honky-tonk" might have come from the "honk" and "tonk" sounds of the ragtime-style piano music in those early "tawdry nightclubs." It seems possible! Pianos in these bars likely weren't in tune or even in good shape, and that probably led to "honking" and "tonking" music that wasn't perfectly melodic but instead had a strong rhythm.
But let's turn to Merriam-Webster again. Their definition of the genre, "country music that has a heavy beat and lyrics dealing usually with vice or misfortune" isn't the first known appearance, and we know that meaning didn't come about until a few decades later. Also, the adjective's definition, "marked by or characteristic of honky-tonks," showed up in 1899. Both of these points suggest that honky-tonk music came after honky-tonk clubs were an established locale for entertainment. And this leaves us with a real chicken-or-egg puzzle!
Others say "honky-tonk" could've been connected to late-nineteenth-century pianos branded "Ernest A. Tonk." That would make sense, right? Early honky-tonks did feature piano music, after all. But this theory doesn't quite work because Ernest A. Tonk pianos were manufactured in New York, a long way from the southwest. And more importantly, Ernest A. Tonk pianos didn't start widely appearing in bars until after "honky-tonk" had likely been used and understood for some time.
Today's Definition of "Honky-Tonk"
So the origin of the term "honky-tonk" will just have to remain a mystery! But what about the definition? It seems at least partly accurate, right? Sure. But it carries a lot of meaning from an era when honky-tonks weren't the same as they are now. Many of today's honky-tonks are respectable places with great music, food, and drinks.
So, as with a lot of words that describe cultural phenomena, "honky-tonk" is probably best described by the people closest to it. And most of those people—including me—agree that a honky-tonk is a place for seeing live country music, doing some real country dancing, and enjoying a drink.
Really, that's been the core of the definition of a honky-tonk club since at least the 1960s, when Nashville became THE place for these establishments. And today, when you mention honky-tonks, many people assume you're talking about Tootsie's Orchid Lounge and the other famous Nashville honky-tonks. But what were honky-tonks like pre-Nashville? And what are some examples of contemporary non-Nashville honky-tonks? Read on!

---
Honky-Tonks Have Evolved Over More Than 130 Years
As I said above, honky-tonks have been around since 1889. That's a long time! And although a lot has changed since honky-tonks first appeared, a couple of things about them have stayed the same. 
The Honky-Tonk's Less-Than-Virtuous Beginnings
There isn't much information about the feel and clientele of the first honky-tonks, but sources all seem to agree that honky-tonks were rough places! Located in the southern and southwestern United States (the Texas-Oklahoma area I mentioned above), early honky-tonks were bars where mostly blue-collar folks drank alcohol, listened to live country music, gambled, and even used the services of prostitutes.
The drinking and music portions of that description still hold for today's honky-tonks. But there's no more illegal prostitution or gambling (I hope!), and the people who visit honky-tonks are no longer just working-class people. As you probably know, even though contemporary honky-tonks can get rowdy, they're a source of legal entertainment for people of all classes.
The Spread of Country Music & Its Influence on Honky-Tonks
What caused honky-tonks to become more popular and reputable places? The shift probably had to do with the growing appeal of country music and country dancing in the early 20th century. Country music originated in the American South and West in the early 1900s, and it began to get quite popular by the 1920s and '30s. What probably happened is that country music started spreading across America, creating a demand for more places to enjoy live country music. And a honky-tonk was one such place!
In the accepted history of honky-tonks (and there's not much info out there!), there's a bit of a gap between the late nineteenth century and the era when honky-tonks became a major part of Nashville's music culture. It's almost as if honky-tonks were just waiting for an audience to enjoy them and make them more popular! But there are plenty of honky-tonks that showed up in the era between the first southwestern honky-tonks and Nashville's honky-tonks.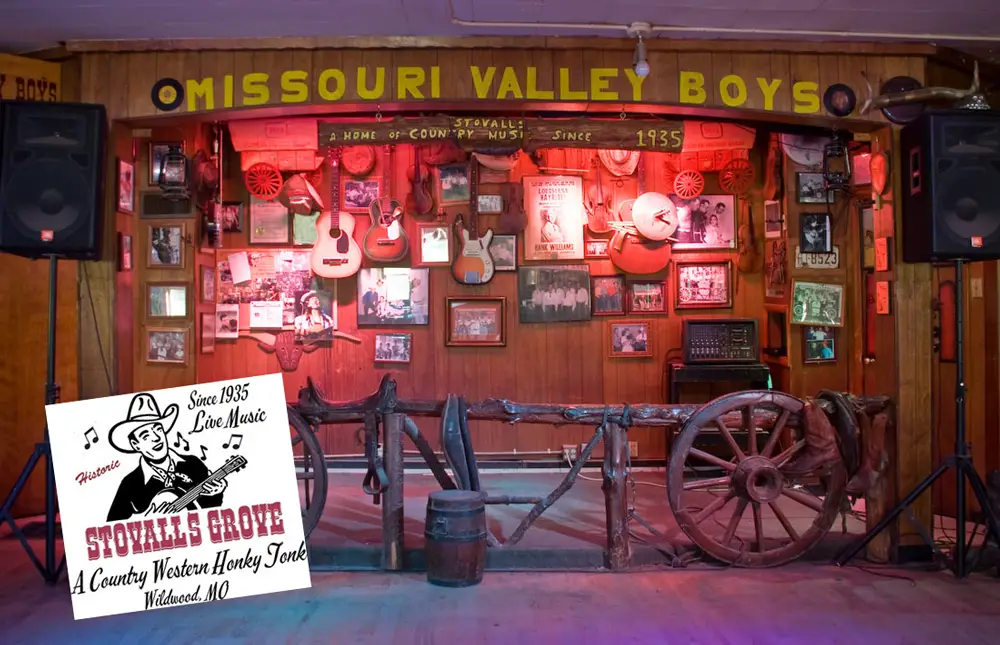 One example is Stovall's Grove in Wildwood, MO. Since 1935, Stovall's has been a home to live country music and dancing. Special thanks go out to a reader for the heads up on this place! She writes
"A little ways from St. Louis. It is a historic honky tonk from the 30s that has line dance lessons and dancing to recorded music on Thursdays, then live music with dancing Friday through Sunday. It is a GEM! – Christine Edwards."
So, thank you so much Christine for that contribution! Also, check out their site to learn more!
The Modern Honky-Tonk of today
Besides Stovall's Grove in Wildwood, MO. some other modern honky-tonks of today have been explored pretty thoroughly here on the blog. To see some covered, click here. One thing that seems very important about these places is their involvement with country music over many years. There are those required walls of framed autographed black and white photos of the famous and not-so-famous country artists that have been there at one time.

A great example of this would be of course the famous Broken Spoke in Austin TX, where George Strait would play (Oh how all honky-tonks would love his picture on their wall of fame!)
Cowboy Palace in Chatsworth CA, Cowboy Country in Long Beach CA, and Mo's Place in Houston are a few of the other certain qualifiers that come to mind!
And if you know of more please comment below, or email me! But read on for more about country music's involvement with the honky-tonk and this part of country music's history! Enter Nashville…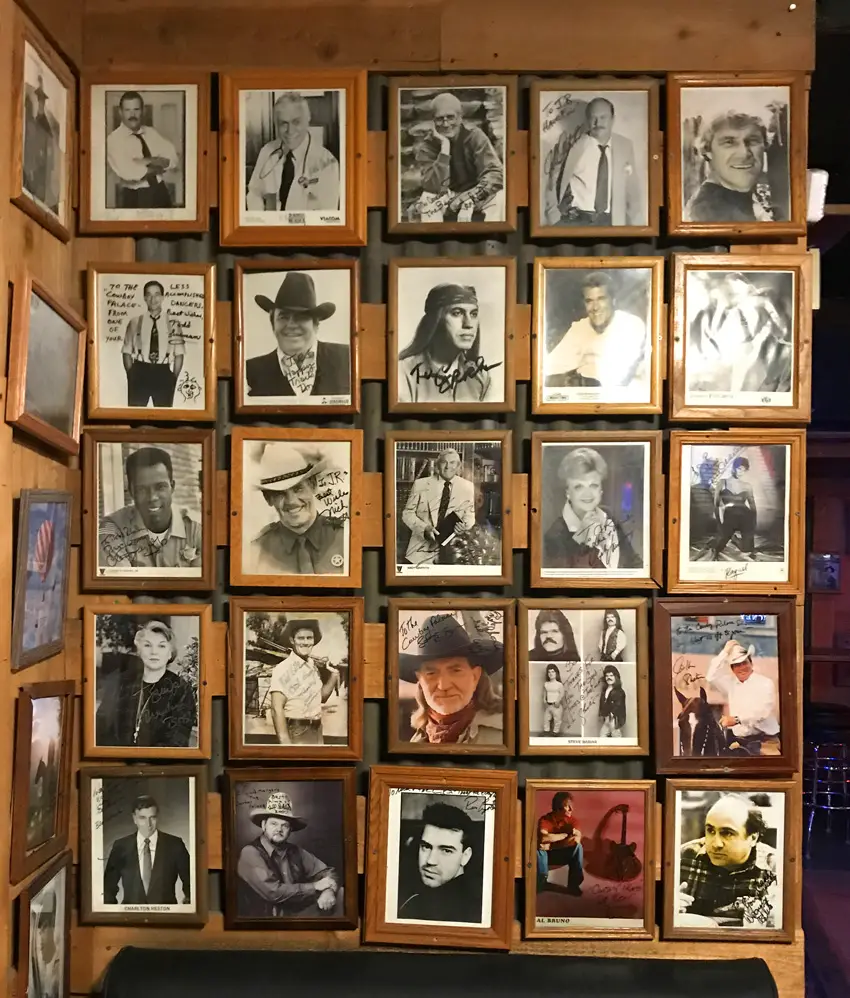 ---
Nashville Honky-Tonks Had a Key Role in the History of Country Music
Now on to Nashville! How did it become the honky-tonk mecca? For the answer, we can again thank the popularity of country music. In 1942, legendary country musicians Roy Acuff and Fred Rose founded a record label called Acuff-Rose Music in Nashville. The label was devoted to publishing country music and had Hank Williams on its roster. Williams' fame brought big success for Acuff-Rose and for country music. This helped turned Nashville into America's country music hotspot.
Tootsie's Orchid Lounge as a Hangout for '60s Country Artists
In the following decades, lots of music venues opened in Nashville, including honky-tonks in the area known as Lower Broadway. These venues almost seem like a way that Nashville gave back to country music, building up an audience and also serving as places for talented but unknown musicians to perform. In the 1960s, some Lower Broadway honky-tonks were home to many artists who would later become country stars. The best example is of course the legendary Tootsie's Orchid Lounge. Located behind the Ryman Auditorium, formerly the host of the Grand Ole Opry, Tootsie's was an especially important venue in the development of country music. It's said that artists like Kris Kristofferson and Willie Nelson were early benefactors of Tootsie, the venue's motherly co-owner.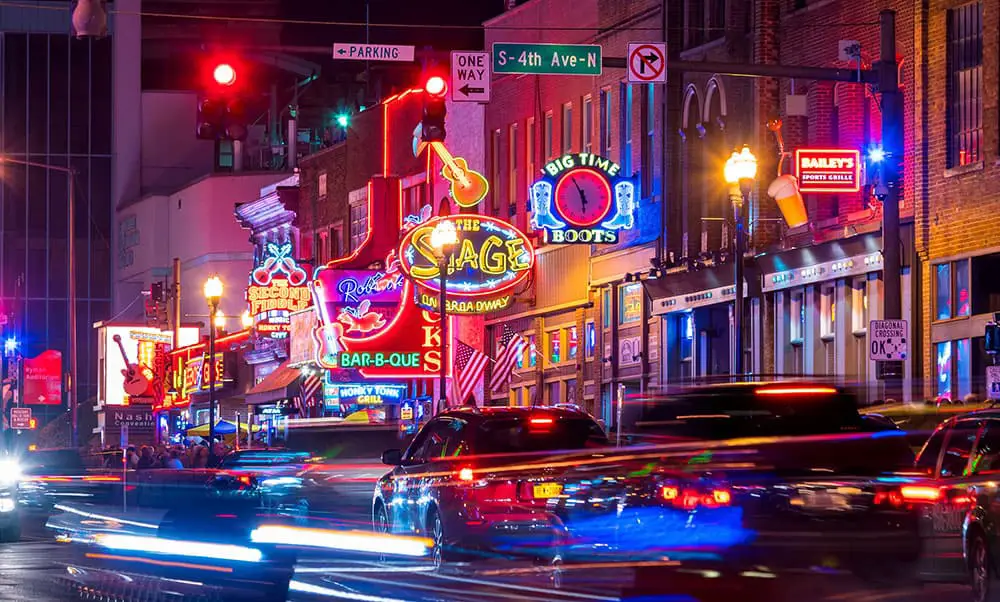 Tootsie's was also attractive to some established stars. The Ryman had no backroom and only one dressing room, so Opry performers like Patsy Cline, Johnny Cash, and Hank Williams would often end up in Tootsie's, hanging out and even playing music before their sets. Imagine sitting down at Tootsie's to have a drink and listen to the Opry on the radio—and then seeing one of your country music heroes from the show walk in and play! No wonder Tootsie's became such a popular place and drew more people to Lower Broadway.
The Decline and Revival of Lower Broadway Honky-Tonks
But after the Ryman stopped hosting the Grand Ole Opry in 1974, Lower Broadway lost its appeal and eventually became a much seedier area—home to pawn shops, peep shows, and prostitution. Tootsie's, however, remained in place and continued to host live country music. In the 1990s, music returned to Lower Broadway and the area slowly turned back into an attractive spot for country fans and performers.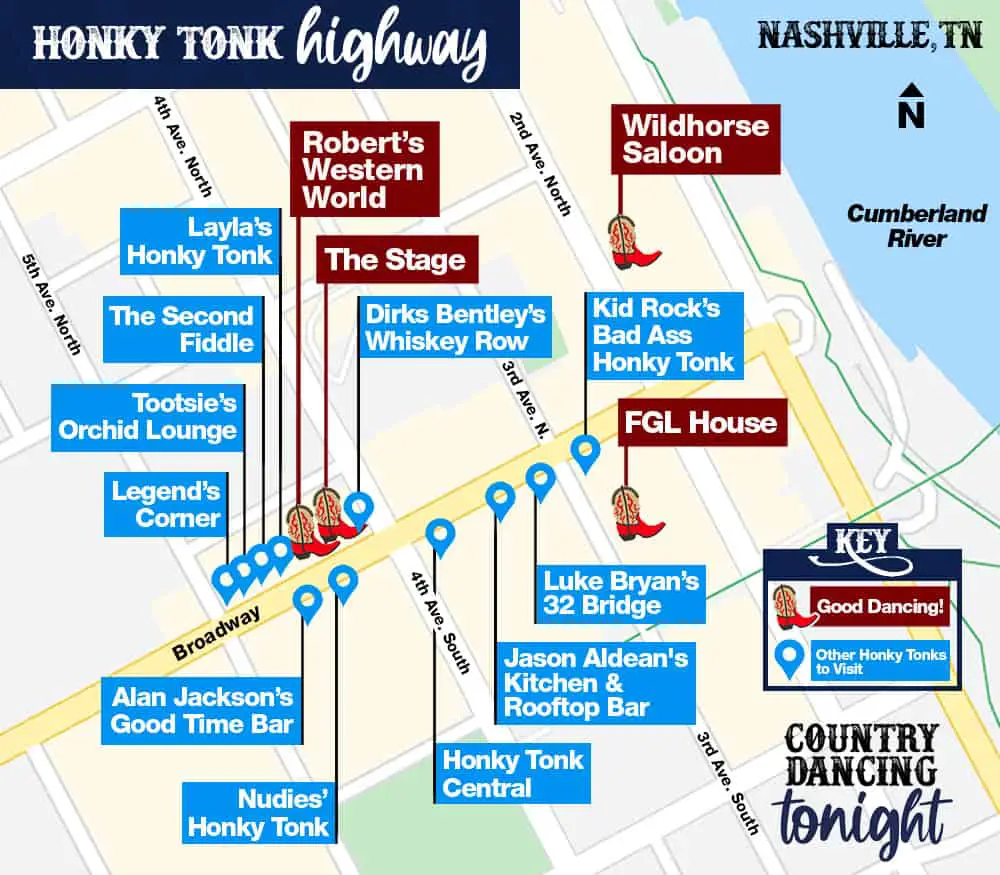 Today, Tootsie's Orchid Lounge is still a lively attraction, alongside many other Lower Broadway clubs. Venues like Robert's Western World and Nudie's Honky-Tonk are famous for offering live music to country enthusiasts and curious tourists from around the globe. Often called Honky-Tonk Highway, Lower Broadway's strip of honky-tonks makes Nashville the current honky-tonk capital of the world!
Country Dancing in the Nashville Honky-Tonks
One thing to note here, since this is a blog specifically about Country Dancing, is that the classic honky-tonk is often more of a "listening room" for live country music and not a place boasting a big expansive hardwood floor for some good Two Stepping and line dancing. Of course, my favorite honky-tonks are those that also have that to offer. The above map is a good guide for where on Broadway to go if you want to be sure to get your Two Step on and do some gliding around a good dance floor!
For a deeper dive into the best places to go dancing in Nashville and where many of the honky-tonks are see my article covering 15 places to dance and 27 total spots to visit!
---
Conclusion:
So, there you have it! Some good-to-know facts about the term, its history, and the current goings-on with the cultural phenomenon known as a honky-tonk!
While some things about its origin, may remain a mystery, I think its evolution and the part it has played in the growth of country music is clearly obvious. Nashville, of course, is the place to really explore these great little havens for country music and good times.
And although the Nashville honky-tonks of today aren't anything like they were decades ago, one thing is true: they're great places for live music, good drinks, and country dancing. Like I said above, some things about honky-tonks haven't changed!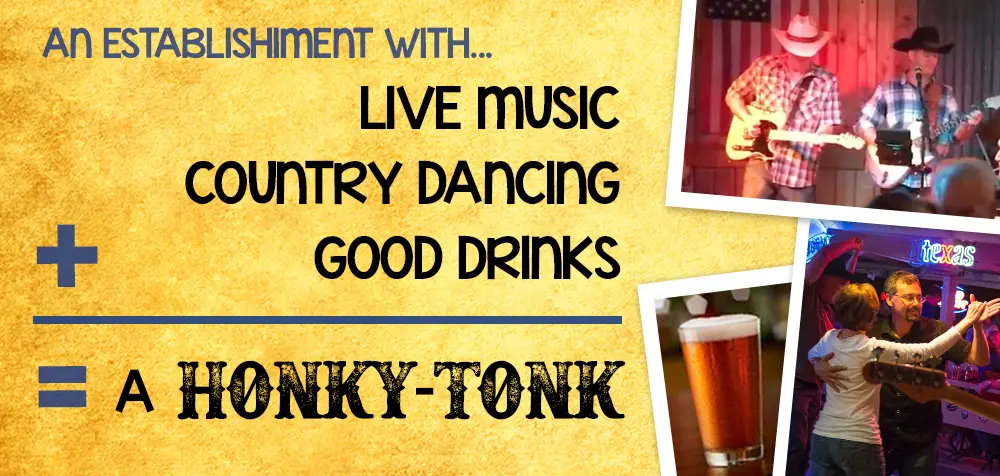 ---
Sources:
https://en.wikipedia.org/wiki/Honky-tonk#Music
https://www.merriam-webster.com/dictionary/honky-tonk
https://www.nudieshonkytonk.com/about
https://robertswesternworld.com/about/
https://www.visitmusiccity.com/things-to-do-in-nashville/attractions/honky-tonk-highway
https://www.worldwidewords.org/qa/qa-hon2.htm
https://www.britannica.com/art/country-music
https://www.vice.com/en/article/panvx7/deep-dive-nashville-downtown
https://www.nashvillescene.com/news/how-tootsies-orchid-lounge-helped-change-country-music-and-nashville-in-just-50-years/article_3b30f417-3deb-5f33-b642-22d380a42266.html
https://hometownbyhandlebar.com/?p=11230
---