If you can't help but move your feet when a good country song comes on the radio, hopefully, you are finding your way to a great country dance venue to do so! If you are in Medina, Ohio there really is just one place to go!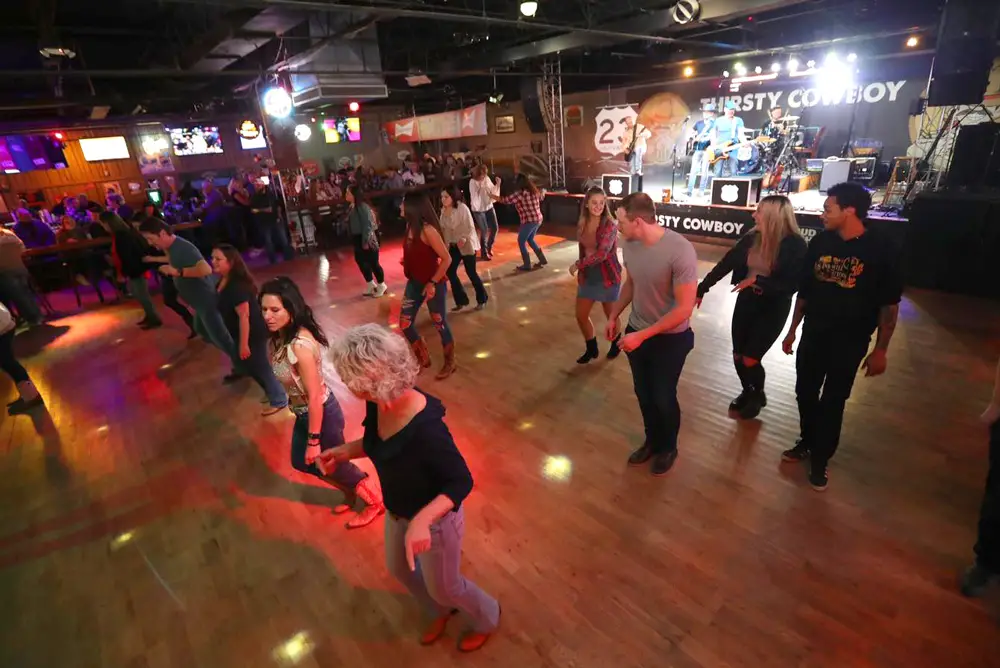 The Thirsty Cowboy is the go-to spot for hot country dancing in Medina, Ohio. They have a huge dance floor and play country dance music all night long. They also have different theme nights such as line dancing lessons, DJ nights, and live music concerts that bar-goers can enjoy throughout the week. 
If you want to learn more about the Thirsty Cowboy and what all it has to offer, keep reading! You'll probably be heading out the door to dance the night away before you reach the end!
The Thirsty Cowboy's Hours of Operation
Doors open at 3:00 pm Monday through Friday and at 7:00 pm on Saturday. The bar is closed on Sunday. There is no cover charge to enter the bar. However, some theme nights have costs associated with those events. 
---
Themed Nights at the Thirsty Cowboy – the 4 Best Nights to Go!
The Thirsty Cowboy is known for its country music and massive dance floor, but the bar also has different themed nights that you can enjoy throughout the week. There is something for everyone at the Thirsty Cowboy. While open 6 nights a week these 4 nights are the best nights to go!
Wednesday Night Line Dancing Lessons at the Thirsty Cowboy
If you want to dance to country music, you really need to learn how to line dance! Line dancing is a staple in country music, and if you spend any time at a country bar like the Thirsty Cowboy, you will see a lot of it happening on the dance floor. So why not join in on the fun?
If you aren't sure what to do or want to learn the best line dances from a professional, the Thirsty Cowboy has line dancing lessons every Wednesday night with Patti. If you want to get an idea of what you'd be signing up for, check out this video on Patti's YouTube channel of a group learning the Rattlesnake Slide during one of her lessons.
Participants must be at least 18 years old to join. Tickets are $10 for those aged 18 to 21 and $5 for participants 21 and older. Though the lessons start at 7:30 pm, doors open at 7:00 pm, so you can come in early and fuel up with $0.60 wings and $3 drink specials.
If you are interested in attending a lesson, you can purchase tickets through the Thirsty Cowboy website.
Thursday Night Trivia at the Thirsty Cowboy
Come for the dancing and stay for the trivia! Thursday nights at the Thirsty Cowboy will allow you to team up with your friends, test your knowledge on various categories, and win prizes and bragging rights for the rest of the night.
To participate in trivia night, you must be 18 or older, but the price to play is free. The event takes place from 7:00 pm to 1:30 am, so come prepared to eat, drink, dance, and show off your random fact knowledge to the rest of the bar!
But about Thursday nights… Interestingly enough recently they had Mark Paulino as a guest line dance instructor on a Thursday night! So check their calendar and Facebook to know if anything special like that is ever coming up!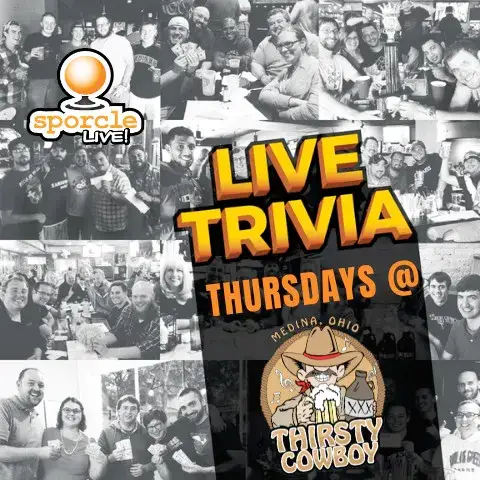 And about Mark Paulino, a great choreographer known for the dances like Rude Dude, One Shot & Honkytonk Way, check out an article about another country dance venue in Maryland where he shot his video for Rude Dude!
Friday Night Dancing at the Thirsty Cowboy
While the lessons happen on Wednesday, Friday night is also a great night for dancing at the Thirsty Cowboy. There is no cover charge on Fridays, but you must be at least 21 years old to enter. Doors open at 3:00 pm for food and drinks, so you can come early to eat and get ready for the night of dancing. 
The dancing on Friday includes both line dancing and partner dancing. A lot of people like to apply what they learned in the lessons on Wednesday on Friday. You'll see a similar crowd with quite a few more country dancing folks.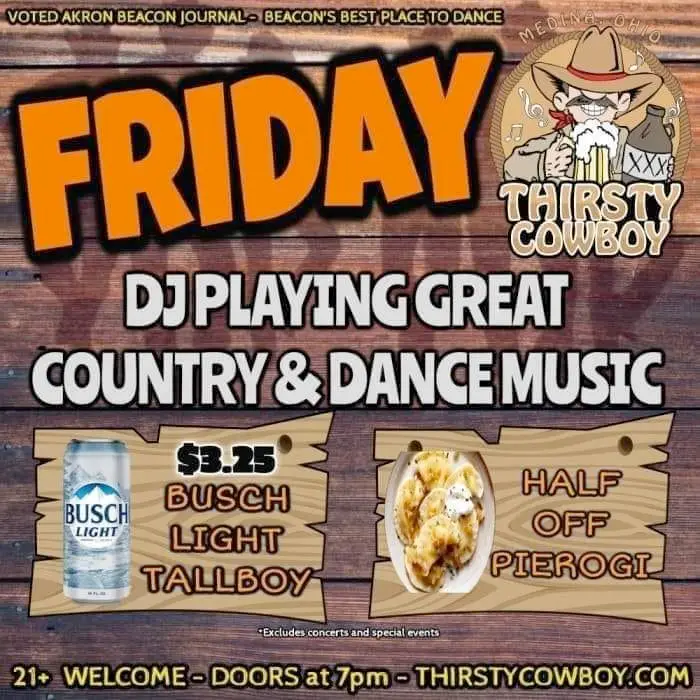 You'll also enjoy some Friday night specials, such as the $3.25 Busch Light tallboy or the half-off pierogis.
The DJ starts at 7:00 pm and plays the best country dance music all night long. Be sure to bring some friends so you can show off your line dancing skills on the dance floor!
Saturday Night Live Music and Dancing at the Thirsty Cowboy
If live music is more your jam, you will want to visit the Thirsty Cowboy on Saturday night. Each Saturday, the bar has a different band or artist perform live. And of course, the dancing continues! There's nothing like country dancing to great live country music. Be it a line dance, Two Step, or Cowboy Cha Cha, the Thirsty Cowboy has a great dance floor to enjoy it all.
Some of the artists that have performed at the Thirsty Cowboy include:
Whiskey Bound
Chris Cagle
Whiskey Loco
Buck Naked Band
The Steel Woods
Tobi Lee and Mustang Sally
Jacob Bryant
23 Southbound
Mark Leach has also performed at the Thirsty Cowboy. This video on YouTube shows his performance of "I Come from Ohio:"
Pricing and age requirements differ for each show, so check the event description before going. Some shows will allow those 18+ to attend, while others will require 21+. Prices vary between $5 and $20 per ticket, though you can sometimes get a discount for purchasing your ticket ahead of time.
Doors open at 7:00 pm, and the show usually starts between 9:30 pm and 10:00 pm. Be sure to get there early to enjoy some food and drinks before the music and dancing start!
---
More Information About the Thirsty Cowboy
Located in Medina, Ohio, the Thirsty Cowboy is Northeast Ohio's top spot for country nightlife. Whether you want to dance the night away on the bar's huge dance floor, listen to some great country music or ride a mechanical bull, you will have fun at this pub! Also, the Akron Beacon Journal rates the Thirsty Cowboy as – "Beacon's Best Place to Dance!"
To further get an idea of what all the Thirsty Cowboy has to offer, check out this YouTube video from Chris Walter Visuals:
In addition to the themed nights mentioned above, there are a few other attractions that might draw you to the pub:
Food: The menu at the Thirsty Cowboy showcases your typical pub food, including wings, burgers, and tacos. Check out their different specials, such as Taco Tuesday with $1.50 tacos.
Mechanical Bull: Thirsty Cowboy is home to the area's only mechanical bull. Come take a ride on "TC Tornado" and try to hang on!
Parties: If you are looking for a great place to host a birthday party, bachelorette extravaganza, or just a fun night out with the boys, the Thirsty Cowboy is the place to go. Be sure to contact the venue if you have inquiries about hosting your party at the bar.
---
Final Thoughts on the Thirsty Cowboy…
If you are looking for a country bar to line dance the night away, the Thirsty Cowboy is your spot. This bar is a great place to hang out with your friends, have a good drink, and listen to great country music. Obviously over on the east side of Akron is The Dusty Armadillo as well, but if you are closer to Medina, the Thirsty Cowboy is probably your place to be. But do check out the Dusty Armadillo as well some time!
Because the Thirsty Cowboy has different theme nights, such as line dancing lessons and live music concerts, do check out their event calendar to see what events they have coming up!
---
Sources