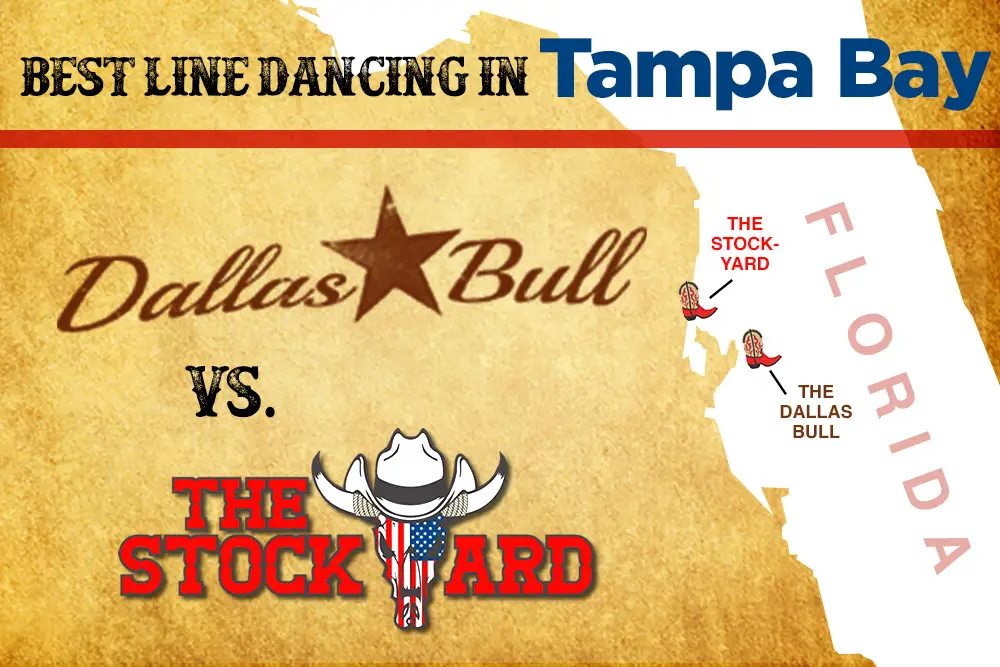 When I think about the wild popularity of line dancing and country dancing throughout the country, I think I can safely say that Florida is alive and well and exemplifies this. And if you are specifically in the city of Tampa or the Tampa Bay area, the places to see some country dancing going on would be The Dallas Bull and The Stockyard. If you are interested in the dancing goings-on at these venues read on for a comparison of the two venues and all the particulars of each!
---
Two West Florida Country Dance Bars at a Glance!
Here are some of the basics if you just need to size the two bars up against each other quickly! Locations, website, and days open!

The Dallas Bull
3322 US-301, Tampa, FL 33619
(813) 987-2855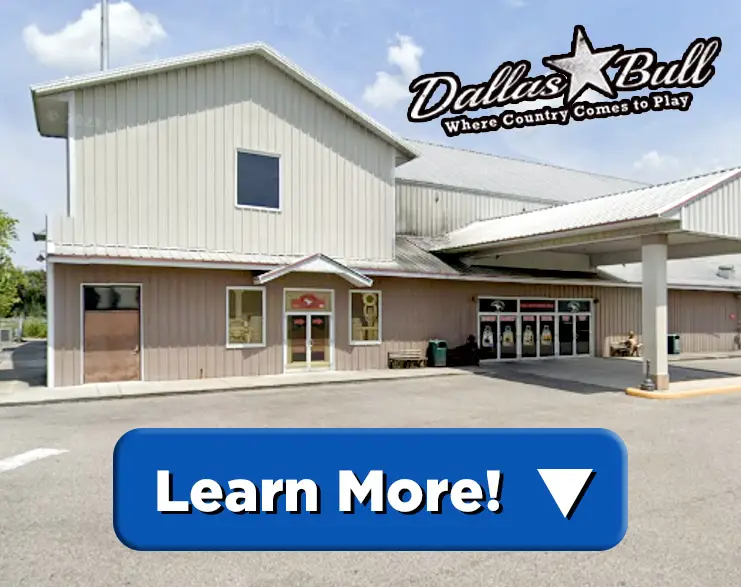 The Stockyard
1916 US-19, Holiday, FL 34691
(727) 939-9494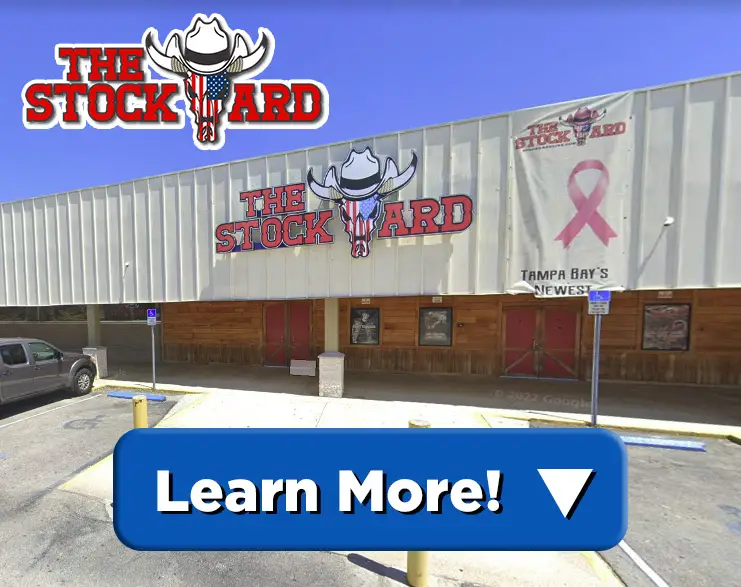 ---
Now that you've seen the basic side-to-side, let's dig into the details. Starting with the Dallas Bull in Tampa.
The Dallas Bull, Tampa, Florida's Premier Country Dance Club
The Dallas Bull opened first in 1979, so it has been a mainstay in the Tampa Bay area for over 40 years now!
The Dallas Bull is a spacious 34,000-square-foot country nightclub featuring live music acts, country dancing, and attractions for its 20,000 monthly visitors. The bar's attractions include ten full bars, dart boards, pool tables, a mechanical bull, and dance floors on both of its two floors.
The Bar is open 3 nights a week (Thurs.-Saturday) and is located at 3322 US-301, Tampa, FL 33619. The Dancing happens all 3 nights with lessons on Thursday & Friday.

Hours are the same each of the 3 nights (7 pm-3 am). The Bull is also an 18-year-old + bar. So, here a younger crowd is welcome. In fact, Sunday is Karaoke Night and is a night they even occasionally host a Teen Night!
Those are the basics, but for a little more about this great country dance bar keep reading…
From its beginnings, it has been able to claim to be the "largest honky-tonk east of the Mississippi!" It began small but finally some years ago underwent a huge upgrade to now be the large premier country music and dancing venue it is today. Yes, the Dallas Bull is known as the premier country club in the Tampa Bay area.
As a go-to place for country music, over the years they've hosted their share of great stars, some of the likes of which are: Kenny Chesney, Keith Anderson, Kix Brooks, Luke Bryan, and Eric Church!
So, needless to say, the Dallas Bull has collected its own rich country music history now over the years. Also, check out the list below for some recent acts that still include both newcomers and some household names of the country music landscape!
Jon Langston
Greg White
Lanco
Eli Young
Cooper Alan
Brian Kelly
Chase Matthew

Whey Jennings
Thomas Gabriel
Meson Rogers
Josh Turner
Niko Moon
Kylie Morgan
Just Huffman

Granger Smith
Tracy Byrd
Kolby Cooper
Tyler Farr
John Michael Montgomery
Randy Houser
---
The Dallas Bull History – A Country Music Hallowed Ground
Having first opened in 1979, the Bull has now had a long run hosting country music and dancing entertainment for the City of Tampa. But it didn't always look like the amazing large venue that it is today.
Under the original ownership, the Bull was much smaller. The current ownership took over in 2000 and as the story goes, they knew they needed to grow the establishment to keep up with the crowds. They looked to some big dance halls like The Wildhorse in Nashville and Billy Bob's in Fort Worth for some inspiration and when the vision was realized we had the giant 34,000 square-foot, two-story dance hall that is enjoyed today. The new revitalized Dallas Bull opened its doors in 2006 with the motto "Still Country" and the tagline "Where Country Comes to Play!"
And just to give a fuller picture of the storied country music history the Bull can boast. There are really no other places that have introduced more up-and-coming artists at a local venue cost. So to fill out more of the names that have crossed its threshold check out this list:
Craig Morgan, Brantley Gilbert, Jake Owen, Colt Ford, Florida Georgia Line, Uncle Cracker, Blake Shelton, The Charlie Daniel's Band, Tracy Lawrence, Aaron Watson, Cody Johnson, Big Smo, The Lacs, Old Dominion, Cody Webb, Tyler Farr, Michael Ray, Muscadine Bloodline, Granger Smith, Easton Corbin, Daryl Worley, Mitchell Tenpenny, Casey Donahue, Lee Brice, Dylan Scott, Josh Ward, Phil Vasser, Riley Green, William Michael Morgan, Craig Campbell, Chris Lane, Midland, Kane Brown, Montgomery Gentry, Dan & Shay, Chase Rice, Sam Hunt, Brett Eldredge, Big & Rich, and The Bellamy Brothers.
Whew! I have to wonder if the list of who hasn't played there would have been smaller!
Jerrod Neiman also played here and even wrote a song about the Dallas Bull (I can Drink to that All Night)
"… Don't look now oh the parkin lots full
Gonna ride that cow with a Dallas Bull
Everybody in the ATL is comin' DJ's got those speakers thumpin'"
In the last couple of years with Covid shutting things down, the Dallas Bull had a moment when they weren't sure they would survive. Fortunately, they have survived and have reopened to once again feature the live country music and dancing we love.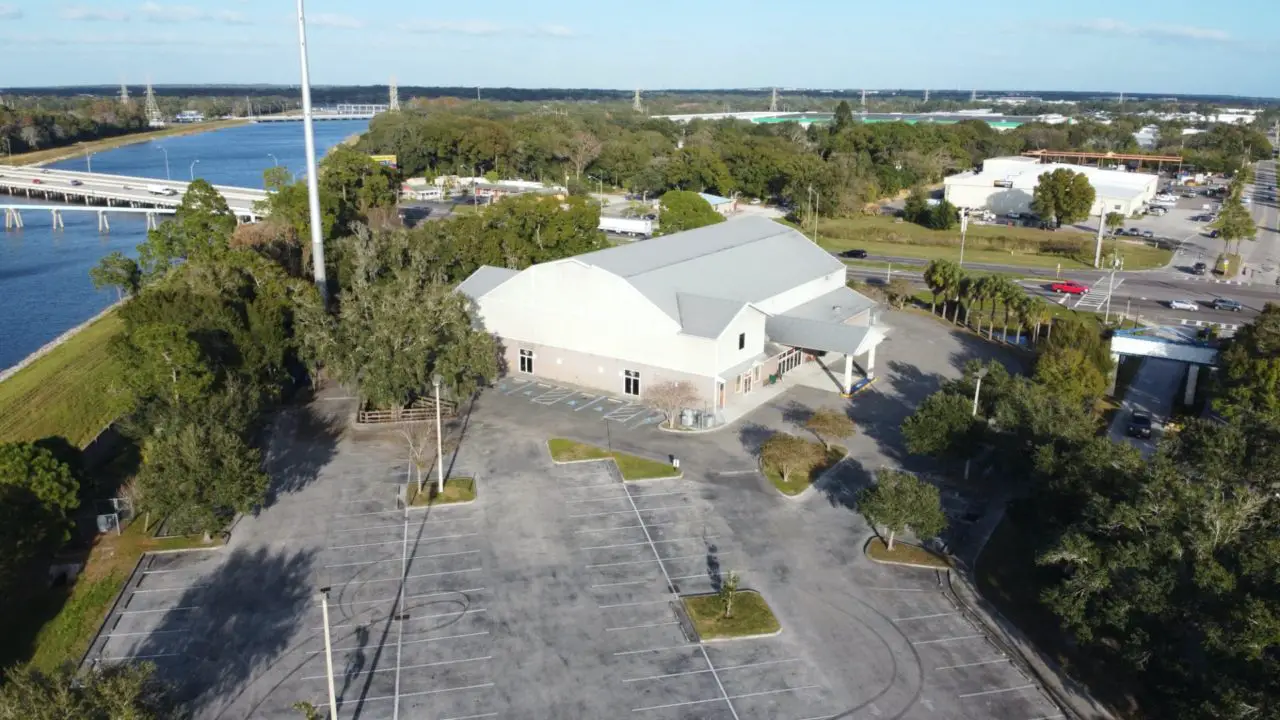 ---
Line Dancing and Lessons at the Dallas Bull
While a major draw to the Bull is the live country music every weekend, this country bar is equally attractive because of the great dancing opportunity it offers. There are dance floors on both floors! But check out the main floor in the videos below. The floor is 2,400 square feet, so plenty big enough for some great crowds that come to line dance.
The Lessons are Thursday and Friday nights between from 7:30 to 9:30.
Thursday's instructor is Melanie Cheever, and Friday's is Kathy Brown.
---
What's The Dallas Bull Like Inside?
The main way the Dallas Bull has been described since its revitalization in 2006 is "cavernous." And when you go, you'll see what they mean! On the 2nd floor, with a balcony you can look down from you'll see it has that Nashville Wildhorse feel with the large open area. Besides this, the Bull just has a rustic and western feel that is appropriate for the country theme it boasts. The 2nd floor however has a different, and more of a club vibe that differentiates it from the country atmosphere below. The 2nd-floor dancing is more for those that like to dance to an average club set list and some hip hop music.
---
Events and Hours at the Dallas Bull
Hours
| | |
| --- | --- |
| Sunday-Wednesday | Closed |
| Thursday-Saturday | 7 pm-3 am |
---
Weekly Themed Nights
Thursday – Legendary Ladies Night
All ladies 21+ will receive 6 drink tickets with paid admission.
Admission: 21+ $10
Girls 18-20 $15
Guys 18-20 $20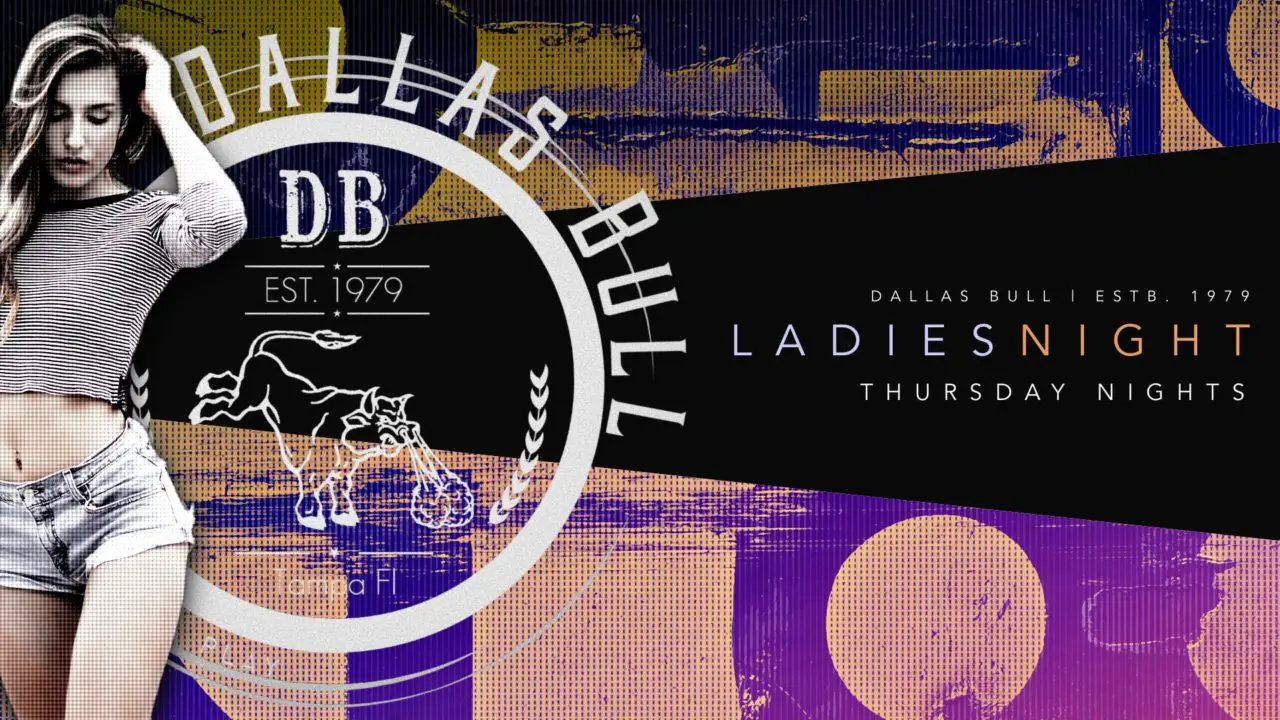 Friday – Karaoke Nights & Concert After Parties
Along with line dance lessons & dancing, Fridays have Karaoke and, since they are close enough to the nearby Credit Union Amphitheatre at the Florida State Fairgrounds when country acts play, an after-party that draws fans in.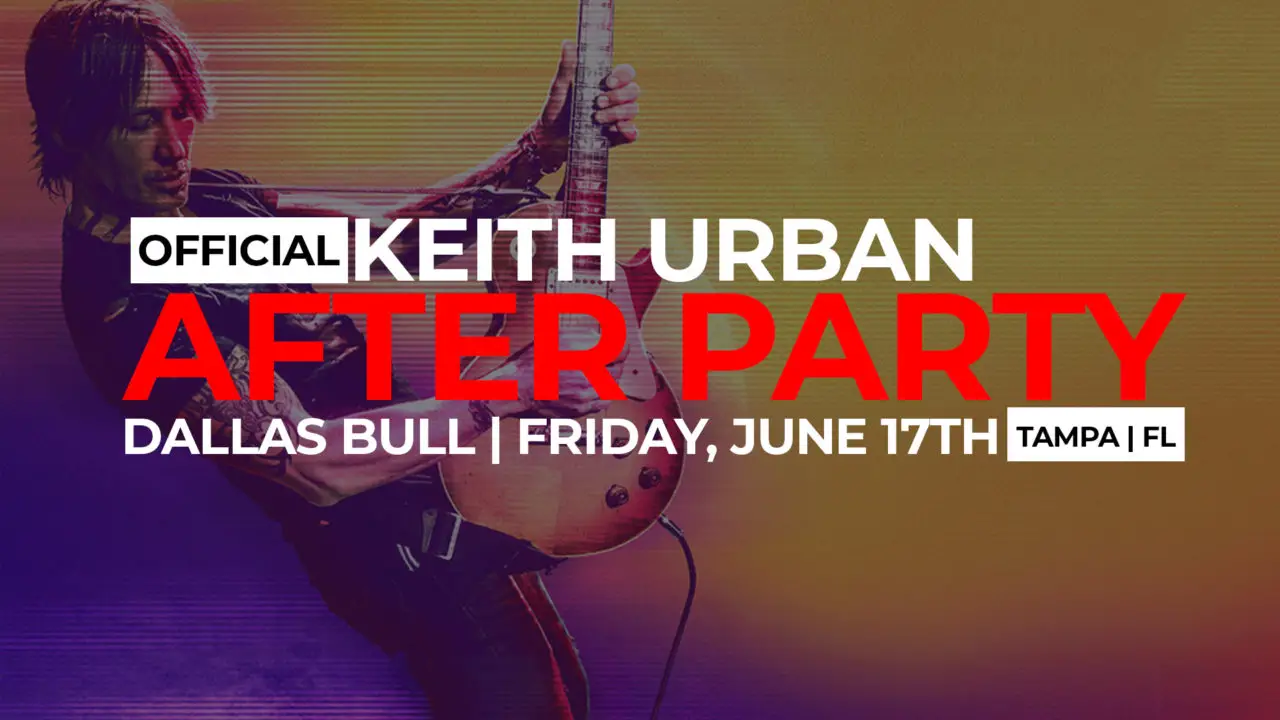 For the latest happenings check out their Facebook page for updates!
---
What People Are Saying About the Dallas Bull?
I think it's interesting that the Bull has a link to their Yelp page. I like that since that encourages you to go see what people say. Like most reviews, those for the Dallas Bull are mixed. There are many people that love it here and see it as a country concert and line dancing go-to spot. Comments about the security and staff generally include "makes you feel safe" and "professional."
But also another theme that does seem recurring is how some people feel hassled when showing their ID to just get in. There seems to be a bouncer that also wants to see your social media accounts to verify your age! This seems crazy, but more than a few people have had this experience. So, if you are somewhat young looking, be ready for a whole ordeal just to get in!
---
The Stockyard, Holiday City's Country Concert & Dance Venue
Now that we've delved into our first great dance venue, let's go north, to check out the Stockyard in Holiday City, in the northern Tampa Bay area.
The Stockyard is Tampa Bay's newest country dance and music venue. Renowned DJs entertain the crowd with the latest country music hits. Line dance classes are held Tuesday-Saturday. The dance floor is a massive 3,000 sq. ft. to accommodate the dancing.
The Stockyard, located on US Hwy 19 one mile North of Tarpon Springs, at 1916 US Highway 19
Holiday, Florida 34691, is a liquor friendly, non-smoking 18+ country music venue that serves daily beverage specials and hosts weekly concerts.
The concerts are a great draw here and in the past, they have seen many great artists perform. See the list below for who has been there recently!
Josh Turner
Corey Smith
Jon Langston
Clay Walker
Chayce Beckham
Scotty McCreery
Mark Wills
Walker Montgomery
Jamey Johnson
Drake White
Laine Hardy
Carly Rogers
Colt Ford
Matt Stell
Easton Corbin
Neal McCoy
Allie Colleen
Travis Tritt
Rodney Atkins
Joe Diffie
Chase Bryant
Lonestar
When it comes to the drinks, you'll want to look to the primary bar located close to the dance floor for a variety of nightly drink specials. If you are more of a whiskey person there is also an exclusive whiskey bar, just steps away from the VIP section. However, that's not all that there is to this place. Read on to learn more!
---
The Line Dancing at The Stockyard
Most clubs try to do a lot of different things to try and get in as many people as they can. The Stockyard, though, is a through and through country music and dance club. It is a bar for all southern folk and country music lovers. Besides the great live concerts, there are DJs and line dancing, and several nights where line dancing lessons are offered for all of you looking to brush up on your moves or even break into the fun activity of line dancing for the first time.
Between the Dallas Bull & the Stockyard, the Stockyard is the only club that offers 4 nights of line dance classes: Tuesday, Thursday, Friday, and Saturday, starting at 7:30 pm. Here you get to learn from Tampa Bay's most popular Line Dance instructors. The dance floor is quite large so you will never feel cramped but you will also never be without a partner by your side!
The Tuesday night lesson is billed as a beginner lesson, so aim for this night if you are just wanting to break into line dancing for the first time. But if that's you, I'm sure it won't be long before any of the nights will be good.
Wednesday is the Stockyard's Karaoke night, so no line dance lessons on Wednesday! But there is partner dancing. The dance lessons on Wednesday night rotate between Two Step, East Coast Swing, and West Coast Swing. So come out for that for sure!
Then, finally, Friday and Saturday line dancing continues and welcomes all skill levels to come out, take the lessons and dance the night away to all your favorites.
---
What's The Stockyard Like Inside?
The interior and ambiance are what you would expect from an authentic country bar. It has a massive restaurant that serves all kinds of mouthwatering pub grub. One can sit, eat and drink, on the many wooden tables and chairs surrounding the dance stage. Right next to the stage/dance floor, there is an inviting fully stocked bar that you wouldn't want to move from very quickly. A DJ or a live performance is often in the mix on stage with the crowd just having a good time on the dance floor or near the five pool tables. 
Covered in RGB lights, the dance floor is extremely appealing. The immersive atmosphere is enhanced with the lighting, the neon signs, the RGB LED strips, and a mostly wooden 'barnyard' interior. Everything is set up to make you want to dance, sing, and let loose!
---
Events And Their Hours In The Stockyard
Hours
| | |
| --- | --- |
| Sunday-Monday  | Closed |
| Tuesday-Wednesday | 7 pm-12 am |
| Thursday-Saturday | 7 pm-2 am |
Weekly Event Schedule
| | |
| --- | --- |
| Tuesday | Fundamentals Line Dance Class for Beginner Students till 9 pm |
| Wednesday | Karaoke night or Partner Dance Lessons (check their social media) |
| Thursday-Saturday | Line Dance Class- All Skill Levels Welcome – Doors Open 7 pm. Dance Lessons  Start Time 7:30 pm. |
---
Hosting Events At The Stockyard – Reserving The VIP Area
An event coordinator at The Stockyard can also assist you with whatever special event you have in mind. Regardless if it's an anniversary celebration for two or an enormous corporate occasion, or even a wedding; at The Stockyard, anything is possible. 
The Stockyard has a VIP area that offers restrictive seating. These tables can be reserved for yourself as well as your guests. The VIP section includes its own private bar, an assigned bartender, or potentially even a table waiter, allowing you and your guests to party in comfort and style. The VIP area also has its own private restrooms making it well worth it! 
The VIP Area is comfortable seating that separates you from the other visitors, yet puts you amidst all the activity! You will be very close to the dance floor and the stage and watch the performers from an area that no other person in the club has access to. Expect luxury treatment that will absolutely make for a remarkable evening.
The Stockyard has an in-house coordinator who will go over all your VIP choices to make a customized occasion just for you. The club can handle everything from booking table reservations for an evening to arranging your one-of-a-kind party, they can likely make it happen.
---
Frequently Asked Questions About the Stockyard
Q) Is there a dress code for line dance classes?
The dress code to learn how to line dance in The Stockyard is enforced, but easy to follow. Basically, no baggy apparel should be worn. Gym clothing is also not allowed. Guys shouldn't come in a tank top, or muscle shirt, or with cut-off sleeves.
Your best bet is a t-shirt, shirt, and jeans if you are a guy. If you are a girl, have fun! Anything goes except gym and yoga wear. And of course, no shoes, no service or entrance! Without proper shoes, you will not be allowed to practice line dancing with the others. 
By the way and I suggest some good leather-soled ones, if you need some suggestions, click on these links: men's boots, women's boots.
Q) What are the cover charges?
On most nights cover is $5 before 9 PM for ages 21+. After 9 PM there is no cover charge! However, if you are 18-20 expect a $15 cover charge on most nights. 
---
Reserving Prime Seating Options At The Stockyard
Reserve prime seating and be guaranteed a great spot to sit and partake. These tables are set all through the venue in light of your comfort.
Tables seat up to four visitors but don't take too long as they're often booked well in advance. The Stockyard highly recommends reservations when coming for a concert. Call the event organizer at 727-939-9494.
Cost
| | |
| --- | --- |
| $20 | Floor Tables – Includes Seating For Up To 4 Guests – Cover Charge Not Included |
| $50  | VIP Lounge Tables – Includes Seating For Up To 4 Guests – Cover Charge Not Included |
To hold reservations, a credit card is needed.
---
The Dallas Bull vs. The Stockyard – The Choice is Yours!
So there you have it! Two great country bars and dancing venues to service the Tampa Bay area! These are both great places to make your home dance hall and get involved with a community of dancers.
If it's more about great live country music, or you live near Holiday City, you'll probably be gravitating toward The Stockyard, but if you are to the south smack dab in the city of Tampa, maybe it's really The Dallas Bull for you. But either way, be sure to also check them both out! At only about 1 hr. apart, it's easy enough!
---
So Many Places to Dance, So Little Time!
If there are other places in the Tampa Bay area that deserve to be stacked up against the Dallas Bull & Stockyard, please leave a comment and let me know! Also, if you are in Southern California, Dallas/Fort-Worth, Nashville, or Chicago areas, below are some other pages on this site to guide you to where to go dancing! (57 more places to dance!)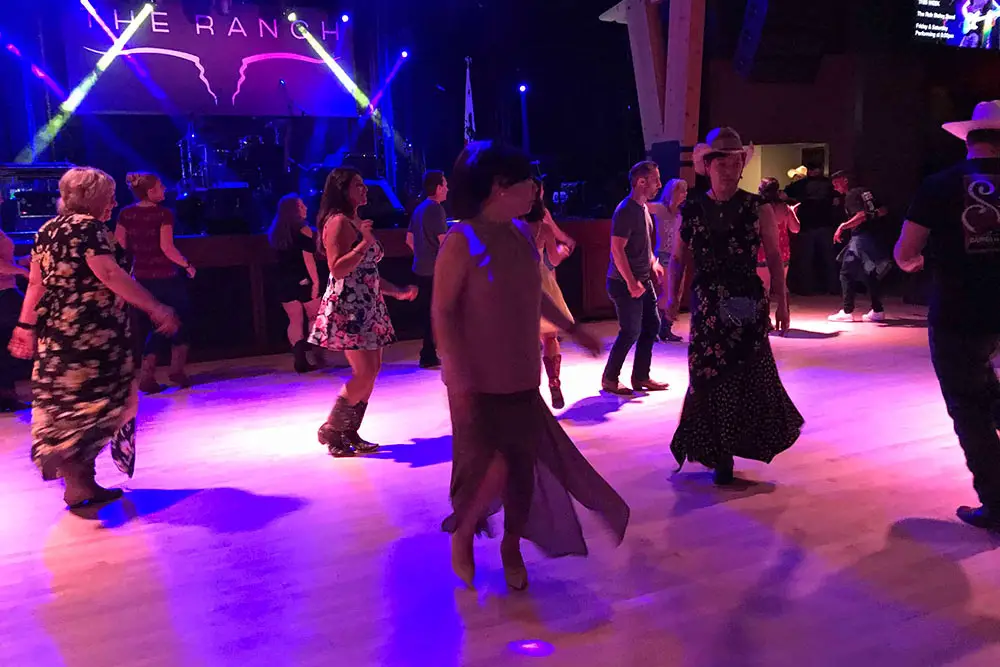 When it comes to country bars with good bands, line dancing, and the 2-step, Southern California has many places to show off…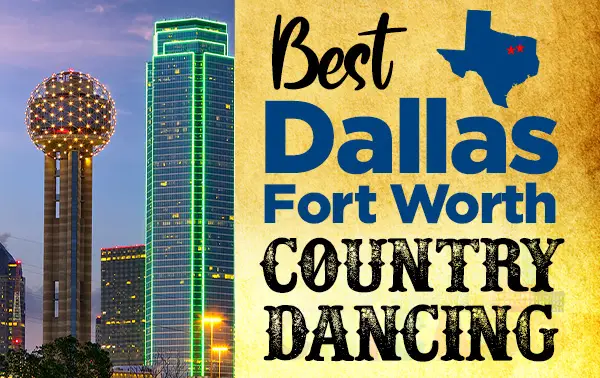 Texas and country dancing! I am very excited to bring you a good round-up and just a great resource to find the best places…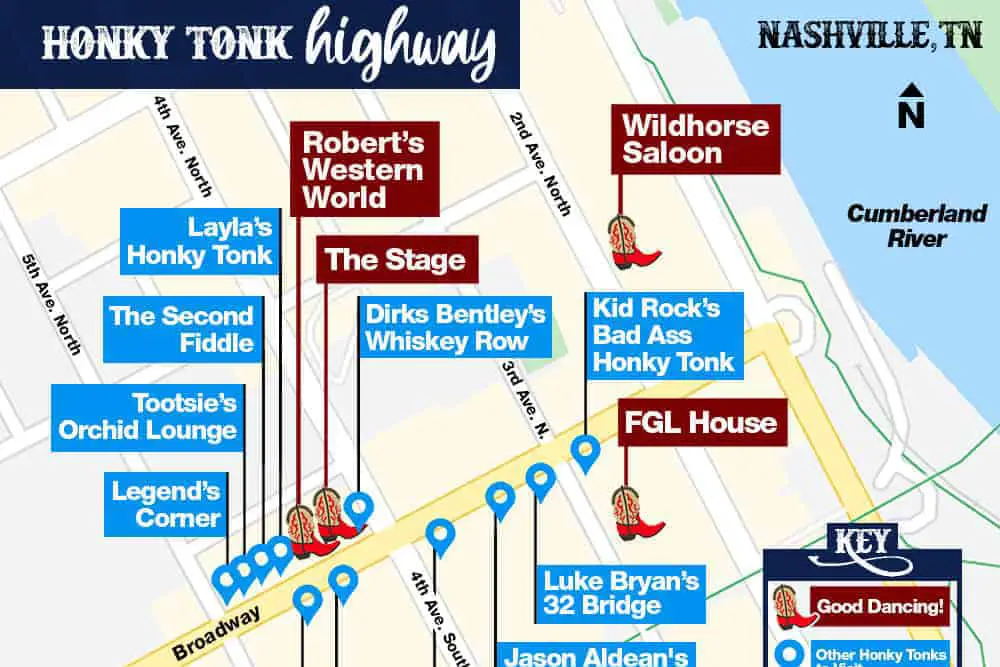 Nashville, known also as Music City, is the birthplace of country music. It also continues to be the Mecca that all aspiring…
Living in the Windy City has tons of perks, but if you're looking for country dancing, both line dancing, and partner dancing…