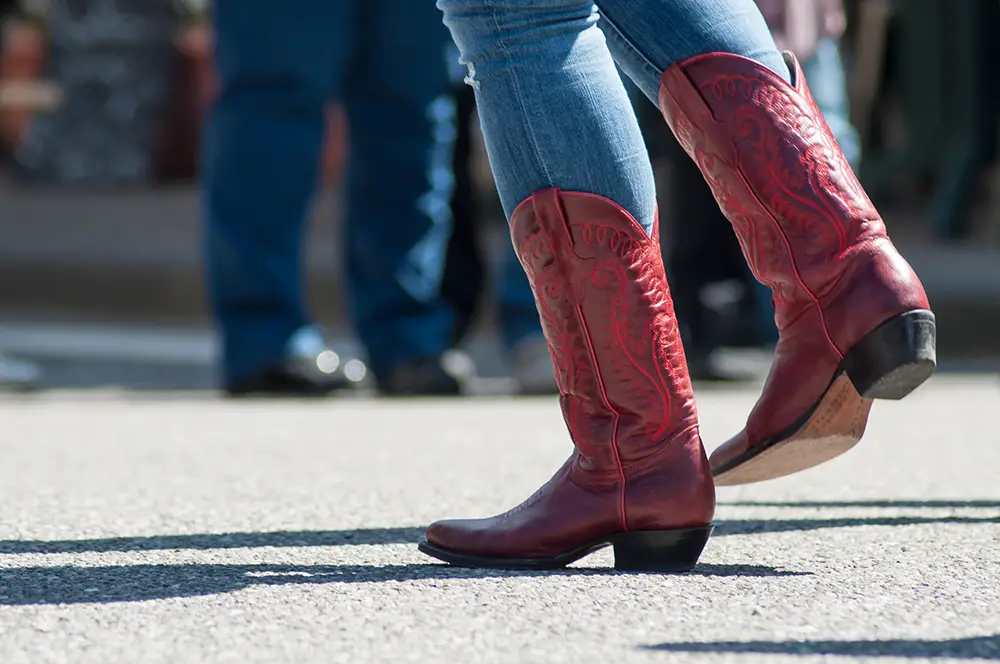 If you've ever been line dancing or watched it on television, you've probably noticed all the adorably cute and ruggedly handsome cowboy boots the dancers are wearing. However, like any physical activity, line dancing is demanding, and having the appropriate footwear is essential. Sadly, not all boots are created equal. 
The best boots for line dancing are ones with single (not split-sole) leather or suede soles unless you're dancing on concrete. In that case, rubber soles work better. The boots should be comfortable, flexible, and lightweight. They should also have low-to-medium heels and fit well in all areas.
In this article, I'll cover the qualities of good line dancing boots in more detail. Then I'll share with you my picks for the best boots for line dancing for men and women. Let's get to it! But also here are some quick links to pop down to those picks right now!
Best Boots for Line Dancing – Women
Best Boots for Line Dancing – Men
Qualities of Good Line Dancing Boots
When it comes to finding the best pair of line dancing boots, there are plenty of things to consider beyond simply, "Are they cute?" One of the most important of these is the type of sole the boot has. 
Let's look at each of these considerations in a bit more detail.
Sole Type and Construction
The type of sole your boots have is one of the most influential aspects in choosing the right pair. With only one exception, leather soles and suede soles work best as dancing boots. They allow you enough traction to keep you from falling, but they don't grip the floor so hard that it's difficult to move.
The exception comes when you're dancing on concrete. 
For that kind of dancing, rubber soles are preferable because they give you a better grip, and since you won't be sliding around on concrete anyway, you don't need the extra-smooth gliding capabilities you'd get from leather or suede.
The sole's construction is also crucial. 
For the longest time, I insisted that a single, uninterrupted sole was the only way to go when it came to line dancing. However, split soles are becoming more and more popular, and I can't keep denying their appeal.
However, you'll more often find split soles on sneakers, not boots. While some companies do make split sole boots, those styles aren't great for dancing most of the time.
Comfort/Good Fit
Dancing is fun and exciting, but it's also physically demanding, so you want boots that will feel good on your feet. I can't tell you the number of times I've purchased a pair of adorable boots at an amazing price only to have them sit in my closet unused because they hurt my feet.
You want a snug, but not too tight, fit that allows your toes room to wiggle and move. For that reason, square-top boots are some of the best.
Flexible
Your boots should fit well and not be too loose. 
In addition to the potential for blisters and discomfort, dancing in boots that are too big can lead to severe injuries, such as twisted or broken ankles. You need good ankle support and a close fit that's not restrictive. 
Additionally, your boots should be flexible! You can't dance in a shoe that's so stiff it won't allow you to bend or move properly. 
Lightweight
The heavier your boots are, the harder it's going to be to lift your feet and move smoothly in them. There's a reason one of the biggest compliments concerning shoes is, "It feels like I'm walking on air." 
We just move better in shoes that are light and have comfy soles. It's like dancing on a cloud.
Heel Size
Keep your heels low. Yes, six-inch heels are gorgeous, and they make your legs and booty look phenomenal. However, you can't dance properly in high-heeled boots. 
And I'm not just talking to the women here, either. Guys, don't sacrifice your dance moves for a couple of extra inches of height. A partner will be much more impressed by a great dancer who's short than a tall dancer who stinks at dancing.
Boot Height
The height of your boots – i.e., ankle boots vs. standard-size cowboy boots – isn't as important as the way they fit. You can find ankle boots or booties that are just as comfortable and well suited to dancing as any full-size boots. Check out some cowgirl booties here!
The trick is to figure out which type works best for you and the kind of dancing you'll be doing.
Style/Price
Finally, don't forget to consider the style and price of the boots. Comfort, flexibility, sole type, and ease of movement are your prime considerations, but you don't want boots that are horrifically ugly either. Find a pair of nice-fitting boots within your budget that looks good with your outfits.
Best Boots for Line Dancing – Women
These are 5 of my top picks for women's line dancing boots.
These stylish microfiber suede boots come in nine different colors and feature suede soles and low heels. They're explicitly designed for dancing, so don't be surprised when you find yourself gliding effortlessly across the floor while wearing them. 
They have a cute ruched look, and the fashionable buckles around the ankle aren't just for show. They're adjustable to provide you with the ankle support you need. Best of all, owning a pair of these boots is kind of like owning two pairs of adorable footwear.
You can fold the tops down to transform them from mid-calf boots to booties (or ankle boots) if you want a new look! 
Also, any purchase currently after clicking from here comes with a free gift.
While these soft suede boots don't transform like the Urban Step styles, they're still great for dancing. 
They come in two colors – tan and black – and have a lovely, intricate stitching pattern on the side. The ear pulls and buckles give them an authentic cowboy boot look, and the sensible heels and suede soles will help you kick your dancing up a notch.
Plus, they come in a wide-width option at no additional cost, which isn't always the case for mid-calf boots. 
While I've mentioned these boots in other places on the site I think they are worth talking about still! These boots are just a go-to great western boot for women going out to country bars to dance. The embroidered floral pattern gives them a very cute and girly look and they are very comfortable, which is really important for line dancing.
And of course, these boots have a leather out-soul, so are perfect for your sliding and spinning that you crave while line dancing. The main thing to know about these boots is that they seem to run small. Reviewers advise getting a pair that is even 2 sizes larger than you normally would get.
Just checking Boot Barn's site for Women's Western Boots will show you the popularity of this boot along with the whole line of Shyanne's Western Boots for Women. Of the top 48 Boots featured on Page 1, 18 spots to Shyannes and The Embroidered Boots top those 18.
If you scan the page, their beautiful 12″ Red Leather Snip Toe Western Boots might also catch your eye…they did mine!
When it comes to traditional women's cowboy boots, it's hard to beat Ariat on Amazon.com. Their boots are 100% leather, and they look fantastic. If you're going for an authentic cowgirl look, Ariat has you covered. 
Not all of their boots are made for dancing, however. 
Some have heels that are much too high, and others don't have enough ankle support. The Delilah Western Boots, though, is an exception. They aren't super high, are lightweight, and the heels are low and reasonable.
They have rubber soles, but that's okay if you're dancing outside on concrete. 
These aren't a great choice for indoor line dancing, though, despite how cute they are. The features I really love about them, though, are the square toes, the excellent ankle support, and the extra-comfy inner lining. 
Here's the above 5 choices in some convienient links for you to shop.
Best Boots for Line Dancing – Men
These are three of my top picks for men's line dancing boots found on Amazon.com.
While I said square-toe boots were the best for dancing, and they are, these boots are perfect for line dancing in literally every other way.
They're 100% leather and have leather soles, the heel is a modest 1.5 inches (3.81 cm), and they provide excellent leg and ankle support. Plus, they're handcrafted and totally gorgeous, and they come in five colors and sizes up to a men's 18!
I can't say that they wouldn't be a bit better with a square toe, but still, these boots are an excellent choice in every other way that matters. 
I love Justin boots, and not just because they look amazing, which they do. 
It's sometimes hard to find stylish, colorful boots for men, but Justin makes some great ones. However, the best part about Justin boots is that they accommodate such a wide variety of sizes. 
You can buy these boots in sizes ranging from size 6 to size 15, and they offer both narrow and wide-width sizes, as well. As I already mentioned, proper ankle support is vital when you're dancing, and it can be challenging for men with narrow feet and legs to find boots that provide that support, which these will. 
They're also leather and have leather soles, and the heels aren't too high. Plus, they have that wide square toe that makes them perfect for dancing! 
Laredo is for men's cowboy boots what Ariat is for women's. 
It doesn't get much more country authentic than Laredo cowboy boots by Dan Post. They're 100% pure leather, but they have a synthetic rubber sole, which isn't ideal for indoor dancing, but it works great when you're outside in the park or somewhere similar. 
They come in six different styles and a decent array of sizes (size 7 to size 15). The heel is 1.5 inches (3.81 cm), and they're a little shorter than some of the other men's boots you'll find, which some dancers prefer. 
They have cushioned insoles and square toes, which we already know are great, and the stitching on them looks fantastic. It's hard to beat these boots in terms of style, and if you're dancing outside, they're pretty perfect for that.
Here are Amazon links to the 3 boots mentioned above along with two additional more stylish, and highly popular boots: The Cody James Pirarucu Exotics and the Tony Lama Cafe Burnished Caiman Belly Cowboy Boots!
Final Thoughts
Finding the best boots for line dancing is about more than just picking out the best-looking, most affordable pair. You need a good, comfortable fit and soles that match the dancing you'll be doing (indoor vs. outdoor). 
It's also essential that your boots are flexible and give you room to move your toes. They should be snug but not too snug, and they need to provide excellent ankle support. Only after you've considered all of that should you worry about appearance.
More Recommended Footwear and More on the Site!