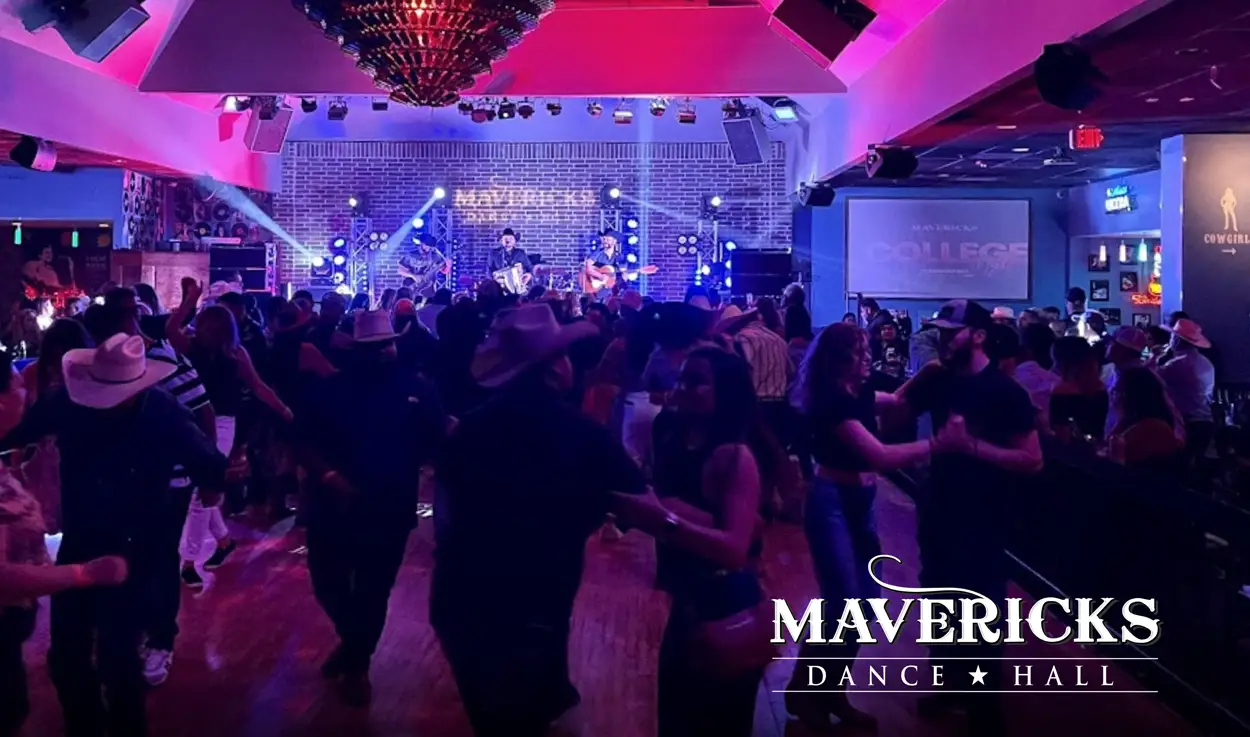 If you're looking for places in Austin for line dancing and country music, look no further than Mavericks. This 21+ dance hall has tons of fun to offer, from line dancing lessons to country music concerts and a great bar atmosphere. A second Mavericks is now open in Buda, to the south. If you are in the North Austin area read on to learn about the North Austin Mavericks in Pflugerville.
Mavericks in Pflugerville is a huge dance hall that features country music DJs and live performances from local talent. Line dance and partner dance until your heart's content with 5000 square feet of indoor space and 3000 square feet of even more room on an outdoor deck. 
Whether you're coming out to country dance or just spending some time with friends and enjoying some country music, Mavericks has a little bit of everything for everyone as long as you're 21 or over. 
---
Table of Contents
---
Quick Venue Information
When
Open Tuesday through Saturday, 7 pm-2 am
Where
Located at 1700 Grand Avenue Parkway Pflugerville,
TX 78660
Phone
512-514-5650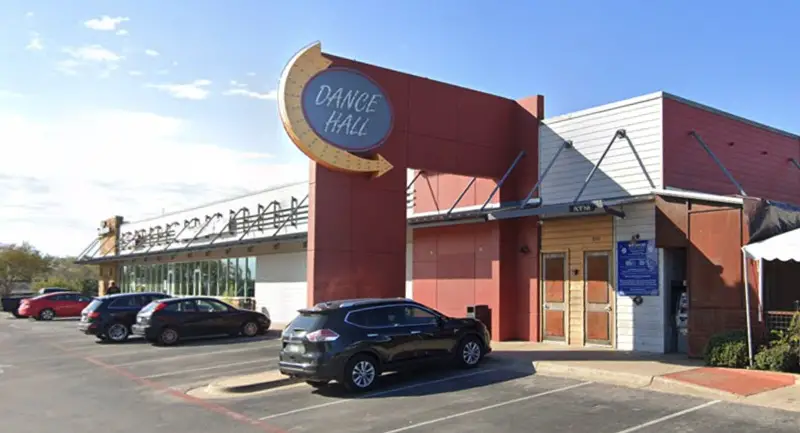 ---
What to Expect at Mavericks
Open Tuesday through Saturday from 7 PM to 2 AM, Mavericks is a great place to line dance with friends and even learn some new moves. While the main attraction for Mavericks is music, guests can also expect tons of other fun experiences! 
First, let's talk about the bar. If you want a drink, you'll have plenty of options available. Mavericks has four bars total for all your refreshment needs. There are three indoor bars surrounding the dance floor and another bar outside on the patio for those who prefer to be outdoors. 
You can expect lots of room to dance and plenty of water for the dancers if needed. Also, Mavericks offers a quality sound and lighting system that helps bring the dancefloor to life.
---
Dance Lessons at Mavericks
Mavericks is a large country bar that welcomes all dancers to the floor. Every night it is open there will be your typical Two Step partner dancing and line dancing. For those mainly interested in line dancing, really check out their "Line Dance Tuesdays."
Tuesday night lessons are between 6:30 and 9 pm. Need a little instruction to get started? Mavericks offers line dance beginner lessons as well as advanced/intermediate classes. The first lesson of the night is an advanced lesson. There is a $5 entry fee ONLY if you come for this advanced lesson. For anyone arriving at 7, there is no cover! So, if just getting started in line dancing, Mavericks has free beginner lessons for you every Tuesday! 
To stay in the know about what is current for line dancing at North Mavericks in Pflugerville, check out the Bootstompin' ATX Facebook page! This is the place where the Tuesday line dance group posts pictures and videos from Tuesday each week as well as invitations to other local line dancing events and excursions to know about!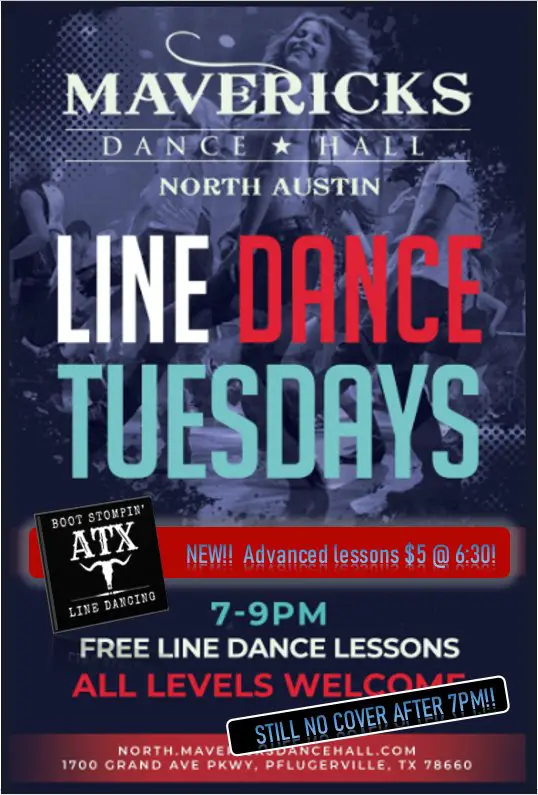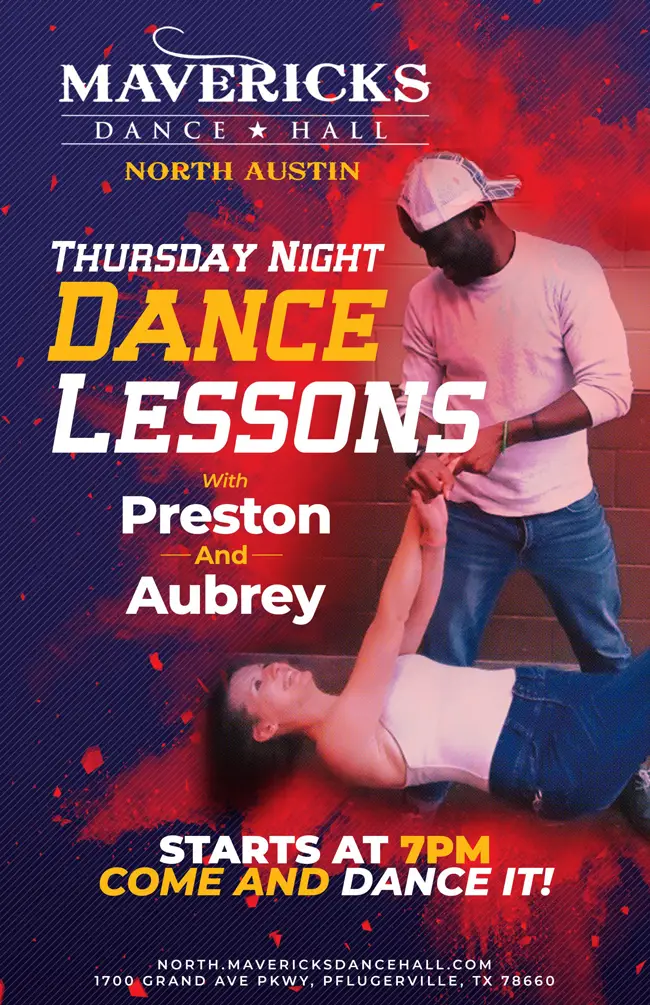 But if you really want to up your country partner dance game, look to Thursday nights as a good night to come out.
You get dance lessons from local favorites Preston and Aubrey, who are fantastic. You can expect one-step, two-step, and much more from these classes, and the instructors always take requests. 
Join them to learn some fun moves to impress your friends on the dance floor. Make sure you get there a few minutes early to sign up and prepare for the lesson. 
For dance lessons, don't worry about not having a partner. Bring a friend with you if you'd like, but it is unnecessary. You will be dancing with several different partners throughout the instruction. Preston and Aubrey will have you switch partners about every ten minutes as they walk around and give individual tips to those trying to learn. 
Obviously, on the weekend, the dance floor will really be on fire at a place like Mavericks! If you come on Friday there will also be dance lessons offered. Recently they have featured a great mix of line dancing and couples lessons. They call it their "Austin Dance Expo!" Beginning at 5 pm, during Happy Hour there's an early line dance lesson. Another line dance lesson at 6 pm and from 6:30-8 pm, couple's lessons with some line dancing also sprinkled in. Check out what they offer and stay for the evening to dance the night away!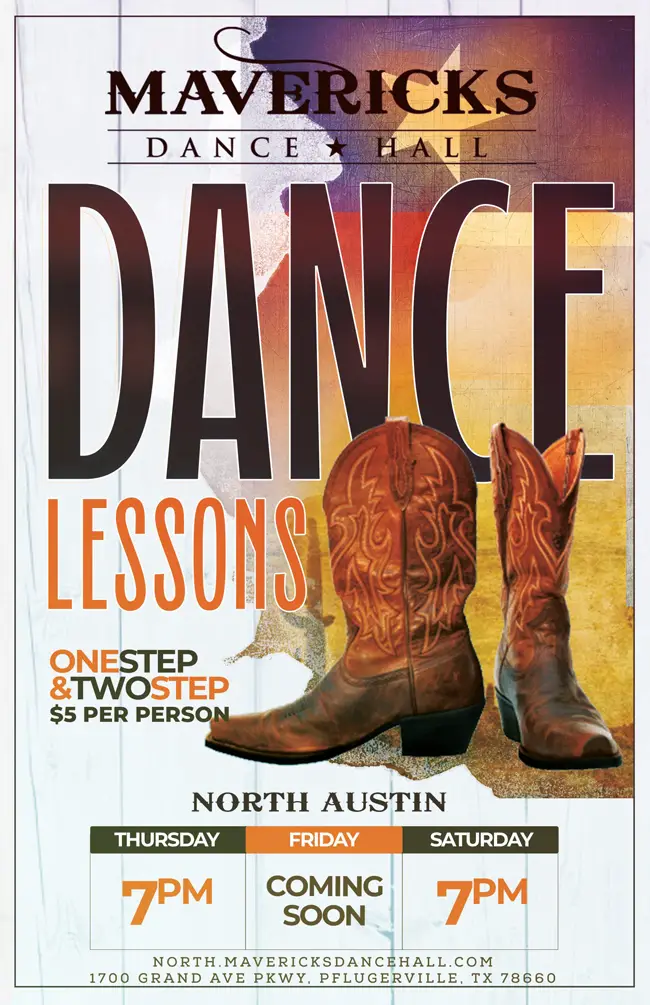 ---
Special Events
Mavericks hold a lot of special events for their guests. They often feature live, local bands, especially on Thursdays. You can also sometimes catch special events on Sundays when they are typically closed. So, look out for some fantastic events on Sundays! 
Some of the more popular events at Mavericks may require an entry ticket. If you are interested in an upcoming event, check out their Facebook events page to see if tickets are available ahead of time. Then, you can ensure you get in no matter what time you show up. Otherwise, you may come too late to attend. 
You can also reserve a table at Mavericks for VIP services and special occasions. Whether you're celebrating a birthday, a bachelorette party or whatever brings all your friends together, you'll have the space you need by reserving a table ahead of time. 
---
Fun and Games
While at Mavericks, you can get your fill of drinks and dancing, but that's not where the fun ends. Mavericks also has games for guests to play together when you need a break from all that line dancing. Try out the mechanical bull if you feel daring, or consider playing Texas Hold Em with other guests on any night. 
There are other games for guests, like a huge connect-four board, Jenga, checkers, and chess. Step out onto the patio for some cornhole with friends. Whatever you like to do, there are plenty of entertaining games at Mavericks. If you get good at Texas Hold Em, there is a customer appreciation tournament every six weeks you can participate in.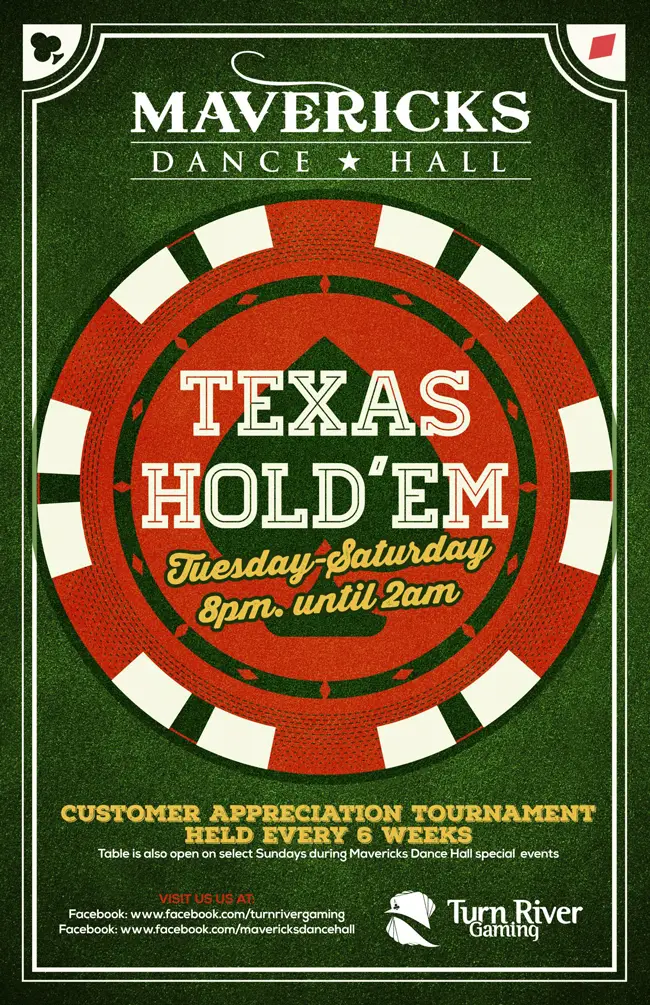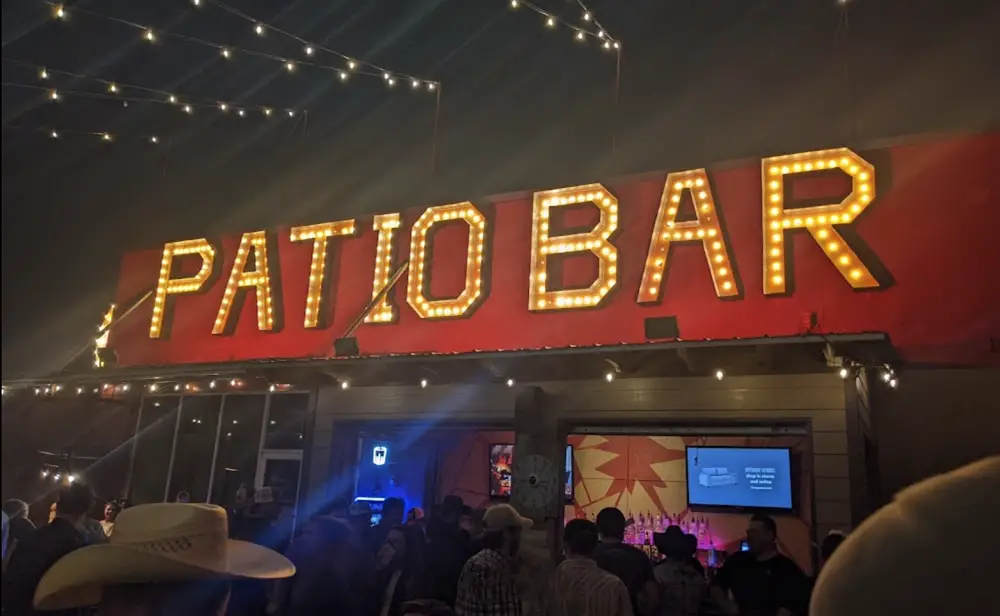 ---
Music
During an ordinary night at Mavericks, you can expect to hear a wide variety of music. They generally play both modern and classic country music mixed with some pop. Mavericks hosts live local bands and their DJ has you covered the rest of the time.
---
When to Go to Mavericks
While Mavericks is excellent for line dancing and an ice-cold drink, there are plenty of other fun things to do there. Mavericks offers certain themed nights with various activities, such as:  
Live Music
If you want to hear some great live local bands, you should plan to come on a Thursday night. While not every Thursday is guaranteed to feature live music, it is a common occurrence at Mavericks. Check their website for the schedule of upcoming local talent if you want to hear some incredible bands. 
They generally feature country musicians, but there's often a bit of variety. They may host some rock, Latin music, and bluegrass, but it's all line-dance-worthy tunes here!
Ladies Night
Speaking of Thursdays, every Thursday night is ladies' night. Ladies don't have to pay a cover charge on these nights, and there are quite a few drink specials. So, ladies, come by on a Thursday to get in for free and have a great time.
Under 21
While Mavericks is a 21+ establishment, they offer one night a week for the 18+ crowd to have some fun. Wednesday nights at Mavericks are college nights, welcoming in anyone over 18 after 9 pm. Remember, this is the only night that people under 21 are welcome. So, bring your ID and stop by on a Wednesday if you're over 18. 
---
For additional information on what is happening at Mavericks, Pflugerville also keep a tab on their Main Facebook feed!
---
South Mavericks
Also… If you are actually in the more southern Austin area you may want to check out the newer Mavericks in Buda! Located a little more than 30 miles south of the North Mavericks at 275 Old San Antonio Rd, Buda, TX 78610. Check out their Facebook info here. Also, check out their website for more information.

---
Sources