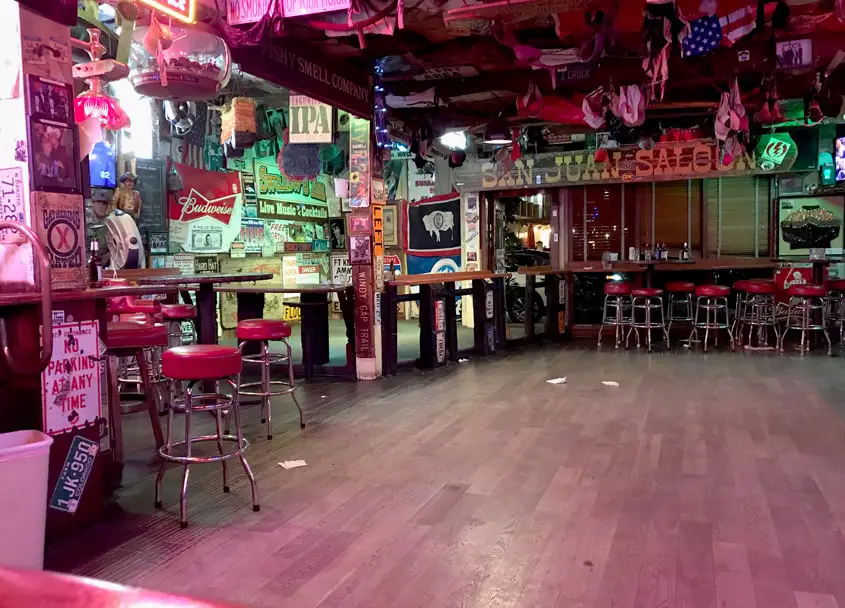 The Swallow's Inn is located at 31786 Camino Capistrano, San Juan Capistrano just about one block south of Mission San Juan Capistrano on Camino Capistrano and Ortega Hwy. Less than 1/2 mile west of the 5 Freeway after you exit at Ortega Hwy.
The Swallows Inn is a world-famous dive bar with a small dance floor and live entertainment 4 nights a week. A small but fun place for dancing with friendly people, good food, and cheap drinks.
The Swallows, to me, is a dive bar of dive bars, small but full of character and characters! The decor ranges from redneck license plates and hanging bras to obscene T-shirts and neon beer logos. The bouncers, bartender, and servers are all great and very welcoming. But be sure to bring cash, as it is an all cash-only bar. There is an ATM if need be.
Capacity crowds overflow once the live music begins. Everyone just seems to drink a little too much and want to have a little too much fun. If you can shoe-horn yourself in, its something to see!
Swallow's Inn is near the Los Rios Historic District, very close to the train station. This very cute downtown area on Verdugo Street is full of great restaurants, wineries, bakeries as well as the Regency theater and of course there is the Mission about one block away up Camino Capistrano. Some of the enticing other places include Trevor's at the Tracks, the Rancho Capistrano Winery, Bueno Bueno Mexican Kitchen, and Five Vines Wine Bar among many other interesting offerings. Swallow's Inn is across the street (Camino Capistrano) at Verdugo Street.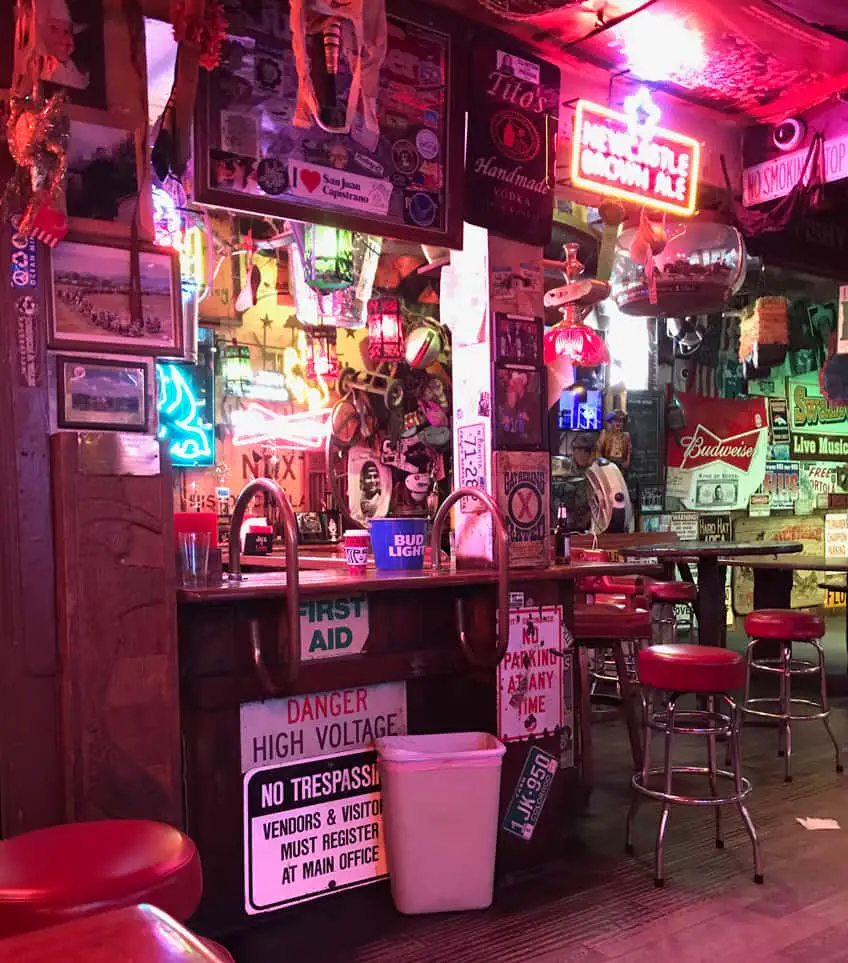 Days Open/Hours/Admission
Swallow's Inn is open 7 days a week. Sunday – Monday: 8 am – 10 pm, Tuesday – Wednesday: 8 am – 12 am, Thursday – Saturday: 8 am – 2 am
Lessons – Monday Night Only
As I mentioned in another blog post where I gave a summary of the Best 15 Country Bars for Dancing in Orange County, Swallow's Inn is a rare venue open for dancing on Monday nights. And oddly enough, for Swallow's Inn its the only time in their weekly schedule when they offer free dance lessons. Every Monday night there are free Two-Step lessons given from 6-7 pm. The lessons are offered by Debra and DJ Patrick. Afterward, the bar is open 'til 10:30 pm. But no line dance lessons, just Two-Step.
Bands that Play at Swallow's Inn
This comprehensive list of bands that have played at Swallow's Inn has been taken directly from their site. The long list is a testament to how long the bar has been entertaining. The Bands in Bold are some that play in other venues in the OC that I'm aware of. Please comment if you've seen some of these bands. The video included above features Three Chord Justice who have a great country sound. The video also has some great shots and pans of the bar. Check it out! To see the band schedule and the bar's daily events for any given month click here.
American Made Band
Anthony Rivera and Raining Horseshoes
Big Fat Steve Band
Boyz and the Beez
Brant Cotton & The Outliers
Brant Vogel
Brian Lynn Jones
Buck McCoy
California Rangers
Chancey Williams & The Younger Brothers Band
Chris Daniels Project
City Limits
Copper Mountain Band
The Creepers
Dupp Brothers
Dalton Gang
Dawson's Gang
Doo-Wah Riders
Eli Locke
Family Style
Flock of 80's
The Freightshakers
The Fulltones
Grand Junction
Grant Langston and The Super Models
Heartless
Helicopter
Hell Bound Glory
HELP-Beatles Tribute Band
Hollywood Hillbillies
Honky Tonk Kings
Jack Brand & The Big Circle Riders
Jann Browne




JD Crawford
Jeffrey Michaels Band
Jimi Nelson Band
Kevin Cameron and The Pale Riders
Lee Roy
JD Crawford
Lightning Train
Michael Mandella
Michael Monroe Goodman
Missiles of October
Neil Morrow
Nitro Express
Pam Lyn King
Patty Booker
Pee Wee Moore
Phil Vandermost & Telesound
Road Kill Kings
Rob Staley Band
Rodeo Revival
Paul Justin
Rye Brothers
Shawn Jones
Shotgun Wedding
Southbound and Company
Southbound Jonny
Swing Shift
Three Chord Justice
Tijuana Dogs
Trevor McSpadden
OC Vertigo
West Coast Strayz
Whiskey Ridge
Whiskey Tango
Working Cowboy Band
A Week-At-A-Glance at the Swallow's Inn
The Swallow's Inn is open 7 days a week and the typical weekly calendar events are as follows:
Sunday:
Live Entertainment (2-6 pm)
Monday:
Country Dancing & Free Two-Step Lessons with Debra & DJ Patrick. Lessons from 6-7 pm. Dancing till 10:30.
All Day Happy Hour Steak Dinners only $14.00
(open 'til 11 pm)
Tuesday:
Taco Tuesday with Stevie. $2 Macho Tacos & $2 Bud/Bud Light, $2 Drink Specials. (open 'til 12 am)
Wednesday:
Karaoke with Bobby & Joel. Free Popcorn & Free Shuffleboard (6:30 pm – 12 am)
Thursday:
Live Entertainment (7-11 pm)
Friday:
Live Entertainment (9 pm – 1 am)
Saturday:
Live Entertainment (2-6 pm)
Live Entertainment (9 pm – 1 am)
My Night Out at at the Swallow's Inn
The night I came by I realized I got there too early. The Saturday afternoon band (the Dalton Gang) was done and loading up, but the night band wouldn't start 'till 9 pm. I got a beer and just took in the decor for a while. Yes, there are bras hanging everywhere! There is also a back patio for further seating. I decided I'd just come back later when the Band, Chris Johnson, and the Hollywood Hillbillies, got there.
By the time I got back, the night was in going strong. The Hollywood Hillbillies are have a very traditional crusty country feel to them, which seemed to fit the tight Swallow's Inn venue well. In comparison with other country dance venues, Swallow's Inn is unapologetically unique. The floor space is just too small to see an organized counterclockwise Two-step flow. With no dance being called out anyway, people dance however they like. There was Two-Stepping, West-Coast Swing and at times modest attempts by some to do a Power Jam or other line dance.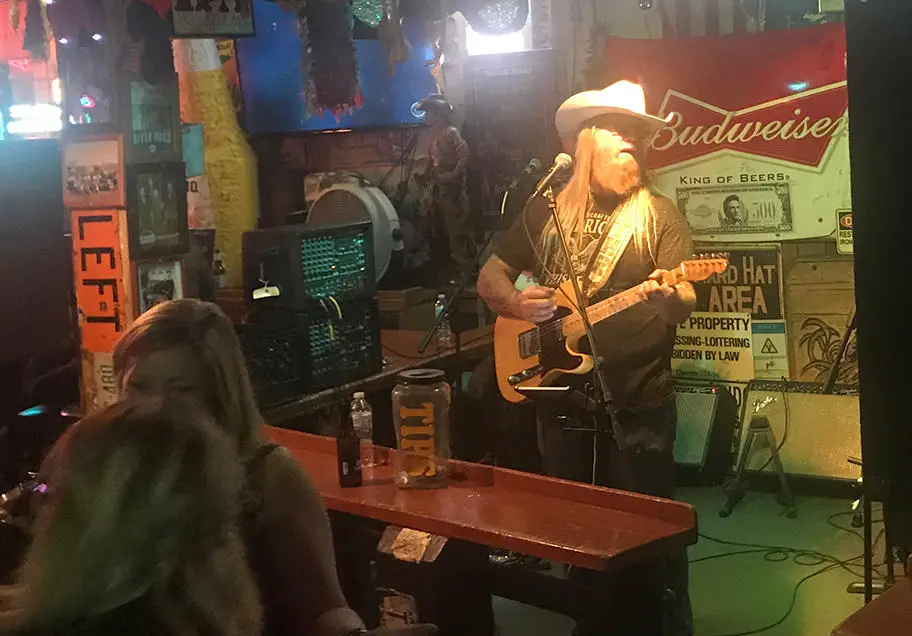 When I asked a lady to dance and tried to show her the two-step, it worked to a point, but it was hard to traverse the floor without crashing. Better to stay put. Its a constant chaos of countrified freestyle dancing. When the Band played Wagon Wheel by Darius Rucker I thought we'd all do the "Rock Me" line dance! But no, the chaos continued! Three ladies knew Rock Me, but the chaotic country partner dancing continued smashed all up against them. The band did call the 10-Step later, and to my surprise, there was a good amount of people 10-stepping in the tight dance floor. That was a fun moment and made it all worth my drive to check out the Swallow's.
For a great peek into what it's like at Swallow's check out the video below (but ignore the title, there's no line dancing!)
History of the Swallow's Inn
Swallow's Inn opened in the 1920s as "El Traguito" which is a Spanish play-on-words meaning little swallow and little drink! It became Swallow's Inn in the 1950s when it changed owners. It moved locations in the 1960s to where it is today. It has changed ownership many times, and just less than two years ago the long-time owner Steve Nordect passed away at 76 years of age. He was a "larger-than-life" beloved man in the community and had run the bar since 1993. Cal Grimes now runs the Swallow's in his absence.
In 1986 when Clint Eastwood was filming the war movie Heartbreak Ridge there was a need for a scene in a tavern with a rough crowd. The Swallow's reputation for the lively crowd of cowboys, bikers and local Marines from Camp Pendleton made it just what the doctor ordered. Enjoy the YouTube video of the scene below!