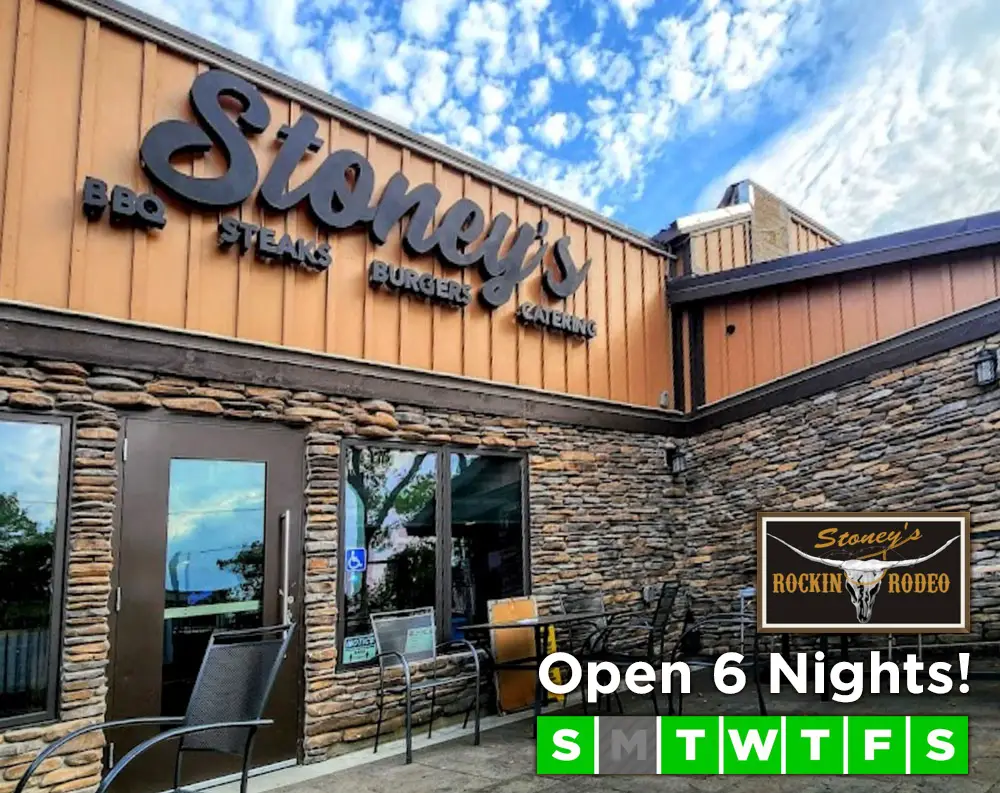 Sacramento California has a really cool little bar and dance hall that, while you might miss it if you blink while driving down El Paseo Drive, is a place that actually epitomizes what a classic, iconic country dance nightclub should be!
While I wish I could visit every dance hall out there, especially the famous and unique ones, I just can't! But in this case, I was fortunate enough to have a friend of mine recently visit Stoney's and report back!
I'd heard about Stoney's, but she went and checked it out and verified all the facts! (Thank you BFF, Sonia!) Keep reading for a breakdown of this cute little country bar and dance spot and if you are ever in Sacramento, be sure to carve out some time to stop by. I know I will!
Stoney's is a country bar open 6 nights a week with a great medium-sized dance floor, a dance rail with bar high seats, a live music stage, and several weekly dance lessons. Stoney's is a great place to meet up with friends to socialize, listen to live music, and even more, get your line dance on. And not to mention there are also some great eats!
Stoney's is located in Woodlake, Sacramento north of the American River Parkway on Del Paso Blvd. between Southgate Road and Arden Way. Stoney's is open Tuesdays-Sundays, 5 pm-midnight, and features some different themes and special eats on different nights! They are open for indoor and patio dining with a happy hour 5-6 pm daily.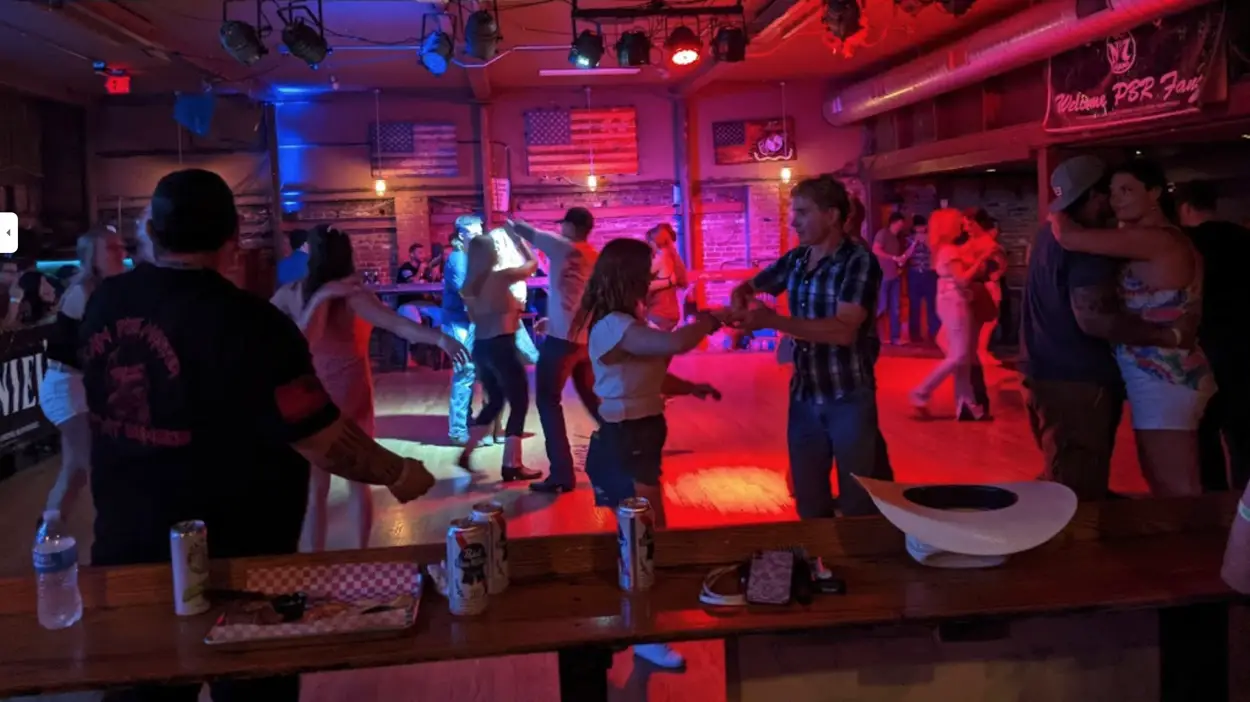 ---
Table of Contents
---
Stoney's Rockin' Rodeo – At A Glance!
A Week at Stoney's Rockin' Rodeo
| | |
| --- | --- |
| Sunday | Sunday Funday Free Spaghetti Dinner 6-8 pm   Inside for DJ Mark and their Corn Hole League |
| Monday | Closed |
| Tuesday | Taco Tuesday & West Coast Swing Dancing |
| Wednesday | Country College Night |
| Thursday | Inside for Salsa Night |
| Friday | Inside for DJ Patrick & DJ Mark out on the Patio |
| Saturday | Inside for DJ Patrick & New Saturday Specials! |
​The happy hour from 5-6 daily, features $4 drafts, $4 wells, and $4 domestics. Check out their menu here! And also check out their webpage detailing the daily specials/theme nights here!
Stoney's gets an average 3-1/2 star rating on Yelp, with mostly 5-star reviews. On Google, they have 4-1/2 stars! Many say it's the best country bar in Sacramento, one person went so far as to say it's the best bar west of Texas!
The truth is, Stoney's has a little bit of all the accoutrements you're looking for when you step into a country bar and a little more! There is a wide range of offerings at Stoney's. I think this is cool because there is something for everybody.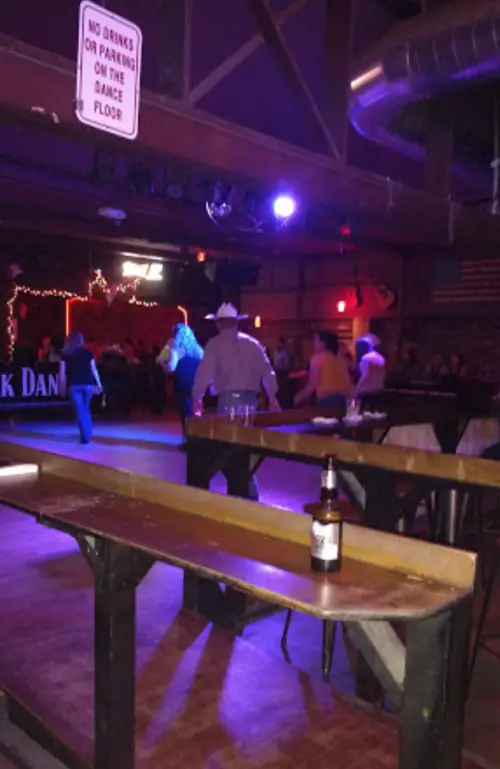 Another friend of mine, who also visited Stoney's recently had the Prime Rib. She said it was super cheap and super tasty! Really with Stoney's you can't loose. You have an amazing dance community in a cute fun bar and great dance floor and the amazing mouth-watering prime rib and great eats is frosting on the cake.
For all their information Check out their website & their facebook page!
---
Country Line Dancing & Dance Lessons at Stoney's Rockin Rodeo
But now on to the dancing at Stoney's! Stoney's Rockin' Rodeo has a great dance floor, great instructors, and a good community of dancers who frequent the bar. Kat Painter is the primary line dance instructor. Kat is a world champion dancer and a great professional teacher in both line dance and partner dancing. She has been teaching at Stoney's for over 15 years.
One thing people notice about Stoney's is that there are actually enough guys that come out dancing here. Typically you will see more ladies than dudes out line dancing–but NOT at Stoney's. In fact, Kat Painter said they had to fix the floor after too many cowboys were stomping so hard one night that they broke the floor!
Also, some of you may have noticed Christoper Gonzalez in the video above! Yes, he frequents Stoney's. How cool to have another great dancer leading the way there. Also, Megan Barsuglia is out there too! This isn't the first time these two have shown up here on the blog! Check out their dance they choreographed which I, personally think is a great dance, and hope it still gets some attention in the future. Can't Walk Away.
Unlike some of the country bars I've featured on this blog, Stoney's is open most of the week, 6 days even! There's a lot of opportunity to check out Stoney's, meet your friends there, and dance. Here's the rundown of the week and what to expect for dancing at Stoney's, as well as each night's theme, drink specials & varying cover charges.
---
Weekly Themed Nights, Dance Lessons, Specials & Cover Charges.
Tuesdays
Tuesdays is Taco Tuesday!
I love Taco Tuesdays! And if you do too, Stoney's has you covered. And Tuesdays are also mentioned as a night to do some West Coast Swing.
How unique to have a night for this couple's dance! So, couples that enjoy a nice date night out that includes some dancing, should for sure check this out! Lessons are at 7 pm and include both beginning and intermediate levels. For more about the group that dances here these nights see their 916 Swing Facebook group.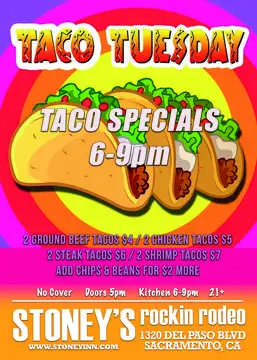 Wednesdays
Wednesdays is College Country Night!
Line dance lessons are at 8 pm and the line dance instructor is Kat Painter. Tatiana will also teach line dances on these nights.
There are two line dances taught and some recent dances have been Devil Made Me Do It, Honky Tonk Highway, Do Si Do, Holler Back, 'Til the Neon's Gone, and Got to be Funky. So, you can count on the line dance instructors here to bring great and current line dances to make things fresh and challenging!
| | |
| --- | --- |
| Cover for 21+ | $7 |
| Cover for 18-21 | $15 |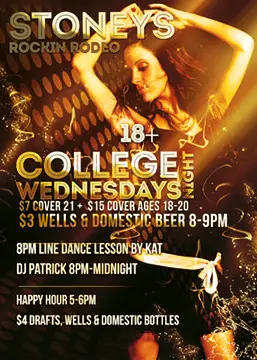 Thursdays
Thursday dancing mixes things up a bit with some Salsa dancing! The bar still opens for happy hour at 5, but the dancing festivities begin at 8 pm!  
There is a dance lesson by Mike del Campo. Afterward, DJ Victor Manuel takes over from there. The cover is $10. And this night is the normal 21+. You can reserve a free table via text! The number is (916) 661 2541.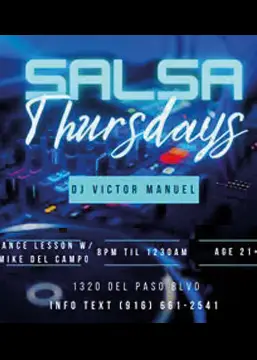 Fridays
Friday is Country Dance Night! The bar is also back open to 18+.
Line dance lessons are at 7 pm and the line dance instructor is Kat Painter. Rhonda will also teach line dances on these nights. There are two line dances taught and some recent dances have been Broke, Texas Time, Rednex Stomp, Dancing in the Moonlight, and I Freaking Love You.
| | |
| --- | --- |
| Cover for 21+ | $7 |
| Cover for 18-21 | $20 |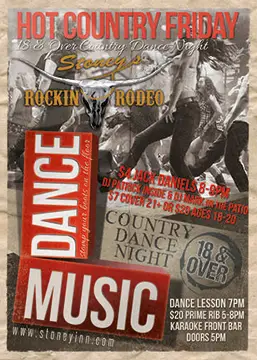 Saturdays
Saturday features both patio and inside dining.
Line dance lessons are at 7 pm and the line dance instructor is Kat Painter. Tammy will also teach line dances on these nights. DJ Patrick will play country music from 8 pm-1:30 am.
There is a "Power Hour" drink special on Saturdays that features $2 Short Islands, and $4 Jamesons from 8-9. Also $3 Tall PBR cans and $1 Stoney Apple Shots from 8-11 pm.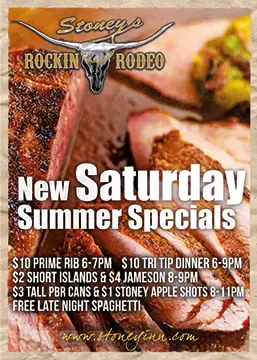 Sundays
Sundays is Sunday Funday at Stoney's and features awesome drink specials: $2 Wells, $2.50 Domestic Beer, and $3 Jack Daniels from 8-9 pm. Come also for the Free Spaghetti Dinner from 6-8 pm!
Line dance lessons are at 8 pm and the line dance instructor is Kat Painter. DJ Patrick will be playing country music and there will also be Karaoke.
| | |
| --- | --- |
| Cover for 21+ | None |
| Cover for 18-21 | $10 |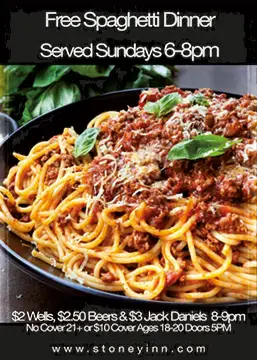 ---
The Stoney's Rockin' Rodeo History
Stoney's Rockin' Rodeo has been a mainstay in Sacramento for many years. Formerly known as Stoney Inn, it has been around for 40 years, but in 2007 it underwent a facelift and became revitalized by new owners Kevin Lutz and his wife Barbara.
Kevin, with over 30 years of experience in the restaurant business, had aspirations of having his own establishment. As he considered the old Stoney Inn, his epiphany was to remake it as a country dance club and saloon. Kevin, as a longtime country dancer and competitive two stepper himself, noticed how country dance clubs had become scarce over time in the Sacramento area. He was a little hesitant, but in his heart knew he just had to build it and people would come out and fall in love. And, of course, the rest is history!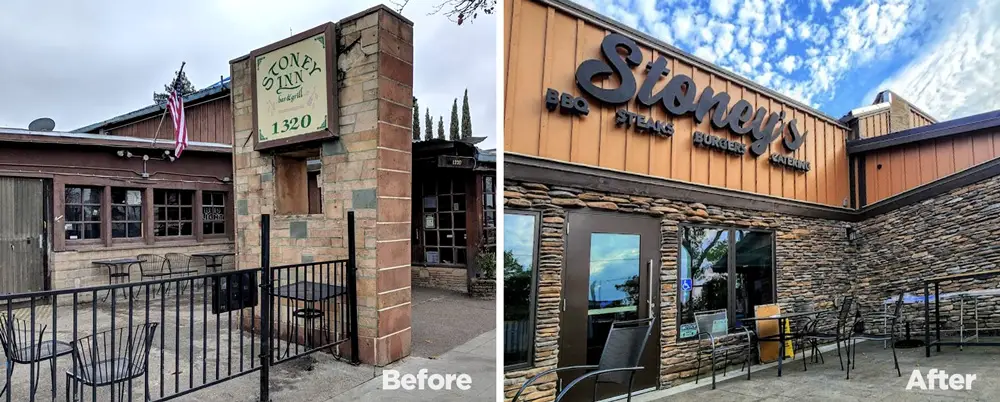 Kevin and his wife took over Stoney's in 2007 and renovated both the front bar and the back room area where the live music is and of course, the dance floor. They renamed it Stoney's Rockin' Rodeo to go with the fun energy that they now had rebuilt Stoney's with. They continue to build Stoney's into a great place to come out to with friends, enjoy great dining, hear live country music and do some country dancing.

Today there's a great community of dancers that frequent Stoney's. And for those not into the dancing, there's live music, karaoke, mechanical bull riding, and of course great nightly drink specials and amazing food menu items, beginning with the prime rib of course!
Country singer Mark Chestnut remarked once when singing there "you don't see Honky-Tonks like this anymore!" I think that was all the confirmation needed that Kevin's vision was realized. And, I agree the honky-tonk feels like an endangered thing in some ways. But at least in Sacramento thanks to Kevin & Barbara it lives on!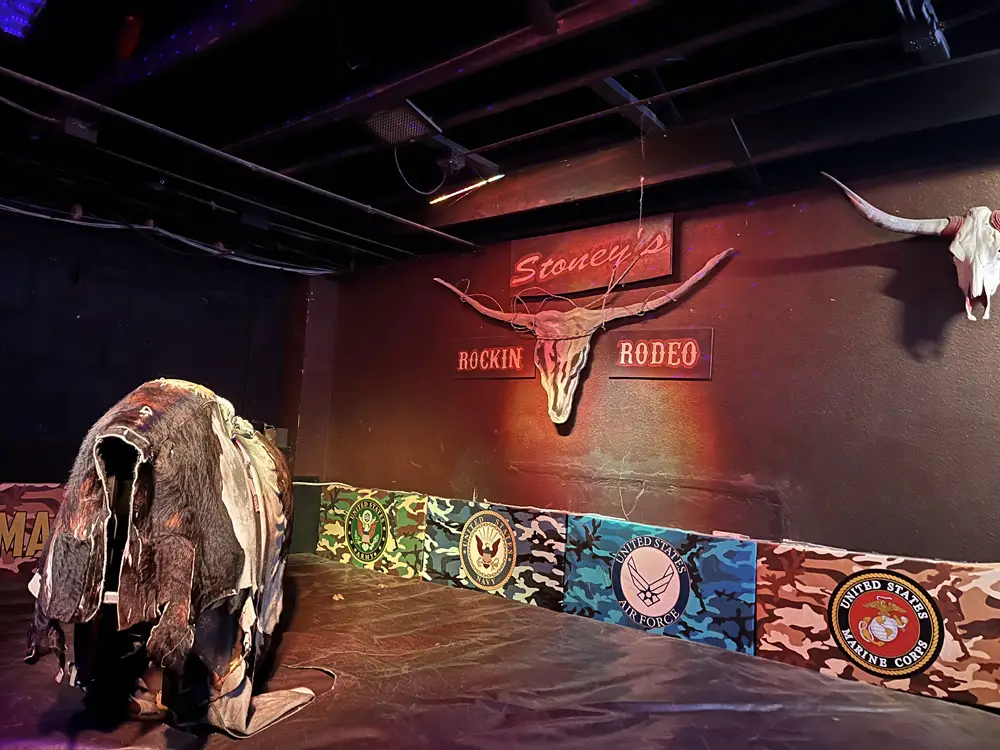 ---
A Fun Night at Stoney's Rockin' Rodeo!
And, finally just as a sign-off for my article about the great country bar that is Stoney's here are some pictures of some of the great folks. (Kevin Lutz, co-owner pictured at left).
And a special thank you to my friend Sonia who never misses an opportunity for some good selfies with people she may have only just met! If you were there that night you might appear below!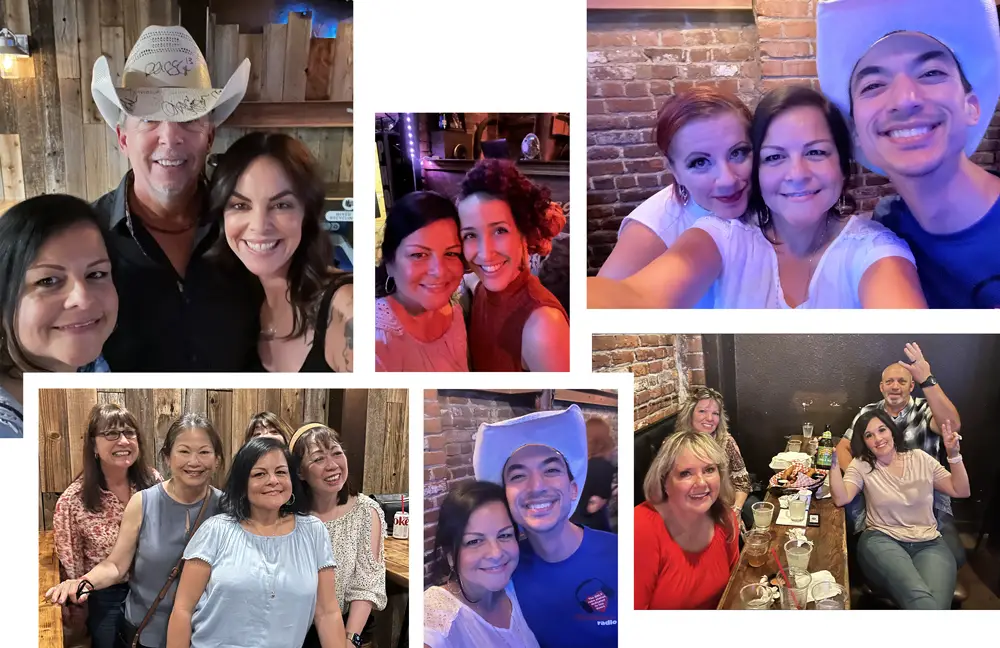 ---
Sources