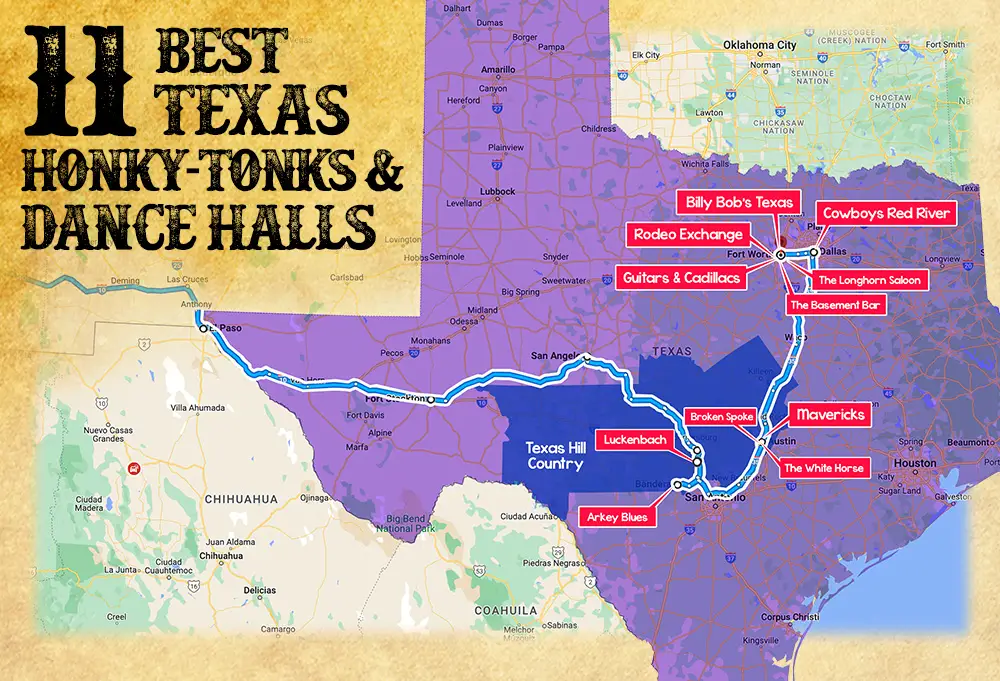 Honky-tonks, dance halls, and Texas! These are some things that just go together well! Texas is the home of some of the best and most beloved around. Some are obvious and well-known, and some are hidden gems, that take a little effort to search out and find. As you go out to these places to socialize, listen to live country music, and dance you will find there's a fine line that sets these apart. But Texas is a great place to find both! if you are interested in checking out the best honky-tonk or Texas souvenir merchandise you can find some by clicking here.
In a nutshell, honky-tonks tend to be smaller venues that weren't built for dancing but have live music and alcohol, but some room for dancing too. Dance halls are larger rooms where the intent is for dancing to happen and there's more space given to the activity. Of course, there's a stage for some live music and sometimes still a bar for tired dancers to go get some refreshments.
On a recent road trip to Texas, I traveled around to search for both! I love dancing, but I also love the ambiance of a vintage honky-tonk. The memorabilia of past country singers that have graced its tiny stage to the old jukebox and neon signs–really there's nothing like it! But if you really want to do some Two Stepping and line dancing, you need the room of a larger venue!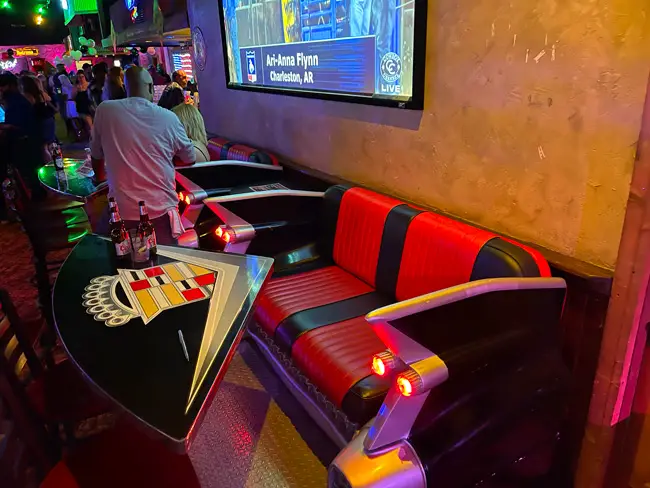 On my trip, I was determined to go in person and find both. To walk in and look around, breathe in the cool dusty air, get a beer in some interesting if even obscure little hideaways, but also do some serious dancing in the dance halls.

My trip from California took me through the Texas Hill Country, Austin, and finally to Dallas and Fort Worth. Total miles: 3600+! A long trip–but did I find the best? In my book, they are at least among them!
The best honky-tonks and dance halls in Texas include the Luckenbach Dance Hall, Arkey Blue's Silver Dollar, Mavericks (No. Austin), The White Horse, The Broken Spoke, Cowboy's Red River, Rodeo Exchange, Guitars and Cadillacs, and the very famous Billy Bob's in Fort Worth.
Read on to hear about all the details of these places. Some history, but mainly the current goings on in these havens of country music and country dance hot spots of Texas. But as the name of this blog suggests this will be focused largely on the country dancing in these places! If you want to know more about the history of the honky-tonk check out my article on that here.
Please note that these are listed in the order that I visited them, not really a ranking. Each offers something unique to Texas and to their local. Great county dancing destinations or honky-tonks with interesting history and unique charm. Are some better than others? Yes, for sure! Read on to decide for yourself!
---
Table of Contents–The Honky-Tonks & Dancehalls!
A Texas Hill Country Extra!
---
1. Luckenbach Tourist Trap and Dancehall
The first place on my Texas honky-tonk and dance hall tour was Luckenbach! Luckenbach at first was a little tricky to find. If you are driving south or north on Farm to Market 1376, when you see the big yellow sign, you might expect to now be entering another small typical Texas Hill Country town. But as you blow past the sign, you've actually already passed it! Luckenbach is a small town with a population of 3!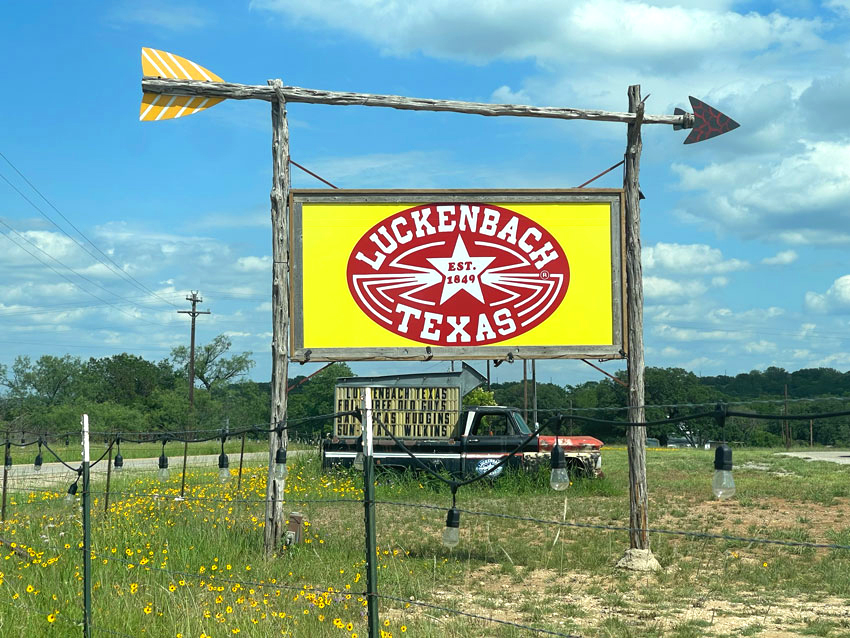 The unincorporated community near Fredericksburg in Gillespie County, Texas was named after an early settler there, Carl Albert Luckenbach, but of course made famous when it became the subject of the classic "Luckenbach, Texas" by Waylon Jennings. Check out the great video below!
Once I figured out that I had passed by Luckenbach, I went back and then drove in and discovered the tiny little tourist stop that is Luckenbach! It basically consists of a great rustic bar with a gift shop, a newer larger gift shop, a great outdoor stage and seating area for live music, and the Luckenbach Dancehall.
I had to get a Shiner Bock Beer (see below!) and visited the gift shop. In the bar, there was a slumbering cat on a table that was very entertaining. He was so sleepy and motionless that he appeared to be taxidermized! An occasional flinch gave him away as still alive!
Funny story: I bought a souvenir and talked about this population of 3 with the lady taking my money. She proudly pulled out her driver's license that says Luckenbach, TX for her address! I guess she's one of the three people!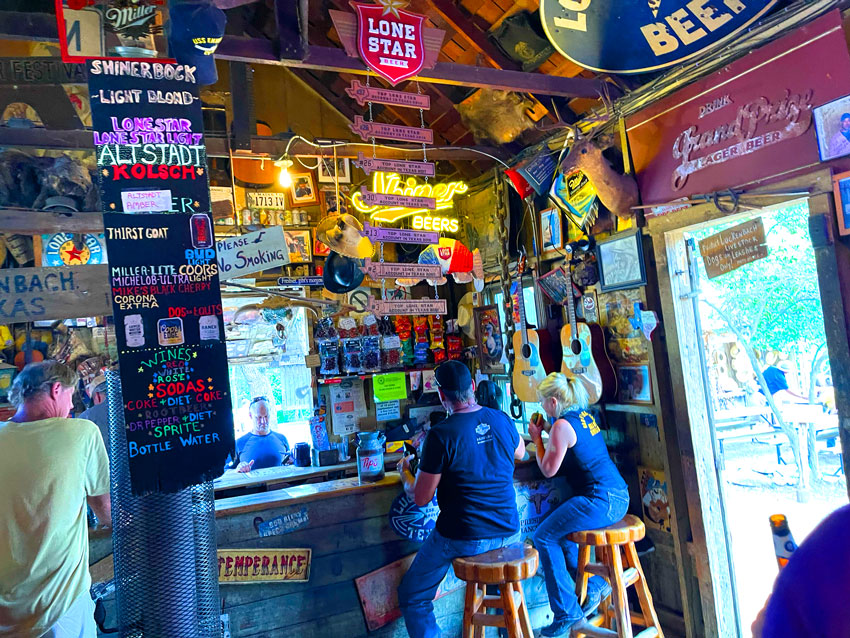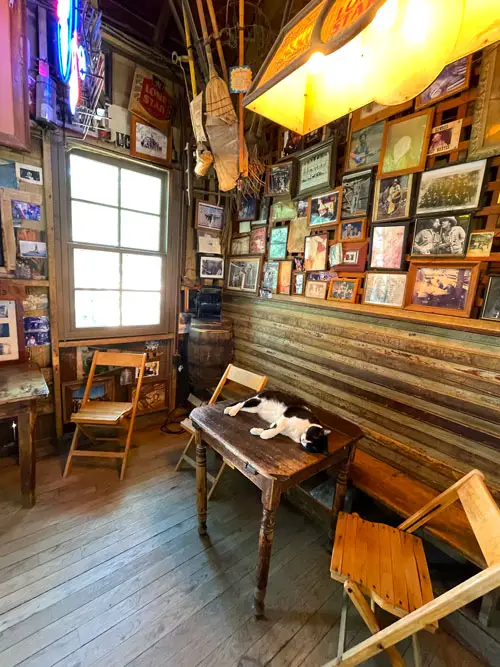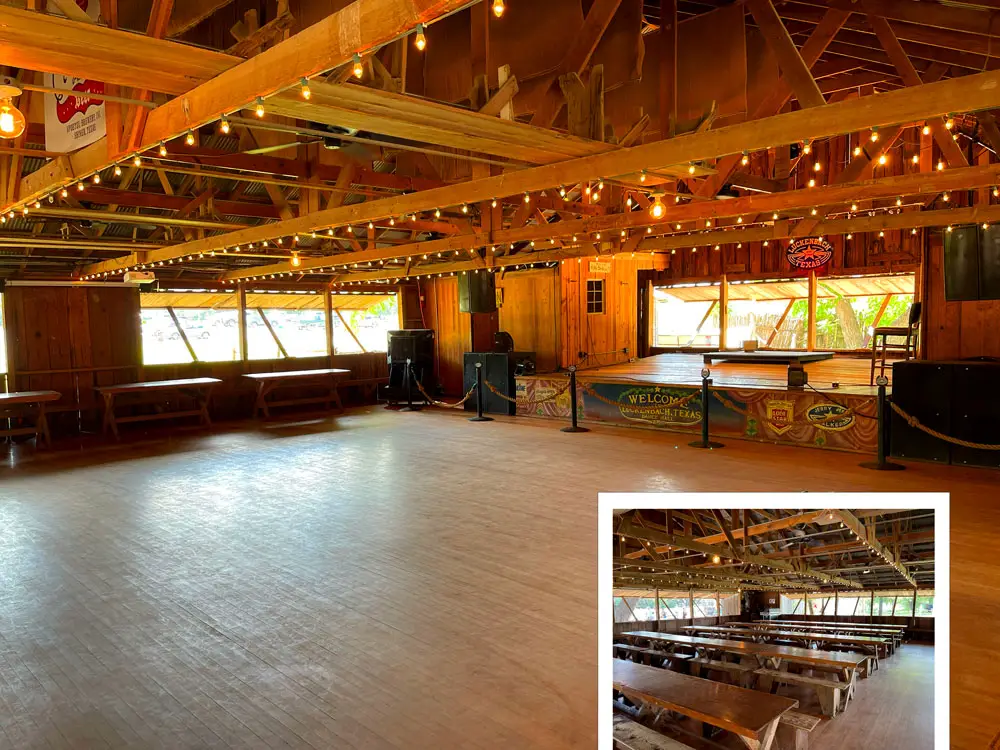 I really enjoyed this little stop on my way to the next honky-tonk. The perfect weather and lazy Saturday afternoon saw a light crowd of people enjoying some live country music from the Merles. Check out the video for that to the right. And for a recent concert at the outdoor venue featuring a current Texas country music icon Randy Rogers & the up-and-coming William Beckmann go here. And of course, they sing Luckenbach Texas!
---
2. Arkey Blue's Silver Dollar in Bandera, Texas
My next stop on my road trip was Arkey Blue's! To get to Arkey Blue's Silver Dollar one needs to drive out to Bandera Texas, population 876! The City of Bandera is one of many small Hill Country towns in the Central Texas area. Bandera is known as the cowboy capital of the world and Arkey Blue's Silver Dollar is the oldest continuously operating honky-tonk in Texas!
The novel thing about Arkey Blue's in Bandera is that it is a basement honky-tonk bar! This to me makes it really the definition of a "hole-in-the-wall" hangout! There's just a side door next to Bandera's famous General Store. Entering through you wonder where you're going to go! It all becomes clear when you see the stairs going down!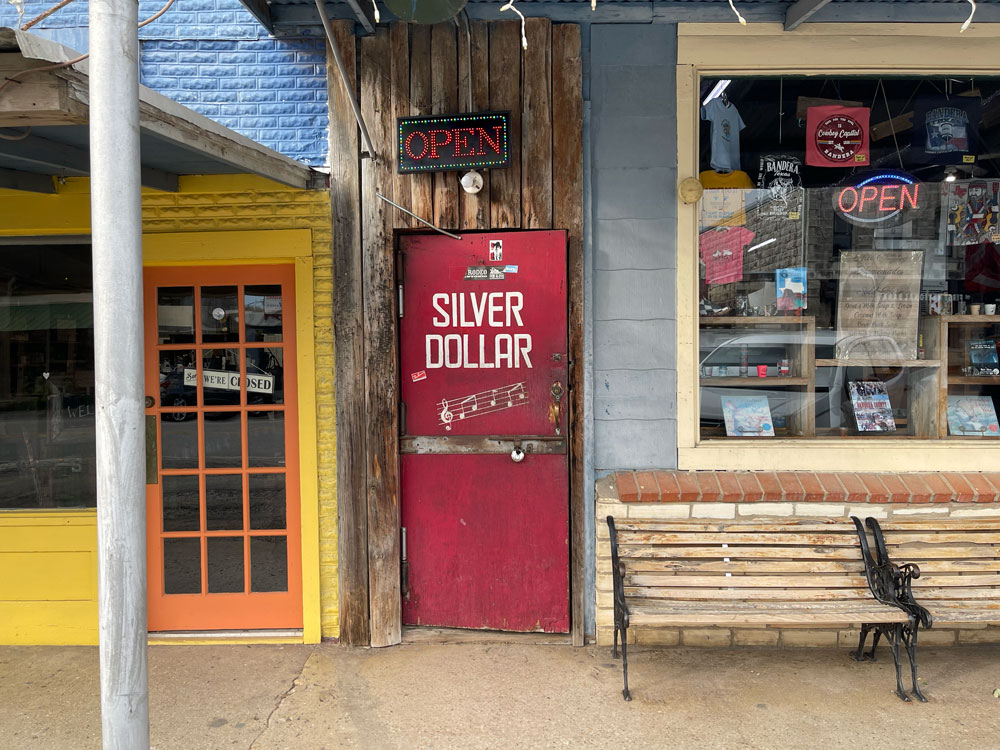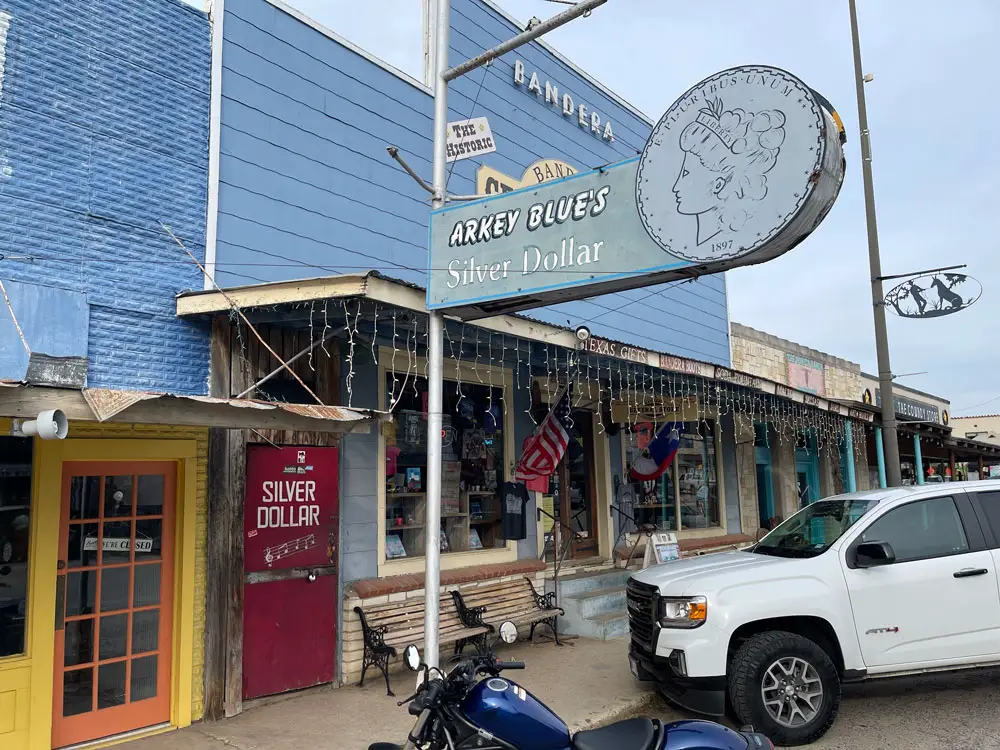 But how did I know about Arkey Blue's? And why did I want to make this stop as I traveled through Texas? As a Texas country music fan, I've enjoyed some Robert Earl Keen songs lately and an old classic from him "Feelin' Good Again." The song is an uplifting song about a country singer coming back from a long tour and getting home and back to his familiar small town with his friends and family!
He gets back to his town late at night and before even going home stops at his favorite honky-tonk bar. He probably should've gone home first to see his wife! But what if she came down to that bar right then to see him? What a great moment that would be. Well, that's what happened to Robert Earl Keen right there in Arkey Blue's Silver Dollar Saloon! The basement bar is still there to this day!
It was cool to descend and check out the very stairs that are depicted in the great Robert Earl Keen song. Check out the video where he talks about Arkey Blue's and see that snippet of the lyrics below:
I wanted you to see them all
I wished that you were there
I looked across the room
And saw you standin' on the stair
And when I caught your eye
I saw you break into a grin
It feels so good feelin' good again
I talked to the barkeep a little about this of course when I stopped in. She told me about how he was great friends with Arkey. And when he came by, he enjoyed the anonymity when there. It was an escape for him. But of course, he was asked to go up and sing with the band on occasion and would oblige from time to time. I would have loved to have been there on one of those nights!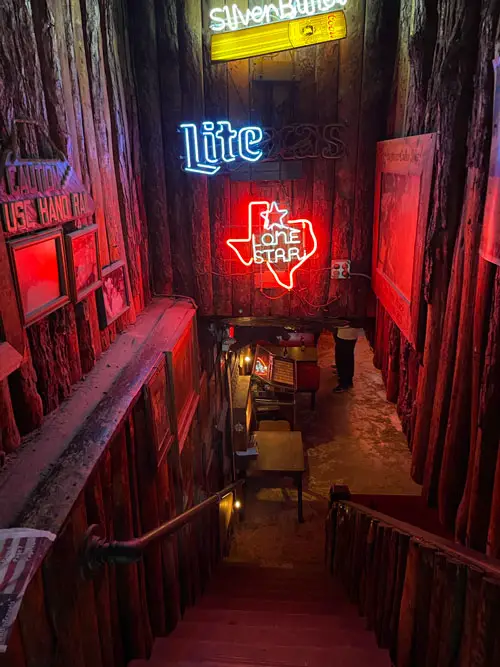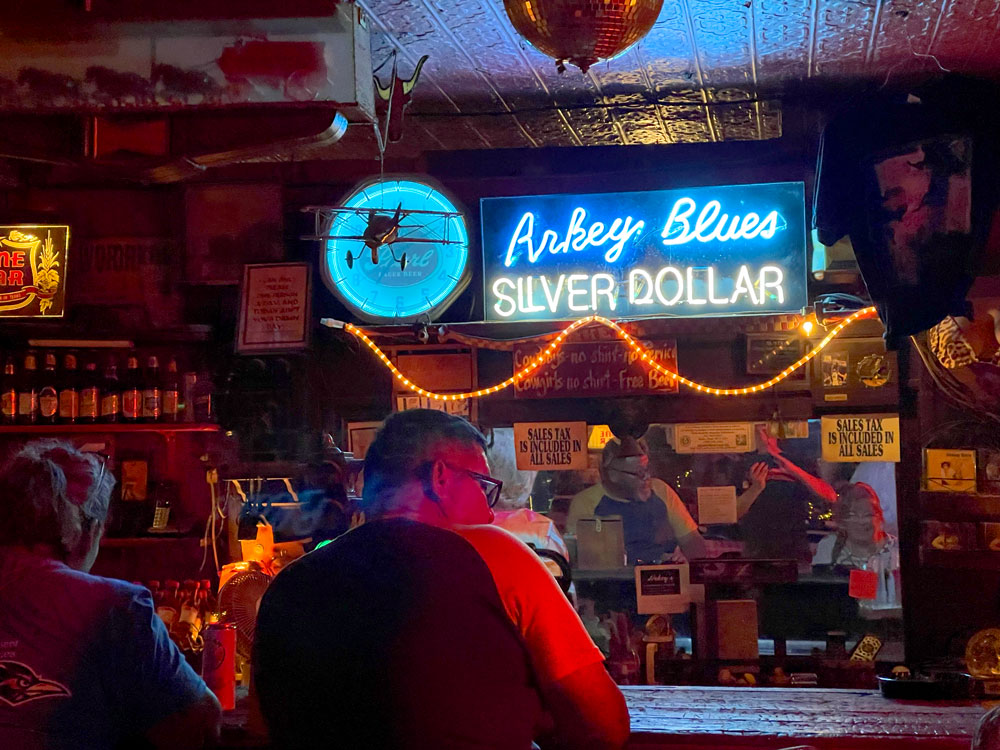 And yes, there is still live country music from local bands and enough room in the open floor for some partner Texas Two Step!
---
3. The Broken Spoke, Austin
On to Austin, the first stop would be a visit to the Broken Spoke. Unfortunately, it was a Monday! So, all I did was check out the location. But the Broken Spoke of course is super famous and a place I would like to come back and visit soon. From what I know The Broken Spoke really blurs the line between what is a honky-tonk or a dance hall. I have a feeling this place truly checks both of the boxes. But I guess there's "No Linedancing" allowed! So come prepared for some Two Stepping. However, I have seen a video that documents the dance crowd doing a Ten Step!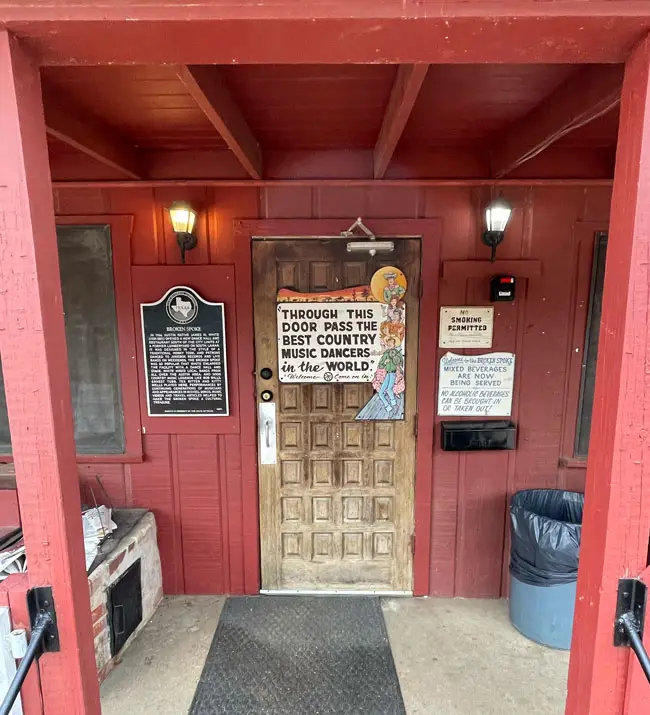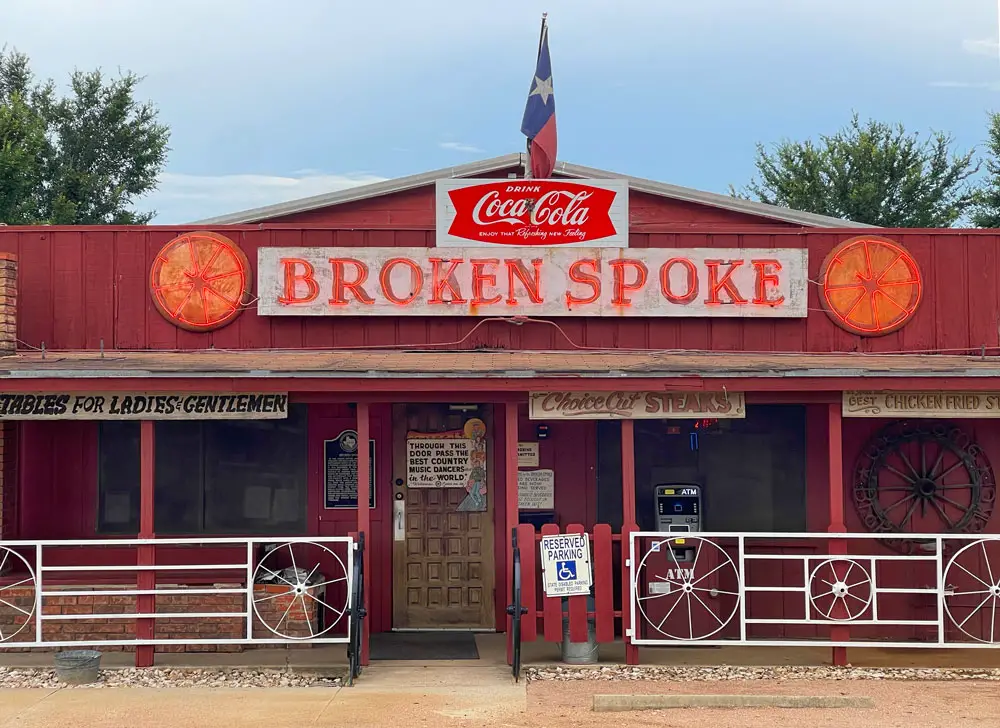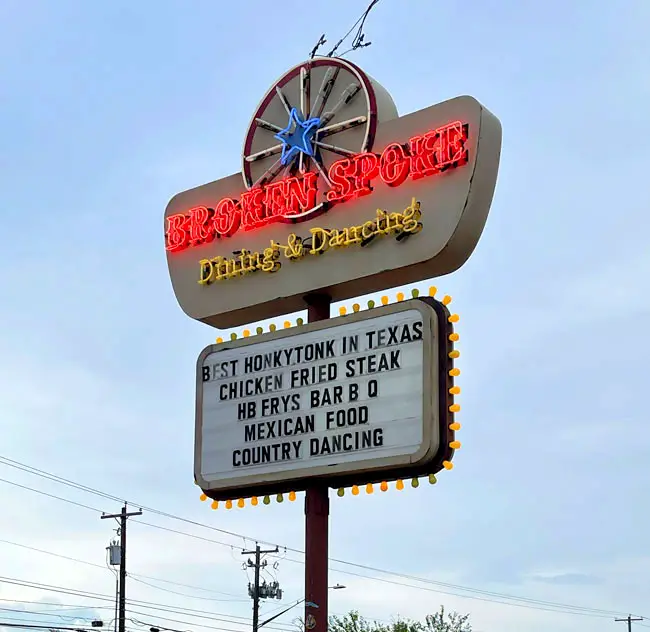 Opened in 1964, by the only recently passed James M. White, he set out to design it in the style of a traditional honky-tonk, with patrons being able to dance to jukebox records and live bands on the weekends. Over time the venue was enlarged with more space to dance and a stage that would see many country music legends pass through over the years. Legends such as Bob Wills, Ernest Tubb, Dolly Parton, and the King himself, George Strait made The Broken Spoke part of their Texas tour stops in their early days.
Hours and Location of The Broken Spoke
The Broken Spoke is located at 3201 S. Lamar Blvd. Austin, Texas.
| | |
| --- | --- |
| Days | Hours |
| Monday | Closed |
| Tuesday-Thursday | 4 pm-12 am |
| Friday & Saturday | 4 pm-1:30 am |
Restaurant & Kitchen hours open: are Tuesday-Thursday 4 pm-10 pm & Friday-Saturday 4 pm-11 pm.
Dancehall Doors open: Tuesday-Saturday 7:15 pm
Dance Lessons are: Wednesday-Saturday 8 pm-9 pm
For more information on everything going on at the Broken Spoke including their upcoming live country music line up check out their website here.
---
4. The White Horse, Austin
So, even though it was a Monday there was still an opportunity for some honky-tonking and I was fortunate enough to be able to try out The White Horse in downtown Austin. Monday night isn't known for its country dancing where you'll see a good traditional country band playing to a packed dance floor of Two Steppers, but it was still a good night to see what the venue was like.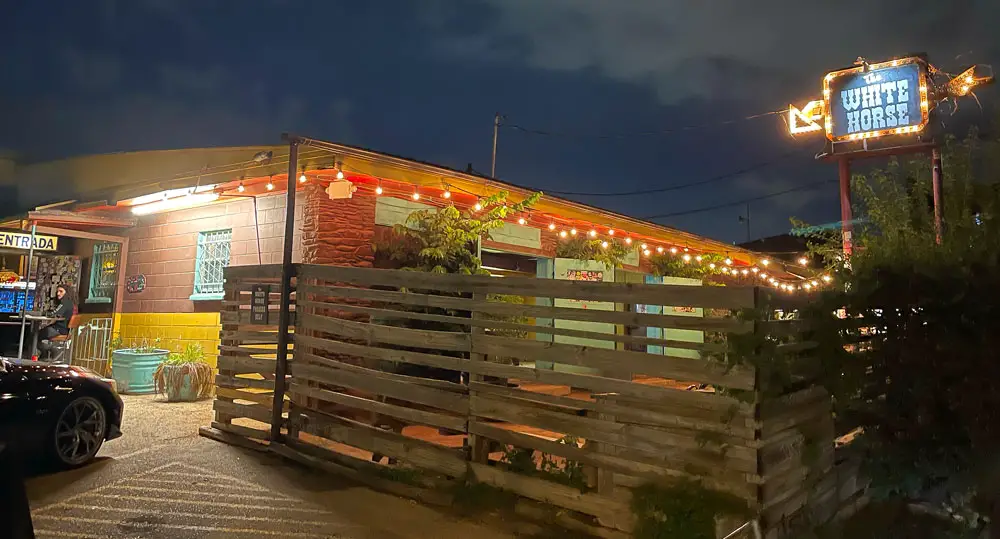 There's a $5.00 cover charge to get in, but then there are some great happy hour prices to get in on if you get there early enough! Also, be sure to try out the great taco cart on the patio with amazing tacos!
The White Horse is a very popular place for dancing in Austin, and to give you a good idea of what it is like check out a video from Texas country singer David Bridwell below. He actually talks about 8 places to go dancing in Austin! But the video begins with the White Horse and what a typical country dance night looks like. I also love his description of the dancing. He's still not sure what to call it! Is it Texas Swing, Texas Two Step, Austin Swing, Hill Country Two Step, or Hill Country Swing?
I liked his attempt at classifying the dance style since this was a focus of my trip to some of these places. I felt like I was observing wildlife and trying to classify a certain type of sub-species of dance unique to the region. I tried to keep an open mind and appreciate the dancing that I saw. At first, I thought "That's wrong!" But, no it wasn't wrong, just different!
But one thing that I do think is wrong is what seems to be in Texas a cultural resistance in the dancehalls to line dancing. There's a very bold sign on the wall at the White Horse that says "No Line Dancing!" But what if I told you that it adds a word in the sign that begins with an "F" Yes, I'm not joking! So, don't try to line dance there!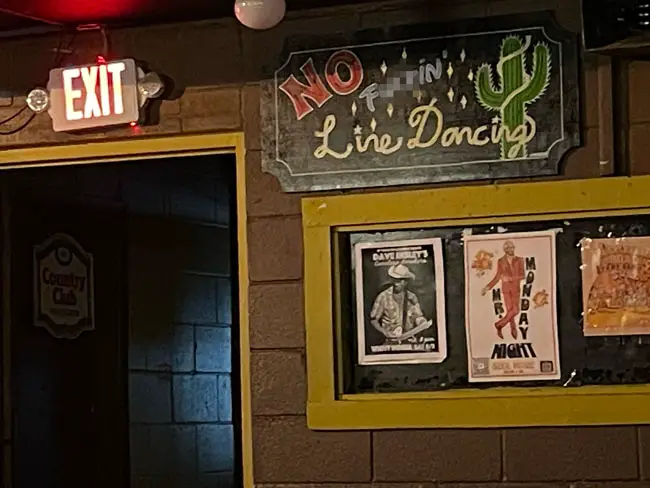 But as far as different kinds of partner dancing go, dance halls like Rodeo Exchange in Fort Worth and Cowboy's Red River in Dallas were places where I saw some interesting things. Read on to find out about all that! But first on to Pflugerville!
---
5. Mavericks in Pflugerville, North Austin
On to North Austin, and specifically Pflugerville! Little did I know what was in store for me on a Tuesday night at Mavericks, North Austin! It was finally time for some line dancing! This night made the road trip to Texas worth it in just one night!
I went on a Tuesday night and even though it wasn't a big night with live country music like their weekends feature I'm glad this was the night I came because Tuesdays at Mavericks is the night to go for line dancing! But here's where the story gets interesting.
So, there's this thing about line dancing & Texas! I'd heard about it, but on my Texas road trip, I witnessed it for myself. As mentioned already above, there's the fairly famous little sign at the Broken Spoke, "No Line Dancing" and the White Horse in East Austin, has that shocking sign that lets you know: NO line dancing!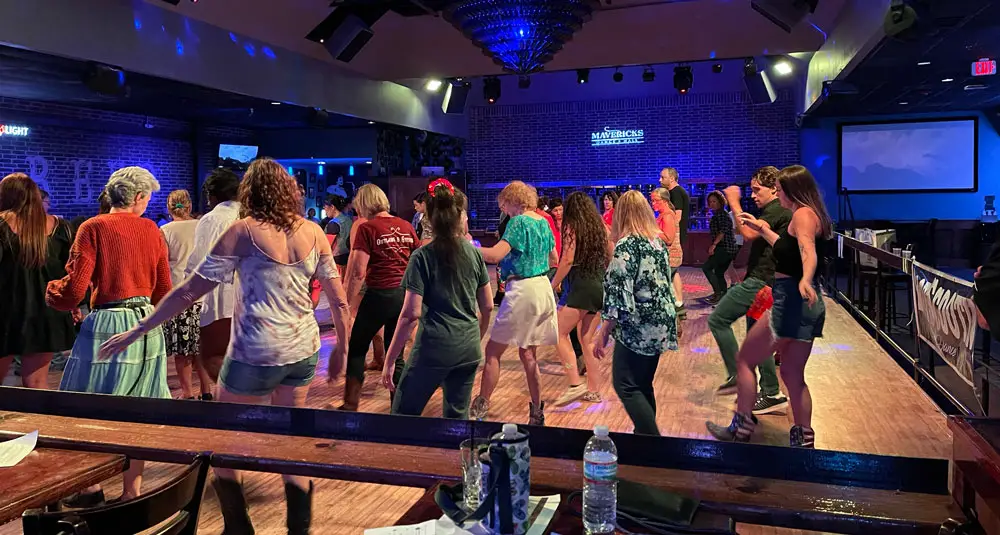 So, what is to be done? Well, I saw the solution unfold right before my eyes at Mavericks North in Pflugerville! And it was in a great lady named Amy Glass! If you've met Amy, within a few seconds you discovered her warmth and genuine caring spirit. She's a truly unique soul and her happiness and enthusiasm for life seem very tightly intertwined with line dancing! And of course, the funny thing is she is one of two Amy Glasses in line dancing! The other of course a very well-known choreographer. This is Austin Amy Glass!
She encountered this strange cultural resistance to line dancing in the Austin area but didn't give up! She told me about the resistance she had seen to line dancing, but then went on to speak of how she was able to persuade the Mavericks management to give it a try. And, honestly, it just makes good business sense to say "Yes!" To line dancing–I think she brought them around to that. After meeting Amy and seeing her in action, I'm not that surprised she was able to turn the tide! 
Maybe more bars in the area and throughout Texas hopefully will have this same change of heart.  So due to Amy's efforts line dancing has been thriving at Mavericks North for going on 2 years with a growing and enthusiastic crowd.
Here are some of the details of the line dancing in Pflugerville. Amy and her husband Mike and a few others have a group they've formed called Bootstompin' ATX line dancers. Their team starts things at about 6:30 and offers lessons on the main dance floor and at the same time out on the patio.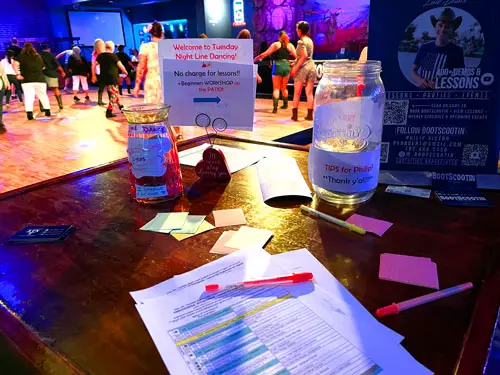 While another teacher gives instruction for an advanced dance on the dance floor, Amy has a quick lesson for beginners on the patio, then she brings them in (with their lit-up bracelets and necklaces) and everyone participates in the beginner (or "blue") line dance. Then it starts all over again. She takes the beginners back out on the patio for more step work and brings them back a few minutes later. As she admitted herself, "It's chaos!" But it's exciting and fun and the beginner line dancers follow her back and forth happily. And everyone hanging back at the dance floor joins in happily regardless of the dance level.
Something extra special happening on the night I was there was that Philip Victor of the Bootscootin' YouTube channel was also in Austin! Amy asked him to be the guest line dance instructor that night, and we had a special extra 2 hours of line dancing out on the Maverick's patio area that went to 11 pm! See the survivor photo below when everyone gathered back into the bar at the end of the night! And me with Philip Victor and Amy Glass at right.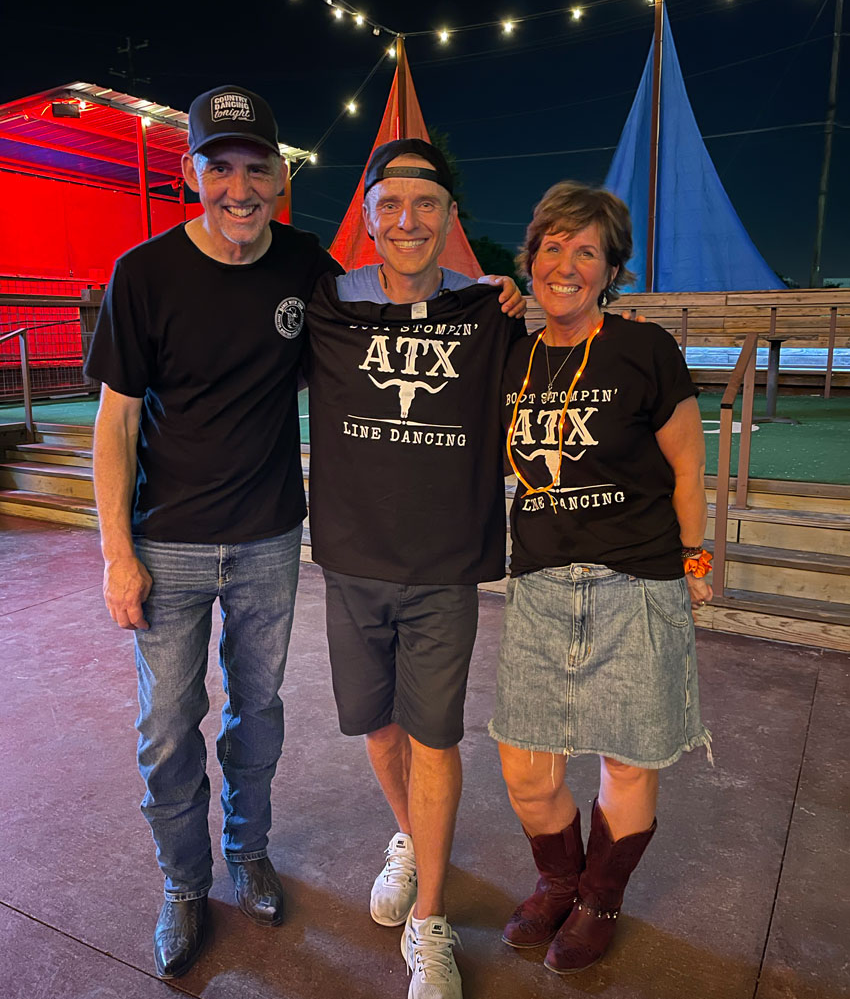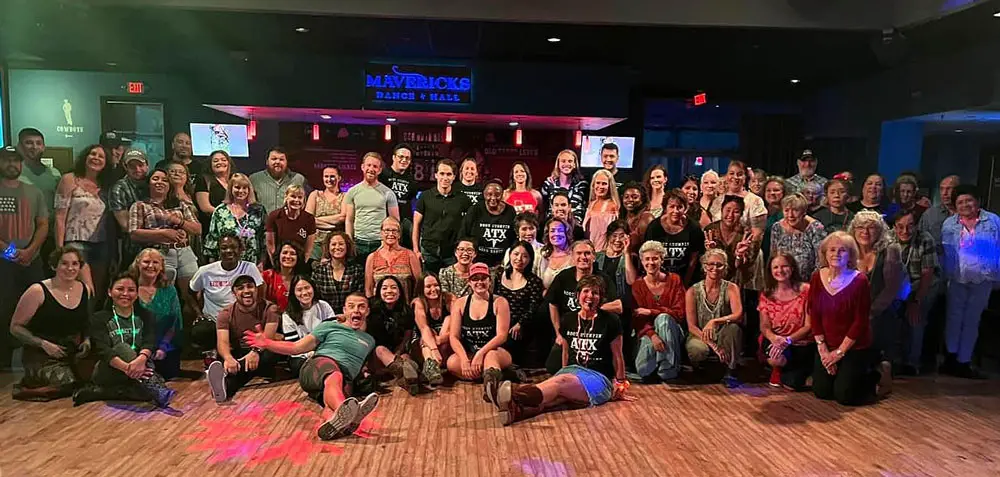 Overall, it's a well-organized and fun night of line dancing for all levels. There was definitely a crowd of really good dancers as well as new people joining in each week. If you are new to line dancing or part of that old-school "No line dancing in Texas!" crowd, you should come to see what the fun is all about at Mavericks, North in Pflugerville!
Cover Charge and More Information
Something great about Mavericks is their commitment to No Cover Charge! This is still true for Tuesday nights. However, for the first lesson at 6:30 pm, which is an advanced line dance lesson there is an entry fee of $5. This fee is ONLY if you come for this advanced lesson. For anyone arriving at 7 pm, there is still no cover! So, if just getting started in line dancing, Mavericks has free beginner lessons for you every Tuesday! 
To stay in the know about what is current for line dancing at North Mavericks in Pflugerville, check out the Bootstompin' ATX Facebook page! This is the place where the Tuesday line dance group posts pictures and videos from Tuesday each week as well as invitations to other local line dancing events and excursions to know about!
---
6. Cowboys Red River, Dallas
After my time in the Austin area, it was time to drive north and get to Dallas! I enjoyed my first Kolaches finally after seeing the signs for them everywhere in West, a little city along I-35. This was a bucket list item! I arrived in Dallas on Wednesday night and fortunately, one of the great dance halls on my list was open and in full swing.
Cowboys Red River is a dance-friendly bar that is very popular and well-loved in Dallas. It has a roomy stage and a dance floor that can hold more than a hundred dancers at any given time.
The unique thing that drew me to visit was the oval, "race track" dance floor with a bar with seating and rails in the middle. This and the size of the venue made it a can't-miss place on my trip to Texas.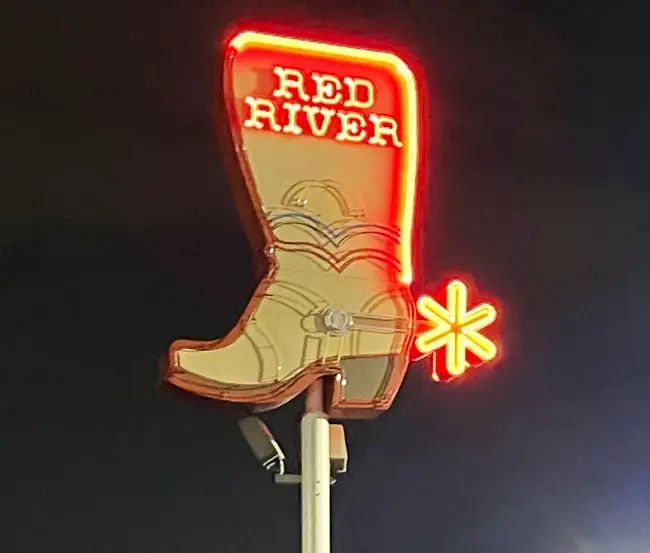 Since it was a Wednesday, I was able to get in on the dance lesson from their instructor Blake Elder. On the website, it advertises this as "West Coast Swing Wednesdays." Now I don't know if they just haven't updated their site in a while or if they just try to mix things up, but the lesson was not West Coast Swing! It was Country Swing. Country Swing with some Texas Two Step! I enjoyed the lesson and how Blake does it. Even for a Wednesday, the lesson drew a large crowd which gives the instructor a challenge to manage it and keep everyone on track.
To organize and manage things with the added challenge of an oval "race track" dance floor, Blake conducts the lesson on one side. This is somewhat challenging since that makes for a fairly narrow dance floor, but they manage. All the leaders stand on one side and the followers on the other, he teaches each side their part and then we come together on one side and dance across.
As I mentioned above in my recap of the White Horse, I was very interested in observing the different varieties of Two Step as I went around to the different bars. Here in Dallas, Blake Elders teaches Two Step as "step-together, slow-slow." This astonished me since even though I'd heard of dancing that way, I couldn't believe it was a way to Two Step that would be thriving anywhere, but apparently, it is! In the above video, you'll notice this with the very first couple dancing.
When I learned to Two Step, I was taught to simply pass my feet as I dance. For me, Two Stepping is "rhythmical walking" or normal walking to the beat of the music. With some syncopation thrown in for the first two steps of course: "quick-quick, slow-slow." Check out my article on learning the basic Two Step this way here.
Blake Elders taught quick-quick, slow slow, but with the second step not passing the first. So…this is just how they dance in Dallas!
Fortunately, for me as I tried to explain my different style of Two Stepping to the ladies I asked to dance, no one seemed concerned, and they seemed to adjust and follow along easily enough. I think it just makes for a faster trip around the floor than they are used to.
TIP: One challenge faced during the lessons is that there are so many people, some are positioned at the curve area of the dance floor where there is access to the floor and no rail or wall. If you are the leader, since for lessons you dance across from side to side, be careful when going backward not to fall off the floor! I almost did this, and it is a fairly big drop! Check out the videos above and you'll see that big step up to the floor!
I did enjoy the lesson and the simple Country Swing move we learned, but as the night went on what I learned quickly is that Cowboys Red River is really a Country Swing hotspot! The first video above gives you a good idea of that.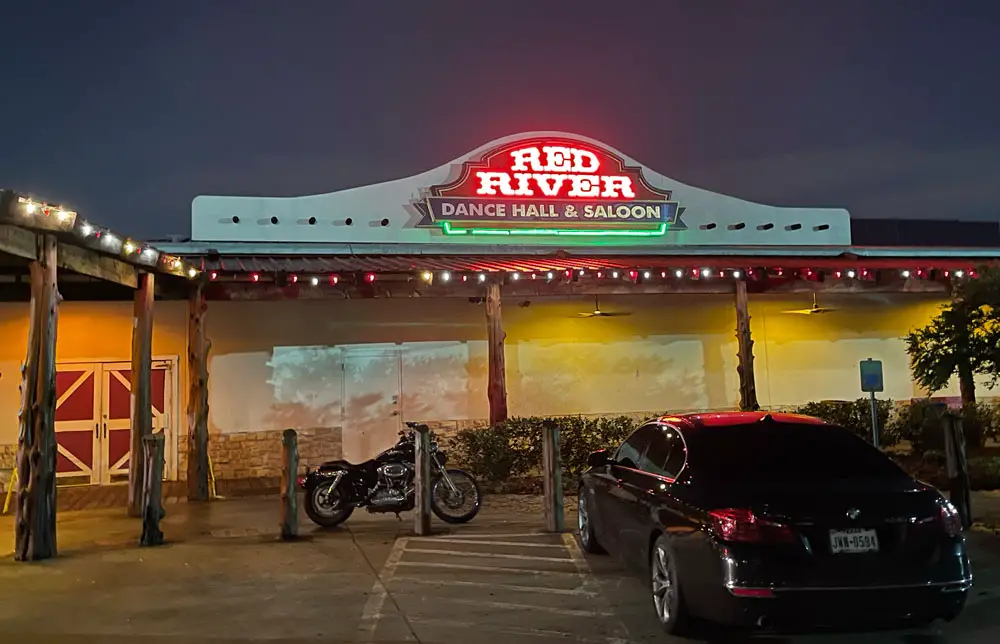 Another thing apparent at Cowboy's Red River is there was no line dancing! This is not to say there's never line dancing at Cowboy's Red River, but at least on a Wednesday, there isn't. The night consisted of live music and when the band takes a break the DJ continues the night with music, but without narration.
Country music keeps playing and the partner dancing continues. There isn't a DJ personality emceeing the time or stating what is next. No line dancing and no other types of partner dancing such as Cowboy Cha Cha etc.–this seemed to be the norm in the Texas dance halls I visited.
For more information about Cowboy's Red River check out these links — Two on this site and the venue's website as well.
12 Best Country Bars and Venues for Dancing in the Dallas-Fort Worth Area.
Cowboys Red River Dance Hall & Saloon
Cowboys Dance Hall & Saloon

---
7. Rodeo Exchange, Fort Worth
Even though there were more great places to see in the Dallas area, as my road trip started winding down, I realized I needed to focus on Fort Worth and a few final spots there, namely Rodeo Exchange, Guitars and Cadillacs, and Billy Bob's! So, starting off I went to Rodeo Exchange on a Thursday night and had another fun and unexpectedly great night dancing! In fact, this night was right up there with my time in Pflugerville!
These final honky-tonks and dance halls to be visited would be found in the Stockyards area of Fort Worth and along or near the main street of the Stockyards: East Exchange Ave. The Rodeo Exchange is located at the top of the hill up the street from the Stockyards, one of the last of many bars and honky-tonks along East Exchange.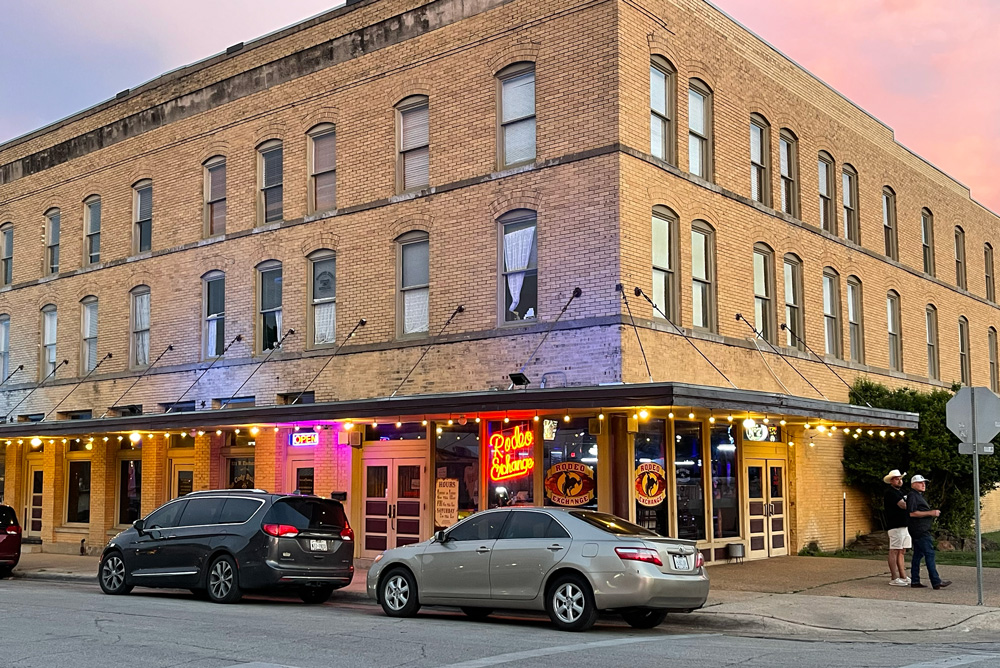 When I walked in, to my surprise, despite the outside appearance of that area of Exchange, the bar is a very clean and upscale dance hall and saloon! It has a fresh new feel with great lighting and beautifully polished rail drink surfaces around the dance floor. As I came in, I was excited to see some dancing in progress, specifically…line dancing in progress! Yes, I once again found some line dancing again in Texas! I joined in and began a really fun night.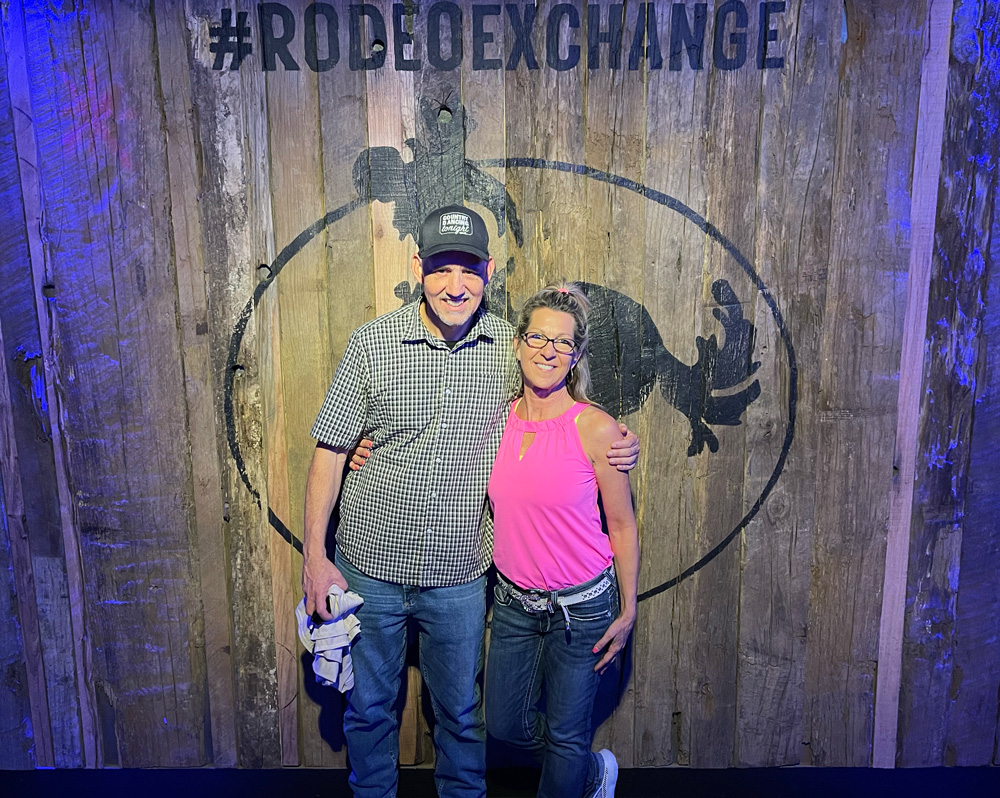 Marcia & I in front of the Rodeo Exchange photo wall!
Like in Pflugerville, No. Austin, it seemed there was a line dance breakthrough going on in Texas! And like in Pflugerville, another great instructor responsible for the success; in this case: Marcia Willis Riebe! I met Marcia and even though I was a new face I was very welcomed and had a great night dancing and getting to know some of the great folks and dancers there.
While at the Rodeo Exchange I also met Jimmy Grayson, the managing partner at Rodeo Exchange who also was super welcoming! I was very impressed with what Jimmy has done with the establishment–while not a giant venue like a Cowboy's Red River, it is big enough for a good crowd and is the go-to place for friends to come together, listen to live country music, and dance the night away. He urged me to come back on the weekend to see what the crowd would be like, which I did! Saturday night was off the hook! Check out the video below for what a typical Saturday night looks like when the couples take over the dance floor to some great live music.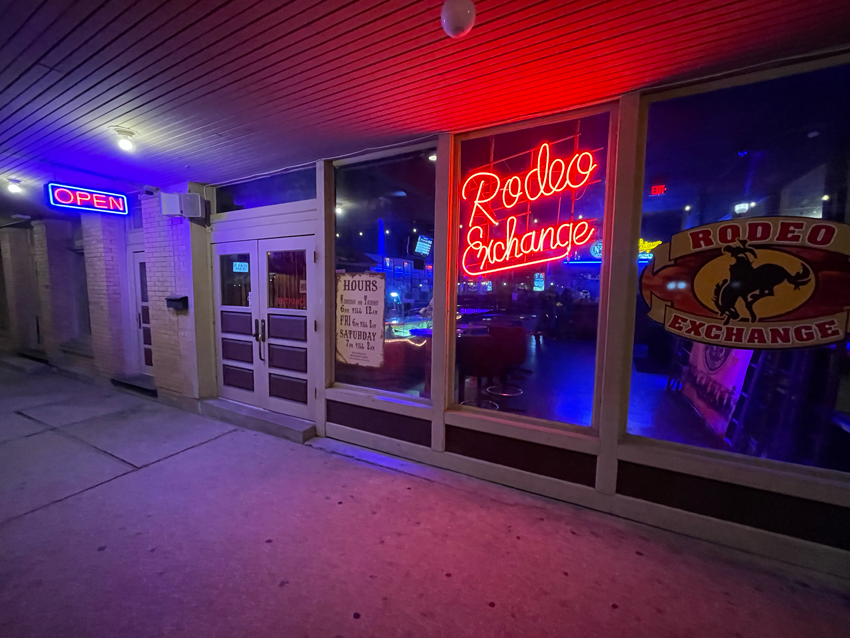 A great neon sign lets you know you are at the Rodeo Exchange! Branded as "The Best Little Honky-Tonk In Texas," Come out to see why!
Marcia, in addition to being the instructor at Rodeo Exchange on Thursday nights, has a great YouTube channel to help people learn to line dance. She does a great job staying current with what is happening in the world of line dance and has her hand on the pulse of what is trending and hot and worth teaching to those that come out. Check out her channel here: Line Up and Dance with Marcia.
A big takeaway from my road trip was that line dancing in Texas needs a hero! On my trip to Texas, I found that it actually has a few, Marcia being one of them! Way to go Marcia!
---
8. Guitars and Cadillacs, Fort Worth
Also located in Fort Worth is another great place for country dancing: Guitars and Cadillacs, Fort Worth. This was my next stop, and as it was Friday night, a great night to go dancing at a well know and huge dance venue.
I got there just in time to get in on the lesson! The lesson on Friday nights is a West Coast Swing lesson given by Terri Bordeaux. The lesson was very good, and I quickly realized Terri was a very experienced dancer and those that go to Guitars and Cadillacs have a great instructor! Taking beginner and then intermediate West Coast Swing lessons back-to-back on an early Friday night at a country bar was actually an interesting thing to experience. I'm not used to this!
In So. Cal. you don't really see this. You need to go to a dance studio typically to take WCS lessons. I enjoyed the lessons and was thankful that I've been taking some lessons already from So. Cal. teacher Michelle Adams. This helped me to at least hang with the group somewhat. Check out the video below that she let us record to capture the summation of the lessons she gave.
As the night progressed, I could see the fruit of having a teacher like Terri in their midst. This was a place for West Coast Swing dancers! See the video below to see what I mean! Also, check out the Guitars & Cadillac's website for more information about her Friday night lessons here!
I had a great night hanging out and meeting a few people. I danced a little but felt a little out of place with my style of Two Step. But like at Cowboys Red River, most people were accommodating and open to how I was trying to dance.
I was also happy to see some line dancing happening at Guitars and Cadillacs! Check out the video below that captures that. The dance floor etiquette there allows for the typical splitting up of the floor space for line dancers in the middle while progressive partner dancing travels counterclockwise around the floor. I enjoyed dancing the Wave On Wave line dance with this crowd before I jumped out to also get some video of it!
Notice also that one of the line dances is to the song Texas Time! This caught my attention since a great So. Cal. favorite partner dance is danced there to Texas Time. Check out my post with some details about Stephen Pistoia's partner choreography for it here. I was a little sad that here I was in Texas, and the Texas Time partner dance was nowhere to be found! Finally check out one more video that shows what most of the night is like: the DJ plays a good continual set of country music for the partner dancers.
---
9. Longhorn Saloon, Fort Worth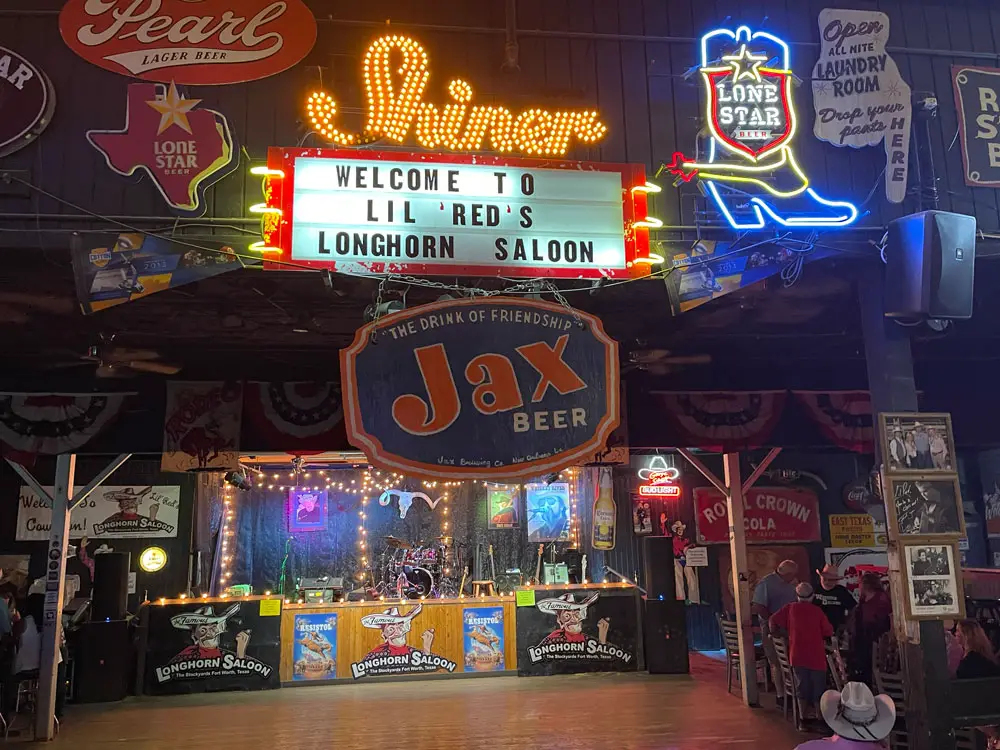 With my time running out, I tried to start splitting my nights and doing some bar-hopping. There were so many places to check out! One place on my list was the Longhorn Saloon, also known as "Lil' Red's." So, late on Friday after my time at Guitars and Cadillacs I came back to the Stockyard's area.
The Longhorn Saloon is on East Exchange a little way down the hill from Rodeo Exchange. There's a small dance floor and a stage for live country music. I got a beer, put up my feet, and relaxed. I also finally did get out on the floor and danced with a lady from Oklahoma–another awkward moment of dancing ensued, as we tried to combine our different ways of dancing together. Oh well! I tried!
In the past, I had already included information about the Longhorn Saloon in the blog. See information about it as well as Guitars and Cadillacs, and Billy Bobs. Blog post: 12 Best Country Bars and Venues for Dancing in the Dallas-Fort Worth Area!
---
10. Billy Bobs, Fort Worth – the World's Largest Honky-Tonk
At long last I was going to Billy Bob's! It was Saturday night and the final night of my honky-tonk, dance hall exploration. I was saving one of the best for last! I had time to kill on Saturday afternoon, so I went early and got acquainted with the venue. If you go early, it's just a $3.00 ticket to get in.
There's a great description of Billy Bob's I heard recently: "An indoor cowboy mall!" I think that says it very well.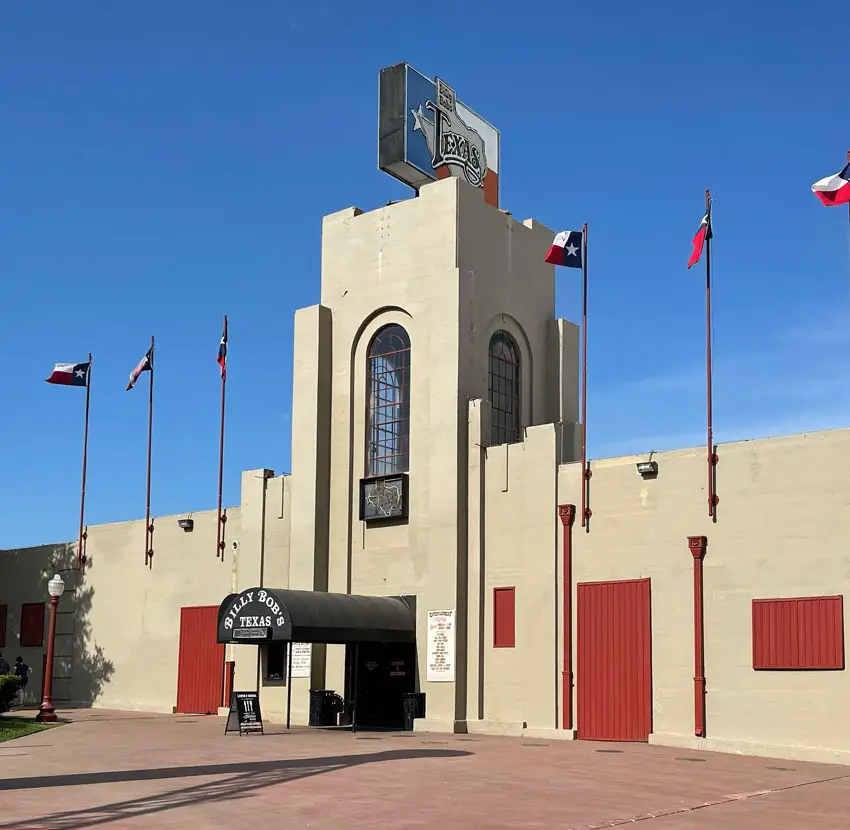 Billy Bob's has pool tables, some games, BBQ (I got some chicken tenders that were great!), a gift shop, and of course, there's the actual live bull riding to be seen in an indoor arena that is connected at the corner. There are also several bar stations and two stages, the large one for all the concerts in the back with table seating and the smaller "honky-tonk stage" in front of the dance floor in the very center.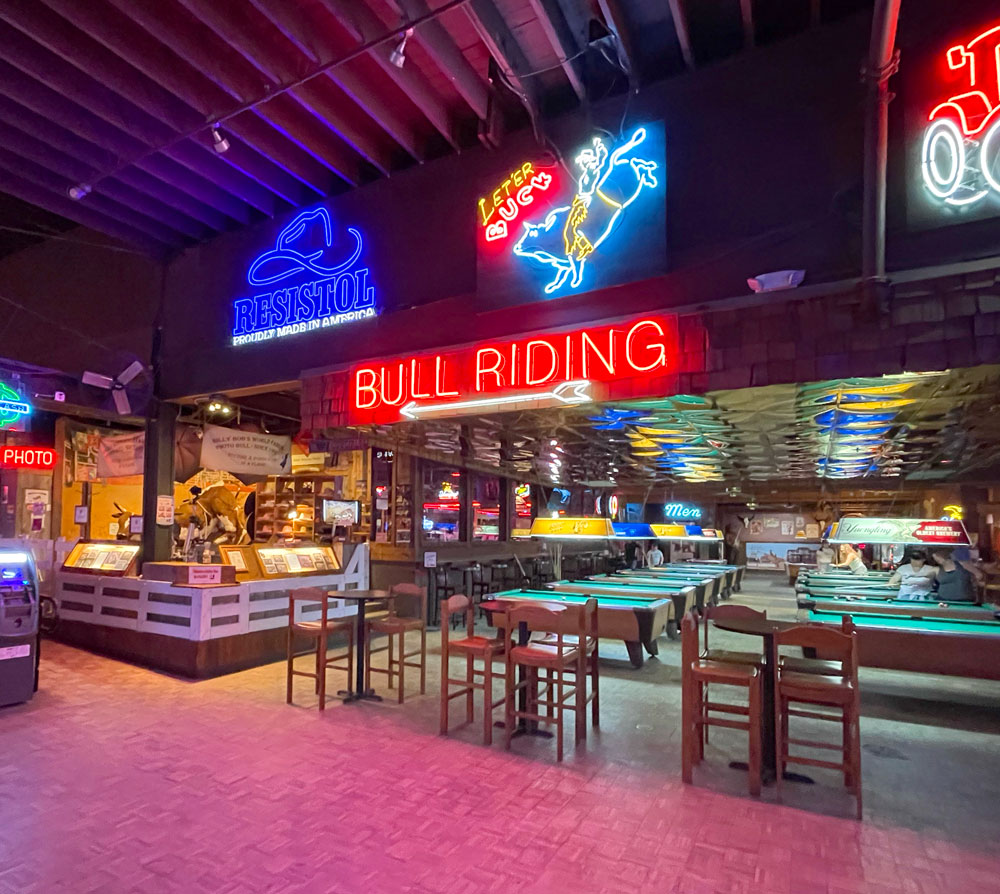 I got a beer and some souvenirs and took the whole place in. I checked out the dance floor and took a look at the bull riding arena as well.
Billy Bob's wasn't exactly how I had pictured it, but it truly is big as far as honky-tonks go!
But here's the question: Is Billy Bob's really a "Honky-Tonk?" There is an opinion out there that says "No!" Check out an article on that here.
But really this wasn't much of a concern to me. It genuinely felt like honky-tonk heaven in there! One thing that makes it very large is the two stages. The main stage sees significant country artists coming through on the weekends. Then there's a smaller stage in the middle of the venue where the dance floor is, that features some regular country bands that are also very good.
It's common for there to even be some dancing going on when the main stage act is in progress, but then also after the concert is over, the "house" band will start up on the honky-tonk stage where the dancing continues. The night I was there I was supposed to see Hal Ketchum. Unfortunately, he had some health issues, and the concert was canceled. This meant the night would look more like a typical Billy Bob's night with live music on the honky-tonk stage only but still lots of dancing!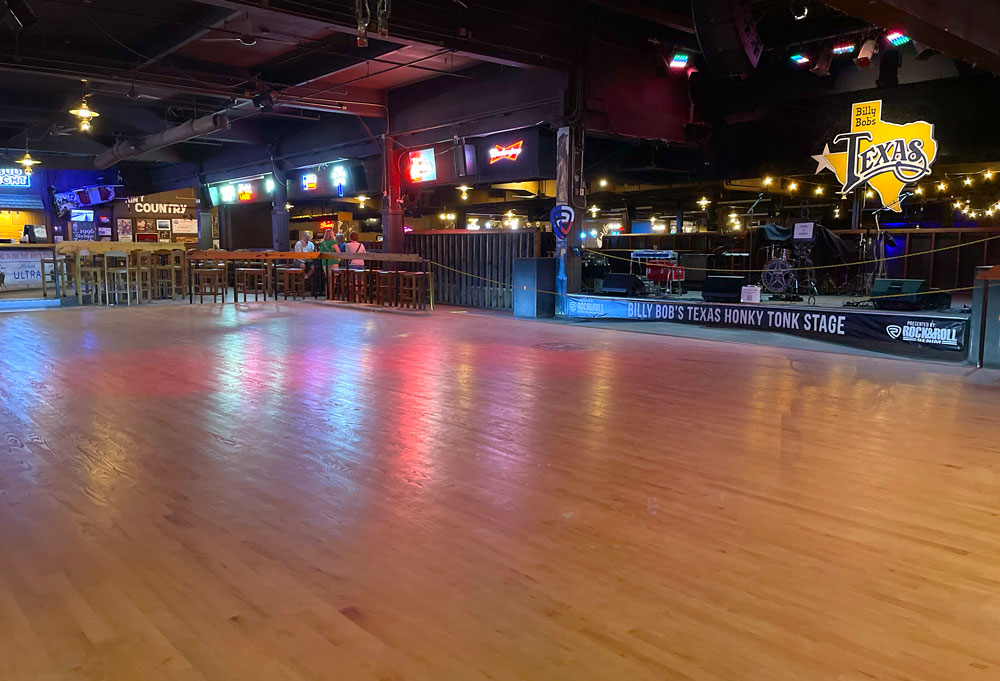 So, even though the place is gigantic and there's a big stage in the back, that whole area was in darkness and closed off and the party was surrounding, what to me really was a typical-sized dance floor.
The Keith Mitchell Band played, and some dancing got underway. At first, I just watched and wondered what it would be like. Then I noticed a lady in the middle doing a line dance all by herself! I had to join her and try to follow! So, I met Dolly! She is from New York but now lives in Dallas. We had a great time dancing for a good hour or so.
I tried to follow her line dances that I didn't know and then we did a lot of Two Stepping and even a Cowboy Cha Cha twice! This was particularly fun for me, since like the Texas Time partner dance, I didn't see any partner Cha Cha dances either in Texas. We were the only ones on the floor for this as we danced to the DJs playing the remix of Neon Moon with Kacy Musgraves. Check out the video below that shows some of the live music and dancing. Notice how later in the night it gets packed out on the dance floor!
Also, at one point in the night to my surprise, there was some line dancing as well! When the right songs came on (mainly from the DJ's set list) there were a few local line dancers. I had a lot of fun joining in with some dances I also knew! The Gives Me Shivers line dance showed up of course!
But this was a night I needed to bounce early at some point to get back to a weekend night at Rodeo Exchange up the street. I went to say goodbye to Dolly but couldn't find her! She was gone!
So, now back to that question of whether or not Billy Bob's is a honky-tonk? I guess the question is if a country bar where there's live music and dancing that isn't that intimate, and even a tourist attraction can be classified as such. If it's more of a large concert and entertainment venue, can it also be a honky-tonk as well? I'm not really sure, but I think at the heart of Billy Bob's is a fairly small stage and a dance floor where it feels close enough.
David's video covers:
---
11. The Basement Bar – the World's Smallest Honky-Tonk
But wait, there's more! I thought I'd add one more place! The Basement Bar is in Fort Worth and one of many places to pop into along East Exchange Ave. I ventured in there on Saturday afternoon (or down there!) to kill some time. Here's the funny thing about this: It is billed as the Smallest Honky-Tonk in the world!
Not only does the Basement Bar claim to be the smallest, but it is also said to be the oldest in Fort Worth. I guess it was a meeting spot for clients that patronized a brothel above it more than 100 years ago! But it does have an "established in 2009" sign. I assume that is the more recent ownership.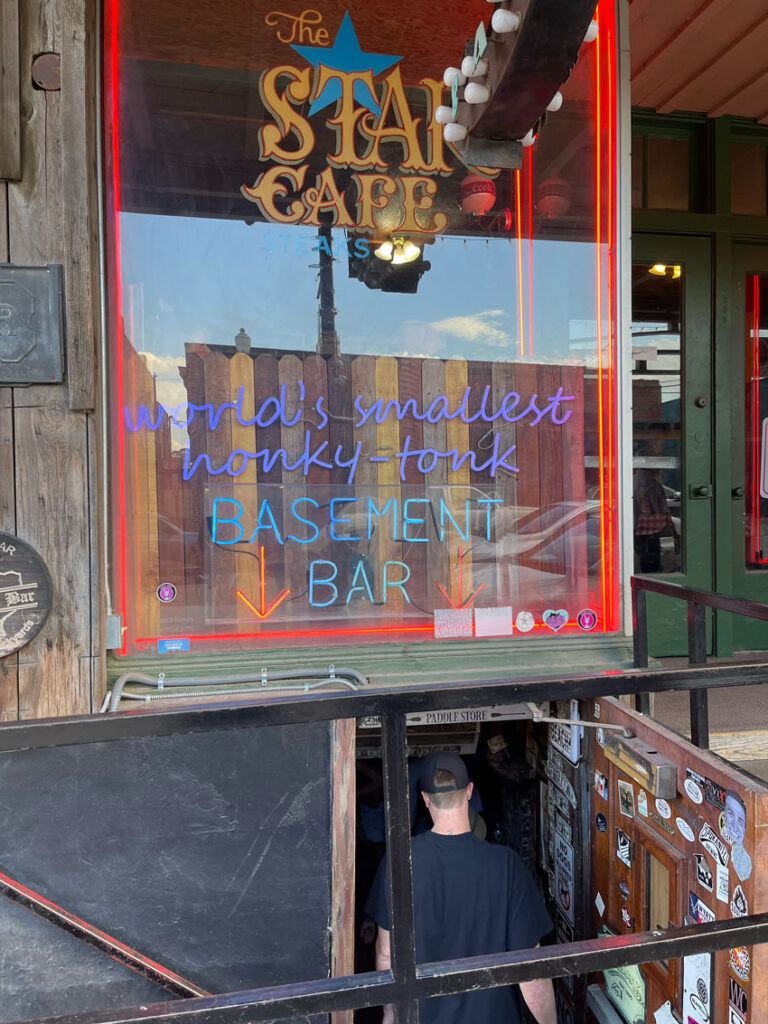 I thought it was cool to visit the largest honky-tonk in the world and the smallest one on the same day! Something for your bucket list! Obviously, being a basement bar does make for it to be small, but for being the smallest, it really didn't feel too cramped. there was a small stage for live music and two rooms or areas to sit and hang out which were spacious enough.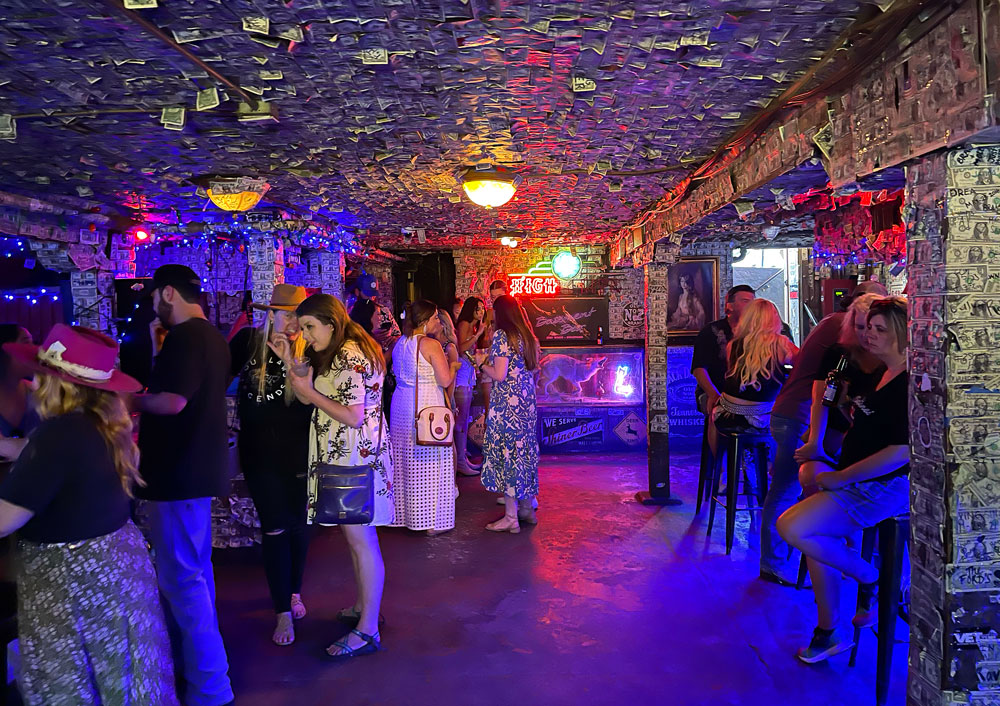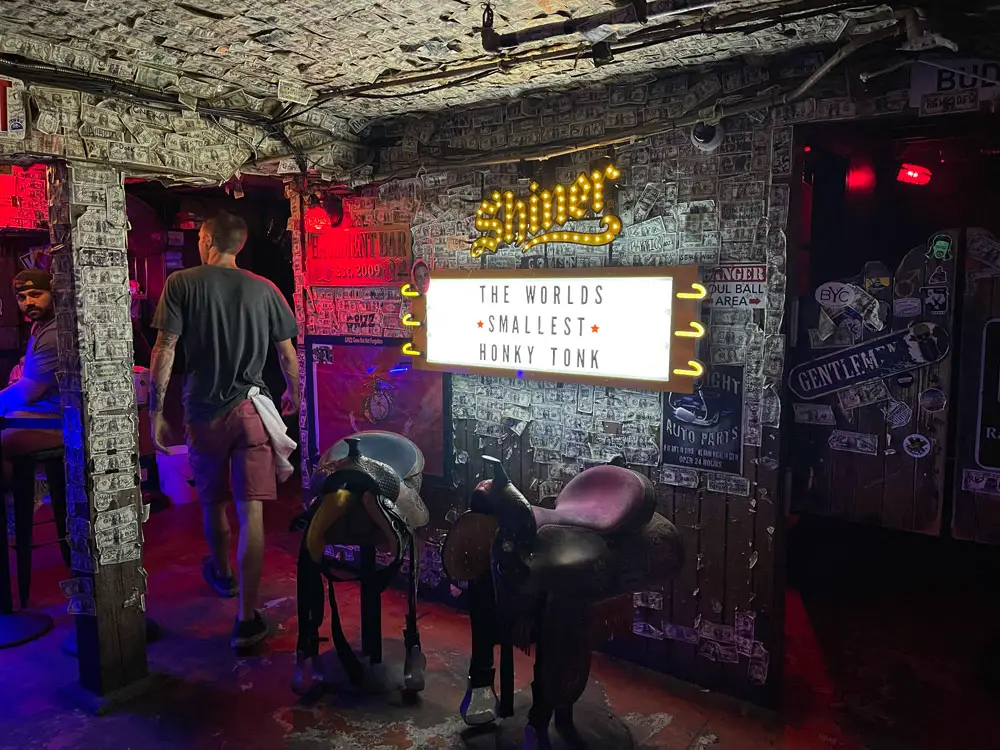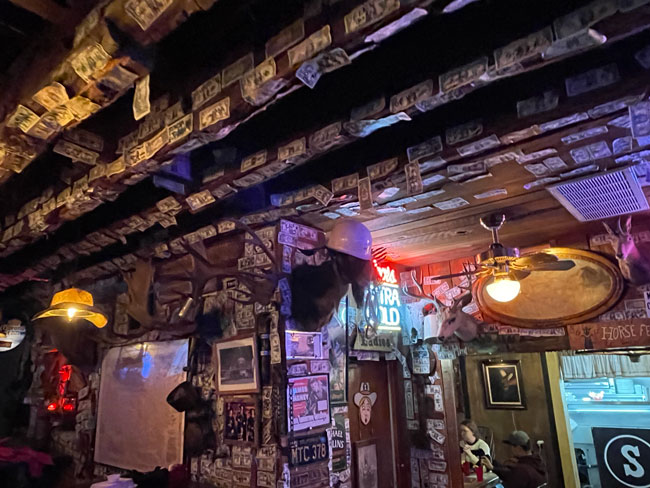 A Bar in Crestline, CA.
Oddly, dollar bills papered the walls and ceilings everywhere. I'm not sure what that was about, but it reminded me of a So. Cal. bar destination in Crestline that I guess has the same tradition. See the compared photo to the right. The Basement Bar has taken this to a different level! In the small area for the live music was a guy singing a Parker McCollum song, which I thought was cool since I'm a fan. I think he could tell I was! Check out the video below!
---
My Texas Bucket List!
And wait, there's still more! Along the way of my road trip in Texas were other things to do of course. I heard a song by Josh Abbott called "My Texas" which, if you need one, gives a great list of things to do in Texas! It is sort of a Texas Bucket List! There are 24 things on the list. Some are easier to check off than others. I started my trip with high hopes of crushing the list along the way but didn't get too far.
Here are the lyrics of the song that give you the list if you are so inclined to take on the challenge! And then following my pitiful, but still fun accomplishments -so far! Some are clustered together in the Texas Hill Country area.
Josh Abbott's My Texas
If you haven't climbed up to Enchanted Rock,
Drank a cold Shiner down in Luckenbach,
Taken your baby to the River Walk,
Then you ain't met My Texas yet.
If you haven't floated down the 'Ol Frio,
Heard Red Dirt music on your radio,
Eaten Cooper's down in Llano,
Then you ain't met My Texas yet.
You haven't been to the Houston rodeo,
Sang "Carry On" at a Pat Green show,
If you ain't seen an Abilene sunset,
Then you ain't met My Texas yet.
If you never caught a trout down in Port A,
Heard the words to Corpus Christi Bay,
Never seen fireworks on PK,
Then you ain't met My Texas yet.
Haven't had a kolache when you go through West,
Never heard of the Larry Jo Taylor Fest,
Think polished pop-country crap sounds the best,
Then you ain't met My Texas yet.
You haven't been to the Ft. Worth stock show,
Sang along with Cory Morrow,
You ain't seen a hill country sunset,
Then you ain't met My Texas yet.
You say you haven't hiked through Big Bend,
Had your hair blown back by a Lubbock wind,
Been somewhere where they call you "friend",
Then you ain't met My Texas yet.
You haven't been to the San Antone Rodeo,
sang "Everclear" at a Creager show,
If you ain't seen an El Paso sunset,
Then you ain't met My Texas yet.
No, you ain't met My Texas yet!
My Texas Bucket List Achievements!
• Drank a cold Shiner down in Luckenbach!
• Went down to the Riverwalk!
• Heard Red Dirt music on my radio! (while driving in Texas!)
• Ate Cooper's down in Llano!
• Sang "Carry On" at a Pat Green show!
• Had a Kolache when I went through West!
• Heard the Words to Corpus Christi Bay (while driving in Texas!)
• And I DON'T think polished pop-country crap sounds the best!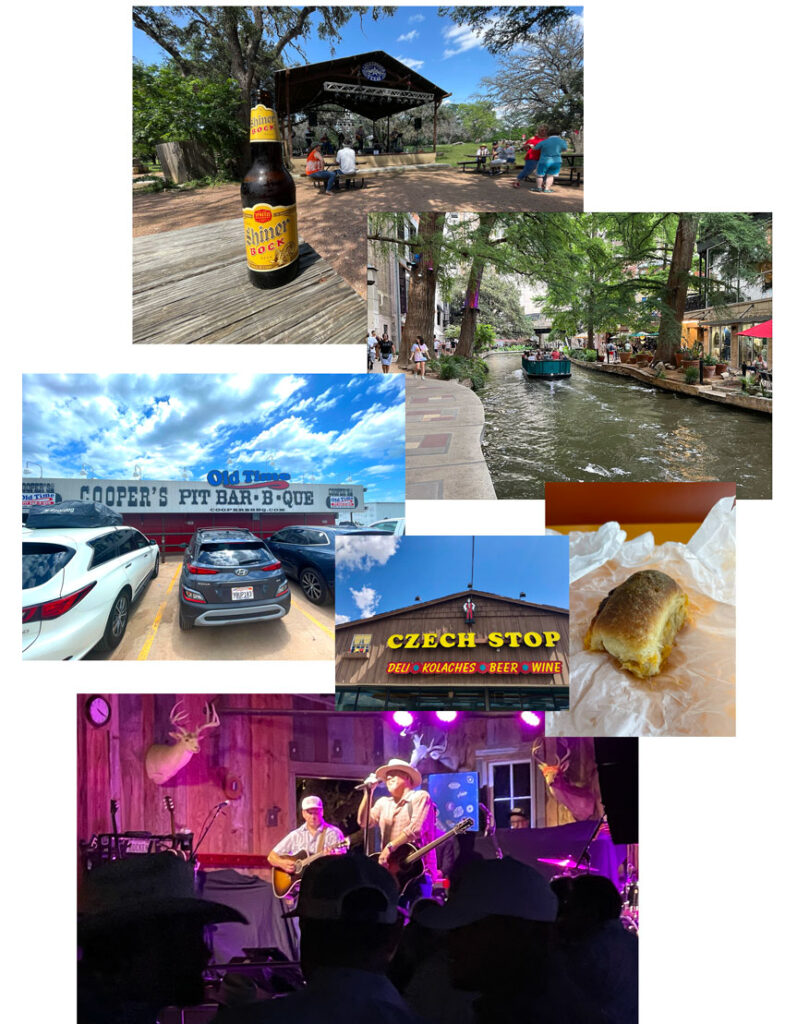 So many more to go! Also, I was 9 miles away from Enchanted Rock and a few hours early driving through Abilene! And I think I saw a Hill Country Sunset–I'll have to go back! But check out someone's video who thought of the same thing, but did it!
---
Sources:
medium.com/texas-veterans-blog/
banderacowboycapital.com
https://www.fortworthstockyards.org/