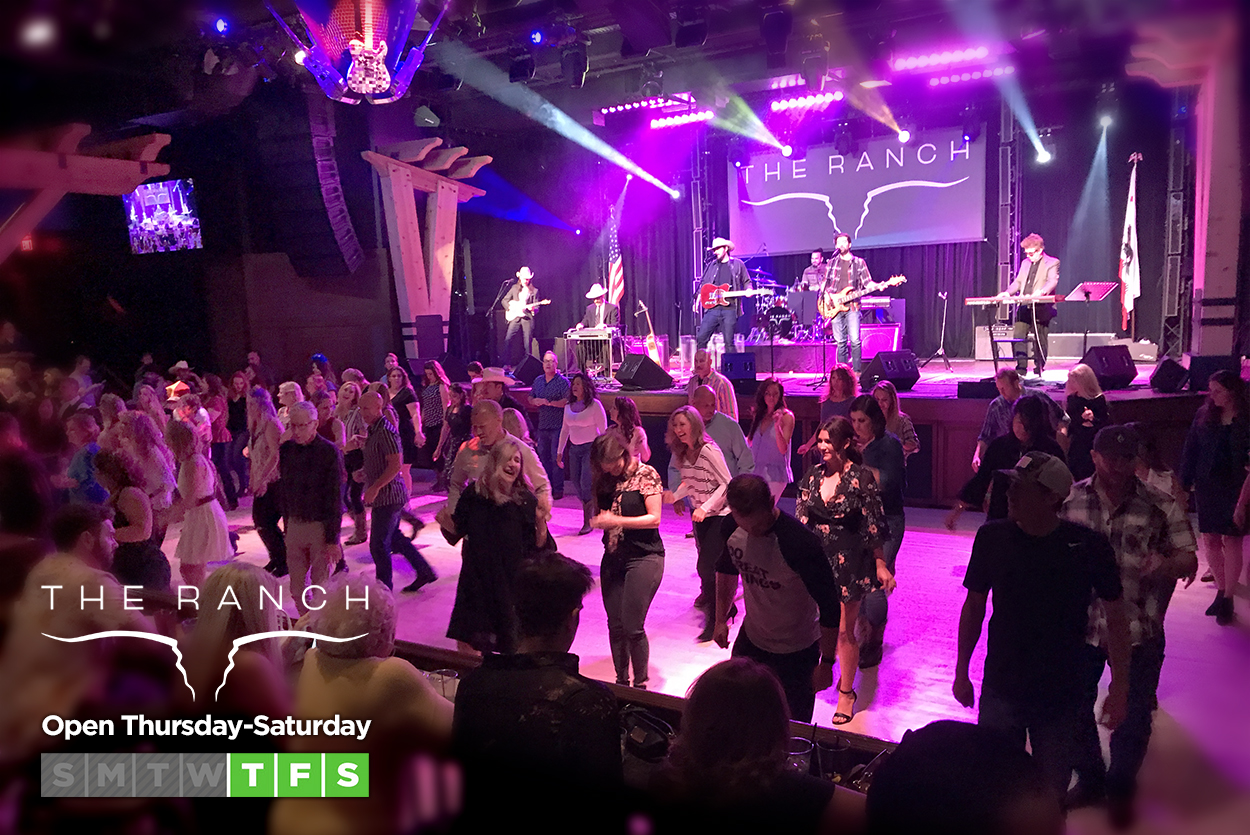 A country dance hall is a special place. There's nothing like a good hardwood floor, live music, a good DJ, and of course the community of dancers that meet there regularly to dance. Every weekend around the world, dance floors come alive with dancers and good times.
My own "home bar" for country dancing is The Ranch in Anaheim, California. And while all the different dancing venues have something unique about them, I think that is true for the Ranch in an extraordinary way. For a country dance hall, it is truly special and on a different level.
The Ranch Saloon in Anaheim is a best-in-class, country music, and dance entertainment venue. It features a custom-built hardwood dance floor and is open 3 nights a week. Thursdays are dedicated nights for line dancing, while Friday and Saturday nights feature the best of local country music bands.
Located at 1025 E. Ball Road Anaheim, CA 92805 it is positioned at about the midpoint between the Anaheim sports venues of the Honda Center and Angel Stadium and Disneyland, in the heart of Orange County.
---
Table of Contents
---
The Ranch – A Special Brand of Country Entertainment
I've come to feel country dance halls are special places and actually love that each one is unique with its own personality and flavor. My blog is filling up fast with articles spotlighting some of these dance hot spots. I love discovering all these country dancing watering holes.
As a resident of North Orange County, having discovered and fallen in love with country dancing, looking back it makes sense The Ranch became my place. It is very convenient at about 10 minutes away south on the 57 freeway. So, I settled in as a regular not really knowing what else was out there or what other country dancing venues were like!
I finally did venture around and, wow! I realized then the Ranch is no ordinary country bar! As stated on their website it truly is a uniquely and carefully designed entertainment venue. There was a vision from the beginning of a very upscale, enjoyable, and exciting concert venue. The space was carefully thought through and designed with careful attention to every detail.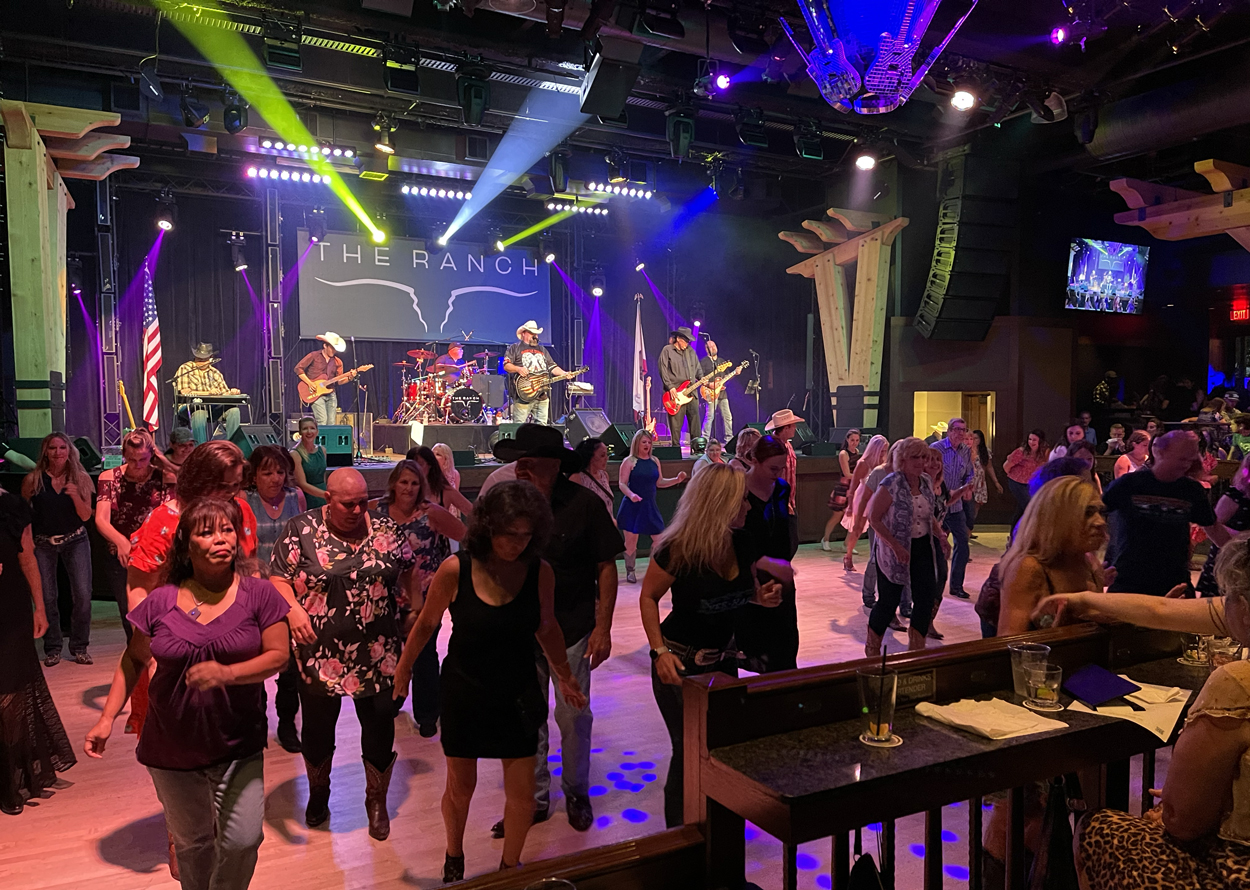 But, backing up a little… As far as a different place the most obvious thing about the Ranch is where it is. Along Ball road stands a 6-story building that is Extron Electronics' corporate headquarters. The president and owner Andrew Edwards, when building his new headquarters had a vision for something more. He would bring back a great country music venue and dance hall to Orange County by dedicating and designing the ground floor of his company's headquarters to house both an award-winning restaurant to one side and a beautiful upscale saloon for live country music and dancing on the other.
So, that's the thing that catches everyone off guard. Is this Extron or The Ranch? It's both! After doing a little research on what went into the design and planning I can say that they truly achieved what they were aiming for.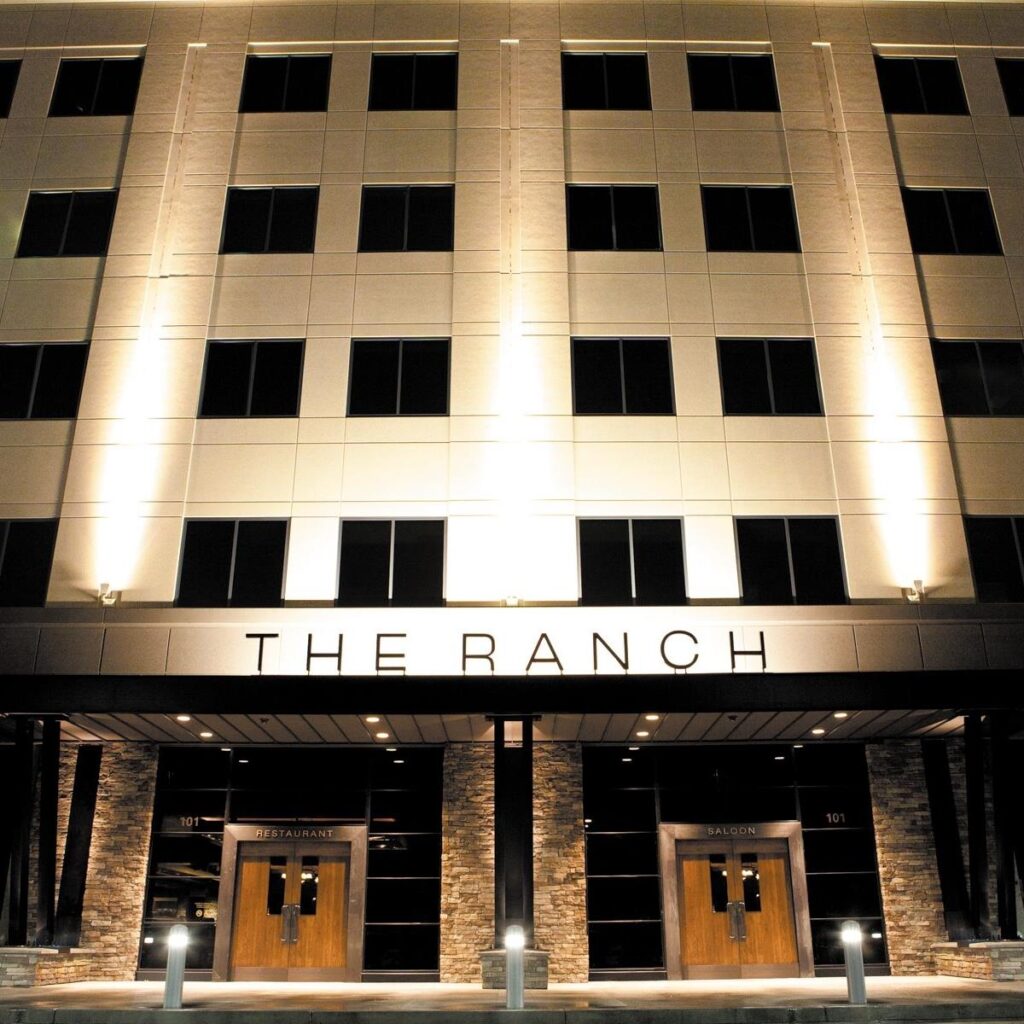 For instance, the goal for the sound system was to "deliver appreciable sound pressure levels appropriate, that never actually sound too loud to the point of discomfort." I like this since I've indeed been to enough concerts and other dance clubs where I've worried about what was happening to my ears! And in that kind of place there for sure wasn't going to be meaningful conversations with friends!
But the music and sound system aren't like that at the Ranch! It is at a perfect volume. You can actually converse with friends while you're not dancing, but the music still seems loud enough.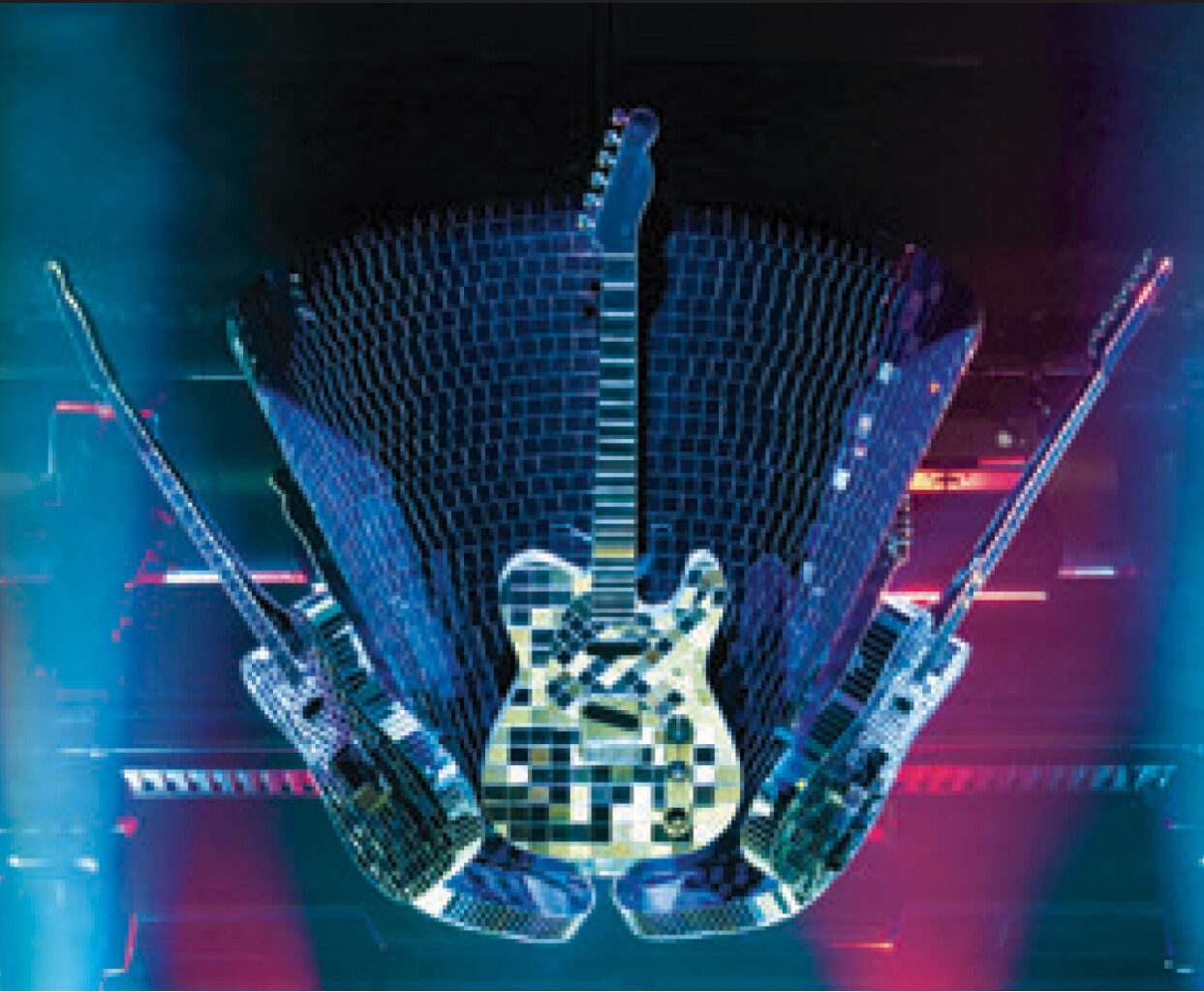 Also, it seems obvious to also mention the lighting! As with the sound system, heavy emphasis was placed on creating a great system for lighting that would always add an amazing light show to the night and create a "Wow!" factor. Great detail was given to this to include wash lights, ellipsoidal LED spotlights, moving lights over the stage, and dancefloor with the cherry on top being the mirror ball that is made of five Fender Telecaster guitar replicas!
The feel of the lighting over the dance floor at The Ranch has always been a great part of my experience there. When I did get out and see other places, I often feel that it is just too dark over the floor! I know a lot of places are on tight budgets, but it's too bad they can't somehow light up their floor a little more.
The Ranch Saloon features a 47′ x 26′ sunken dance floor, 2 bars (the 40-foot "Long Horn" and the 27′ "Mustang" Bar), and seating for 187 guests. Of course on a busy weekend night, I'm sure there's far more that just don't bother trying to sit–after all, many of us are there only to dance!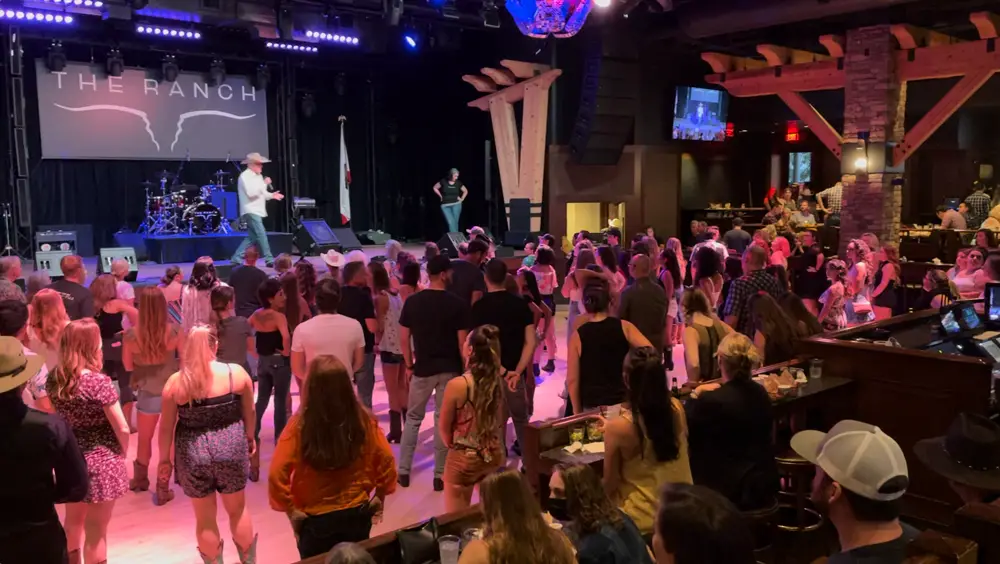 If you are new to dancing and are interested in coming out to the Ranch to see what the fun is all about read on as this is my guide to navigating your journey into this great world of social dance and specifically the Ranch Saloon.
---
Friday & Saturday Nights at the Ranch
If you are planning your first visit to The Ranch, and are possibly new to line dancing and country dancing, I recommend starting off with a Friday or Saturday night. The weekend nights are a great time and will feature not only live entertainment but as far as the dancing goes, the lessons are catered to beginners and will be no problem to jump in and get involved with.
Many nights I've witnessed new people come out and have so much fun learning the line dance and Two Step. I think sometimes people are surprised that it isn't that hard to catch on to, and then they leave feeling accomplished and excited.
So, a typical Friday or Saturday night at the Ranch usually gets going at 6:30 with the first dance lesson and then the 2nd lesson at 7:15. Interspersed between the lessons DJ Lauren will call different line dances and partner dances until the band comes on at 8.
Especially if you are looking for live entertainment, these are the nights to come out. On both nights the band comes on at 8 pm.
Of the current bands that play at the Ranch, you'll get to see:
Brad Johnson & The Killin' Time Band
Cross County Line
The Lonnie Dawson Band
Heartland Country
JB & The Big Circle Riders
Southern Spirit.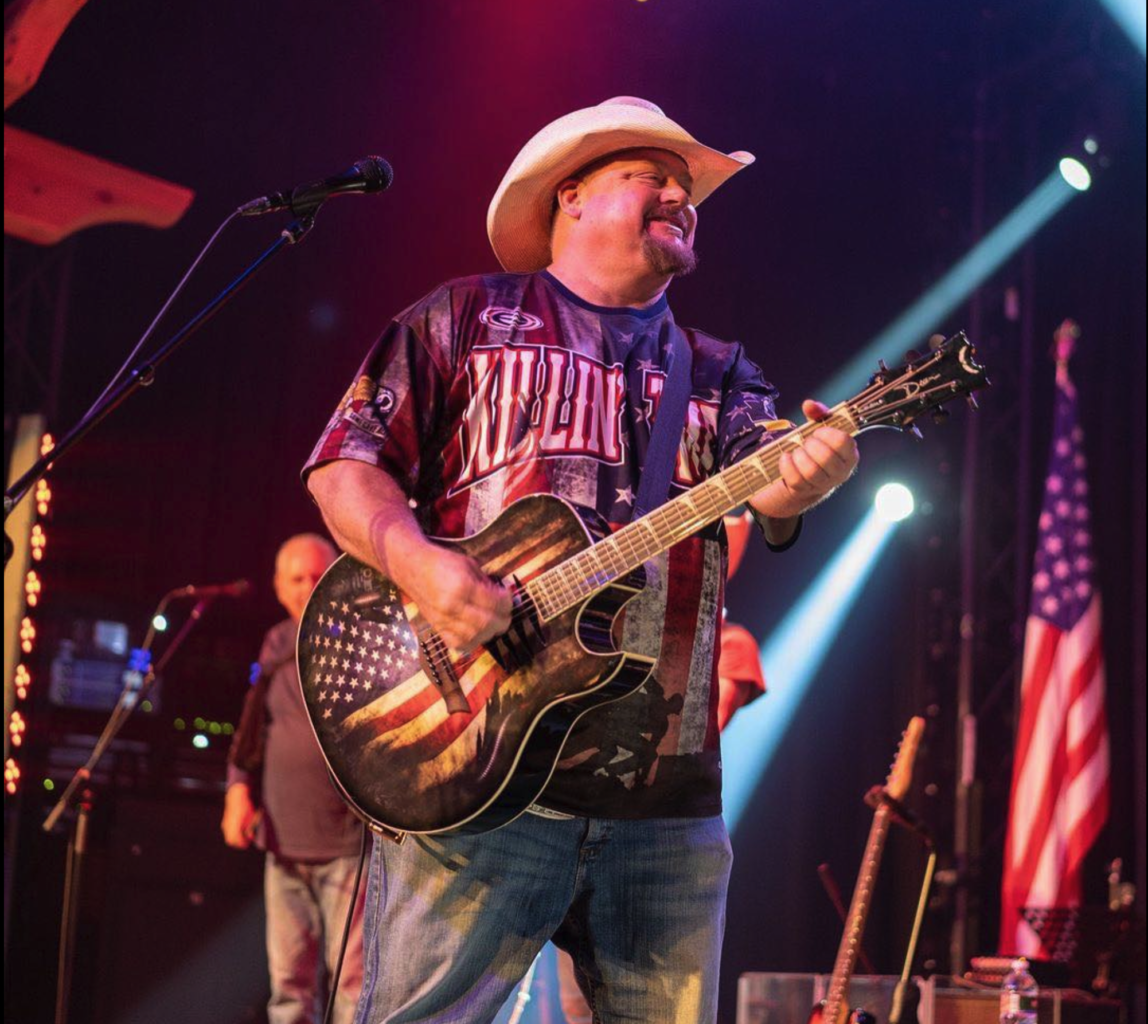 Past bands to play at The Ranch have included:
Arnie Newman's Country Club Band
The Rob Staley Band
The Kellye Huff Band
Chris Johnson and The Hollywood Hillbillies
Grand Junction Band

Shotgun Jefferson
Kelly Rae Band
Francelle
Doo Wah Riders and more!
When the band starts it's usually with a Two Step set and as the night progresses, a good band will jump back and forth between line dance music and songs for partner dancing.
At The Ranch, they like to make sure all guests are catered to and have a good time. To this end, around 8:40 the band will play a set of pop music and call "Freestyle Dancers" to the floor. Each night like clockwork about 8:45, the band will take their first break of the night and the DJ will keep a little freestyle mix going.
You won't see this typically in a country dance hall, but I think it's a great way to get some guests that are only watching to venture out and do some dancing. You'll see a lot of people having a lot of fun! Your basic "soul train" usually happens when a group of friends takes turns dancing one at a time. Check out the video below where the whole floor got together for a train dance!
---
Line Dance Thursdays
Besides the great weekends at The Ranch, Thursdays are also available for those that like to get their weekends started a little early! Thursday nights at the Ranch are billed as their "Line Dance Thursdays." And, as the name suggests, this night is really catered to the line dancers. It is a DJ-driven dance party with DJ Lauren calling a great setlist.
Since Thursdays are for the line dancers, it is a night for the more dedicated line dancers. The hard-core, serious line dancers typically know more dances and are proficient in the more challenging, intermediate, and even advanced-level dances. Consequently, the set list is long and very inclusive of a lot of dances.
For the regulars on Thursday night, this is their haven. They know them all! And they love to come very consistently and dance non-stop. If you come out on a Thursday, and you are new to all this, you may be stunned at how so many people know so many different dances! Don't worry, this is the typical reaction!
As someone who loves line dancing, but doesn't come out on Thursdays so much I am a little in awe myself. I'm adding dances to my list as I can, but I have a ways to go. I'm lucky if I can hang with this bunch for maybe a third or half of the night.
If you do come out and you are hoping to do some traditional country partner dancing, do not fret! The DJ is great at mixing in some good Two Step sets and even throwing in a couple of Cha Chas or a Texas Time partner dance. Even though it's "Line Dance Thursday," it ends up being a very well-rounded and full night of both line dancing and partner dancing.
If you are interested in getting involved and being out there as much, and hopefully more than me, check out some line dance lists on the site to get started. My list of 20 Beginner Line Dances might have dances you actually won't see much of, as these dancers are far from beginners! My list of 50 Popular Dances will have some dances featured and my list of 2021 HOT Line Dances We Can't Get Enough Of features some of the typical kinds of dances the Thursday night crowd loves. From this list, focus on Champaign Promise, Off The Chain, Cold Heart, and 3 To Tango!
To really get involved with this group the key is to just come out and get immersed. I think the key to this group of line dancers' success is their consistency and probably some practice at home before they come!
---
Dance Lessons at the Ranch – 3 Great Instructors!
On each of the 3 nights at the Ranch, there are free dance lessons. Line Dance Thursdays feature Kerry Kick teaching 2 line dances each week, and as appropriate for the big line dance night she will often bring some challenging new line dances. The Lessons are at 6:30 and 7:30. Kerry has been involved with The Ranch since it began and brings her love and her lifetime of dance experience to teach on Thursday nights.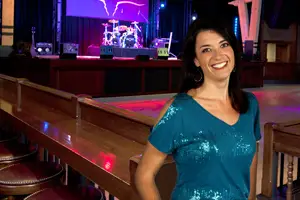 Friday nights feature Dev Edwards as the instructor, with the lessons at 6:30 and 7:15. Dev Edwards is a very experienced dance performer, choreographer, and teacher, teaching country dancing all over Southern California. The Ranch is lucky to have her. Come out on a Friday night and you'll be in good hands to learn a line dance, Two Step, or other partner dance.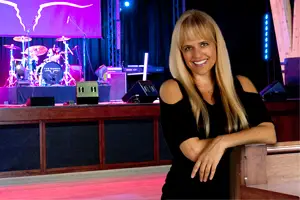 Saturday nights feature Shelly Graham as the instructor. Shelly's passion for dance has been cultivated over most of her life, beginning with ballet lessons and later continuing in college receiving a minor in dance and being involved in her school's dance company. In 2007, she discovered and fell in love with line dancing and soon was teaching privately as well as in classes. She's continued to this day and brings her passion and experience to The Ranch every Saturday night.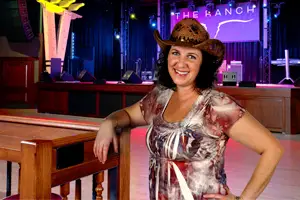 To learn more about all these great instructors check out their extended bios on The Ranch's website.
Also, a good tip about coming out and learning to line dance is to first check out their calendar and see what line dance will be taught that night. Then do a search on YouTube or better yet, Copperknob to study up and start learning the dance a little on your own first. Then you'll be ready to totally grasp it during the lesson.
And, you'll notice on their schedule that each weekend will offer a Two Step lesson. Dev and Shelly rotate back and forth so that one of them will always teach a Two Step. If Dev teaches the Two Step on a Friday night, Shelly will teach Two Step the following Saturday, and so forth. But on the weekend that Dev teaches Two Step, Shelly will teach a different partner dance, the following night.
| Night | Teacher | Lesson | Time |
| --- | --- | --- | --- |
| Thursday | Kerry Kick | 2 Line Dance Lessons | 6:30 & 7:30 |
| Friday | Dev Edwards | Partner Dance & Line Dance | 6:30 & 7:15 |
| Saturday | Shelly Graham | Partner Dance & Line Dance | 6:30 & 7:15 |
---
Live Stream & Weekly Snapshots
Something also unique about The Ranch is a couple of extra features found on their website: a Live Stream option & their Weekly Photo Gallery!
Live Stream
The live stream is a way to still get in on a night at The Ranch when you simply can't come. All 3 nights, the live stream is available! It is even possible to take the dance lessons from the comfort of your home by opening up the video feed and following along!
Weekly Snapshots
Every night the DJ, once they have a chance gets around the dance floor to get some snapshots of the dancers and even those just enjoying their time with friends or a date night at one of the booths. This is a great "souvenir" from your night out at The Ranch. The regulars will scour the photo gallery and download the pictures that caught them dancing! This is another unique little added extra that isn't typical of your local country bar.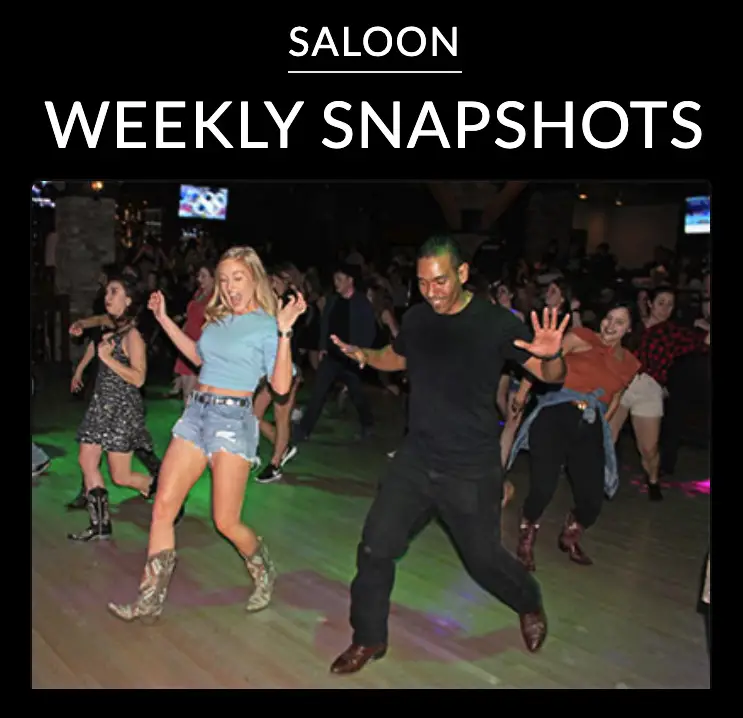 ---
Weekly Schedule, Hours, Cover Charge, and Reservations
The Ranch is open Thursday, Friday, and Saturday nights. 5:30-close. The nights usually wrap up sometime around midnight.
Thursdays is a DJ night called Line Dance Thursdays with an emphasis on line dancing, catering to line dance lovers, specifically. Friday and Saturdays feature live music and a variety of line dancing and partner dancing through the evening.
Cover charge for admission is $10.
Seating & Reservations
The bar stools at the rail along the edges of the dance floor are first come, first serve. So to guarantee you get a seat it is advisable to call ahead and make reservations. Call (714) 817-4200 to make reservations. There is a minimal charge for tables and booths, so be sure to inquire about this.
See further details about reservations here. Also, check out their helpful floorplan showing all seating and photo views from each area of seating around the dance floor.
---
Dance Floor Etiquette at the Ranch
When it comes to dancefloor etiquette, most country dance halls observe some common unwritten rules for how to navigate the social dance scene which is country dancing. For instance: no drinks on the dance floor and the progressive dances move counterclockwise! These are a couple of obvious ones, but the list of dance etiquette is actually a whole discussion all in itself.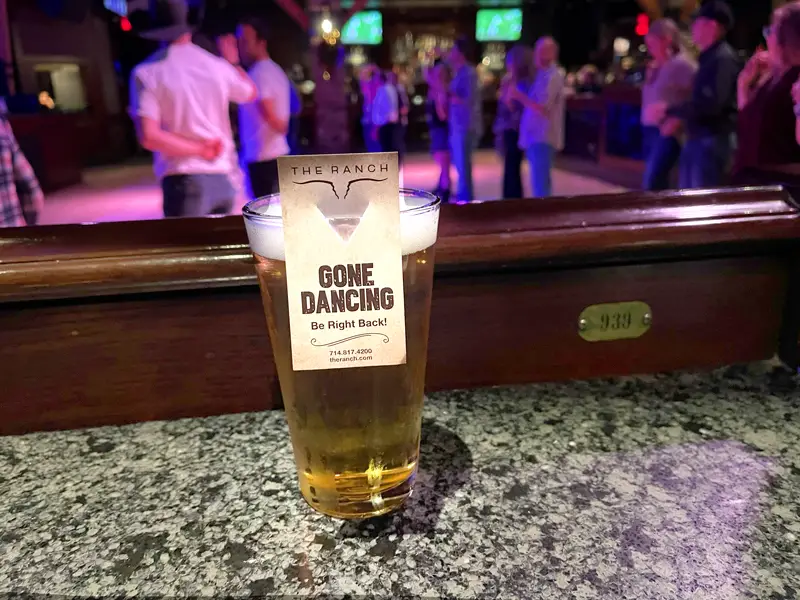 But, at the Ranch, there are a few extra, or say, different points of dance floor etiquette to observe. It is common on dance floors to see what is called "splitting the floor" this is when the floor is shared by two different dances going on simultaneously (as shown in the diagram below).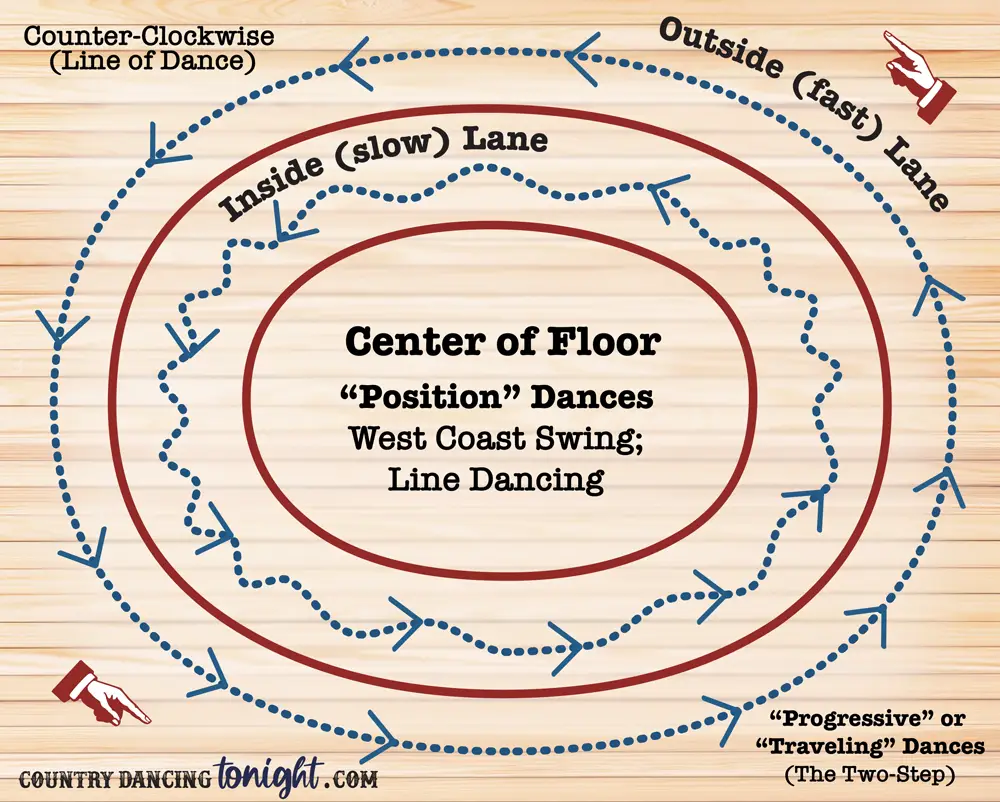 The most common thing you'll see out there is a line dance going on in the middle of the floor and Two Steppers using the far outside lane to dance around them. A point of dance floor etiquette about this is that it is the line dancers' responsibility to keep within the middle of the floor and not drift out into the outside lane where the Two Steppers are traveling. Well, at The Ranch they simply don't do this.
If there's a line dance called, the floor is exclusively for those that know that line dance. If a Two Step is called is a time exclusively for Two Steppers. At these times, it is not desired that people come onto the dance floor freestyle dancing, etc.
In general, you could characterize The Ranch as more strict about things and seeking to maintain a measure of order. Some might complain about this, but really the safety of all the dancers is at the heart of the rules. They state on their site: The Ranch Saloon has a managed dance floor. They don't condone "out of control" dancing. On any given night you might see the staff walk out on the dance floor and ask someone nicely to leave the dance floor if they feel they are at risk of impeding and disrupting the dancers.
Really, this makes sense when you think about the brand of The Ranch Saloon. It's an upscale club and as such has carefully thought-through standards and decorum.
So, that's my heads up about the unique dance floor etiquette at The Ranch, but to read their entire list (they are written down) including things from general courtesy to no ball caps turned backward go here, and read Andrew Edwards's further explanation here.
If you are interested in a deeper dive into what makes for good country dance floor etiquette in general check out my article on that here.
---
Facebook & Instagram – Latest Happenings at the Ranch!
The Ranch has an active social media presence on Facebook and Instagram. Check out these social channels to see what the latest news is and happenings. But their website is also updated with the latest schedule of upcoming things!
---
Special Nights at the Ranch
Dance Contests, Halloween & New Year's Eve!
Besides the regular 3 nights a week, The Ranch Saloon is open, there are a few nights when some special things are going on!
Yearly Dance Contest
Every year in Southern California there are some great dance competitions at many of the local country bars and line dance venues leading up to the Stagecoach concert. As these dance contests are hitting all the bars, of course, The Ranch is on the list. This always happens on a Thursday night.
When I first started coming out to The Ranch I happened on this once, and it was so great to just sit and be entertained by the best dancers all vying for the prize of Stagecoach tickets. Check out the videos below from some of the recent dance competitions!
Halloween
Early on in my nights out at The Ranch, I also happened to go on a Thursday night near Halloween. Halloween is always a really fun time at The Ranch.
They always have a special Halloween night on a Line Dance Thursday night near Halloween that features a costume contest. So, for sure try to come out sometime to this. It's already fun to line dance, but line dancing as Dracula, Pokemon, or whatever character you gravitate toward at this time of year just piles on more fun! I went one year as a hippie, and while I didn't win it was a hoot to be out on the floor with my long hair and tie-dye shirt!
New Year's Eve
Lastly, for special nights at the Ranch, the party they throw on New Year's Eve tops them all! I've been a couple of times for this and it is always a great night to be at The Ranch and a fun place to celebrate the new year with friends. For coming to The Ranch on NYE, there are two different price tiers, see their web page for all the details here.
---
In Conclusion
When Andrew Edwards set out to build The Ranch Saloon, his goal was that once again, like in the old world-famous Crazy Horse days country music would once again have a home in Orange Country. But, as a maverick in his own right, he would do so with a unique vision. Come out and enjoy what has become a unique country entertainment experience. State-of-the-art sound, beautiful lighting, great live music, a beautiful dance floor, and great food and drinks!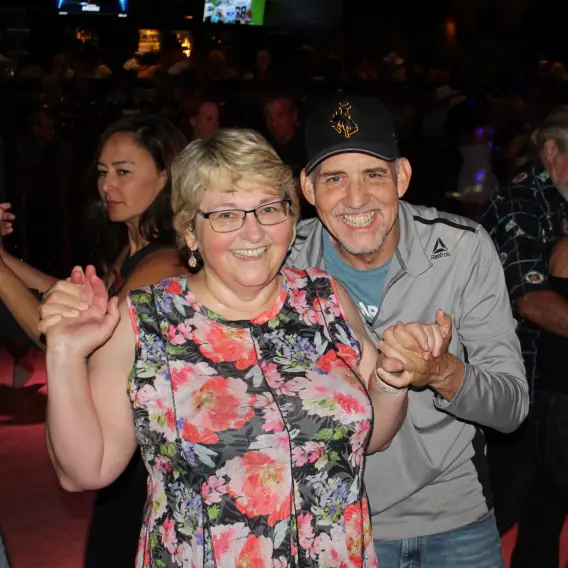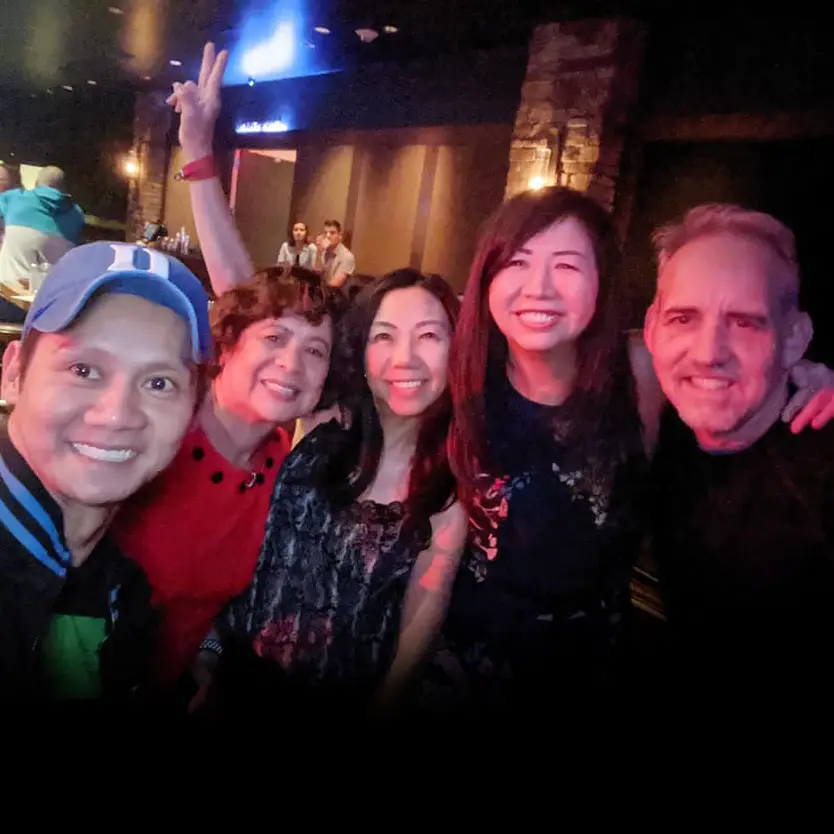 ---
More Great Places to Dance In So. Cal.
Also, as great as The Ranch Saloon is if you are like me and you want to explore a little and see what is out there for country dance options check out my article that rounds up even more great places for country dancing in Southern California! (15 total places to dance!)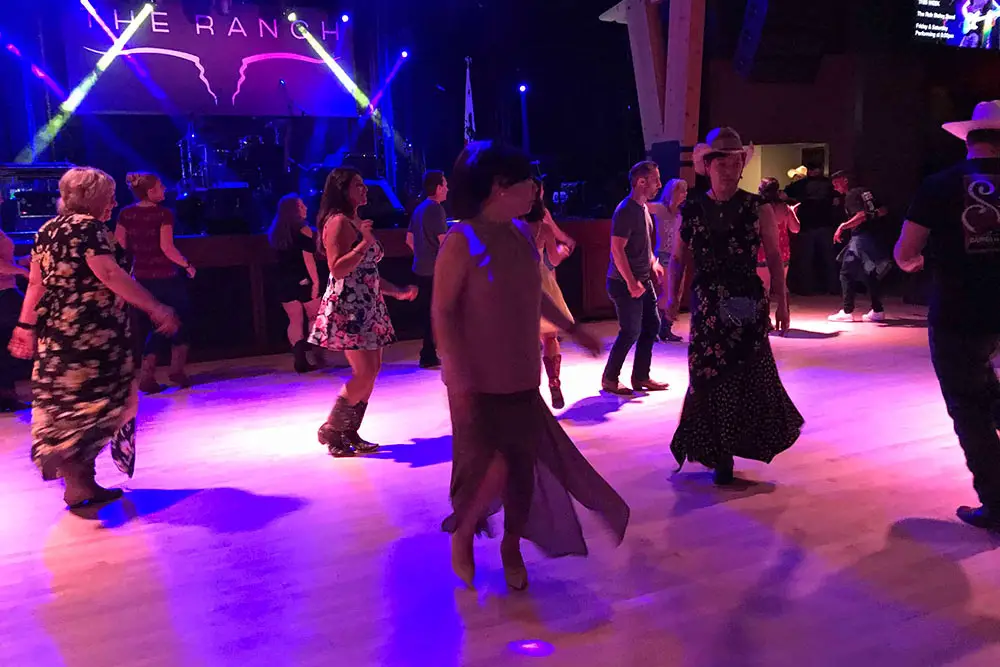 When it comes to country bars with good bands, line dancing, and the Two Step, Southern California has many places to show off…
---
Sources