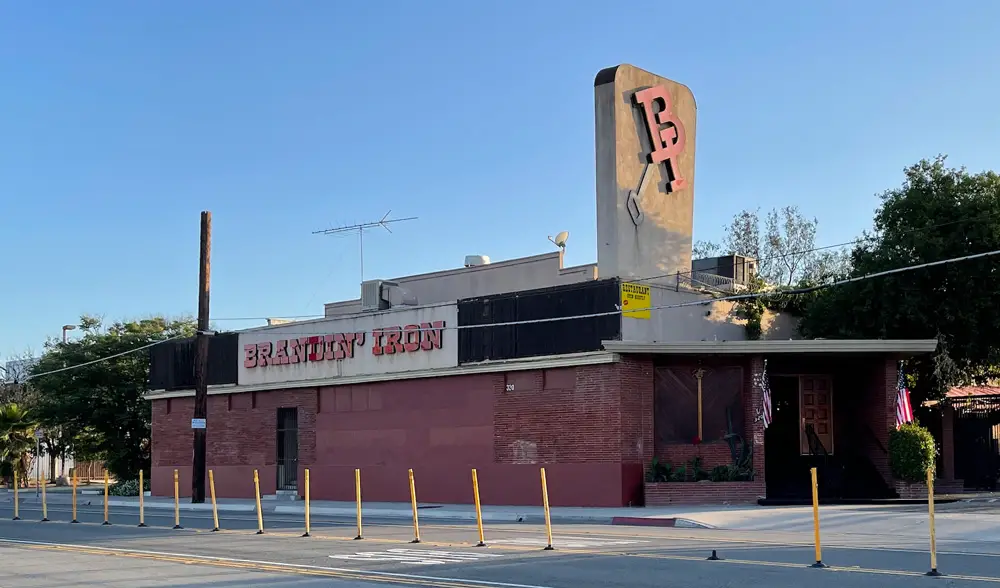 The Brandin' Iron Nightclub is one of the most well-known country bars in all of Southern California. This funky place combines the energy of a country nightclub, the essence of a classic saloon, and the timeless charm of Nashville. These elements create an atmosphere unlike any other bar or club in Southern California.
The Brandin' Iron Nightclub, open Wednesday through Saturday nights, is a place with live concerts, an excellent DJ, an open dance floor, a bar, as well as a full menu. The BI also offers partner and line dance lessons once a week.
So, let's go into more details about this venue and the overall vibe. I'll also talk about what dance lessons are offered at Brandin' Iron. By the time you get done reading, I'm sure you'll be ready to head over there and boot scoot your way around the Brandin' Iron's dance floor.
---
---
Fast Facts on the Brandin' Iron in San Bernardino
Brandin' Iron Nightclub (otherwise known as The BI) has the look of a classic saloon with the feel of a modern nightclub. Here are a few quick details you should know about the joint:
Location: 320 S E St, San Bernardino, CA 92401
Phone: 909-381-6172
13,000 square foot facility 
800-person capacity
3″ thick maple wood dance floor
Groups of 6 or more are asked to make reservations ahead of time. There is no charge for reservations, and they can be made online. 
Hours of operation:
| | |
| --- | --- |
| Wednesday | 7 pm-3 am |
| Thursday | 5 pm-2 am |
| Friday | 7 pm-2 am |
| Saturday | 6 pm-2 am |
| Sunday | 2-8 pm |
Sundays at Brandin' Iron are called Family Day. Doors are open from 2:00 pm – 8:00 pm for all ages. Birthday parties, sports teams, clubs, and other large groups are welcome on Sundays. During Family Day, mechanical bull riding, dance lessons, music, and a full menu are available.
On any day other than Sunday, The Brandin' Iron is 18+. Admission for those 18 to 21 is $10, while the cover for those who are 21+ is only $5. 
---
The Brandin' Iron Experience
I had heard about the Brandin' Iron for a while and from a little research, I knew that historically this was a place any serious country dancer in the SoCal area had to check out.
I finally was able to make the drive with some friends and found the Brandin' Iron to be a really fun experience. It has a very old-timey feel, but it's clean and just big and spacious. At least when I was there it wasn't too crowded.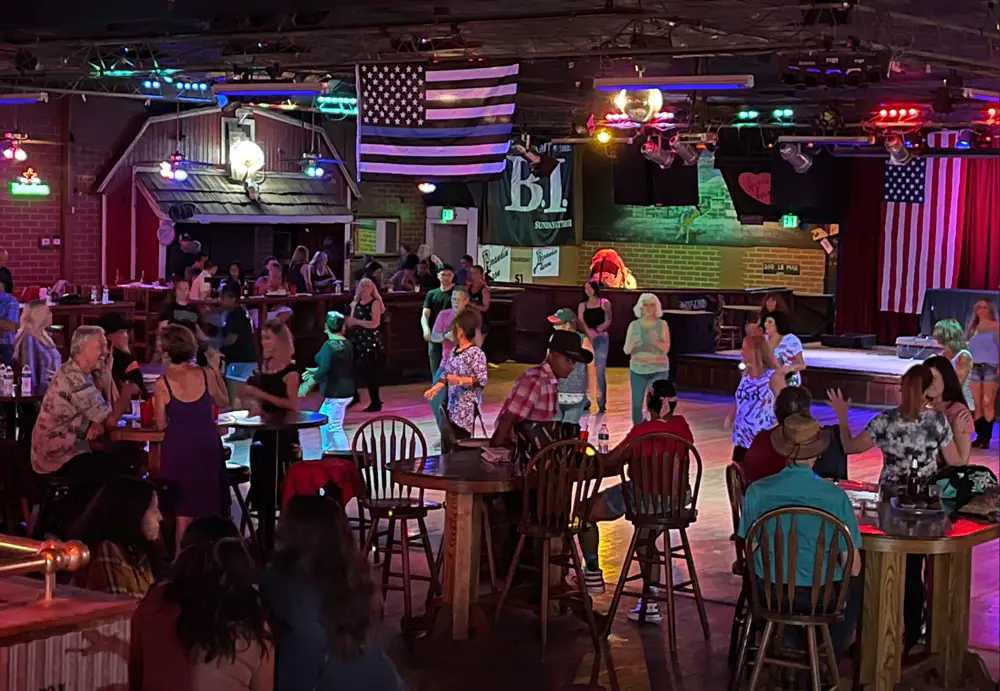 I loved the option of the bar height tables and chairs to the sides as well as the rails if you preferred that. Lots of seating options and the waitresses were great and pretty responsive.
But it wasn't long before we were focused on what we really came for–the dancing! Both nights we went were great! The DJ played a great blend of Two Step songs for partner dancing as well as all the current line dance favorites. I enjoyed the night and had fun Two Stepping, dancing a Cha Cha or two, and going out for as many line dances as I knew. One thing so funny to me is how the floor seems obviously to once have made up a bowling alley in a former life. Check out the photo! Is that what you see there too?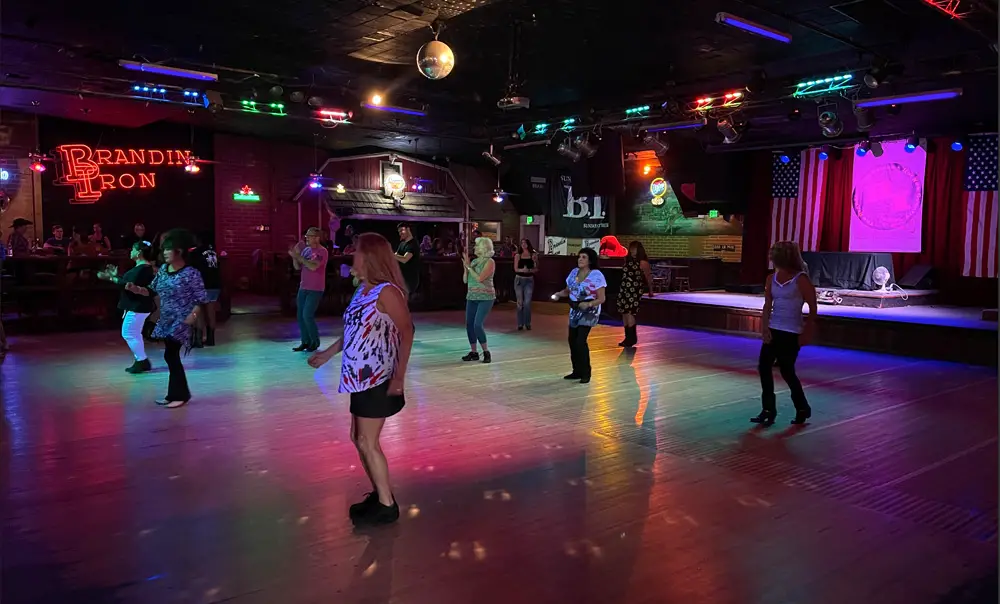 Speaking of the DJ, he was also really great about taking requests and playing what we wanted. We were out-of-town visitors, but felt very welcome.
Overall, there is lots of dancing, good drinks, delicious food, and even in the corner, a mechanical bull! I could really see that the Brandin' Iron is unique and has its own charm and obviously some history.
When it came to the line dance music the mix for sure included the basic classics and modern country, hip-hop, and party music to give a little bit of something for everyone to enjoy.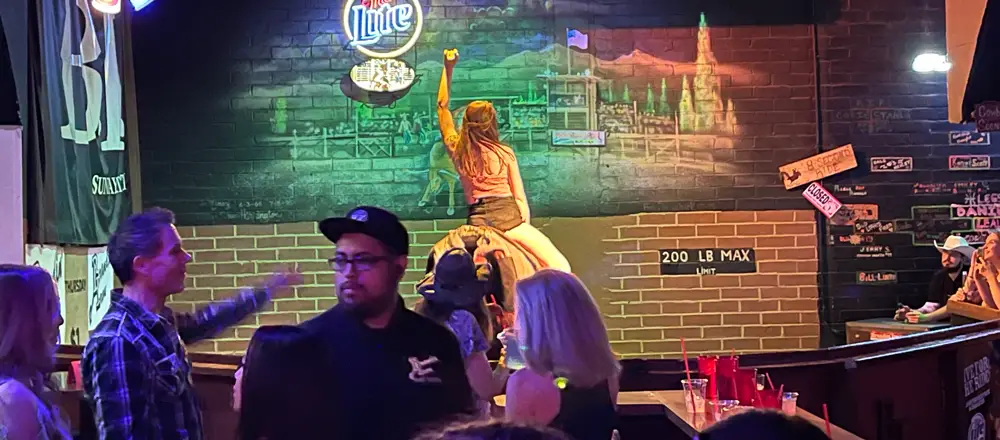 Many people come to The BI to dance all night, hardly leaving the floor. Others come to enjoy the food, drinks, and company of friends. 
Staying true to its classic country-western roots, The BI has a dress code of "dress to impress." This venue prefers that all guests wear country or nightclub attire. Sloppiness is prohibited. The club's door host must approve of your outfit before admitting you into the club. But basically, they state sleeveless shirts, plain white T-shirts, beanies/bandannas, and overly baggy or sloppy attire as inappropriate.
Still, don't stress too much over your outfit. Just be sure to look presentable. If you want to take things to the dance floor while you're at The BI, check out this style guide on what to wear if you go line dancing.
---
Line Dancing Lessons Every Saturday At The Brandin' Iron
Dance Lessons at the Brandin' Iron are a long-standing tradition. Taking dance lessons is a great way to learn some steps and meet cool people before the club opens up to the public.
Dance lessons are held every Saturday from 4-6 pm (unless there is a concert). The classes cost $10 per person, but this includes club admission after the course. Participants are welcome to join the lesson on a walk-in basis from 4-6 pm.
The BI website has a page dedicated to dance lessons and gives you all of the details for each Saturday's class. This page is updated every month and lets you know which of their two fantastic instructors (Bryttney or Lieren) are teaching what dances each Saturday.
Lessons are open to all skill levels: beginners, improver, intermediate, or advanced. The instructors usually start with the most advanced dances, then move to the beginner dances as the lesson goes on, so show up early if you want a more challenging dance lesson. 
You can experience both partner and line dancing lessons at the Brandin' Iron, and both are fantastic. Also, you don't necessarily have to bring a partner to the class – the people here are very friendly and often come in singles. 
Dance classes here are quite enjoyable, and you'll likely dance to a blend of hip-hop, modern country, and classic country. It's a unique experience, and you'll surely have fun. 
It's also worth noting that the instructors are engaging, and they also take requests. So, if you want to learn a particular dance, I recommend approaching the instructor for the night. They'll likely find a day or some spare time to teach you some new moves!
---
Concerts from Nashville Stars at the Brandin' Iron
For over 23 years, Brandin' Iron has hosted live music performances. The list of artists who have performed at The BI is outstanding. They include: 
Dolly Parton
George Strait
Taylor Swift
Morgan Wallen
Trace Adkins
Willie Nelson
Johnny Cash 
Russell Dickerson
Kenny Chesney
Merle Haggard
Jason Aldean
Thomas Rhett
John Pardi
Those are just a few names on a very long list of Nashville stars who have taken the stage to live at The BI. So, it's the perfect place to catch some live country music and dance the night away! What's interesting to me about this list is that these are people who obviously will never be seen here again! I have a friend who was lucky enough to see John Pardi at the Brandin' Iron a while back! But of course, he's a superstar now and won't be comin' back!
This makes me want to start frequently the Brandin' Iron for the up-and-coming acts there. Who knows, what future superstar you'll be able to say you first heard at the Brandin' Iron!? Just for fun check out this video below documenting one of these kinds of moments! Thomas Rhett (recent Stagecoach headliner) singing at the Brandin' Iron!
---
Food and Drinks
The Brandin' Iron is not just about the music – it also offers a full bar and food menu.
Appetizers include typical American finger foods such as french fries, onion rings, mozzarella sticks, and chicken wings. 
The entrees list takes things up a notch compared to most other nightclub menus. When I went I had the tacos and they did not disappoint! Here are a few options:
Chicken strips
Burgers
Sandwiches
Sirloin Steak
Bacon-wrapped hot dog
Tacos
Quesadillas
Salads
Party platters and catering are also available. The full menu is open for dine-in or carry-out.
---
Nightly Promotions
The BI offers promotions for each night it is open. The current promotions are
Wednesday College Night. Free admission with a college ID from 7:00 pm – 10:00 pm. Wednesday nights also include drinks specials and an after-hours party until 3:00 am.
Thursday: No Cover Charge All Night. Also included are mechanical bull rides for only $1.
Friday: Ladies Night. Women get free entry from 7:00 pm – 8:00 pm.
Social Saturday Night. Once dance lessons conclude, the club is open for dancing call night. The DJ is open to requests.
Those who present with a military ID also get free admission during select times on Wednesday, Friday, and Saturday nights.
---
Conclusion
The unusual blend of classic country and top 40 music makes Brandin' Iron a unique kind of nightclub. The atmosphere is energetic, welcoming, and an enjoyable time for all. 
If you're looking for a fun environment with great music, food, drinks, and lots of dancing, check out Brandin' Iron Nightclub. It's sure to be a memorable time!
Also if you are not close to the San Bernardino area but looking for other dance opportunities in the So. Cal. area check out my post on 15 Best Country Bars for Dancing in Southern California! to find some great country dancing going on!
---
Sources