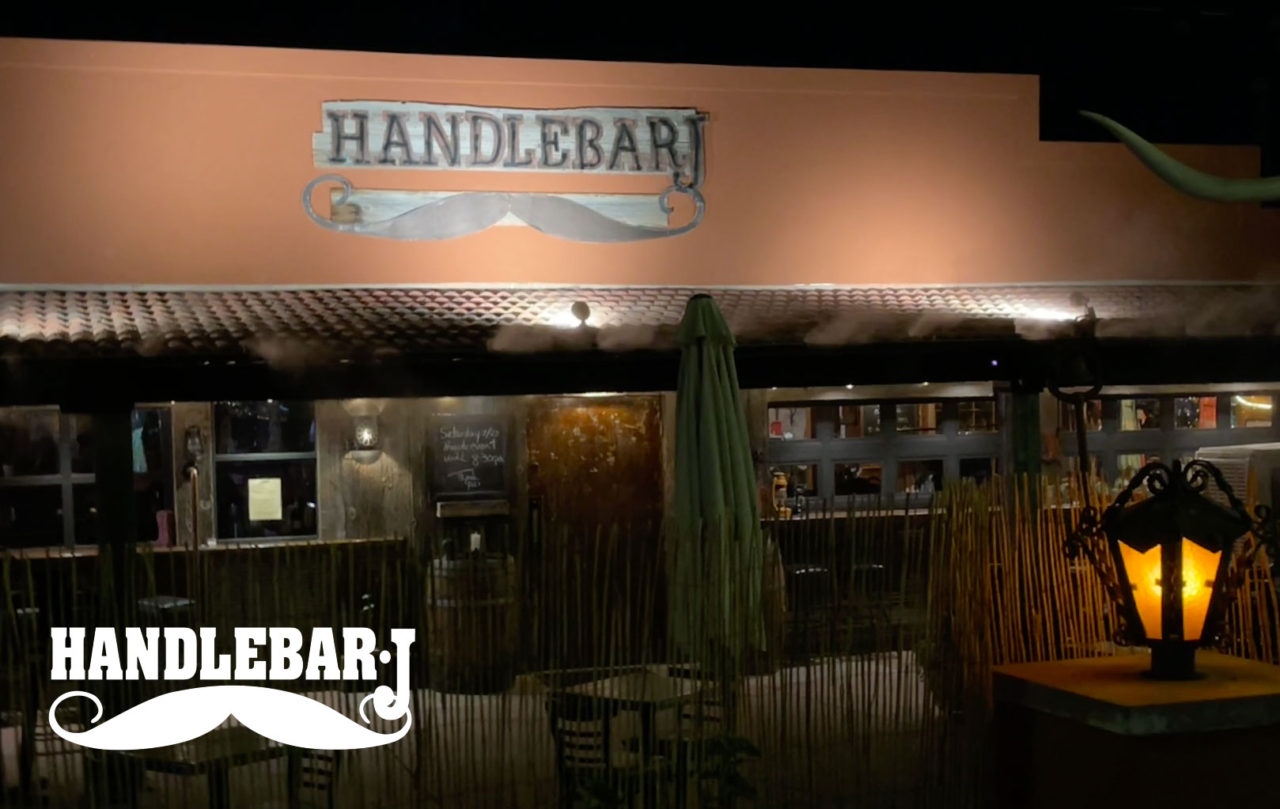 For my recent visit to Scottsdale, since I am a country dancer I was on the lookout for the local haunts & watering holes where the country dancers are drawn on a Friday night. A quick Google search alerted me to Handlebar Js. There are other places fairly close by of course. Notably, 2 locations of the much newer and fancy Dierk's Bentley's Whiskey Row – there are four total now! And also Denim & Diamonds. But I'm really glad I focused on Handlebar Js the one night I had to stop in and enjoy a night of live music and a little bit of country dancing.
The Handlebar J is a rib house and saloon with live music on Friday nights. Situated in North Scottsdale, it is an iconic country western dance destination for the town. Owned and operated by the Herndon Brothers who also entertain regularly as the house band.
---
Table of Contents
---
A Honky-Tonk Surprise
When you get there you first stop at the outside patio gate to pay your 10.00 cover charge. After I did this I proceeded to cross the patio and came upon the door. It seemed sort of quiet from outside and I really couldn't see in, and the door was so nondescript and a little beat up. I was nervous: "What is this place?" But then! As I came in and walked through a little alcove on into the bar I was astonished to see a full room, a live band, dancers, and a bustling crowd. There was a great night of live country music and dancing in full swing. I was so enraptured (and relieved) that I just walked to the middle of the room and stared at the band and the dancers for a minute before figuring out a place to sit. My great night at Handlebar Js had begun!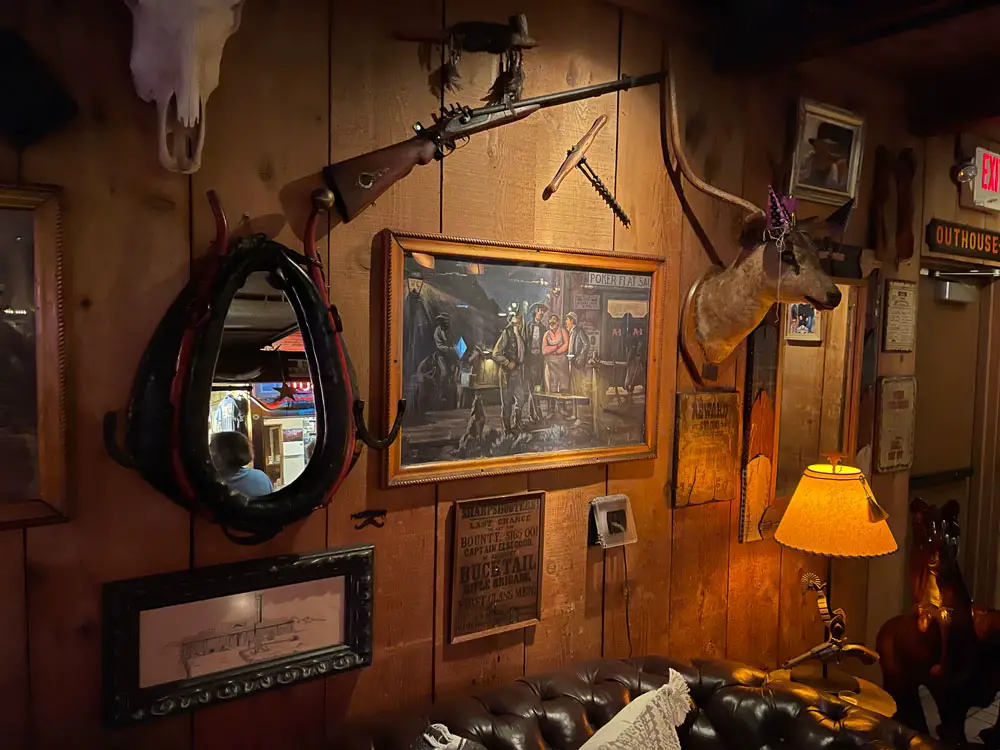 The atmosphere is truly western with rustic wood panels and the expected western decorations. There are beautifully crafted varnished wood tables. The small stage is at the back and the wood floor of the bar serves as a great dance floor. The dance floor is small but I suspect would grow by just moving some of the tables.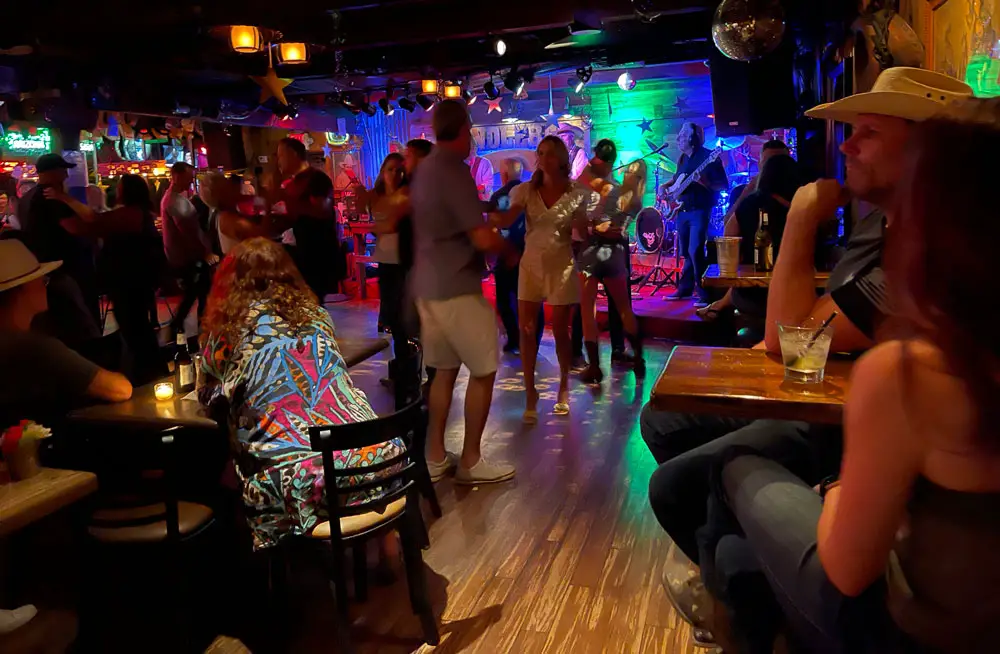 As I settled in for my night I enjoyed a couple of beers, but mostly drank in what quickly became apparent to me was a very legit country cover band. I inquired of a waitress and found out this was the Herndon Brothers! I came to learn later they are both owners/operators of the HandlebarJ and the house band. They played song after song to an appreciative crowd. Several couples danced country swing to the tunes played. And line dancers crowded the floor when they played Copperhead Road.
Side note: It came to mind I know of another great country dance hall and saloon that is owned and operated by a singer and leader of a country band: Chris Johnson and the Hollywood Hillbillies. Chris Johnson owns The Cowboy Palace in Chatsworth California. Check it out! It's also interesting to me how both places are carefully crafted honky-tonks with a ton of pride.
---
Dancing at the Handlebar J
As I sat and listened to the band and watched the dancers on the tiny dance floor I was looking for Two Steppers, but there was none to be found. I quickly realized on this small floor here the custom seemed to be to dance stationery, not progressively.
So, Country Swing was totally ruling the night! I've been trying to learn Country Swing a little lately and only have some basics down at this point. And if you are frequenting country dance venues and following country dancing at all you know how popular it is. Country Swing is assuredly the fastest-growing dance around. The Two Step may forever be more popular, but it for sure doesn't have the craze and fascination that Country Swing currently does.
As I watched people dancing I thought if there's a lot of these small honky-tonks around like this it actually becomes a good argument to learn Country Swing. Maybe the small dance floors just don't make sense as much for Progressive Country Two Step. By the way, if you are in Scottsdale and interested in learning Country Swing….see below because a place called Scootin' Boots has you covered!
Besides all the Country Swing there was some line dancing, probably more so when the DJ took over. At one point the DJ played Footloose, to which Slappin' Leather line dancers quickly took the floor. At last! I was excited to finally get out there and join in on the fun. And, as is common with line dances regionally, they were actually dancing a slightly different version than what I know. I actually enjoyed the challenge to see what was different and try to adapt. It was actually just a little part at the end–the rest was the same!
But one thing to note about the dancing and schedule currently at the Handlebar J is that they reduced their hours for the summer (Friday & Saturday only), with the promise to fully open again in October when dance lessons will also return!
---
A Special Moment
The Handlebar J is open Friday-Saturday, 6:00 pm-12:30 am. The band plays 'til 11:30 when the DJ takes over to close out the night. I thoroughly enjoyed the live music, but something pretty cool happened toward the end of the last set played. There was a little bit of a ruckus when one of the Herndon brothers announced there was someone pretty special in the house.
Well, what was happening is that, while perhaps not known so much to the country music world, a jazz great was in the house: Dennis Rowland! Dennis Rowland is from Detroit but resides today in Phoenix, AZ. He is known for being the vocals for the world-renowned Count Basie Orchestra from 1977-1984. Basically, he is jazz royalty, beloved by jazz fans worldwide. Well, naturally he was invited to come up and join the band and ended up singing a couple of numbers with them. Check out the video below as he sings Georgia and My Girl.
Mr. Rowland had a severe stroke in 2012 and has been working since to get back to a life of singing and performing. I think even in this little obscure honky-tonk bar on a Friday night, you could see his gratefulness to be singing. He's radiating. And what great harmony with the Herndon Brothers! Sorry, the video quality doesn't quite convey what it was like! Find out more about this great jazz icon.
This seemed so random, but maybe it wasn't. The Herndon Brothers are county music fixtures in Scottsdale and have been well-connected to the country and professional music scene over the years. Ray Herndon has been a member of Lyle Lovett's Large Band since 1985 and was also a member of the recording trio McBride and The Ride in the 90s. I just assumed they'd struck up a friendship with the local jazz legend. And maybe this wasn't that uncommon.
---
The Handlebar J's Important & Storied History in Scottdale
After I had enjoyed my night at the Handlebar, I had to check out their website and see if there was some further information. Their site has a great write-up about the bar's history. 
Basically, the bar was originally founded in the early 60s by a guy who went by "Wild Bill Byrd." So, the bar was known as Wild Bills. It was a honky-tonk dance hall with live music. There was even chicken wire in front of the stage! One of the regular singers was Waylon Jennings, who funnily enough it is said was hired and fired many times by Wild Bill! 
In 1966 the bar changed hands. The new owners were George (who had a handlebar mustache!) and Joannie (that's where the "J" comes from!) Lautz.
As time went on George Lautz hired a bass guitar player and singer named Brick Herndon to help out and start a house band. So, this is where the Herndons entered the picture. Brick and Gwen Herndon spent 9 years working with the Lautz's and eventually there was an opportunity for them to take over the Handlebar J. Over time their sons (Ray, Rick & Ron) formed the Herndon Brothers band. 
Today the Handlebar is fully in the hands of Brick and Gwen's sons who continue to run the bar and entertain its guests. But that's just my quick summary! For the full story click here! And for a great summary from Ray Herndon, himself, check out the video below:
---
Other Country Dance Opportunities near Scottsdale, Arizona
As I mentioned at the outset there were a couple of places I could have chosen to check out when I was in Scottsdale. So, in case you want to also do your own exploring of all your opportunities around Scottdale for country dancing, here's a brief rundown of what I know. If I've missed some biggies, please leave a comment below!
Denim and Diamonds
Denim and Diamonds from what I could see looks like a legit and very fun place to do some line dancing. It is a little bit of a drive from Scottsdale and is to the east in Mesa. Their site mentions free line dance lessons Wednesdays (which is also their ladies night) and Saturdays as well! Lessons are 6:30 pm-7:30 pm.
Denim & Diamonds (Mesa, AZ)
7336 East Main Suite #106
Mesa, AZ 85207
(480) 832-5000
---
Dierks Bentley's Whiskey Row
As I mentioned above Dierks Bentley's franchise of "Whiskey Row" Restaurants has grown to 4 now! While I haven't been to any, I do know some country dance folks that have recently been to the Dierks Bently Whiskey Row located in Gilbert AZ. That one has a large dance floor and looks pretty great. Check out the Scottsdale one as well and if anyone has been to both please comment below about how they compare!
Dierks Bentley's Whiskey Row (Scottsdale, AZ)
4420 N. Saddlebag Trl, #105
Scottsdale, AZ 85250
(480) 945-4200
Dierks Bentley's Whiskey Row (Gilbert, AZ)
323 N Gilbert Rd,
Gilbert, AZ 85234
(480) 476-8595
---
Scootin' Boots
Scootin' Boots is actually not a country dance bar, but rather a dance hall to learn how to country dance and socialize in a non-bar, or non-alcoholic venue. They bill their dance studio as a "Clean Country Dance Environment." I actually think this is fantastic, as I have met individuals who seem interested in country dance or line dancing, but just have an aversion to where it typically happens – a bar!
I actually had time while in Scottsdale to drive over to Mesa and check this place out as well for a few minutes. After paying the 12.00 cover charge to take the lessons I went in and, guess what was being taught? Yep! Country Swing! They have two ballrooms for their classes, one giant and one medium. The night I popped in both had Country Swing dance lessons in progress!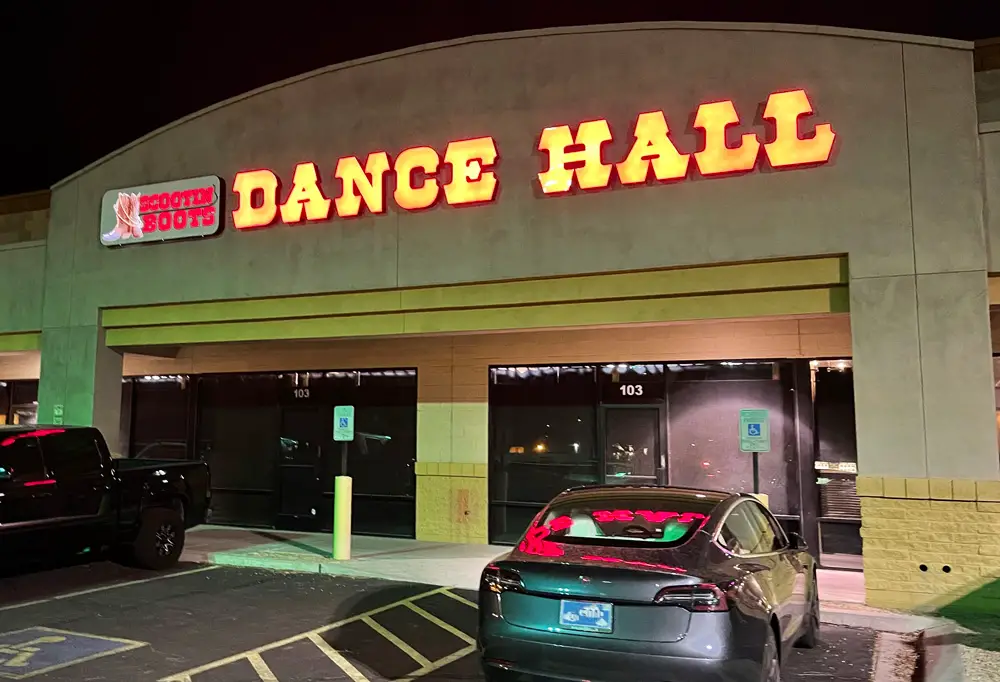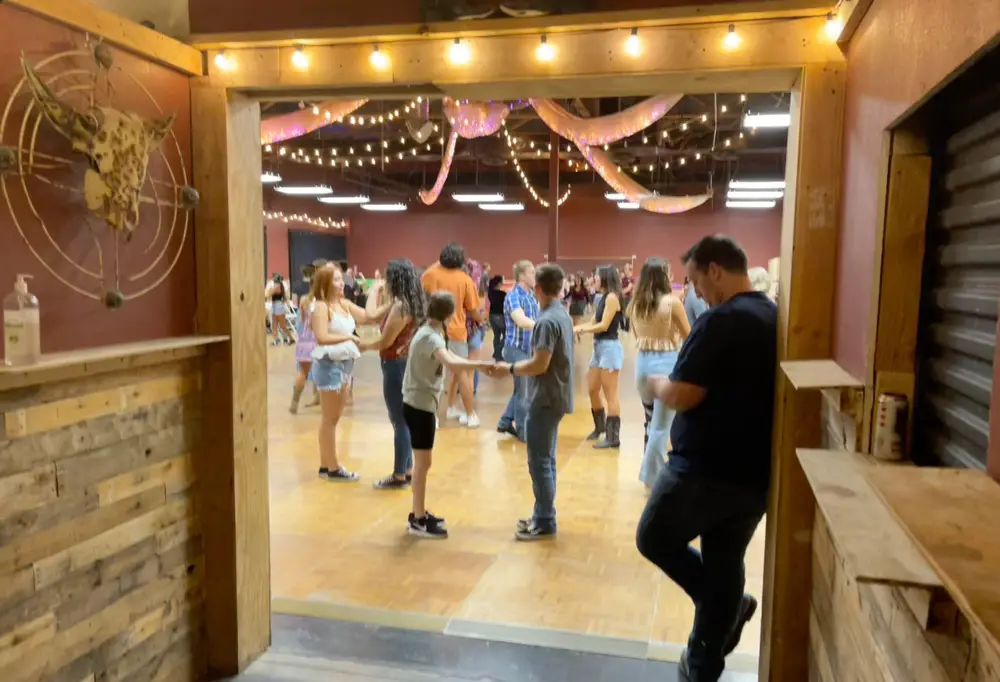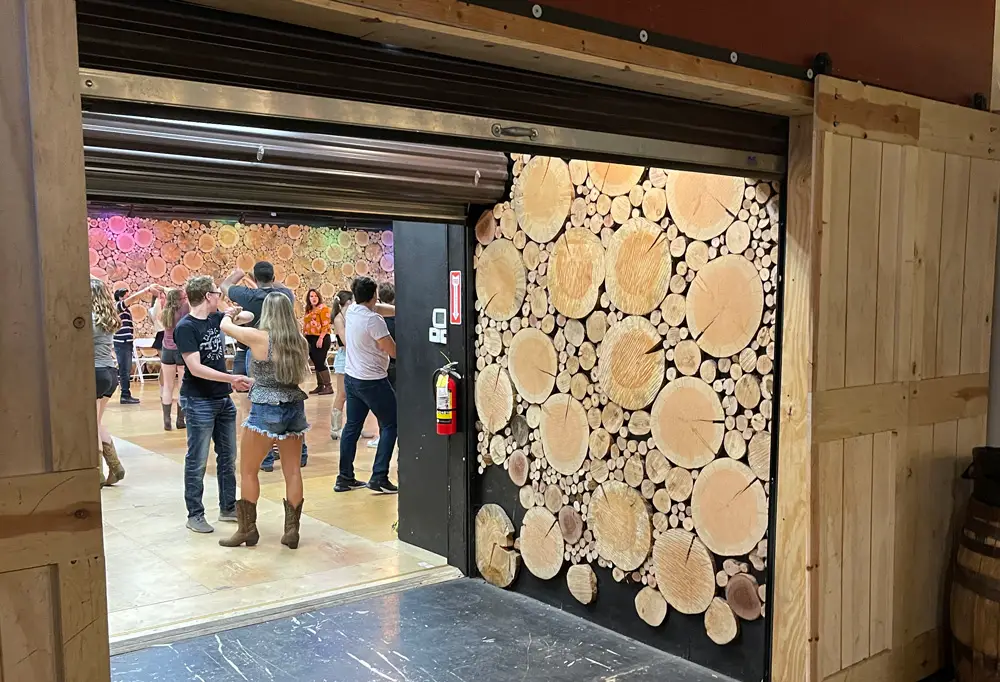 They just want to provide a place where people can meet new people, develop community, and of course learn the great activity of country dance. Dance styles taught are Country Swing, AZ Two Step, Progressive Two Step, West Coast Swing, East Coast Swing, Triple Two Step, Night Club Two Step, Waltz, Polka, and Line Dancing!
Hours:
| | |
| --- | --- |
| Sunday | Closed |
| Monday-Tuesday | 5:30 pm-11:00 pm |
| Wednesday | 6:30 pm-12:00 Midnight |
| Thursday | 6:00 pm-12:00 Midnight |
| Friday-Saturday | 7:30 pm-12:00 Midnight |
Scootin' Boots (Mesa, AZ)
515 N Stapley Dr #103,
Mesa, AZ 85203
(480) 401-2050
So, check out Scootin' Boots Country Dancing if you need some dance lessons. Over time you'll meet new friends and be comfortable enjoying their social dances or if it suits you, venture out for a fun night of live country music and dancing at the iconic country bar Handlebar Js!
---