Going out to dance at a bar or club doesn't require any previous knowledge of choreography, or clothing. Unless you're going line dancing, then you'll need to know how to dance and what to wear. Usually, the dances can be picked up after watching for a few minutes, since they're repeated throughout a song. The clothing, on the other hand, is something you'll clearly choose before you get to the bar. 
So, what should you wear for line dancing? Some sort of shirt and jeans or a skirt would be a good start, and you may or may not want to wear a cowboy hat and boots. What to wear line dancing is all about finding the balance between comfort and style. 

Should you wear your cowboy hat? What kind of footwear is best? What about that belt buckle you've been saving for a special occasion? If you're ready to go line dancing, and you want to find answers to these questions or anything line dancing-fashion related, then this article is for you. Keep reading for your line dancing outfit inspiration.
Table of Contents
Shirts to Wear When Line Dancing
What Bottoms Should You Wear Line Dancing?
What's the Best Footwear for Line Dancing?
Something NEW! Fuego Dance Sneakers!
Most Importantly, Line Dancing Needs Confidence
More Recommended Footwear and More on the Site!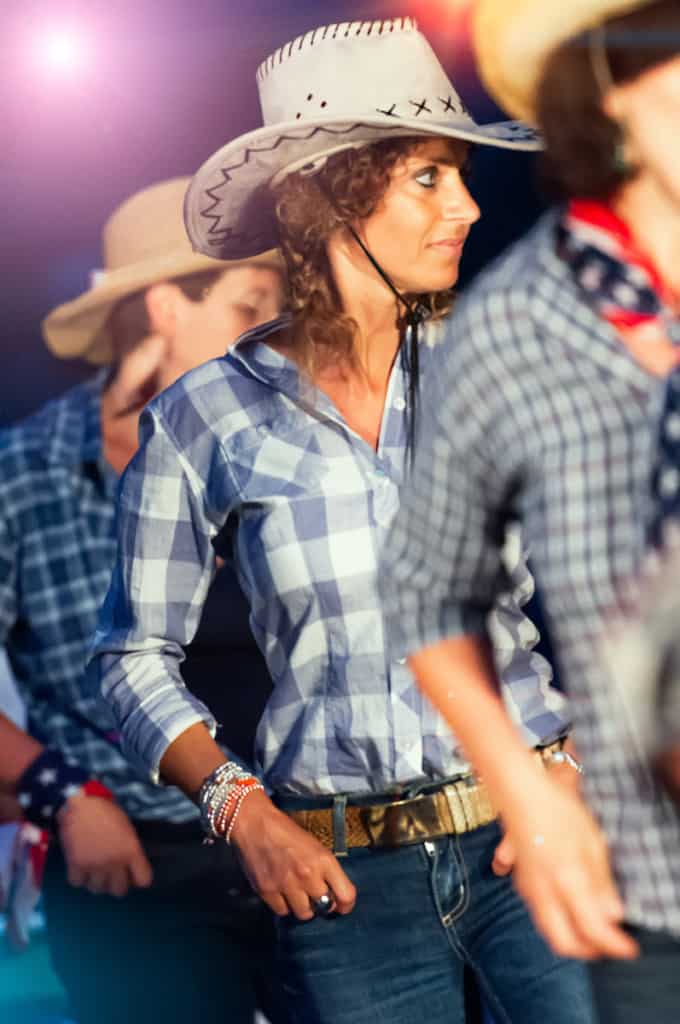 Shirts to Wear When Line Dancing
Let's start at the top and work our way down. Shirts are one of the outfit components that can set the tone for the rest of the outfit. There are a few different directions to go, so I'll share my go-to's.
Plaid Shirts are a Country Dancing Staple
If you've ever been line dancing before, then you know that plaid is pretty abundant on the dance floor. Line dancing goes hand in hand with country music, and plaid shirts are a long-time staple of any country western wardrobe. Long sleeves, short sleeves, and even no sleeves are all considered acceptable in a plaid button-down shirt. 
Wearing a plaid shirt over a t-shirt or tank top is not only on-trend, but it's also practical. It's hard to predict the temperature of an establishment before you actually get inside, so layering is key. 
If you're always freezing anywhere you go, a long-sleeved plaid button-down with a t-shirt underneath is a great option. But, if you tend to run warm, you'll burn up after all that dancing, so a plaid shirt over a tank top might be your best bet. That goes for men and women. 
Moisture Wicking Shirts: The Secret Weapon for Line Dancers
Speaking of getting a little warm while dancing… sweat happens! Line dancing involves a lot of people and a lot of movement, paired with less circulation and ventilation than ideal. These are prime conditions for sweating. 
There are plenty of moisture-wicking shirts on the market that are ideal for line dancing, and they're available in all kinds of different styles and colors. And, there's no way to tell that they're keeping you from being sweaty and stinky, they just look like normal shirts. Moisture-wicking fabric helps prevent moisture from soaking through clothes and promotes breathability. 
Let's be honest, nobody wants to have to worry about being the sweaty guy or gal on the dance floor, so if that's a concern of yours, try one of these:
---
What Bottoms Should You Wear Line Dancing?
This one is pretty simple. If your goal is to blend in and look like you know what you're doing, even if you don't, or you just want to be comfortable and able to move, then there's only one option: jeans, jeans, and more jeans. You can dress them up or dress them down, depending on the kind of place you're going to. 
Line Dancing in Jeans
Regular-length, long jeans are the most common option for most line dancers. However, when it comes to color or cut, the styles are all over the board. Line dancing is all about the music and movement, so whether they're dark denim or even stone-washed, you'll be happy with your choice.
Look Cute Line Dancing in Skirts or Shorts
If you're in the mood to wear a skirt, or you're worried about overheating, shorts are an option too. However, gentleman, it's worth noting that there really aren't any jean shorts for men that are meant to be worn in public. But, if you feel strongly about a certain pair of jean shorts, then, by all means, you do you! 
If you're line dancing in a competition or looking to be more traditional in your line dancing outfit, try a denim skirt with a ruffle on the bottom. Or one that has tulle underneath. Both could be considered authentic line dancing wear or just a profound fashion statement. These styles are a little more old school, but they're still fun and cute, nonetheless.
---
What's the Best Footwear for Line Dancing?
Although it might seem like boots are the obvious choice here, there are a few things to consider before stepping out the door. 
Line Dancing Shoes
If you're going to a contest or festival, and you're an experienced line dancer, you most likely already have a pair of line dancing shoes. These are really comfortable and helpful to prevent slipping.
There are sneaker-style line dancing shoes that are typically all one color and look very similar to just a regular tennis shoe. Alternatively, there are dancing pumps, or character shoes, that are worn by performance dancers. Also, they have a heel. So, unless you're an experienced line dancer, don't try wearing these. They're also a little over the top for a casual line dancing environment. 
Cowboy Boots vs. Sneakers for Beginner Line Dancers
Cowboy boots are the most traditional choice when it comes to line dancing footwear for men and women. But, for some, they're not the most comfortable option. And, if it's your first-time line dancing, wearing a brand new pair of cowboy boots will end very, very painfully.
Cowboy boots have to be just the right size and fit. There's also a lot of variation between brands. It's important to break in boots before wearing them anywhere, especially line dancing. Unless you're a seasoned line dancer, or really committed to learning, I recommend trying it out first, before investing in a good pair of boots. For a few solid options, here's some great options shoppable on Amazon:
If you have decided on purchasing some boots but need some further direction head on over to our recommended wear pages for boots to check out some great boot options. Click here for the women's options and click here for the men's options.
Also, check out the great brand of Swayd! These are a more fashionable and all-suede style of dancing boots. What's great about the suede soles is that suede is a nice compromise between hard leather soles and rubber sneakers. With the suede texture, you are less likely to slip and fall, but you're still able to slide and spin freely. Click the banner below to go to their site and check out the Women's line of suede boots. Also, currently, when you order from Swayd you get a free gift!

Sneakers are a viable option for new line dancers, or for those that just find cowboy boots uncomfortable. Also, if you're dancing at a bar or club where drinks are being served, sneakers can help prevent slippage on anything that's been spilled on the dance floor. You might also want to wear sneakers if you're going to a bar or club, just to protect your best cowboy boots from getting spilled on!  To shop for some great options on Amazon see below:
---
Something NEW! Fuego Dance Sneakers
But now for some exciting news! Besides the viable options above (both boots and sneakers), there is now a "new kid on the block" when it comes to dance shoe options! Fuego dance shoes are sneakers that come in Low-Top, High-Top, and most recently in a Split-Soled version. I have bought a pair myself (the BDash), and really love them!
Go HERE to shop from my blog's page about them, or click below to go straight to Fuego's site. Please take advantage of 10% off by using my Code BRIANS10 (should be automatically applied upon clicking on Fuego's site!).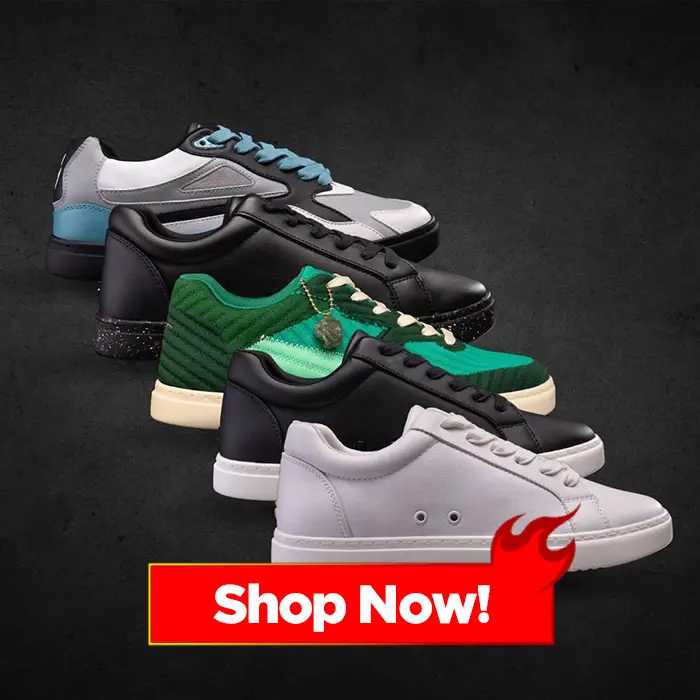 The one that started it all…
You could say that The Low-Top is the Fuego classic, truly a shoe with timeless style. You can get this one in black and white and also in the collaborated design options. (I got the BDash!)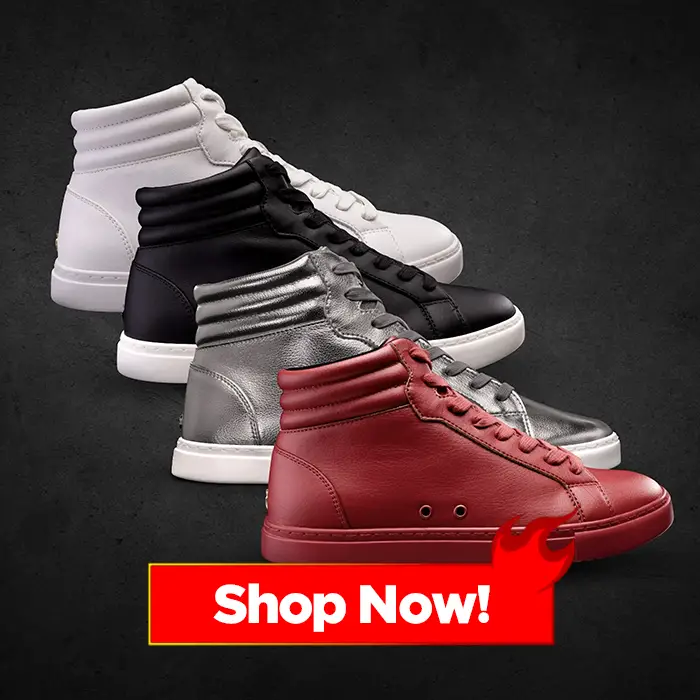 Next came Fuego High-Tops!
With the High-Tops you have that add extra ankle support and extra swag! They come in four great color options: classic white, bold black, fire red, and silver!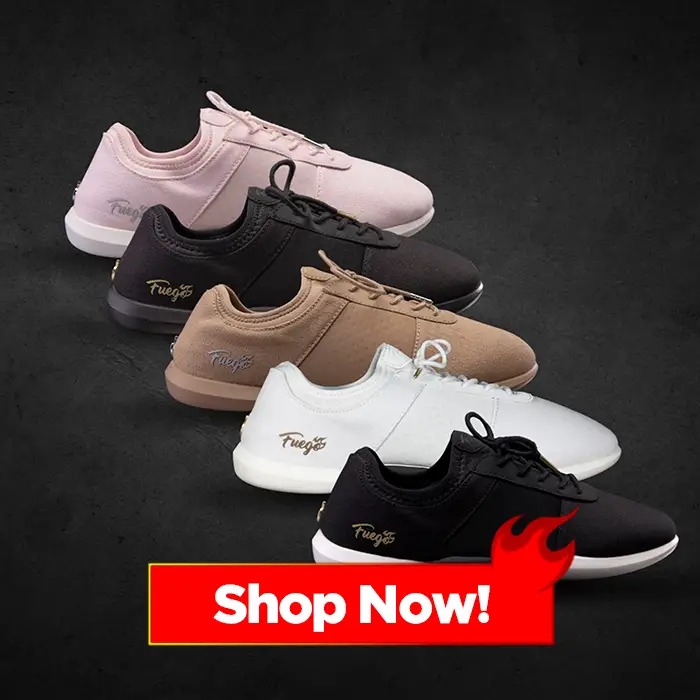 But wait! Something new!
Many crave the flexibility of the Split-Sole dance shoe! Fuego has now added its own signature sole technology and pivot points to a split-sole design in 5 colors!

---
Now the Fun Part… Line Dancing Accessories
You've compiled your perfect line dancing outfit from top to bottom. Choosing the perfect accessories is just the icing on the cake. There are a few key essentials to bringing the whole thing together.
Tip of the Hat to Line Dancing
There are two kinds of hats that are common in country-western attire. Although cowboy hats are notorious for line dancing, baseball caps are also popular in country western fashion. 
What kind of headgear you wear, if you choose to sport a hat at all, is really up to you. Men usually do choose to wear hats of some sort, although there are plenty of women that do too. If you're just not sure if you want to commit to wearing a hat, my suggestion is to see what other people are wearing as they walk into the establishment. 
Although it might sound silly, lots of people are concerned about hat hair when they take their hats off. So, if you're not sure that you're going to keep the hat on, just bring it with you in the car and make your decision then. That way, you don't mess up your hair. 
Belt Buckles Can Make You Feel Like a Cowboy (or Cowgirl)
When you think of line dancing and country western gear, cowboy hats and big, bejeweled belt buckles might come to mind. Belt buckles aren't a must, but they sure do add a certain level of authenticity to an outfit. 
That doesn't mean you necessarily need to go out and purchase one because they can get pricey, but if you have one, now is the time to let it shine!
Can You Wear Jewelry Line Dancing?
Again, your own style and preference will come into play. But, if the jewelry is usually part of your usual fashion scheme, then adding some earrings and a necklace will add a little extra flair to the ensemble. 
Turquoise or feather details are often seen in the country-western style. Turquoise and feathers are also neutrals in the country-western fashion world, so they'll go with just about anything you're wearing. Just remember, too many accessories clutter an outfit, so try not to wear more than one bold piece at a time. 
---
Most Importantly, Line Dancing Needs Confidence
No matter what clothing you wear or how familiar you are with line dancing; it is very important to carry yourself with confidence. Remember that even if you are new, no one of consequence is judging you. Everyone on that floor was new once, too. If you want help or just a confidence boost, make a friend and ask for pointers. Pay attention, and have fun. There are just a few easy steps that you can enjoy for the rest of your life. Do not shy away from the chance to get in there. Put on your dancing shoes (or cowboy boots) and dance the night away!
---
More Recommended Footwear and More on the Site!
---