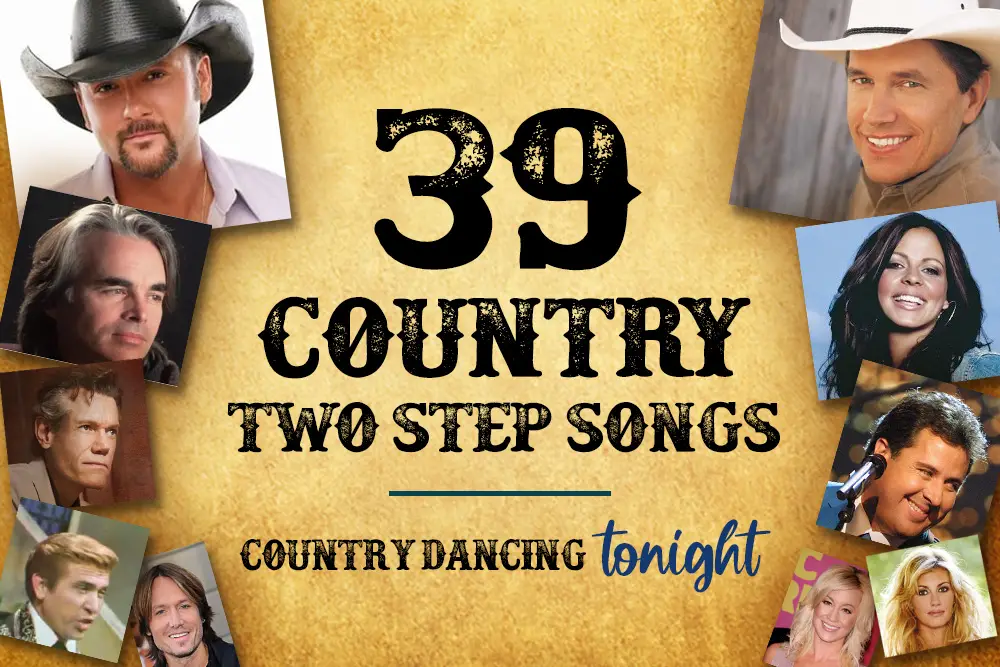 As a country dancer, I particularly enjoy the Two Step dancing part of the night at my local country bar where I dance. I'm still growing as a dancer and have a long way to go, but I really enjoy grabbing a partner and Two Stepping! But I have noticed something over time and now know that now all songs covered by the band or played by a DJ are equal! Some work great, and some, not so much!
The Best Two Step songs are fast up-tempo and range between about 160-190 beats per minute (BPM). These songs can be classic or recent country hits such as Past the Point of Rescue, The Fireman, The Love Bug, Just to See You Smile, Suds in the Bucket, and Cody Johnson's more recent 'Till You Can't.
One thing about a typical night of two-stepping is that you'll notice a DJ or a live band will generally play about 3 straight songs for the Two Steppers before switching it up and going back to line dancing. And a good DJ will also increase the speed of the Two Step songs as they progress. So, we start easy for the beginners and then it becomes a little more challenging as the Two Steppers continue to dance. So, how does a DJ choose those songs? And what makes for a good Two Step song?
When thinking about the speeds of Two Step songs the song tempos might break down into 3 groups…
Two Step BPM speeds
| | |
| --- | --- |
| Slow | 147-160 BPM |
| Medium | 161-177 BPM |
| Fast | 178-192 BPM |
Songs any faster than this are not normally played on a typical social dance floor, especially a crowded one!
Below are the country songs that I think are quality, well-known classics as well as more recent favorites and even a very few brand-new songs that are great for Two Stepping. They range from slow to fast. Check it out and leave comments if there are some that should have made this list etc.!

Look over the list, which also serves as a clickable table of contents. I've listed these by year, but also click down to my chart that sorts them by BPM! And as a bonus, I have my Spotify playlist embedded here to just quickly play them all!

---
1. Streets of Bakersfield – Buck Owens (1973)
Where I typically dance, at The Ranch in Anaheim California the owner of the establishment Andrew Edwards often enjoys joining the band to start off the live music part of the evening. He typically will do Streets of Bakersfield. I'm so used to it now, it sort of marks the point in the night when things officially really get going. Naturally, it came to mind when gathering this list together. But it's also just a great classic. But, it needs to be danced double time to work for Two Steppers. Experienced dancers just do this unconsciously of course!
---
2. The Fireman – George Strait (1984)
BPM 169
The Fireman is another older, and truly great classic Strait song that I have seen more than a few country bands pull out for the Two Step dancers. While there seem to be a lot of George Strait songs that are just too slow for Two Stepping, this one is perfect at 169 bpm. 
---
3. The Chair – George Strait (1985)
BPM 84 (168)
For the next one, I've grabbed another George Strait song and like the last one, again it's just too slow, but just finding that faster tempo puts it right at a slow, but still danceable Two Step tempo.
Try it out! And if you are a DJ try it out The Chair, but also please leave a message if there are other George Strait songs that work for Two Step.
---
4. Forever and Ever, Amen – Randy Travis (1987)
BPM 180
The next Two Step song is another classic from Randy Travis. Forever and Ever, Amen is from Randy Travis's 2nd album Always & Forever. Forever and Ever, Amen along with 3 other songs on the album became Billboard #1 hits. Forever and Ever, Amen is a great song for a DJ to put right in the middle of a 3 song set, stepping up the pace a little.
Note: Randy Travis's history as a young songwriter is interesting, and involves a great little bar in Nashville called The Nashville Palace. Check out more about that here!
---
5. Fishing in the Dark – Nitty Gritty Dirt Band (1987)
BPM 78 (156)
This one is a little different as the Nitty Gritty Dirt band is country, but also considered "country folk." I think Fishin' in the Dark is a classic song of theirs and it was one of their bigger hits along with Mr. Bojangles and others. It is a great country Two Step song, but a little on the slow side at only about 156 bpm double time.
---
6. Down at the Twist and Shout – Mary Chapin Carpenter (1990)
BPM 192
I definitely have had a Mary Chapin Carpenter phase of my music appreciation. I still love all her songs and especially was digging adding this one to the list, cause hey, it's actually about dancing-how appropriate to dance the Two Step to it! Also at 192 BPM, it is on the fast side, so a very high-energy song for Two Stepping. Also, please note, the Two Step is even mentioned in the song:
…Find a two-step partner and a Cajun beat
When it lifts me up I'm gonna find my feet
Out in the middle of a big dance floor
When I hear that fiddle, wanna beg for more
Wanna dance to a band from a-Lou'sian' tonight
---
7. Past the Point of Rescue – Hal Ketchum (1991)
BPM 184
If I wasn't listing these songs chronologically, I would have put this one at #1! I personally think the best Two Step song ever is Hal Ketchum's song Past the Point of Rescue! This might be because when I was first taking lessons, my instructor, Shelly Graham always dialed it up on her phone as a good song to learn with, but no matter, still today it resonates with me and I think it has a perfect tempo at 184 bpm (not too fast, not too slow) and the drummer's timekeeping is really noticeable and easy to hear and step to. And, of course, it's just a great country classic by one of the former greats, Hal Ketchum.
---
8. Norma Jean Riley – Diamond Rio (1991)
BPM 182
Another great '90s country song. While this song has faded away with probably all of Diamond Rio's songs there's no reason why a DJ can't add it to an evening's Two Step list.
---
9. Chattahoochee – Alan Jackson (1992)
BPM 175
This Alan Jackson song is about life being lived along the Chattahoochee river. To me, the sentiment of this song couldn't be more country. As an uptempo song, it is a great one for Two Step and the music video is a little corny but also pretty great. Besides being packed full of river shenanigans there's even a little dancing.
---
10. One More Last Chance – Vince Gill (1992)
BPM 176
So, what country music fan doesn't love some Vince Gill? I sure do! And, I'm glad to have gathered a couple of his hits for this list and am happy to include this one from '92! Check out the music video below-it's super fun, but I was wondering who that was at the end! Also wondering if Vince Gil was injured in the making of it!
---
11. Ain't Goin' Down ('Til the Sun Comes Up) – Garth Brooks (1993)
BPM 171
As big as this list is, unfortunately, it will not feature all the great country singers past & present, so I'm glad I got at least one Garth Brooks song on here. Ain't Goin' Down is a great jam of a song, that I'm sure would make for a fun Two Step dance.
---
12. The Love Bug – George Strait (1993)
BPM 173
Another classic Two Step country bands will cover often to get the Two Steppers out on the floor and moving is The Love Bug. A rare, but tried and true George Strait song for Two Stepping!
---
13. Piece of My Heart – Faith Hill (1993)
BPM 165
Here is another classic country song from a female singer, Faith Hill: Piece of My Heart. I think she was the 2nd singer to cover this song. Janis Joplin covered Erma Franklin's original piece of my heart with her fantastic soul/rock style, but I really think Faith Hill's "country version" of Piece of My Heart needed to exist. Obviously, country music at the time agreed since it soared to the top of country charts after being released. It's also on the slow side for Two Step but has a great feel to it for the dance floor.
---
14. Check Yes or No – George Strait (1995)
BPM 111 (222)
Of all country singers, George Strait is my all-time favorite. But, one thing I've noticed is that since I've been country dancing it seems like a lot of his songs don't work great on the dance floor. It seems like they are just too slow. Here's one that is slow, but so slow I think it works when you dance it double time. That makes it almost too fast, but if you just take small steps I think it works! And Check Yes or No is such a classic, I really wanted it on the list! And also check out the great music video he made for it! But what is wrong with the video? There's a little error, or I guess it just was a little creative license. I'm okay with it!
---
15. Sold (The Grundy County Auction Incident) – John Michael Montgomery (1995)
BPM 116 (232)
This is a great '90s country hit that was a little irresistible not to add to the list! It's exactly at the same tempo as Kelly Pickler's Red High Heels. So, 116, but 232 at double time. Pretty fast, but still seems danceable to me with short steps. But good luck! Maybe to be avoided by the beginner dancers. Even if I'm wrong about this one enjoy the amazing official music video below!
---
16. Someone Else's Hog – Kenny Chesney (1995)
BPM 191
I have sometimes not been much of a Kenny Chesney fan, but over time I've ended up liking more of his songs than not! I especially love some "American Kids" for line dancing at times! I really wanted to get a Kenny Chesney song on here. It wasn't as easy as I thought, so reaching deep here for an obscure song from his 2nd album back in 1995. You might be more familiar with his song "Me and You" from that album, but this song is really a lot of fun and great for dancing. Let's revive it!
---
17. Little Bitty – Alan Jackson (1996)
BPM 163
This is for sure a great '90s country favorite. Alan Jackson's Little Bitty was one of his Billboard #1 hits at the time and has that up-tempo pace that makes it great for Two Step.
---
18. Just to See You Smile – Tim McGraw (1997)
BPM 188
Next is a great one that stays in the fast category at 188 BPMs. But how can you go wrong with a Tim McGraw song? And side note, recently I was attending the YESSS dance convention in Scottsdale AZ, and was pretty excited to take some classes from Robert Royston. In one of his Two Step classes, he said Just to See You Smile is the greatest Two Step song ever! I think there could for sure be an argument for that!
---
19. Some Days You Gotta Dance – Keith Urban, The Chicks (1997, 2001)
BPM 174
As a huge fan of Keith Urban, I really feel he can do no wrong. But it took a little bit of searching to find a song of his to put on the list. This song takes us way back to his early years to his short-lived foray with the band The Ranch.
It was also sung by The Chicks who made it much more famous. But check out the Keith Urban in The Ranch version below in the video!
---
20. I Wanna Be Your Man (Forever) – Keith Urban (1999)
BPM 180
But wait, I actually have a 2nd Keith Urban song! Check it out, another super fun fast up-tempo jam, from his self-titled American debut album back in 1999.
---
21. Feels Like Love – Vince Gill (2000)
BPM 200
For the next one, I have a 2nd Vince Gill fast tempo Two Step song. I first danced to this a few years back at the Ranch in Anaheim when the Kelly Huff Band did it. I like Vince Gil, but honestly, the song was new to me at the time. It is a super fun and contagious song that always drew me to the dance floor. But, now seeing the bpm, I get why we like it. It is fast and keeps the floor moving. Feels Like Love also is just a very positive song, one of the more hopeful as far as country songs go! "Feels Like Love…Wants a Second Chance!" The song also garnered Vince Gill two Grammy nominations back in the day!
And check out the original music video which is a lot of fun and also features his wife Amy Grant in it! 
---
22. Ain't Nothing 'Bout You – Brooks & Dunn (2001)
BPM 202
Brooks & Dunn have had such an amazing career as the greatest county duo ever! I love so many of their songs and perhaps don't hate any! I particularly like their classics Neon Moon, My Maria, and Boot Scottin' Boogie (I might have chosen those 3 cause there's great dance choreography for them!). Anyway, I'm happy that this list of Two Step country songs isn't missing the great Brooks & Dunn! Ain't Nothing 'Bout You is a pretty fast song, but still danceable for Two Step.
---
23. My Town – Montgomery Gentry (2002)
BPM 94 (188)
I'm a big Montgomery Gentry fan and am happy I thought of "My Town" as a candidate for a Two Step song list! Of course, fans of the country duo were heartbroken in 2017 when Troy Gentry was killed in a helicopter crash. What a great loss to country music this was. I love the song My Town and especially the "T-Roy" lyric that feels like a forever tribute to the singer's memory. Check out the two YouTube videos below for the song. I've included an extra one that features the CMAs great tribute to Troy Gentry.
---
24. Suds in the Bucket – Sara Evans (2003)
BPM 164
As I put this list together, I also just went to some of my favorite classic country music that I have enjoyed over the years. And if it also is a song with a lot of energy and at the right tempo, it will work great for Two Step. Suds in the Bucket by Sarah Evans is totally a candidate. This does fall into the slow category for Two Step songs, but that makes it a good one for beginners.
---
25. Red High Heels – Kelly Pickler (2006)
BPM 116 (232)
For the next one, I picked a song that I know I've danced a Two Step to on the dance floor, but it is reminiscent of times when the song is just sooo fast. I like the song, and I think it's a crowd favorite, but almost just too fast to dance to at 232 bpm. What do you think? What is the fastest Two Step song out there and does it work? I know sometimes I just dance at 1/2 tempo to make it work, I think you could do that for this song, but then maybe a little too slow! But also check out here the electric music video for this.
---
26. American Saturday Night – Brad Paisley (2010)
BPM 158
Brad Paisley's song American Saturday Night has a great beat and can be used for beginners for sure. At 158 BPM it is on the slow side for a Two Step, yet still fast enough.
---
27. See You Tonight – Scotty McCreery (2013)
BPM 170 
As a country music fan now for many years I have my moments when I actually agree with some of the country music haters out there. There's a lot of current country music that I'm just not into. Sometimes it just doesn't seem like country to me, or it just seems like songs get radio play because of who is singing, not because it's great. Well, Scotty McCreery is one of those current singers that I find I always like. His songs Five More Minutes, This Is It, and You Time are very worthy of radio play and just good songs.
But then recently Damn Strait came out and I was over the moon! As a big George Strait fan I just love this song. It just seems perfect. I was wishing it could be on my list, but, alas it is just too slow for a Two Step. But fear not, I found this Scotty McCreery song that does fit the bill! See You Tonight is just fast enough for dancing a Two Step, not to mention it is also a pretty romantic song.
---
28. Give A Cowboy A Kiss – Cody Johnson (2014)
BPM 96 (192)
This song was unknown to me, until a few years back when I heard it while dancing in a local bar's Two Step competition. I became familiar with it since it was the song the DJ picked out for us that night. And of course, Cody Johnson is just a great current big country star cranking out the hits! (See the next one!)
---
29. Snapback – Old Dominion (2016)
BPM 202
I have found lately when the DJ throws in an Old Dominion song into the mix during a Two Step song set, my partner usually gets excited and the energy ticks up and for sure we aren't done dancing yet!
Snapback is for sure going to get that response. It's just a great song, and really uptempo, a little challenging at just over 200BPMs, yet still danceable. As with line dancing, if it's a quicker tempo, just take smaller steps to keep up!
---
30. Things Are Looking Up – Parker McCollum (2017)
BPM 100 (200)
I've become a big fan of Parker McCollum in the last year or so. For me, he has a great Neo-Country feel to his songs. I put him up there with Midland, John Pardi, Riley Green, and others that are bringing back a true country sound to country music. A lot of his songs have a slow tempo, but Things Are Looking Up for sure could work for Two Step! The positive sentiment of the song goes so well with the up-tempo speed of the song. Check it out!
---
31. Honky Tonk Time Machine – George Strait (2019)
BPM 82 (164)
Look! I've got yet another George Strait song for Two Stepping. This is one of his newer ones and I think is particularly fun for Two Stepping since it is about Honky-Tonks! Of course, a historical, iconic Honky-Tonk!
The Broken Spoke in Austin Texas is a place George Strait sang at once upon a time. See a great interview with him having come back to the Broken Spoke! And also check out the official audio YouTube below with the great photo of the Broken Spoke featured! But, yeah it's slow, so just dance it twice as fast and you'll land at a nice 164BPM.
---
32. Codigo – George Strait (2019)
BPM 167
But wait! One more George Strait song! There's another song from his 2019 Honky Tonk Time Machine Album that is also a good Two Step: Codigo! One thing about putting this list together is that there are some good Two Step songs out there that are sort of "claimed" by Line Dance choreography! Codigo is one of these. It has some great line dance choreography, but if that specific line dance isn't hot in your given country bar for sure the DJ should put in their list Codigo for the Two Steppers from time to time. It's at the perfect mid-up-tempo Two Step speed. 
Here's a great web page I found with all the George Strait songs by BPM!
And also check out this sorted list from Copperknob that gives you the option to sort by bpm.
---
33. Make It Sweet – Old Dominion (2019)
BPM 180
I thought I'd include a second Old Dominion song! This is one of their newer songs and is also a super fun energetic song that is fun to dance to. And at 180 BPM, Make It Sweet is at that perfect tempo for Two Step! Not too fast, not too slow.
---
34. Reasons – Luke Combs (2019)
BPM 85 (170)
Luke Combs has sure skyrocketed as a country star in the last few years. All his songs are great and he seems to do no wrong. I got to see him in concert recently at Stagecoach and that was awesome. I happen to particularly like his song Reasons and am happy to report it could work for the dance floor for Two Step. I hope I hear it called out for that someday!
---
35. 'Til You Can't – Cody Johnson (2021)
BPM 160
So, continuing on with a much newer Cody Johnson. I think this song for Two Step ranks way up there with some of the best ones. At 160 the tempo is pretty slow, but just a great song with a super clear beat that's very easy to pick out and dance to.
---
NEW COUNTRY SONGS YOU SHOULD TWO STEP TO!
36. Hey Cowgirl – Randall King (2022)
BPM 174
Randall King has been referred to as "the New George Strait!" And, honestly the few times I've listened to him I can see why! He is definitely in that group of neotraditional country artists that seem to be putting life back into pure country music. Check out Hey Cowgirl and see if you agree and also see if makes sense as a Two Step option where you dance!
---
37. Raised – Hailey Whitters (2022)
BPM 86 (172)
Hailey Whitters has been around and in the country music scene for a few years now, writing songs for the likes of Little Big Town, and Alan Jackson. She has toured with Little Big Town and opened for Maren Morris a few years back. Raised is a song on her third album by that same name. It does feel a little slow and contemplative, but I think it will work for Two Stepping at double time.
---
38. Me On You – Muscadine Bloodline (2022)
BPM 98 (196)
This is a new song from the pretty new country group Muscadine Bloodline. Known more for their song Porch Swing Angel, their new song Me On You is a very fun jam that kind of reminds me of Dierks Bentley's song What Was I Thinking? In the song, he talks about how he is gonna get shot by her daddy when he finds out about him!
---
39. Jesus and Alcohol – Chapel Hart (2022)
BPM 100 (200)
I thought I'd finish the list with not just another up-and-coming country act, but the truly inspiring story of Chapel Hart! Chapel Hart is known for their Golden Buzzer moment on America's Got Talent!
This fun new trio, Chapel Hart has hit the country scene hard and has become beloved overnight. I hope they go far! And it so happens that a great hot song of theirs right now could fit nicely into a Two Step set at a local bar. Maybe we'll be dancing to Chapel Hart soon! Check out the crazy fun music video below for Jesus and Alcohol that weirdly enough features Billy F. Gibbons of ZZ Top! And, I've also included the video below of that Golden Buzzer Moment! Note: that song they sang could be another Two Step!
---
So there you have it! That is my 39 Two Step songs. If there are some classics or even newer songs out there that really should have made the list please comment below and let me know!
Also if you are new to this country dancing world and want to get some of the basics to begin Two Stepping check out my article on that here. Also, check out information on country Cha Cha dances here. You'll see a list there of songs that work for Cha Cha. Check it out!
---
Two Step songs by BPM
| Song | Artist | Year | BPM |
| --- | --- | --- | --- |
| Fishing in the Dark | Nitty Gritty Dirt Band | 1987 | 78 (156) |
| American Saturday Night | Brad Paisley | 2010 | 158 |
| 'Til You Can't | Cody Johnson | 2021 | 160 |
| Little Bitty | Alan Jackson | 1996 | 163 |
| Suds in the Bucket | Sara Evans | 2003 | 164 |
| Honky-tonk Time Machine | George Strait | 2019 | 82 (164) |
| Piece of My Heart | Faith Hill | 1993 | 165 |
| Codigo | George Strait | 2019 | 167 |
| The Chair | George Strait | 1985 | 84 (168) |
| The Fireman | George Strait | 1984 | 169 |
| See You Tonight | Scotty McCreery | 2013 | 170 |
| Reasons | Luke Combs | 2019 | 85 (170) |
| Ain't Goin Down ('Til the Sun Comes Up) | Garth Brooks | 1993 | 171 |
| Raised | Daily Whitthers | 2022 | 172 |
| The Love Bug | George Strait | 1993 | 173 |
| Some Days You Gotta Dance | Keith Urban, Dixie Chicks | 1997, 2001 | 174 |
| Hey Cowgirl | Randall King | 2002 | 174 |
| Chattahoochee | Alan Jackson | 1992 | 175 |
| One More Last Chance | Vince Gill | 1992 | 176 |
| Forever and Ever, Amen | Randy Travis | 1987 | 180 |
| I wanna Be Your Man (Forever) | Keith Urban | 1999 | 180 |
| Make It Sweet | Old Dominion | 2019 | 180 |
| Norma Jean Riley | Diamond Rio | 1991 | 182 |
| Past the Point of Rescue | Hal Ketchum | 1991 | 184 |
| Just to See You Smile | Tim McGraw | 1997 | 188 |
| My Town | Montgomery Gentry | 2002 | 94 (188) |
| Someone Else's Hog | Kenny Chesney | 1995 | 191 |
| Down at the Twist and Shout | Mary Chapin Carpenter | 1990 | 192 |
| Give A Cowboy A Kiss | Cody Johnson | 2014 | 96 (192) |
| Me On You | Muscadine Bloodline | 2022 | 98 (196) |
| Feels Like Love | Vince Gill | 2000 | 200 |
| Things Are Looking Up | Parker McCollum | 2017 | 100 (200) |
| Jesus and Alcohol | Chapel Hart | 2022 | 100 (200) |
| Ain't Nothing 'Bout You | Brooks & Dunn | 2001 | 202 |
| Snapback | Old Dominion | 2016 | 202 |
| Streets of Bakersfield | Buck Owens | 1973 | 107 (214) |
| Check Yes or No | George Strait | 1995 | 111 (222) |
| Sold (The Gundy County Auction Incident) | John Michael Montgomery | 1995 | 116 (232) |
| Red High Heels | Kelly Pickler | 2006 | 116 (232) |
---