From the Author: I live in Southern California and have been country dancing for over 6 years. I love line dancing and enjoy dancing every weekend. I have visited many of the best places to find country dancing and live music in So. Cal., Arizona, and Texas. Please comment below with any questions. I usually respond quickly.
After looking up some information about the Cowboy Palace for another post on this site, the Cowboy Palace was a bar I just had to go check out for myself! Located at 21635 Devonshire St., in Chatsworth, it is over 60 miles away from me. Obviously, I hoped it would be worth it…
What follows is my review of the bar, from all the things you need to know about a typical night out there to some great interesting gems I discovered. Enjoy!
So, is the "last real Honky-Tonk" as special as I hoped?
The Cowboy Palace has a magical feel to it. It is rustic, western, and unlike some dive bars, clean! The stage is just big enough for the band. The dance floor is medium-sized. The bar-high tables surround the dance floor, with little nooks along the walls. There are two pool tables and a full-length bar.
Since my main hangout for country dancing is the Ranch in Anaheim, I tend to stack all other ones against it. And generally, there's really no comparison. But with the Cowboy Palace, it becomes an "apples and oranges" comparison. No, it isn't a premiere saloon with fine food. It is a dive bar. But there is something perfect about it. You really just need to see it for yourself.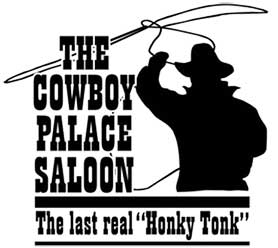 Cowboy Palace – Days Open/Hours/Admission
The Cowboy Palace is one of the rare ones where you can go dancing 7 nights a week. They are open Weekdays 4 pm – 12 am, with expanded hours on Saturdays: 3 pm – 2 am & Sundays: 3 pm – 12 am. There is no cover charge.
Lessons at the Cowboy Palace
The Cowboy Palace is a great place to learn to country dance! There are lessons 7 nights a week. As shown in this flyer from their home page, there are 6 teachers: Bonnie, Dev, Kathy, Marie, Linda & Mike. (Marie teaching two nights, Thurs. & Fri.) There is a great mix of Two-Step, and line dancing, both beginner & intermediate offered.
The night I went (on a Saturday), I joined in on the line dance lessons from Linda. Linda is a lot of fun as a line dance teacher. That night she taught the Cowboy Hustle, Drink in My Hand, Knockin' Boots Strut, and American Kids. It was a little different than other places that announce what dances will be taught and I liked how she got 4 different ones in.
There is a cost to participate – $10.00. But you get a blue wristband that entitles you to two drinks. Confession: I actually didn't know the lesson wasn't free–oops! I was told later by someone I knew there. I did get a drink, and added a good tip!
Cowboy Palace Weeknight Lesson Schedule:
Day
Time
Lesson
Teacher
Monday
7 pm – 7:30 pm
7:30 pm – 8 pm
Two-Step Lessons
Line Dance Lesson
Bonnie
Tuesday
7:00 pm
Customized Dance Lessons
Dev
Wednesday
6:00 pm
6:45 pm
Beginning Dance Lessons
Intermediate Dance Lessons
Kathy
Thursday
6:00 pm
6:45 pm
Beginning Dance Lessons
Intermediate Dance Lessons
Marie
Friday
7:00 pm
Line Dance Lessons
Marie
Cowboy Palace Weekend Lesson Schedule:
Day
Time
Lesson
Teacher
Saturday
7:30 pm

Line Dance Lessons
Couple's Dance Lessons
Linda
Sunday
4:30 pm
Line Dance Lessons
Mike
Bands that Play at the Cowboy Palace
Benny Thomas Band
Bike Drive
Chad Watson
Cory Clay & the Twains
Country Nation
Deanna D'Amico
Debra Lee
Doo-Wah Riders
Elijah Ocean & the Countrysiders
Hollywood Hillbillies,
Chris Johnson & the
Honkytonk Outlaws
JB & the Big Circle Riders
JD Crawford
Jeffrey Michaels
Jimi Nelson
JT Harker
Just Dave Band
Justin Honsinger
Lee Harper
Michael Monroe Goodman
and the Honkey Tonk Ninjas
Ménage a Twang
Moonridge
Neil Morrow
Pam Loe & Hipshot
Paul Justin
Pull the Trigger
Rebel Heart
Redwood Black
Revelry Country
Ricky Johnson
& the Rattle-Snakes
Rivertucky
Rob Staley Band
Runaway
Rye Brothers
Six-Gun Sons
True That
A Week-At-A-Glance at the Cowboy Palace
Sunday:
Country Line Dance Lessons (4:30-6:00 pm)
Live Entertainment (6 pm – 12 am)
Monday:
Country Dance Lessons (7 pm – 8 pm)
Country Karaoke Night (8 pm – 11 pm)
Tuesday:
Country Dance Lessons (7 pm – 8 or 8:30 pm)
DJ or Live Entertainment (8 or 8:30 pm)
Wednesday:
Country Line Dance Lessons (6 pm – 8 pm)
Live Entertainment (8 pm – 12 am)
Thursday:
Country Line Dance Lessons (6 pm – 8 pm)
Live Entertainment (8 pm – 12 am)
Friday:
Country Line Dance Lessons (7 – 8 pm)
Live Entertainment (9 pm – 12 am)
Saturday:
Country Line Dance & Couple's Lessons (7 – 8 pm)
Live Entertainment (9 pm – 12 am)
My Night Out at the Cowboy Palace
Since it was so far away from my I planned my day and night out carefully. I started by texting Bonnie (her phone is right on the website) The website ad talks about her Saturday country workshop that is $15.00. I was interested in getting in on everything since I was driving so far. She just told me to come around 5:30 and she would show me some Two-Step intermediate moves. (which is what I was hoping for).
When I got there I met her and really just had to stop and take in the place. Bonnie Marcus is so kind and really showed me great hospitality as it was my first time there. She shared some of the history of the place, mentioning it was where the Dixie-Chicks were discovered. Then (for free!) she showed me the pretzel maneuver in Two-Step and helped me with another move I have been working on. She also taught me the El Paso Cha Cha, which interestingly is one of just two Cha-Cha's they call there during the night. (the other being the Cowboy Cha-Cha)
I realized that a Saturday night at the Cowboy Palace begins pretty slow. It was 6:00 and it really wouldn't get going 'til around 7 with Linda's line dance lessons.
I went down the street a block to Los Toros Mexican restaurant for dinner and I have to tell you I wasn't too impressed with the food or service. Cowboy Palace invites food trucks (Biggie's Dog House & Blaze'n Jay'z) to come and cook up BBQ, burgers, tacos, etc. for everyone out in the back. I think I would have enjoyed that food more!
I got back just in time for the line dance lessons. And as I said above I just didn't realize I needed to pay! I'm used to free line dance lessons. What is really great is (and it's stated on their website) is that with the $10, you get 2 drink tickets. Each ticket = $5 towards 1 drink. So, two drinks are included. It also states on their website that, while there is no cover charge there is a 2 drink minimum. I feel like its basically a cover charge, but its a little on the honor system I guess that you spend at least 10.00 while you're there.
Linda did a great job teaching. She's a lot of fun with a little bit of a dry sense of humor. Between the 4 line dances, it was a good variety of easy-intermediate.
At 8:00 the band Runaway came on and they were great. They played a lot of great traditional country music that was great for Two-Step, line dancing, The Cowboy Cha-Cha, and even a Waltz. I really enjoyed myself. I loved getting out on the fairly small and crowded floor often though the night.
Like I've seen in other country bars there were many regulars who obviously knew each other and have developed great friendships over the years of coming out. Really a lot of just great people, great friends.
History of the Cowboy Palace
The History of the Cowboy Palace is what really drew me to it. The building has housed many different kinds of businesses over the years since 1909. Since the 70s it has changed names as country-western venue about 6 or 7 times, finally arriving at the Cowboy Palace.
The current owners are Billy and Marjorie Holmes who are doing a great job managing and keeping the Palace going. When you go visit the Cowboy Palace the history is obvious in the many many framed & autographed celebrity photos hung around the place. Well know people like Andy Griffith, Paul Newman, Dick Van Dyke, Willie Nelson, Chuck Conners, Charlton Heston, just to name a few.
But what really is a lot of fun for fans of country music is the way the bar has been used famously for several country music videos. Most awesomely, Toby Keith's I Love this Bar, but also Keith Urban & Julia Michael's filming of Coming Home. The bar is used often for filming for TV shows as well. The show "Splitting up Together" starring Jenna Fischer shot a scene there that is a lot of fun, but more obscure maybe is Sarah Winchester's Feel Good Song video. I think this is the best one for showing off the bar…It's like, "Hey, that's the Cowboy Palace!" I've included a few of these below, enjoy! (but the chicken wire fence in the Toby Keith video was added!)
I think the fact that the bar was chosen so many times for these shots really highlights how it has a very iconic country dive bar look and feel. This really is why I needed to drive all the way out to Chatsworth and see it for myself. When I first arrived it looked small and really like nothing at all, but after coming in and staying awhile I now get what a magical place the Cowboy Palace truly is.