Getting a good pair of boots for the dance floor, thankfully isn't rocket science! So, relax this will be easier than you think!
The main thing is to limit your choice to designs with leather out-soles. The reason you need the leather sole is to be able to turn on the balls of your feet, spin, and slide. A rubber sole is going to cause friction and put the brakes on too much. Ladies gotta spin!
For me, my entry point into wearing western boots was dancing, so I started here. I now know most people are buying boots for actual work or to complement their look. Hence many boots have a rubber sole for just plain walking. You'll have to weed past these.
The following are some recommendations for some good boots for dancing that have the leather sole, but are also made by reputable brands, and have the right price point. By that, I mean not too high, not too low. Most of these are at a mid-range price. I think this is a good strategy for buying boots. Affordable, comfortable, and will last a while.
Best Women's Western Boots for Country Dancing
Circle G Women's Dragonfly Embroidered Cowgirl Boots – Square Toe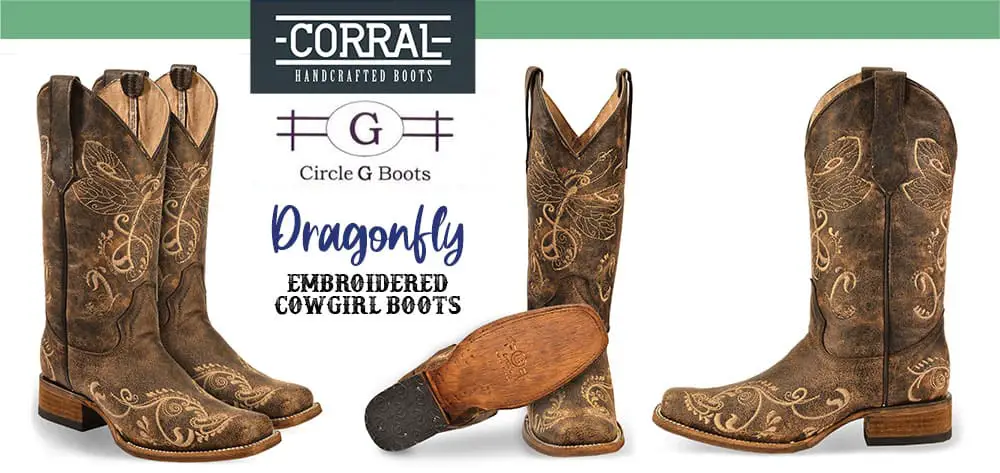 Starting off with a really cute and very affordable cowgirl boot, the Corral Circle G Women's Dragonfly Embroidered Cowgirl Boots are super popular and with a price as low as 120.00, and a 4-star rating a really great bargain. Available on Amazon.
People have had good success ordering these boots online, but say they tend to run small! So, possibly go ahead and order the size above you! One thing great about ordering through Amazon is the "Prime Wardrobe Try Before You Buy" option! If you are an Amazon Prime member you can go shopping, order up to 8 items and then just pay for what you keep! Free and easy returns on the items you pass on.
Stockman heel
Distressed leather construction
Intricate scroll embroidery adorns foot; dragonfly embroidery accents shaft
Beautiful boots made well at the right price – Circle G, designed & distributed by Corral.
Modern square toe profile
---
SwayD Suede Boots – A Stylish Option, Surprisingly Perfect for Country Dancing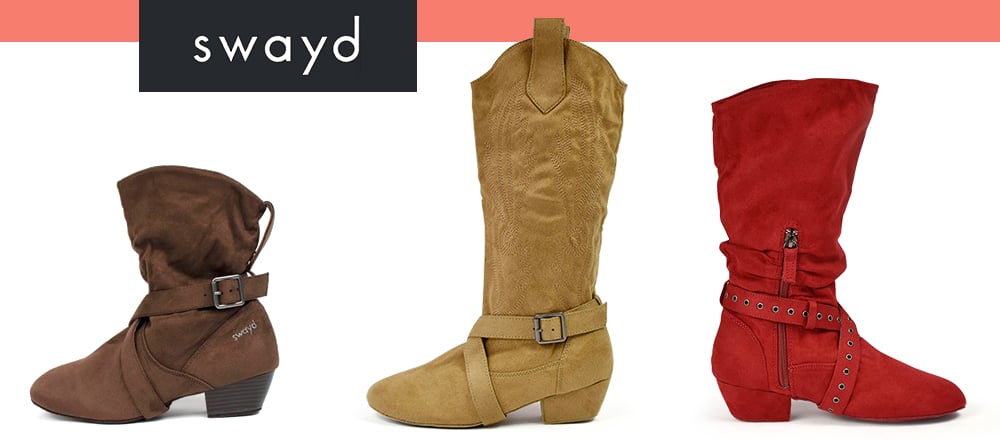 Besides the more traditional leather boots that I've included here, I needed to include the really cute option of suede! For dancing, suede is a perfect balance between grip and the ability to still slide and spin! The hard leather sole may lead to slipping without warning, and a rubber sole of course can stick which can cause a twisted ankle or knee.
The SwayD brand, with suede soles, is a great option for dancing and also for comfort and style! Not to mention how cute and affordable they are!
SwayD boots is currently including a free gift with your purchase
Just enter the given code at check out!
FREE GIFTS may include: YOGA SOCKS, SHOE INSOLES, SHOE BRUSH etc.
---
The Shyanne Women's Floral Embroidered Western Boot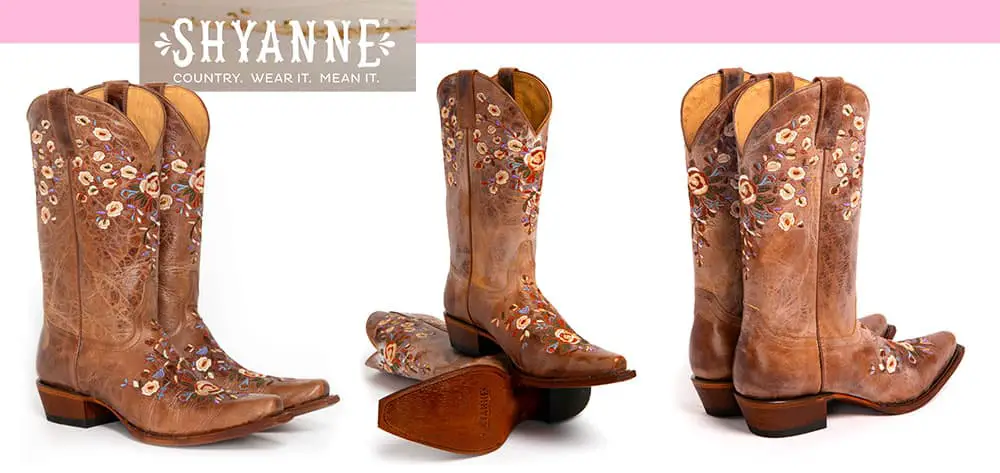 My next recommendation is going to be a really cute traditional cowgirl boot from Shyanne, their Women's Floral Embroidered Western Boot Snip Toe available on Amazon. Shyanne is a Boot Barn exclusive brand.
These boots have a 4-1/2 star rating. The feeling is that they're simply ridiculously cute and are really comfortable and very well made.
One piece of advice is that they tend to run small in size and to purchase a size up or two.
Leather construction
12″ shaft
Colorful floral embroidery
Pull tabs
Snip toe
Cowboy heel
Leather outsole
Leather lining
---
The Dan Post Women's Vintage Blue Bird Western Boot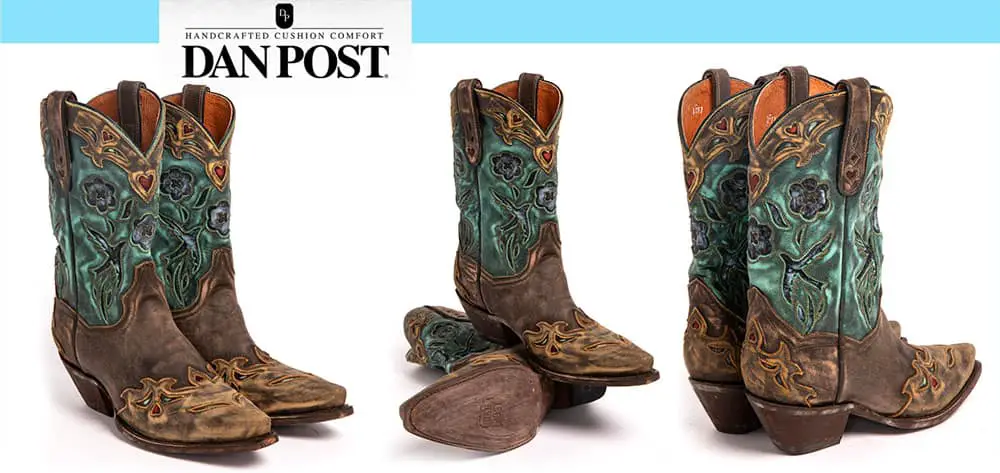 My next recommendation also has a very vintage look, but with a little more color and decoration. This is an option if you have a little more to spend. The Dan Post Women's Vintage Blue Bird Western Boot available on Amazon comes in Copper coloring and Sanded Chocolate, both with the teal coloring.
Full-Grain leather
Vintage distressing
Fashionable 11″ shaft
Detailed underlay of flowers and blue birds on the shaft
Wingtip overlay on foot
Ultimate flex insole
Fashionable snip toe
Leather outsole
Cowboy heel
---
The Justin Women's Bent Rail Distressed Western Boots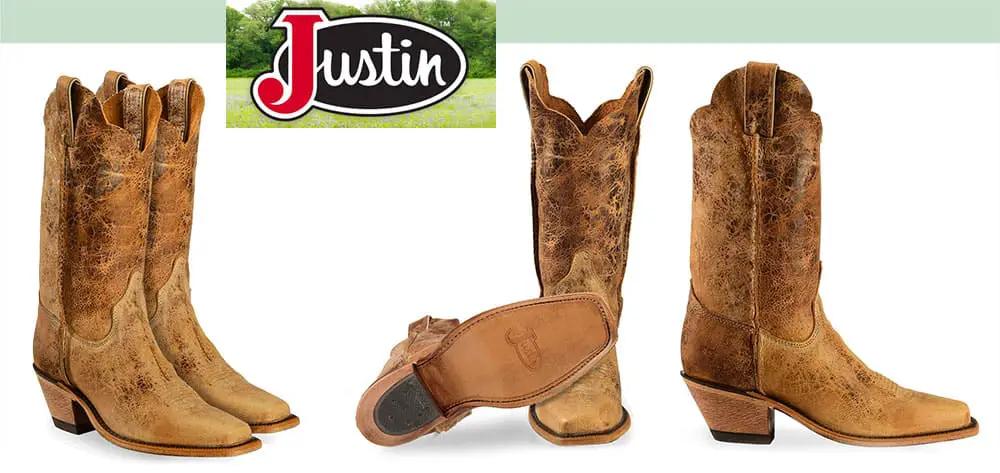 When I made my first boot purchase it was the Justin Shawnee Men's Bent Rail cowboy boot in the tan road color. It had a vintage distressed look and was pretty simple, but in the store that day it was the boot that fit my foot like a glove. None could compare.
So, since I'm partial to my Justin boots, I'm recommending one that's really similar: The Justin Women's Bent Rail Distressed Western Boots. Ladies seem to have a great experience with these and give them five stars. The general theme seems to be "they're cute and comfortable!" Good for actual work on a ranch, but also a 3-day music festival. They'll be great for a night out of dancing as well. You can spin and slide with a pretty legit cowgirl look. Available on Amazon.
Handcrafted in the USA
Full-grain leather
12″ shaft height
J-Flex flexible comfort system
Distressed finish
Scalloped collar
Fashionable cowgirl heel
Narrow square toe
Leather outsole
---
The Ariat Dixon Bootie for Women – A Surprising Option!

I've included a few western booties on my list for you ladies! Maybe you're a girl that doesn't really want a tall boot if so I've got you covered!
The first one, the Ariat Dixon Bootie is very popular for women and of course it has the leather out-sole! So it is great for spinning and sliding on the dance floor! It has great reviews and has been reported to be great for line dancing with the rubber heal holding up remarkably well.
It's also noteworthy that orthopedics specifically recommend the Ariat Dixon Bootie. They report that the foam insoles hold up for sustained comfort. They also say each part of the boot (the insoles & instep) seem to be designed so it's right where it is supposed to be. The result? Comfort!
The Ariat Dixon Bootie available on Amazon comes in many different styles and colors. What a really cute option for you ladies heading out for a great night of dancing!
---
The Bachesto Daffney Suede Bootie

Another great option for a cowgirl bootie would be the Bachesto Daffney Suede Women's Western Bootie. This suede western bootie is also available on Amazon.
One reason to go with the shorter bootie also might be if your worried about a typical tall boot maybe not fitting your calf, you don't have to worry about that with a bootie.
These are suede and waterproof. This has a small 1-1/4″ heel as well, unlike more of a fancy boot with a big heal.
The neutral gray of the beautiful suede will go with any jean blue and look fantastic. One thing to know about purchasing a pair of these is that they are made with the Goodyear welt. This is a typical boot manufacturing process, but it is going to make them feel a little stiff at first. This is normal and will lessen as you wear in the boot.
This is a good example of how a boot price point works. The Daffney Suede is priced at about 180. It's a good price for a pair of boots like these, but you may notice some imperfections and inconsistencies in parts of the boot.

---
Additional Cowgirl Boot Options
And just for good measure here's 4 additional options/styles I didn't want to leave out, one last bootie from Boot Barn and 3 additional really beautiful boots all with leather out-soles.

Click on the Amazon links below to shop (4 additional boot options pictured above from left to right!).
• The Boot Barn exclusive Shyanne Women's Floral Embroidered Booties. Available on Amazon.
• The Boot Barn exclusive Shyanne Rosita Western Boot Snip Toe. Available on Amazon.
• The Women's Maria Western Boot from Dan Post. This is a super sexy black pair of boots also available on Amazon.
• The Corral Women's Embroidered Stud Inlay Western Boots. Available on Amazon.
---