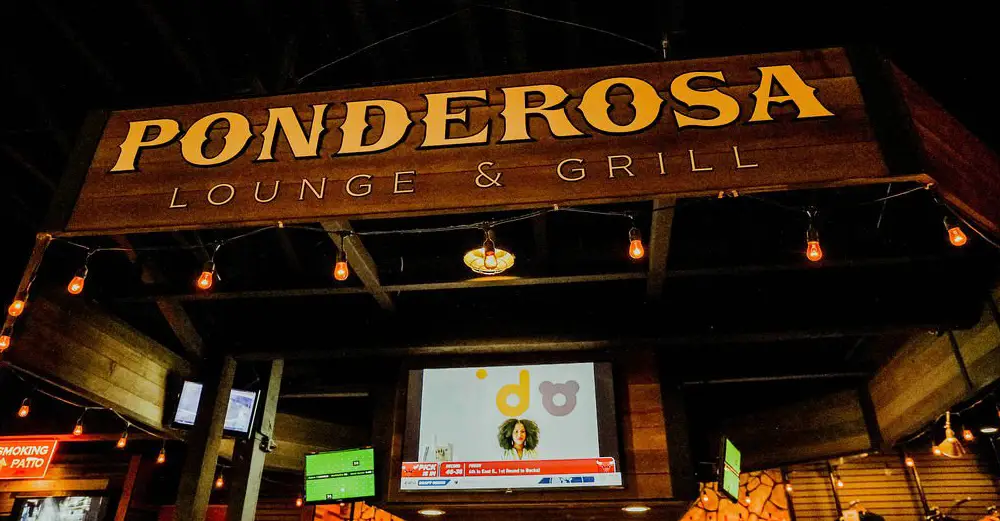 Portland may not be the first name that comes to mind for country line dancing, but it actually has some best-in-class country-western bars with some great dance floors. One place where the doors have been open for country western music and dance enthusiasts since 1969 is The Ponderosa. So what makes it the place for line dancing?
The Ponderosa is regarded as one of the top places for line dancing in Portland, Oregon. While not exclusively a country-western bar and dance club, you will find some of the best country musicians and dancers at The Ponderosa many nights of the week. 
If you are in the area and interested in The Ponderosa: the line dance lessons, music, and more…read on!
---
The Ponderosa is located in a 24/7 truck stop near the Columbia River.
The Ponderosa is a country-western-themed bar and restaurant located in the Jubitz Truck Stop. It has been around for well over half a century. The Ponderosa is home to some of the best country music. There is also an excellent food menu available to boot.
The Ponderosa is a restaurant and lounge that is open seven days a week. While the live music and dancing take place at night, you can stop by for a drink and excellent bar food at any hour of the day. The Ponderosa's hours of operation are:
| | |
| --- | --- |
| Monday-Friday | 9 am-12 am |
| Saturday and Sunday | 8 am-12 am |
The food is classic bar fare served the entire day from the Cascade Grill. Grab a burger, nachos, or chicken wings and give yourself some energy to hit the dance floor on nights where there is dancing or live music. 
There are some important rules to follow during dancing and shows that keep the venue safe for everyone. Some of these codes of conduct include:
No backpacks (no exceptions)
You cannot leave the venue during concerts and return again.
No smoking unless you are doing it in a designated area. 
Any verbal abuse is grounds for getting kicked out!
There is free parking at The Ponderosa. You can park at the Jubitz lot. However, it is not very big, so plan ahead of time. For concerts and busy dance nights, there is extra parking available. Check The Ponderosa website for directions. 
---
Can I Take Dance Lessons at the Ponderosa?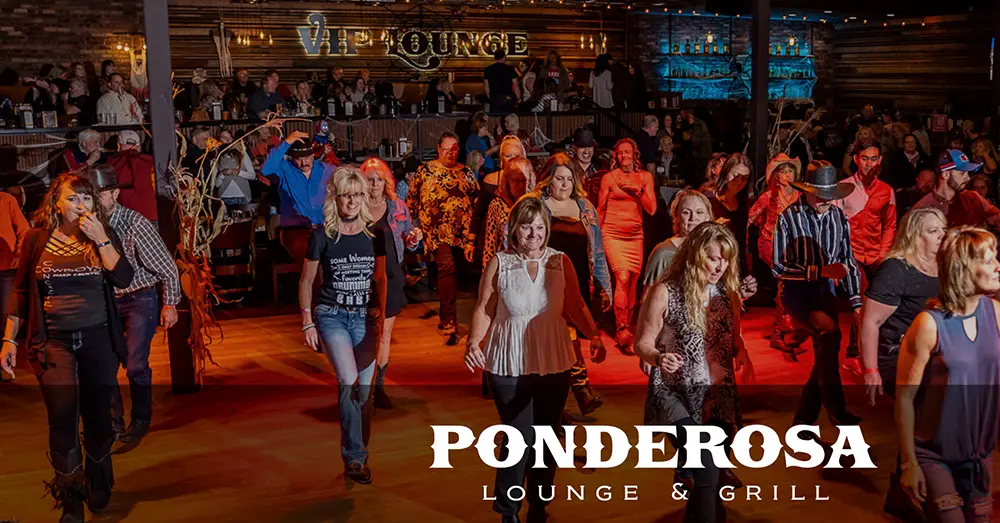 If you love country-western music, The Ponderosa is the place to go in Portland. But just because you love the music does not mean you are ready to hit the dance floor like an expert. But, if you find you are interested in some lessons, you are in luck!
You can take line dancing lessons at The Ponderosa three nights a week. From Thursday to Saturday, line dancing lessons are available at 7 pm that range from beginner to intermediate level. There is no cost besides the cover fee to get into the club.  
Some classes teach specific line dances that range from lesser-known to some popular favorites. Choose from teachers like Amy, Kat, Courtney, or Alex, who rotate leading line dancing at this country hot spot. 
Check out their web page with the schedule for what teachers are teaching each night and the line dances that they have planned.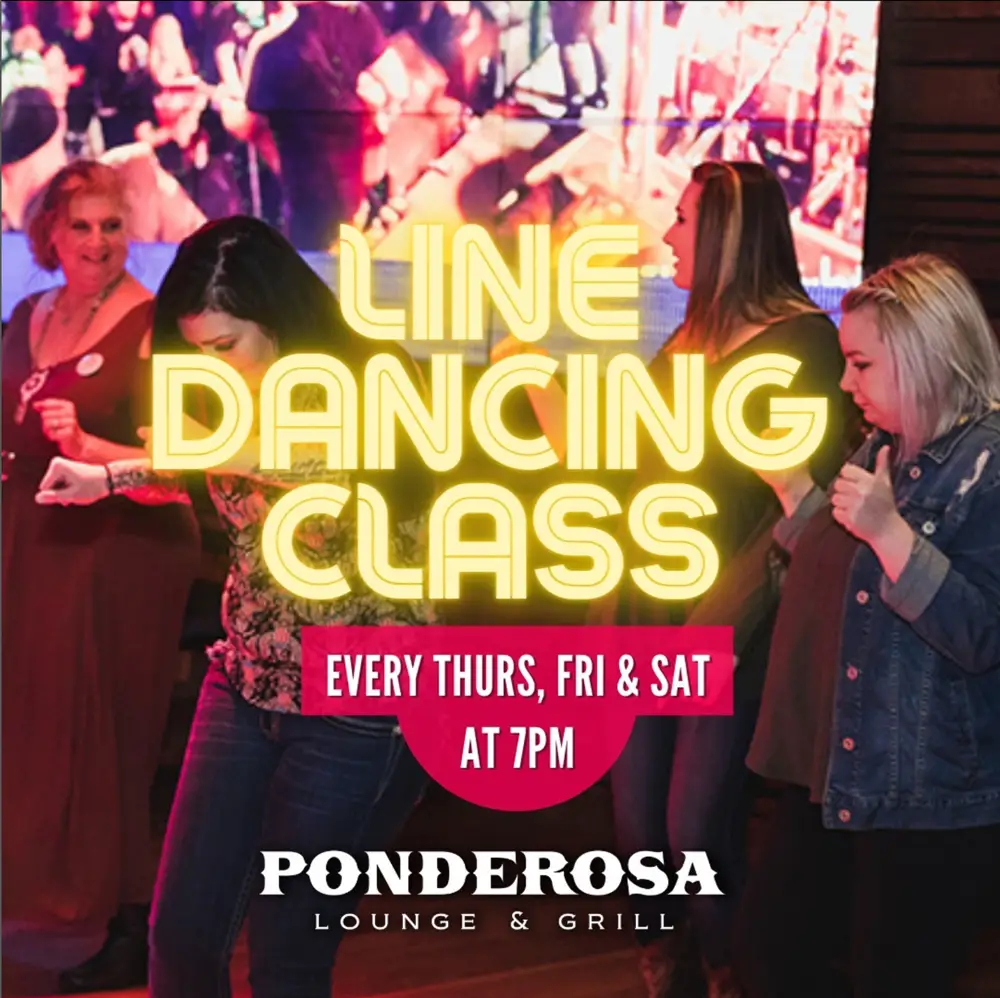 And here's a tip: if you are going look up the line dance beforehand on YouTube and get familiar with it in a "pre-lesson" lesson in your own living room! You will be glad you did! I've done this at times and, while I still needed the live lesson I felt a little ahead of everyone and just more eager to learn it the rest of the way and really get it down!
The classes at The Ponderosa are the best that you will find in Portland. With a fun and safe atmosphere, dedicated dance instructors, and a loyal following, you will enjoy learning your moves on the dance floor at The Ponderosa. 
---
Dancing at The Ponderosa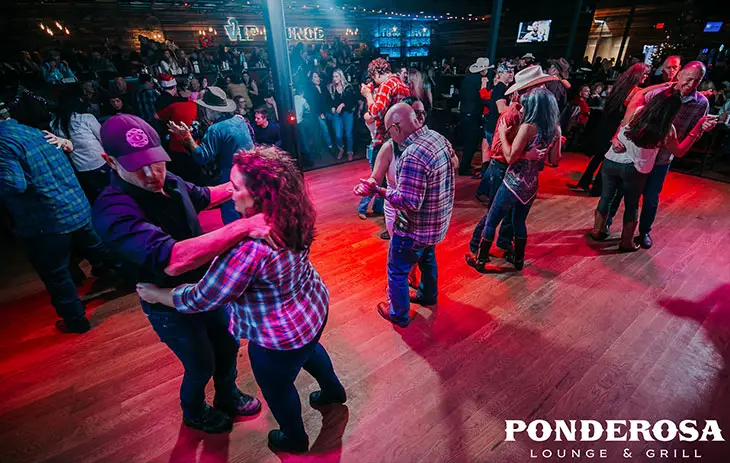 There is a country-western dance for anyone willing at The Ponderosa. Whether you are into country partner dancing or line dancing, there is a dance for you at The Ponderosa. If you do like partner dancing and aren't really much into line dancing there's good news!
At the Ponderosa there is also West Coast Swing, Country Two Step, and the popular Country Cha Chas happening!
If it's Country Two Step or one of the Country Cha Cha dances you are interested in check out these pages to learn the basics and watch some YouTube video tutorials to get you started!
But, wait! There's more. You may see many different types of country partner dancing going on as you delve into your local country bar or dance saloon. Sometimes people wonder, how do they know what to do? Where did they all learn to dance? There's no real big secret. Its all about coming out a lot and getting connected and exploring it over time. But here's another article that goes into some other partner dances. West Coast Swing is a big one as well as the Waltz. Enjoy!
As one of the largest dance floors in Portland, it stands to reason the country dancers gravitate to it! So whether it's line dancing or some country partner dancing with that significant other you are looking for, I think you will have a blast out at the Ponderosa!
---
What Kind of Music Is at the Ponderosa?
We know that The Ponderosa is one of Portland, Oregon's best country-western-themed bars. There is live country music many nights of the week and line-dancing lessons. So what kind of concerts are at The Ponderosa?
The kind of music at the Ponderosa varies, but it is often country-western style music that you can dance to. While The Ponderosa does not exclusively host country-western-style concerts, that is what most of the shows are. Most nights, live music is hosted at The Ponderosa. 
If you want to be sure that the concert you are attending is a country-western show, just check the calendar, call ahead of time, or email management to find out more details. Some nights there is music ranging from rock and roll to something a little funkier, so check well ahead of time if you want to put your country-western boots on.
When it's country-western concerts at The Ponderosa, you can expect some of the best performances that you will find at any bar in Portland, Oregon. Some local favorites that you will find at The Ponderosa include Jones & Fischer and Jackson Taylor.
You can also contact The Ponderosa to schedule your band if you are a local country-western ensemble. They have an easy application form to fill out on their website that allows Oregon's finest up-and-coming country superstars in the making to display their talents. 
If you want to make sure it's live country-western music or line dancing night, use the following contact information:
Chris Lee, General Manager at The Ponderosa
[email protected]
(503) 283-1111
---
Final Thoughts
If you want to try line dancing or country partner dancing at a 24/7 truck stop, then The Ponderosa is the place to be in Portland, Oregon. You can grab something to eat and some beers and work up the energy and courage to hit the large dance floor for some live music or dance lessons.
Open seven days a week, the Ponderosa is a country-western destination over the weekends. Take a dance lesson Thursday through Saturday or see some live country music on the weekend. If you like country, you will love The Ponderosa!
---
Sources