Country dancing and the beach! These two do belong together! And there is Country dancing at the Gaslamp Restaurant & Bar! If you live in Long Beach or nearby and are looking to line dance, thank goodness for The Gaslamp! Located at 6251 Pacific Coast Hwy, Long Beach, CA 90803 at the corner of PCH and Loynes Dr. It is very noticeable along PCH surrounded by Belmont Park, Belmont Shores, Marina Pacifica, Naples, and Alamitos Heights. If you live in the Huntington Beach part of the coast it is about 10 miles north on Pacific Coast Hwy.– about a 15-20 min. drive.
The Gaslamp, a medium-sized dance venue, has one night a week devoted to country dancing. Every week Cindi Massengale teaches two line dances. Besides Country Thursdays, the Gaslamp hosts an '80s cover band on Friday nights and a consistent lineup of tribute bands on Saturdays and Sundays.
Read on for more Gaslamp country dancing news and to learn more of the details on all their events.
Country Dancing Opportunities at the Gaslamp!
Country Thursdays at the Gaslamp!
Thursday nights at the Gaslamp is a great opportunity for both Orange Country and Los Angeles County dancers to do some line dancing as well as partner dancing! There's a good balance of men and women that come out and the floor is fairly full when the DJ calls a Two Step set or a Cha Cha. There are 2 line dance lessons taught and the floor gets pretty packed for the lessons and all the line dancing throughout the night. I'd guess the floor can fit up to about 40 people.
There is a cover charge of $5 cash, so have some cash on you when you come. Things get going before the lessons, so come out and get a burger or a sandwich and some drinks from the bar. DJ Coral plays a great mix of country favorites–classics and current. Overall the subdued lighting creates a nice relaxing feel.
Lessons – Thursday Night, 7:00 pm & 8:00 pm
Cindi Massengale, who also can be found teaching over at Cowboy Country is the weekly teacher here. She's great! Cindi has taught country dancing for 9 years, (and has been an aerobics instructor for 27!) As she takes everyone through the steps she is very succinct and thorough with tons of repetition.
Her experience as a dance instructor is obvious to the small but appreciative crowd on Thursday nights at the Gaslamp. She will call out to everyone: "What's the most important thing in dancing?" to which the regulars shout back "Fake it, 'til you make it!" Cindi typically teaches two beginner line dances on Thursday nights at 7:00 & 8:00.
Click here for the latest info:
Gaslamp Country Thursdays Facebook Page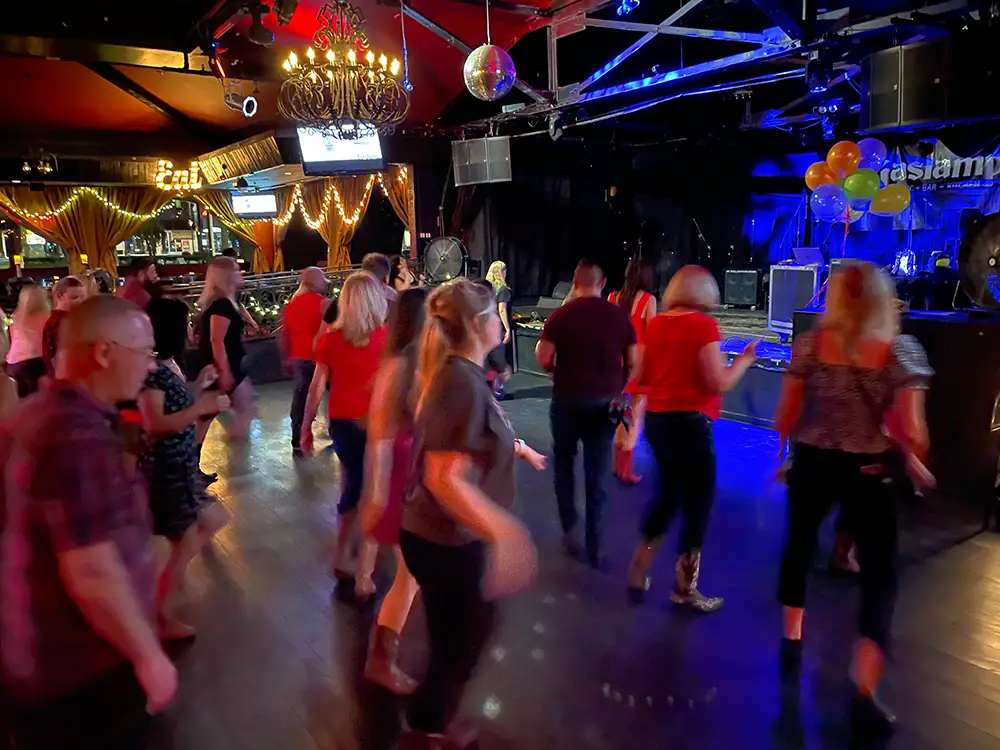 Checking out the Gaslamp
I knew about some country dancing going on at the Gaslamp, and I finally was able to check it out! Honestly, for some reason, my expectations for the Gaslamp were pretty low, but I ended up surprised at how cool it is.
It is a large restaurant with the bar as a center point. Then, right next to the bar is the dance floor and then against the wall the stage where live bands play on other nights, but also where the DJ sets up for the Thursday night country night.
A new laminate dance floor was installed in 2020 and then like all dancing venues, The Gaslamp was closed for the better part of 2 years due to Covid. So, that new dance floor is still like new! The dancing area is now bigger with the new floor, I believe accommodating about 40 dancers.
This floor isn't a typical super slippery wood polished floor like some dance halls have, but if you aren't sliding enough for your taste, there is some dance wax on the floor in front of the stage to help get a little more slide.
Every country dancing bar seems to have its regulars and I liked the small country dance family that hangs out at the Gaslamp on Thursdays. I met some very nice people and got to do a lot of dancing. There are quite a few places in Southern California to go dancing on a Thursday night, but it is very tempting to try to make the Gaslamp a regular stop!

Line Dance Lessons at the Gaslamp on Mondays!
But, wait there's more! There is yet another opportunity to do some line dancing at the Gaslamp! Cindi Massengale is not only the Thursday night instructor, but she also uses the venue for lessons on Mondays! The Gaslamp is closed for business on Mondays, but she uses it as a dance studio! Cindi rents the space to teach line dancing at all different levels.
Her line dance classes are generally 3 Monday nights out of each month and feature 3 hour-long sessions. See below for times and levels taught.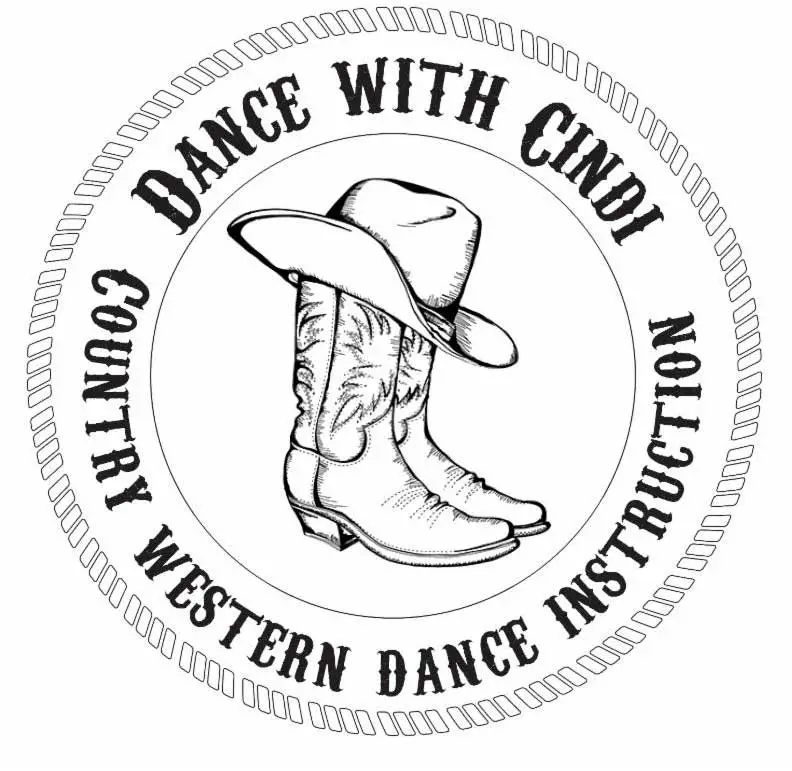 | | |
| --- | --- |
| Monday, 5 pm | Line Dance Level 1 – Beginner Basics |
| Monday, 6 pm | Line Dance Level 2 – Beginner / Easy Intermediate |
| Monday, 7 pm | Line Dance Level 3 – Intermediate |
Please contact Cindi Massengale directly if interested. These classes are strictly through her (not Gaslamp). Also, she can let you know when the classes are, etc. While she will take "drop-ins" generally people sign up for a 3-month series package, similar to how community centers run dance lessons.
Pre-register for Cindi's classes for a series for the best pricing! You can use the smaller packages on any of the dates and make up missed classes at a different hour. But keep in mind it is important to pre-register for the series pricing. See below for her pricing:
| | | |
| --- | --- | --- |
| 9 Weeks | $95 | Full Series Including Series Party |
| 6 Weeks | $65 | Any 6 Weeks, not including Series Party |
| 3 Weeks | $35 | Any 3 Weeks, not including Series Party |
Further details about Cindi's Monday Night Classes:
PRICING IS FOR 1 HOUR EACH WEEK.
6 or 9-week participants: If you want to do 2 hours every week, $10 off 2nd hour, or all 3 hours $15 off 2nd & 3rd hour.
If you've paid the series price for 1 hour and would like to stay for an additional hour once in a while, it will be a $10 drop-in for each additional hour for current 6 or 9-week series participants.
If you do not sign up for the full 3, 6, or 9-weeks series, a drop in prices below will apply.
WEEKLY Drop-Ins:
$13 per class – PRE-REGISTER PRICE
$15 AT THE DOOR
REGISTRATION IS THROUGH DANCE WITH CINDI, NOT THE GASLAMP.
PLEASE PRE-REGISTER:
1) reply to me by email, include class time(s) you wish to register for, and include your name and phone number
2) Payment is by Venmo, PayPal, ApplePay, or Zelle
3) You can get pre-registration price and pay cash at the door for a full series. You must notify me ahead of time.
(If paying cash at the door, please arrive a few minutes early, so as not to disrupt the class, and try to have the exact amount. Note the prices are higher at the door.)
Feel free to contact Cindi directly with any questions at (714) 943-5825 or via email at [email protected]
---
Friday Nights at the Gaslamp – '80s with Knyght Ryder
Besides the Thursday country nights, the Gaslamp also features live entertainment on Fridays–Sundays featuring, every Friday the great '80s cover band "Knyght Ryder" and then great classic rock tribute bands every Saturday! And lastly, there's also Gasplamp's "Sunday Bruch with Live Music."
Friday Nights with Knyght Ryder
I love a good '80s tribute band and if you do too, Friday nights at the Gaslamp may be the place you've been looking for! The band Knyght Ryder has been a long-time staple here and now that things have opened up again, the Gaslamp has them slated again for every Friday night.
And that new dance floor already mentioned is a great opportunity for the crowd to get their freestyle dancing on to all the great favorite '80s hits. Check out the video below for a glimpse of this '80s cover band talent.
---
The Gaslamp Restaurant & Bar – a Long Beach Tribute Band Haven!
Similar to how the Gaslamp has consistently featured an '80s night on Fridays, they also have a consistent lineup of great classic rock and pop tribute bands on their other nights. Saturday night is a great night to check out what is in store for the weekend. Anything from an Amy Winehouse tribute to an Oingo Boingo tribute band could be playing. Check out the list below for a sampling of the kind of tribute bands that play at the Gaslamp.
Tribute bands on Saturday Nights (here's a sampling of some of the previous bands)
Amy Winehouse Tribute
Led Zeppelin Tribute with "Spirit of Zeppelin"
Johnny Cash, Willie Nelson, Waylon Jennings Tribute
Tom Petty & Fleetwood Mac Tribute Bands
Journey Tribute
Selena Tribute with "The Como La Flor Band"
Elton John Tribute with Kenny Metcalf
Prince Tribute with "Erotic City,"
Iron Maiden Tribute with "The Iron Maidens
Rolling Stones & Rod Stewart Tribute with "Stones & Stewart"
Oingo Boingo Tribute with "Dead Man's Party"
Red Hot Chili Peppers Tribute with "Red Not Chili Peppers"
Metallica with "Damage Inc."
Bruno Mars with "24K Magic"
Depeche Mode with "Strangelove"
Guttermouth with "Authority Zero"
Rage Against the Machine with "Renegades of Rage & Toxicity"
Click here for more information and ticket or cover charge pricing:
---
Days Open/Hours/Admission
The Gaslamp Restaurant & Bar is open Thursdays–Sundays. Thursdays–Saturdays, 6 pm to 2 am, and Sundays 10 am to 10 pm. The cover charge is $5.00. On Friday and Saturday, the cover charge (or ticket price) varies with the tribute band featured. Check their Facebook page for current information or call them at (562) 596-4718.

Click here for more information:
Gaslamp Facebook page
---
But, did you know…
Some may remember the Gaslamp as "Bentleys" with an actual Bentley car in the large front window. Well, that big space is now the live music stage where the DJ is set up and from which Cindi teaches the line dances from now every Thursday night. If you can come out you may, like me, keep coming back!