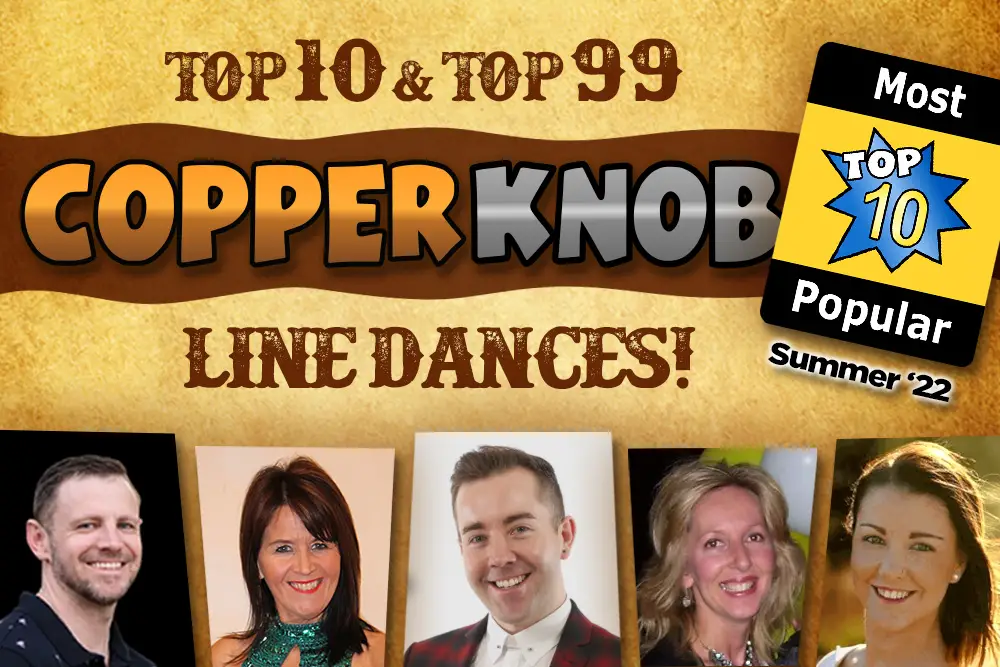 It has been a great year and summer for new line dance choreography! You never know what you are going to see when you take a gander over at Copperknobs current top 10 (and actually the list goes to 99, so…. top 99!)
So, just for fun, I am rounding up here the CURRENT top 10 as they are with summer coming to a close in 2022. It will be interesting to look back at this post later when things are way different and things have shifted once again. These dances are always rising, falling, and getting replaced by the next new thing.
So, here's a Summer 2022, Copperknob hot dance "time capsule." Enjoy, and bookmark this for later!
Below are links to the 10, but also links to more about the Copperknob top 99.
---
Addendum: (11/13/22) After creating this page on my blog, it felt outdated so fast! Wow, how the Copperknob popular list landscape does change! So, here's a link to the current page to see what is there right now!
---
Table of Contents:
---
Summer 2022 Top 10 Copperknob Line Dances
---
1. Mama & Me
| | | | |
| --- | --- | --- | --- |
| Count: 32 | Wall: 2 | Level: Improver | Videos on Copperknob: 58 |
Choreographer: Gary O'Reilly (IRE) & Maggie Gallagher (UK) – August 2022
Music: Mamas by Anne Wilson & Hillary Scott
Step Sheet: Click here to download.
Starting off with the current (even if it's just for a moment!) #1 dance is a dance to a really great new song by Anne Wilson & Hillary Scott! This is just a great song about mamas and motherhood! It is a great duet and a very feel-good song about all that our moms mean to us.
I love the heartfelt positivity of this song and think it's cool that Gary O'Reilly created choreography for it, and as you go down this list, you'll notice that this is the first of 3 he has in the top 4! Seems he's been busy individually and also collaborating with Maggie Gallagher to churn out some really great stuff for the line dance world. This is an Intermediate, 2-wall dance, but, just 32 counts!
---
2. Another Heart
| | | | |
| --- | --- | --- | --- |
| Count: 64 | Wall: 2 | Level: Low Advanced | Videos on Copperknob: 26 |
Choreographer: Gary O'Reilly (IRE) & Maggie Gallagher (UK) – August 2022
Music: Another Heart by ILIRA
Step Sheet: Click here to download.
Holding (for the moment) the 2nd spot in the list is another Gary O'Reilly dance, but this one is co-choreographed with Maggie Gallagher. Another Heart is a song from the Swiss pop singer ILIRA and is a great song about heartbreak with the idea being "Don't worry, I'll just grow Another Heart!"
Gary & Maggie, "the Celtic Duo," have come up with a great dance to this new song. Check out their demo below that took place at Dance Xperience, New Orleans, 2022 this month (Sept.).
Gary O'Reilly & Maggie Gallagher demo their new dance Another Heart at Dance Xperience, NOLA.
---
3. Storm and Stone
| | | | |
| --- | --- | --- | --- |
| Count: 32 | Wall: 4 | Level: Improver | Videos on Copperknob: 185 (126 Demo/59 Teach) |
Choreographer: Maddison Glover (AUS)
Music: Run by Storm & Stone
Step Sheet: Click here to download.
Currently at the 3rd spot is a new dance from Maddison Glover called Storm & Stone to a song from an Australian trio by the same name (the song is called Run). This is a really interesting dance in that it is a phrased dance but, unlike some phrased dances that generally scare me off, it is only 32 counts total. (parts A & B each just have 16 counts).
It's to be noted how many videos have been uploaded to Copperknob for this one! Yes, it's Maddison Glover, but check it out–185 total! I think people really love this dance for its uniqueness and the explosive fun that it is to dance. Check out the demo from Maddison Glover and Candy Sherwin's great tutorial of it below! I hope this one makes the rounds and gets taught a lot.
Note: This dance is currently #1 at linedancerweb.com.
---
4. Hold Me Closer
| | | | |
| --- | --- | --- | --- |
| Count: 64 | Wall: 2 | Level: Intermediate | Videos on Copperknob: 32 |
Choreographer: Gary O'Reilly (IRE) & Maggie Gallagher (UK) – August 2022
Music: Hold Me Closer by Elton John & Britney Spears
Step Sheet: Click here to download.
This blog post actually started because I went to Copperknob to see how the new choreography for the new Tiny Dancer mix from Elton John and Britney Spears was doing. And wow! At that moment it was actually at #1! So, obviously, a lot of people are enjoying this new dance! This to me is sort of the "next Cold Heart," just because the song has that same kind of fresh pop vibe to it. And it's also another cross-generational collab. With the song and the great choreography, it is for sure one worth learning.
To me, the Cold Heart dance and now Hold Me Closer are creative explosions resulting from combining addictive new imaginings of our favorite Elton John songs and the best line dance choreographers getting their hands on them!
Gary O'Reilly also shared with us on his YouTube channel the moment they were done with the dance. It was at about 4 am, August 25th. This was cool since he went into what these choreographers do sometimes with a new anticipated hit that is coming out. They waited, with the rest of the world for the release of the song at midnight and then got to work!
Gary explained how they don't know Elton John or Britney Spears, so there's no getting the song early! They just worked on it in the late night hours and by 4 had the dance!
I think also the song is sort of a celebration of Britney Spears's freedom from that awful hidden tyranny she was under and return to some measure of happiness and success. It's a great feel-good story all around. Check out the demo & teach videos below to learn the new dance!
Note: As good as this new dance is, this song also works with the Turn Me Loose line dance!
5. Country Touch
| | | | |
| --- | --- | --- | --- |
| Count: 32 | Wall: 2 | Level: Improver / Intermediate | Videos on Copperknob: 40 |
Choreographer: Darren Bailey (UK) & Fred Whitehouse (IRE) – August 2022
Music: Country Boys by James Johnston
Step Sheet: Click here to download.
Look! Another 2-wall dance! Those seem to be all the rage here. And another Improver/Intermediate. What strikes me about this dance from Darren Bailey and Fred Whitehouse is that it is for a song by the same artist that sang "Raised Like That." So, it just really reminds me of that dance when I hear that soulful vocal from James Johnston. Can't wait to learn this one!
---
6. Brown Eyes Blue
| | | | |
| --- | --- | --- | --- |
| Count: 40 | Wall: 2 | Level: Intermediate NC2 | Videos on Copperknob: 14 |
Choreographer: Jo Kinser (UK) & Kevin Formosa (AUS)
Music: Brown Eyes Baby by Keith Urban
Step Sheet: Click here to download.
As a Keith Urban fan, I was happy to see this and as is the case with me and line dancing, I'm often introduced to music that I didn't know about yet. So, yeah where has this song been? Anyway, it's another great song from Keith Urban and the line dance for it from Jo Kinser & Kevin Formosa complements it really well.
I love how this dance flows and especially the inclusion of the NC2 (Night-Club Two Step) part. See their demo video below and the tutorial.
---
7. Remember This
| | | | |
| --- | --- | --- | --- |
| Count: 32 | Wall: 4 | Level: Low Improver | Videos on Copperknob: 121 |
Choreographer: Maddison Glover (AUS) – July 2022
Music: Remember This by the Jonas Brothers
Step Sheet: Click here to download.
Remember This is a great Jonas Brothers song that captures the excitement of special moments in life that just go by too fast "Just one more dance, Two more drinks It'll go by fast, So don't you blink"
Madison Glover's dance complements all of it really well and is another must-learn dance from her!
See her demo video below along with a good tutorial as well.
---
8. Eternal Flame
| | | | |
| --- | --- | --- | --- |
| Count: 36 | Wall: 4 | Level: Improver | Videos on Copperknob: 9 |
Choreographer: Tina Argyle (UK) – September 2022
Music: Eternal Flame by The Bangles
Step Sheet: Click here to download.
This one is pretty cool since it breaks the trend of choreographers scrambling to be the first to create a dance for a new song! Eternal Flame is a great oldie from the Bangles back in 1988!
I also think it's cool to see Tina Argyle's name here. I am familiar with her from her award-winning Champaign Promise dance which, while created in 2017 is still very popular. Tina Argyle is a very busy and productive line dance choreographer and with this, her latest, now has 252 dances. And the Copperknob list of the top 99 also includes another dance she also created this month called "Beer With My Friends."
To get acquainted with her new dance Eternal Flame check out this very well-done demo and tutorial for it from LionDancer.
---
9. Dim The Lights
| | | | |
| --- | --- | --- | --- |
| Count: 48 | Wall: 4 | Level: Intermediate | Videos on Copperknob: 91 |
Choreographer: Maddison Glover (AUS) & Simon Ward (AUS) – June 2022
Music: The Kind of Love We Make by Luke Combs
Step Sheet: Click here to download.
At #9 currently, there is another Maddison Glover dance! She teamed up with Simon Ward to create a great intermediate dance for Luke Combs's new song The Kind of Love We Make. They choreographed this dance specifically for the 25-Year VLDA (Victorian Dance Association) Gala Ball Workshop in June 2022.
Check out the great demo with Maddison Glover and Simon Ward at the VLDA Workshop below!
---
10. I'm Not Yours
| | | | | |
| --- | --- | --- | --- | --- |
| Count: 48 | Wall: 1 | Tags: 2 | Level: Phrased Advanced | Videos on Copperknob: 20 |
Choreographer: José Miguel Belloque Vane (NL) & Guillaume Richard (FR) – June 2022
Music: Yours by Conan Gray
Step Sheet: Click here to download.
Lastly, #10 is probably the most challenging line dance to learn from the group. It is a Phrased Advanced line dance with 2 tags!
Check out the great demo below with both choreographers. This took place at this year's Festiline in Lievin France.
---
The Copperknob Top 99 – Interesting Trends
Copperknob's list of the current top 10 and really top 99 is a very cool feature of the site and I love that there's that link for it! But one thing to know about this is that it is just a snapshot of the current 7 days. This reminds me of the stats on Covid at the height of the pandemic. We always heard of the "running average." It was just the current week.
So, the list is changing constantly. For instance, the dance Cinderella Honky-tonk was in the top 10 days ago but quickly dropped to spot 26. These kinds of shifts are happening constantly.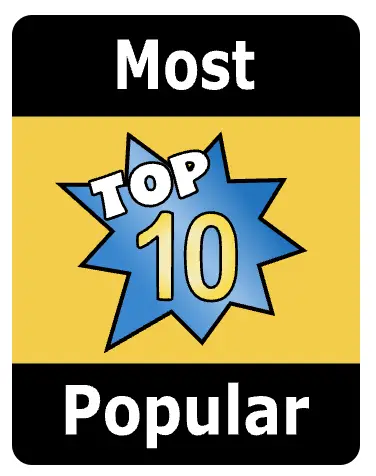 Also, the list is dominated heavily by NEW dances! While you can't sort this list, I've done the counting for you, and 40 (about 40% of the top 99) are September 2022 dances! Brand new dances get the views. As they age they quickly fall away. See the charts below for how this current mid-September list breaks down. 77% of the dances are from the summer, 91% are from this year, and 6 of the remaining 9 are from last year.
| | |
| --- | --- |
| September 2022 Dances | 40 |
| August 2022 Dances | 18 |
| July 2022 Dances | 12 |
| June 2022 Dances | 6 |
| May 2022 Dances | 6 |
| April 2022 Dances | 5 |
| March 2022 Dances | 2 |
| February 2022 Dances | 1 |
| 2021 Dances | 6 |
| Before 2021 | 3 |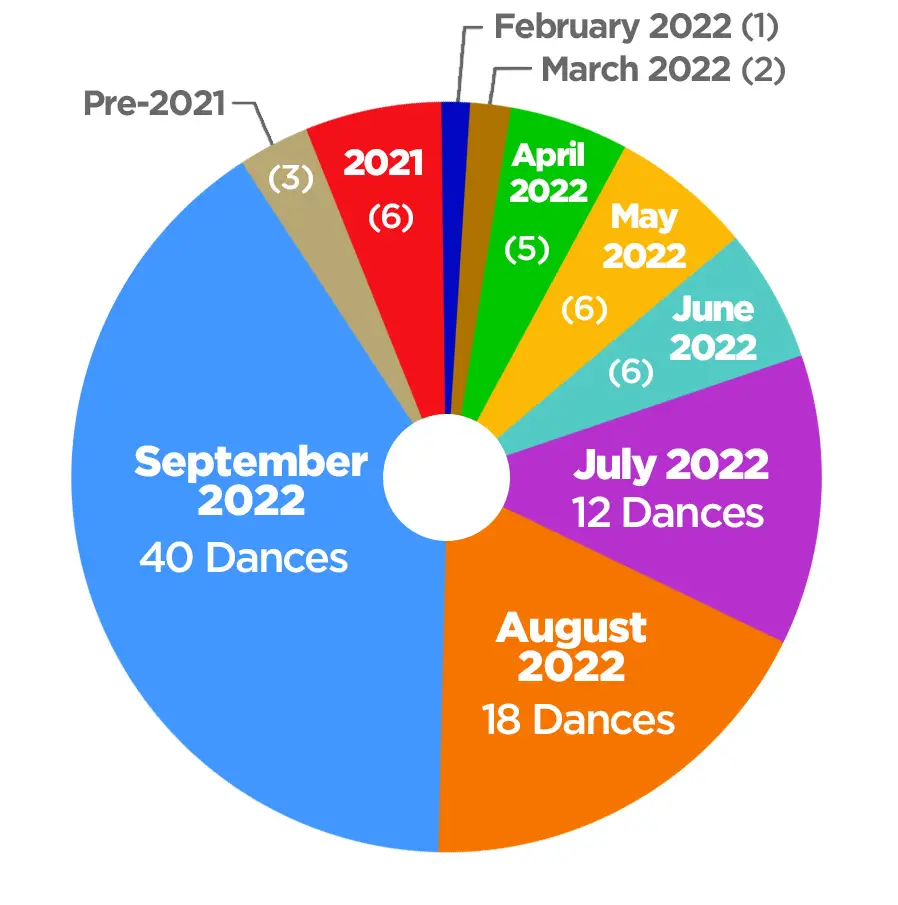 It may seem obvious why the new dances dominate, but I wonder if it isn't connected directly to dance conventions. When choreographers debut and teach their new dances at a convention, naturally some of the hundreds of attendees to their classes probably turn to Copperknob to bookmark it and maybe go back and see the step sheet to get it down better.
But what about popular dances that aren't so new? Well, there aren't too many, just 3 at the moment of my "time capsule." Two notable dances to me that are being viewed are the classics, Come Dance With Me by Jo Thompson Szymanski and Rocket to the Sun by Madison Glover!
There's either a resurgence of some interest in these or maybe classics like these, from top choreographers will always get this kind of attention-I wonder! And speaking of classic line dances, also see my list of "24 Classic Line Dances – The Timeless Ones We Still Love!" to see more about these dances and 22 more classics!
Another thing I guess that needs to be noted is there is always the possibility that people inflate the views artificially to raise the visibility of their dance. Since I'm not a choreographer, I won't judge them! But, natural, real interest being recorded is the goal of "the Top Ten." What is really at the top? Unfortunately, unlike music with documented national radio play, I'd say it's impossible to really know what is the top-line dance at any given time. All we can do is guess!
What if there was a website where DJs uploaded their set list at line dance clubs every week? I think that would be an interesting way to capture what is happening on a larger scale. I think this exists for DJs in general, but it would have to be for line dance DJs specifically. This info is lost every week to throw away crossed-off lists of requested line dances.
Line Dance Charts
But, another great site and source for seeing what is happening with line dance popularity would be linedancerweb.com. Check out this site as well, which captures a top 100 list through voting. One last place this is happening is with World Line Dance Newsletter. Carol Craven has an ongoing effort to capture what is popular with her emails and voting, subscribe to her email list if you want to get involved with this! Just for fun, here's a side-by-side of these 3 lists of the current top 10!

---
All 99 Line Dances – Details & Copperknob Links!
Okay, now it's time to totally geek out on the current Copperknob top 99. I know this is a little over the top and it only captures 7 days and just for that one day I looked (9/18/22). It all reminds me of playing "King of the hill" when I was a kid! Of course the higher up the dance the longer it will take for it to get knocked completely off the list. Hopefully, this is interesting and maybe useful to someone!
Below are 3 charts with the information sorted as follows: 1) by rank (as Copperknob had it), 2) by date released, and 3) by choreographer (this is interesting since it shows how many dances a given choreographer has released lately or has popular currently).
All 99 by Rank
All 99 by Date Released
All 99 by Choreographer
All 99 by Rank
| Rank | Line Dance | Choreographer(s) | Date Released | Level |
| --- | --- | --- | --- | --- |
| 1 | Mama & Me | Gary O'Reilly (IRE) | August 2022 | Improver |
| 2 | Another Heart | Gary O'Reilly (IRE) & Maggie Gallagher (UK) | July 2022 | Low Advanced |
| 3 | Storm and Stone | Maddison Glover (AUS) | June 2022 | Improver |
| 4 | Hold Me Closer | Gary O'Reilly (IRE) & Maggie Gallagher (UK) | August 2022 | Intermediate |
| 5 | Country Touch | Darren Bailey (UK) & Fred Whitehouse (IRE) | August 2022 | Improver / Intermediate |
| 6 | Brown Eyes Blue | Jo Kinser (UK) & Kevin Formosa (AUS) | September 2022 | Intermediate NC2 |
| 7 | Remember This | Maddison Glover (AUS) | July 2022 | Low Improver |
| 8 | Eternal Flame | Tina Argyle (UK) | September 2022 | Improver |
| 9 | Dim The Lights | Maddison Glover (AUS) & Simon Ward (AUS) | June 2022 | Intermediate |
| 10 | I'm Not Yours | José Miguel Belloque Vane (NL) & Guillaume Richard (FR) | June 2022 | Phrased Advanced |
| 11 | Voodoo Magic Kiss | Roy Verdonk (NL), Malene Jakobsen (DK) & Raymond Sarlemijn (NL) | August 2022 | Intermediate |
| 12 | Funny Face | Janet (Zhen Zhen) Ge (CN) | September 2022 | Improver Waltz |
| 13 | We're Good to Go | Rob Fowler (ES) | April 2022 | Beginner |
| 14 | Them Boots | Anna Szymanski (USA) & Jo Thompson Szymanski (USA) | September 2022 | Intermediate |
| 15 | Brown Eyes Baby | Joshua Talbot (AUS) & Sally Talbot (AUS) | September 2022 | Intermediate |
| 16 | 2 Stepping Away | Darren Bailey (UK), Rob Fowler (ES) & Kate Sala (UK) | August 2022 | Improver |
| 17 | It's a Passion | Dirk Leibing (DE) | September 2022 | Absolute Beginner |
| 18 | Til the Neons Gone | Darren Bailey (UK) | May 2022 | Improver |
| 19 | Million Dollar Baby | Karl-Harry Winson (UK) | September 2022 | Intermediate |
| 20 | Bare My Soul | Darren Bailey (UK), Fred Whitehouse (IRE), Roy Verdonk (NL) & Daniel Trepat (NL) | July 2022 | Intermediate |
| 21 | Make It | Rob Fowler (ES) | May 2022 | Improver |
| 22 | Until I Found You | Wil Bos (NL) & Duma Kristina S (INA) | September 2022 | Intermediate |
| 23 | Old Time Rock & Roll | Doug Mazzola (USA) | September 2022 | Absolute Beginner |
| 24 | Sunroof | Shane McKeever (N.IRE) | September 2022 | Beginner |
| 25 | Mellow Moonlight | Sue Ayers (USA) | August 2022 | Absolute Beginner |
| 26 | Honkytonk Cinderella | Michelle Wright (USA) | September 2022 | High Beginner |
| 27 | Impossible Love | Niels Poulsen (DK) | July 2022 | Low Improver |
| 28 | The Bed You Made | Micaela Svensson Erlandsson (SWE) | September 2022 | High Beginner |
| 29 | Heat | Indahwati Rahardja (INA) & Bill Baron (USA) | August 2022 | Improver |
| 30 | Sharks | Julia Wetzel (USA) | July 2022 | Intermediate |
| 31 | When the Lights Go Out | Gudrun Schneider (DE) & Mathew Sinyard (UK) | September 2022 | Improver |
| 32 | Knock Off | Guylaine Bourdages (CAN), Chrystel DURAND (FR), Julie Lépine (CAN), Stéphane Cormier (CAN), Nicolas Lachance (CAN) & Niels Poulsen (DK) | July 2022 | Intermediate |
| 33 | Summer Love | Susan Duncan (USA) & Charlie Bowing (UK) | September 2022 | Beginner |
| 34 | Bottom of the Bottle | Gary O'Reilly (IRE) | May 2022 | Beginner |
| 35 | The Midnight Wine | Janet (Zhen Zhen) Ge (CN) | September 2022 | Intermediate – Rolling 8 count |
| 36 | Gone Crazy | Karl-Harry Winson (UK) | September 2022 | Improver |
| 37 | Thank You | Gudrun Schneider (DE), Julie Lockton (ES) & Dirk Leibing (DE) | September 2022 | Improver |
| 38 | Portland Cha | Amy Glass (USA), Dustin Betts (USA), Jean-Pierre Madge (CH), José Miquel Belloque Vane (NL), Simon Ward (AUS) & Niels Poulsen (DK) | April 2022 | Low Advanced Cha Cha |
| 39 | Beer With My Friends | Tina Argyle (UK) | September 2022 | Improver |
| 40 | Gives Me Shivers | Brandon Zahorskv (USA) | October 2021 | Improver |
| 41 | Love Grows | Craig Bennett (UK) & Maddison Glover (AUS) | March 2022 | Beginner |
| 42 | Another One Bites The Dust | Ryan Hunt (UK) | April 2022 | Intermediate |
| 43 | Love With No Meaning | Ryan Hunt (UK) | August 2022 | Intermediate |
| 44 | Stuck In The Middle | Julia Wetzel (USA) | August 2022 | Improver / Intermediate |
| 45 | If You Wanna Samba | Jamie Barnfield (UK) | August 2022 | Intermediate |
| 46 | Hold Me Closer Baby | Jeanne Chamas (USA) | September 2022 | Beginner |
| 47 | Anything's Possible | Bradley Mather (USA) & Joey Warren (USA) | September 2022 | Phrased Advanced – NC2S |
| 48 | Green Green Grass | Karl-Harry Winson (UK) | May 2022 | Improver |
| 49 | Mighty Fine | Ria Vos (NL) | May 2022 | Beginner |
| 50 | Hey, Mr. Tambourine Man | Iris Wolff (DE) | September 2022 | Beginner |
| 51 | Celtic Samba | Willie Brown (SCO), Ray Jones (WLS) & Matt Lewis (UK) | September 2022 | Intermediate |
| 52 | Cold Heart | Maddison Glover (AUS) | August 2021 | Improver |
| 53 | Smiling | Margaret Murphy (AUS) | September 2022 | Beginner |
| 54 | Night of a Thousand Stars | The Highlander (UK) | September 2022 | Beginner |
| 55 | All Summer | Ria Vos (NL) | August 2022 | Improver |
| 56 | Rocket to the Sun | Maddison Glover (AUS) | January 2013 | Absolute Beginner |
| 57 | Some Kind Of Wonderful | Gary O'Reilly (IRE) | November 2021 | Beginner |
| 58 | Baby I'm Burning | Joshua Talbot (AUS) | August 2022 | Beginner |
| 59 | Forever Together | Heather Barton (SCO) | July 2022 | Intermediate |
| 60 | Python Boots | Elaine Cook (CAN), David Sinfield (UK) & Darren Tubridy (UK) | September 2022 | Improver |
| 61 | Hasta La Vista | Gary O'Reilly (IRE) & Maggie Gallagher (UK) | June 2022 | Intermediate |
| 62 | The Hole | Jennifer Jones (USA) & Lauri Langevin (USA) | September 2022 | High Beginner |
| 63 | Come Dance With Me | Jo Thompson Szymanski (USA) | 2002 | Beginner – Foxtrot |
| 64 | Shake Your Cake | Amy Glass (USA) & Cody Flowers (USA) | April 2022 | Improver |
| 65 | Shakin' Ur South Side | Brooke Tidball (USA) | September 2022 | Beginner |
| 66 | Take Me to Your Heart (2022) | Ame Lin (INA) | September 2022 | Beginner |
| 67 | Latin Fire | Ria Vos (NL) | July 2022 | Easy Intermediate |
| 68 | Mi Mi cexxi Mi Mi | Miske Findriani Paduli (INA) | September 2022 | Beginner |
| 69 | Hold My Hand | Joshua Talbot (AUS) & Alison Johnstone (AUS) | May 2022 | Intermediate |
| 70 | Break Into My Heart | Darren Bailey (UK) | March 2022 | Intermediate |
| 71 | Free To Run | Fiona Murray (IRE) & Roy Hadisubroto (NL) | July 2022 | Advanced |
| 72 | For the Love of It | Maddison Glover (AUS) | August 2022 | Intermediate |
| 73 | Better With Beer | Silvia Schill (DE) & Casey Lee Lowe (DE) | September 2022 | Improver |
| 74 | Mamma Maria | Frank Trace (USA) | May 2009 | Ultra Beginner |
| 75 | WALTZ of ANGELS | Linda Chaoman (CAN) | September 2022 | Improver – Waltz |
| 76 | Sooner or Later | Gary O'Reilly (IRE) & Dee Musk (UK) | August 2022 | Intermediate |
| 77 | Ship Faced | Lacey Key (USA) | July 2022 | Beginner / Intermediate |
| 78 | I'm on My Way | Maggie Gallagher (UK) | December 2021 | Beginner |
| 79 | Crank Ya Country Up | Ivonne Verhagen (NL) & Roy Verdonk (NL) | August 2022 | Improver |
| 80 | Polka Dot Bikini | Wil Bos (NI) | June 2022 | Beginner |
| 81 | Til You Can't | Gary O'Reilly (IRE) | December 2021 | Intermediate |
| 82 | Nuh Uh | Tim Johnson (UK) | September 2022 | Phrased Advanced |
| 83 | I'll Be There Anytime | Karen Lee (TW) | September 2022 | Beginner |
| 84 | Irish Boots | Ivonne Verhagen (NL), Kate Sala (UK), Jef Camps (BEL) & Roy Verdonk (NL) | August 2022 | Phrased High Improver |
| 85 | Reasons Why I Do | Debbie Rushton (UK) & Jean-Pierre Madge (CH) | August 2022 | Phrased Advanced |
| 86 | Country Looks Good On You | Uli Elfrida (INA) | September 2022 | Improver |
| 87 | Don't Overthink It | Chris Jacques (USA) | June 2022 | Improver |
| 88 | EZ Moves | Erni Jasin (INA) | September 2022 | Beginner |
| 89 | Raised Like That | Darren Bailey (UK) | September 2021 | Improver / Intermediate |
| 90 | EZ Fairytale Waltz | K. Sholes (USA) | September 2022 | Beginner Waltz |
| 91 | Crispy Chicken | Brandon Zahorsky (USA) | July 2022 | High Improver |
| 92 | Magical Moments | Wil Bos (NL) | September 2022 | Improver |
| 93 | Hold On | Fred Whitehouse (IRE) | April 2022 | Intermediate |
| 94 | Ctrl + Alt + Del | Rhoda Lai (CAN), Rebecca Lee (MY) & Guillaume Richard (FR) | August 2022 | Intermediate |
| 95 | Knockin' Boots | Markus Eiselt (DE) | September 2022 | Beginner ECS |
| 96 | Calendar Song | Katarina Sherrina (INA) & Abadi Haria (INA) | September 2022 | Improver |
| 97 | Baker Street | Alison Biggs (UK) & Peter Metelnick (UK) | September 2022 | Absolute Beginner |
| 98 | That's When I Remember | Darren Bailey (UK) | July 2022 | Beginner |
| 99 | County Liar | Rachael McEnaney (USA) | February 2022 | Intermediate / Advanced Rolling 8 count |
All 99 Sorted by Release Date
| Rank | Line Dance | Choreographer(s) | Date Released | Level |
| --- | --- | --- | --- | --- |
| 6 | Brown Eyes Blue | Jo Kinser (UK) & Kevin Formosa (AUS) | Sept. 2022 | Intermediate NC2 |
| 8 | Eternal Flame | Tina Argyle (UK) | Sept. 2022 | Improver |
| 12 | Funny Face | Janet (Zhen Zhen) Ge (CN) | Sept. 2022 | Improver Waltz |
| 14 | Them Boots | Anna Szymanski (USA) & Jo Thompson Szymanski (USA) | Sept. 2022 | Intermediate |
| 15 | Brown Eyes Baby | Joshua Talbot (AUS) & Sally Talbot (AUS) | Sept. 2022 | Intermediate |
| 17 | It's a Passion | Dirk Leibing (DE) | Sept. 2022 | Absolute Beginner |
| 19 | Million Dollar Baby | Karl-Harry Winson (UK) | Sept. 2022 | Intermediate |
| 22 | Until I Found You | Wil Bos (NL) & Duma Kristina S (INA) | Sept. 2022 | Intermediate |
| 23 | Old Time Rock & Roll | Doug Mazzola (USA) | Sept. 2022 | Absolute Beginner |
| 24 | Sunroof | Shane McKeever (N.IRE) | Sept. 2022 | Beginner |
| 26 | Honkytonk Cinderella | Michelle Wright (USA) | Sept. 2022 | High Beginner |
| 28 | The Bed You Made | Micaela Svensson Erlandsson (SWE) | Sept. 2022 | High Beginner |
| 31 | When the Lights Go Out | Gudrun Schneider (DE) & Mathew Sinyard (UK) | Sept. 2022 | Improver |
| 33 | Summer Love | Susan Duncan (USA) & Charlie Bowing (UK) | Sept. 2022 | Beginner |
| 35 | The Midnight Wine | Janet (Zhen Zhen) Ge (CN) | Sept. 2022 | Intermediate – Rolling 8 count |
| 36 | Gone Crazy | Karl-Harry Winson (UK) | Sept. 2022 | Improver |
| 37 | Thank You | Gudrun Schneider (DE), Julie Lockton (ES) & Dirk Leibing (DE) | Sept. 2022 | Improver |
| 39 | Beer With My Friends | Tina Argyle (UK) | Sept. 2022 | Improver |
| 46 | Hold Me Closer Baby | Jeanne Chamas (USA) | Sept. 2022 | Beginner |
| 47 | Anything's Possible | Bradley Mather (USA) & Joey Warren (USA) | Sept. 2022 | Phrased Advanced – NC2S |
| 50 | Hey, Mr. Tambourine Man | Iris Wolff (DE) | Sept. 2022 | Beginner |
| 51 | Celtic Samba | Willie Brown (SCO), Ray Jones (WLS) & Matt Lewis (UK) | Sept. 2022 | Intermediate |
| 53 | Smiling | Margaret Murphy (AUS) | Sept. 2022 | Beginner |
| 54 | Night of a Thousand Stars | The Highlander (UK) | Sept. 2022 | Beginner |
| 60 | Python Boots | Elaine Cook (CAN), David Sinfield (UK) & Darren Tubridy (UK) | Sept. 2022 | Improver |
| 62 | The Hole | Jennifer Jones (USA) & Lauri Langevin (USA) | Sept. 2022 | High Beginner |
| 65 | Shakin' Ur South Side | Brooke Tidball (USA) | Sept. 2022 | Beginner |
| 66 | Take Me to Your Heart (2022) | Ame Lin (INA) | Sept. 2022 | Beginner |
| 68 | Mi Mi cexxi Mi Mi | Miske Findriani Paduli (INA) | Sept. 2022 | Beginner |
| 73 | Better With Beer | Silvia Schill (DE) & Casey Lee Lowe (DE) | Sept. 2022 | Improver |
| 75 | WALTZ of ANGELS | Linda Chaoman (CAN) | Sept. 2022 | Improver – Waltz |
| 82 | Nuh Uh | Tim Johnson (UK) | Sept. 2022 | Phrased Advanced |
| 83 | I'll Be There Anytime | Karen Lee (TW) | Sept. 2022 | Beginner |
| 86 | Country Looks Good On You | Uli Elfrida (INA) | Sept. 2022 | Improver |
| 88 | EZ Moves | Erni Jasin (INA) | Sept. 2022 | Beginner |
| 90 | EZ Fairytale Waltz | K. Sholes (USA) | Sept. 2022 | Beginner Waltz |
| 92 | Magical Moments | Wil Bos (NL) | Sept. 2022 | Improver |
| 95 | Knockin' Boots | Markus Eiselt (DE) | Sept. 2022 | Beginner ECS |
| 96 | Calendar Song | Katarina Sherrina (INA) & Abadi Haria (INA) | Sept. 2022 | Improver |
| 97 | Baker Street | Alison Biggs (UK) & Peter Metelnick (UK) | Sept. 2022 | Absolute Beginner |
| 1 | Mama & Me | Gary O'Reilly (IRE) | August 2022 | Improver |
| 4 | Hold Me Closer | Gary O'Reilly (IRE) & Maggie Gallagher (UK) | August 2022 | Intermediate |
| 5 | Country Touch | Darren Bailey (UK) & Fred Whitehouse (IRE) | August 2022 | Improver / Intermediate |
| 11 | Voodoo Magic Kiss | Roy Verdonk (NL), Malene Jakobsen (DK) & Raymond Sarlemijn (NL) | August 2022 | Intermediate |
| 16 | 2 Stepping Away | Darren Bailey (UK), Rob Fowler (ES) & Kate Sala (UK) | August 2022 | Improver |
| 25 | Mellow Moonlight | Sue Ayers (USA) | August 2022 | Absolute Beginner |
| 29 | Heat | Indahwati Rahardja (INA) & Bill Baron (USA) | August 2022 | Improver |
| 43 | Love With No Meaning | Ryan Hunt (UK) | August 2022 | Intermediate |
| 44 | Stuck In The Middle | Julia Wetzel (USA) | August 2022 | Improver / Intermediate |
| 45 | If You Wanna Samba | Jamie Barnfield (UK) | August 2022 | Intermediate |
| 55 | All Summer | Ria Vos (NL) | August 2022 | Improver |
| 58 | Baby I'm Burning | Joshua Talbot (AUS) | August 2022 | Beginner |
| 72 | For the Love of It | Maddison Glover (AUS) | August 2022 | Intermediate |
| 76 | Sooner or Later | Gary O'Reilly (IRE) & Dee Musk (UK) | August 2022 | Intermediate |
| 79 | Crank Ya Country Up | Ivonne Verhagen (NL) & Roy Verdonk (NL) | August 2022 | Improver |
| 84 | Irish Boots | Ivonne Verhagen (NL), Kate Sala (UK), Jef Camps (BEL) & Roy Verdonk (NL) | August 2022 | Phrased High Improver |
| 85 | Reasons Why I Do | Debbie Rushton (UK) & Jean-Pierre Madge (CH) | August 2022 | Phrased Advanced |
| 94 | Ctrl + Alt + Del | Rhoda Lai (CAN), Rebecca Lee (MY) & Guillaume Richard (FR) | August 2022 | Intermediate |
| 2 | Another Heart | Gary O'Reilly (IRE) & Maggie Gallagher (UK) | July 2022 | Low Advanced |
| 7 | Remember This | Maddison Glover (AUS) | July 2022 | Low Improver |
| 20 | Bare My Soul | Darren Bailey (UK), Fred Whitehouse (IRE), Roy Verdonk (NL) & Daniel Trepat (NL) | July 2022 | Intermediate |
| 27 | Impossible Love | Niels Poulsen (DK) | July 2022 | Low Improver |
| 30 | Sharks | Julia Wetzel (USA) | July 2022 | Intermediate |
| 32 | Knock Off | Guylaine Bourdages (CAN), Chrystel DURAND (FR), Julie Lépine (CAN), Stéphane Cormier (CAN), Nicolas Lachance (CAN) & Niels Poulsen (DK) | July 2022 | Intermediate |
| 59 | Forever Together | Heather Barton (SCO) | July 2022 | Intermediate |
| 67 | Latin Fire | Ria Vos (NL) | July 2022 | Easy Intermediate |
| 71 | Free To Run | Fiona Murray (IRE) & Roy Hadisubroto (NL) | July 2022 | Advanced |
| 77 | Ship Faced | Lacey Key (USA) | July 2022 | Beginner / Intermediate |
| 91 | Crispy Chicken | Brandon Zahorsky (USA) | July 2022 | High Improver |
| 98 | That's When I Remember | Darren Bailey (UK) | July 2022 | Beginner |
| 3 | Storm and Stone | Maddison Glover (AUS) | June 2022 | Improver |
| 9 | Dim The Lights | Maddison Glover (AUS) & Simon Ward (AUS) | June 2022 | Intermediate |
| 10 | I'm Not Yours | José Miguel Belloque Vane (NL) & Guillaume Richard (FR) | June 2022 | Phrased Advanced |
| 61 | Hasta La Vista | Gary O'Reilly (IRE) & Maggie Gallagher (UK) | June 2022 | Intermediate |
| 80 | Polka Dot Bikini | Wil Bos (NI) | June 2022 | Beginner |
| 87 | Don't Overthink It | Chris Jacques (USA) | June 2022 | Improver |
| 18 | Til the Neons Gone | Darren Bailey (UK) | May 2022 | Improver |
| 21 | Make It | Rob Fowler (ES) | May 2022 | Improver |
| 34 | Bottom of the Bottle | Gary O'Reilly (IRE) | May 2022 | Beginner |
| 48 | Green Green Grass | Karl-Harry Winson (UK) | May 2022 | Improver |
| 49 | Mighty Fine | Ria Vos (NL) | May 2022 | Beginner |
| 69 | Hold My Hand | Joshua Talbot (AUS) & Alison Johnstone (AUS) | May 2022 | Intermediate |
| 13 | We're Good to Go | Rob Fowler (ES) | April 2022 | Beginner |
| 38 | Portland Cha | Amy Glass (USA), Dustin Betts (USA), Jean-Pierre Madge (CH), José Miquel Belloque Vane (NL), Simon Ward (AUS) & Niels Poulsen (DK) | April 2022 | Low Advanced Cha Cha |
| 42 | Another One Bites The Dust | Ryan Hunt (UK) | April 2022 | Intermediate |
| 64 | Shake Your Cake | Amy Glass (USA) & Cody Flowers (USA) | April 2022 | Improver |
| 93 | Hold On | Fred Whitehouse (IRE) | April 2022 | Intermediate |
| 41 | Love Grows | Craig Bennett (UK) & Maddison Glover (AUS) | March 2022 | Beginner |
| 70 | Break Into My Heart | Darren Bailey (UK) | March 2022 | Intermediate |
| 99 | County Liar | Rachael McEnaney (USA) | February 2022 | Intermediate / Advanced Rolling 8 count |
| 78 | I'm on My Way | Maggie Gallagher (UK) | December 2021 | Beginner |
| 81 | Til You Can't | Gary O'Reilly (IRE) | December 2021 | Intermediate |
| 57 | Some Kind Of Wonderful | Gary O'Reilly (IRE) | November 2021 | Beginner |
| 40 | Gives Me Shivers | Brandon Zahorskv (USA) | October 2021 | Improver |
| 89 | Raised Like That | Darren Bailey (UK) | September 2021 | Improver / Intermediate |
| 52 | Cold Heart | Maddison Glover (AUS) | August 2021 | Improver |
| 56 | Rocket to the Sun | Maddison Glover (AUS) | January 2013 | Absolute Beginner |
| 74 | Mamma Maria | Frank Trace (USA) | May 2009 | Ultra Beginner |
| 63 | Come Dance With Me | Jo Thompson Szymanski (USA) | 2002 | Beginner – Foxtrot |
All 99 Sorted By Choreographers
| Rank | Line Dance | Choreographer(s) | Date Released | Level |
| --- | --- | --- | --- | --- |
| 97 | Baker Street | Alison Biggs (UK) & Peter Metelnick (UK) | Sept. 2022 | Absolute Beginner |
| 66 | Take Me to Your Heart (2022) | Ame Lin (INA) | Sept. 2022 | Beginner |
| 64 | Shake Your Cake | Amy Glass (USA) & Cody Flowers (USA) | April 2022 | Improver |
| 38 | Portland Cha | Amy Glass (USA), Dustin Betts (USA), Jean-Pierre Madge (CH), José Miquel Belloque Vane (NL), Simon Ward (AUS) & Niels Poulsen (DK) | April 2022 | Low Advanced Cha Cha |
| 47 | Anything's Possible | Bradley Mather (USA) & Joey Warren (USA) | Sept. 2022 | Phrased Advanced – NC2S |
| 40 | Gives Me Shivers | Brandon Zahorskv (USA) | October 2021 | Improver |
| 91 | Crispy Chicken | Brandon Zahorsky (USA) | July 2022 | High Improver |
| 65 | Shakin' Ur South Side | Brooke Tidball (USA) | Sept. 2022 | Beginner |
| 87 | Don't Overthink It | Chris Jacques (USA) | June 2022 | Improver |
| 98 | That's When I Remember | Darren Bailey (UK) | July 2022 | Beginner |
| 18 | Til the Neons Gone | Darren Bailey (UK) | May 2022 | Improver |
| 70 | Break Into My Heart | Darren Bailey (UK) | March 2022 | Intermediate |
| 89 | Raised Like That | Darren Bailey (UK) | September 2021 | Improver / Intermediate |
| 5 | Country Touch | Darren Bailey (UK) & Fred Whitehouse (IRE) | August 2022 | Improver / Intermediate |
| 20 | Bare My Soul | Darren Bailey (UK), Fred Whitehouse (IRE), Roy Verdonk (NL) & Daniel Trepat (NL) | July 2022 | Intermediate |
| 16 | 2 Stepping Away | Darren Bailey (UK), Rob Fowler (ES) & Kate Sala (UK) | August 2022 | Improver |
| 85 | Reasons Why I Do | Debbie Rushton (UK) & Jean-Pierre Madge (CH) | August 2022 | Phrased Advanced |
| 17 | It's a Passion | Dirk Leibing (DE) | Sept. 2022 | Absolute Beginner |
| 23 | Old Time Rock & Roll | Doug Mazzola (USA) | Sept. 2022 | Absolute Beginner |
| 60 | Python Boots | Elaine Cook (CAN), David Sinfield (UK) & Darren Tubridy (UK) | Sept. 2022 | Improver |
| 88 | EZ Moves | Erni Jasin (INA) | Sept. 2022 | Beginner |
| 71 | Free To Run | Fiona Murray (IRE) & Roy Hadisubroto (NL) | July 2022 | Advanced |
| 74 | Mamma Maria | Frank Trace (USA) | May 2009 | Ultra Beginner |
| 93 | Hold On | Fred Whitehouse (IRE) | April 2022 | Intermediate |
| 1 | Mama & Me | Gary O'Reilly (IRE) | August 2022 | Improver |
| 34 | Bottom of the Bottle | Gary O'Reilly (IRE) | May 2022 | Beginner |
| 81 | Til You Can't | Gary O'Reilly (IRE) | December 2021 | Intermediate |
| 57 | Some Kind Of Wonderful | Gary O'Reilly (IRE) | November 2021 | Beginner |
| 76 | Sooner or Later | Gary O'Reilly (IRE) & Dee Musk (UK) | August 2022 | Intermediate |
| 4 | Hold Me Closer | Gary O'Reilly (IRE) & Maggie Gallagher (UK) | August 2022 | Intermediate |
| 2 | Another Heart | Gary O'Reilly (IRE) & Maggie Gallagher (UK) | July 2022 | Low Advanced |
| 61 | Hasta La Vista | Gary O'Reilly (IRE) & Maggie Gallagher (UK) | June 2022 | Intermediate |
| 31 | When the Lights Go Out | Gudrun Schneider (DE) & Mathew Sinyard (UK) | Sept. 2022 | Improver |
| 37 | Thank You | Gudrun Schneider (DE), Julie Lockton (ES) & Dirk Leibing (DE) | Sept. 2022 | Improver |
| 32 | Knock Off | Guylaine Bourdages (CAN), Chrystel DURAND (FR), Julie Lépine (CAN), Stéphane Cormier (CAN), Nicolas Lachance (CAN) & Niels Poulsen (DK) | July 2022 | Intermediate |
| 59 | Forever Together | Heather Barton (SCO) | July 2022 | Intermediate |
| 29 | Heat | Indahwati Rahardja (INA) & Bill Baron (USA) | August 2022 | Improver |
| 50 | Hey, Mr. Tambourine Man | Iris Wolff (DE) | Sept. 2022 | Beginner |
| 79 | Crank Ya Country Up | Ivonne Verhagen (NL) & Roy Verdonk (NL) | August 2022 | Improver |
| 84 | Irish Boots | Ivonne Verhagen (NL), Kate Sala (UK), Jef Camps (BEL) & Roy Verdonk (NL) | August 2022 | Phrased High Improver |
| 45 | If You Wanna Samba | Jamie Barnfield (UK) | August 2022 | Intermediate |
| 12 | Funny Face | Janet (Zhen Zhen) Ge (CN) | Sept. 2022 | Improver Waltz |
| 35 | The Midnight Wine | Janet (Zhen Zhen) Ge (CN) | Sept. 2022 | Intermediate – Rolling 8 count |
| 46 | Hold Me Closer Baby | Jeanne Chamas (USA) | Sept. 2022 | Beginner |
| 62 | The Hole | Jennifer Jones (USA) & Lauri Langevin (USA) | Sept. 2022 | High Beginner |
| 6 | Brown Eyes Blue | Jo Kinser (UK) & Kevin Formosa (AUS) | Sept. 2022 | Intermediate NC2 |
| 63 | Come Dance With Me | Jo Thompson Szymanski (USA) | 2002 | Beginner – Foxtrot |
| 14 | Them Boots | Jo Thompson Szymanski (USA) & Anna Szymanski (USA) | Sept. 2022 | Intermediate |
| 10 | I'm Not Yours | José Miguel Belloque Vane (NL) & Guillaume Richard (FR) | June 2022 | Phrased Advanced |
| 58 | Baby I'm Burning | Joshua Talbot (AUS) | August 2022 | Beginner |
| 69 | Hold My Hand | Joshua Talbot (AUS) & Alison Johnstone (AUS) | May 2022 | Intermediate |
| 15 | Brown Eyes Baby | Joshua Talbot (AUS) & Sally Talbot (AUS) | Sept. 2022 | Intermediate |
| 44 | Stuck In The Middle | Julia Wetzel (USA) | August 2022 | Improver / Intermediate |
| 30 | Sharks | Julia Wetzel (USA) | July 2022 | Intermediate |
| 90 | EZ Fairytale Waltz | K. Sholes (USA) | Sept. 2022 | Beginner Waltz |
| 83 | I'll Be There Anytime | Karen Lee (TW) | Sept. 2022 | Beginner |
| 19 | Million Dollar Baby | Karl-Harry Winson (UK) | Sept. 2022 | Intermediate |
| 36 | Gone Crazy | Karl-Harry Winson (UK) | Sept. 2022 | Improver |
| 48 | Green Green Grass | Karl-Harry Winson (UK) | May 2022 | Improver |
| 96 | Calendar Song | Katarina Sherrina (INA) & Abadi Haria (INA) | Sept. 2022 | Improver |
| 77 | Ship Faced | Lacey Key (USA) | July 2022 | Beginner / Intermediate |
| 75 | WALTZ of ANGELS | Linda Chaoman (CAN) | Sept. 2022 | Improver – Waltz |
| 72 | For the Love of It | Maddison Glover (AUS) | August 2022 | Intermediate |
| 7 | Remember This | Maddison Glover (AUS) | July 2022 | Low Improver |
| 3 | Storm and Stone | Maddison Glover (AUS) | June 2022 | Improver |
| 52 | Cold Heart | Maddison Glover (AUS) | August 2021 | Improver |
| 56 | Rocket to the Sun | Maddison Glover (AUS) | January 2013 | Absolute Beginner |
| 41 | Love Grows | Maddison Glover (AUS) & Craig Bennett (UK) | March 2022 | Beginner |
| 9 | Dim The Lights | Maddison Glover (AUS) & Simon Ward (AUS) | June 2022 | Intermediate |
| 78 | I'm on My Way | Maggie Gallagher (UK) | December 2021 | Beginner |
| 53 | Smiling | Margaret Murphy (AUS) | Sept. 2022 | Beginner |
| 95 | Knockin' Boots | Markus Eiselt (DE) | Sept. 2022 | Beginner ECS |
| 28 | The Bed You Made | Micaela Svensson Erlandsson (SWE) | Sept. 2022 | High Beginner |
| 26 | Honkytonk Cinderella | Michelle Wright (USA) | Sept. 2022 | High Beginner |
| 68 | Mi Mi cexxi Mi Mi | Miske Findriani Paduli (INA) | Sept. 2022 | Beginner |
| 27 | Impossible Love | Niels Poulsen (DK) | July 2022 | Low Improver |
| 99 | County Liar | Rachael McEnaney (USA) | February 2022 | Intermediate / Advanced Rolling 8 count |
| 94 | Ctrl + Alt + Del | Rhoda Lai (CAN), Rebecca Lee (MY) & Guillaume Richard (FR) | August 2022 | Intermediate |
| 55 | All Summer | Ria Vos (NL) | August 2022 | Improver |
| 67 | Latin Fire | Ria Vos (NL) | July 2022 | Easy Intermediate |
| 49 | Mighty Fine | Ria Vos (NL) | May 2022 | Beginner |
| 21 | Make It | Rob Fowler (ES) | May 2022 | Improver |
| 13 | We're Good to Go | Rob Fowler (ES) | April 2022 | Beginner |
| 11 | Voodoo Magic Kiss | Roy Verdonk (NL), Malene Jakobsen (DK) & Raymond Sarlemijn (NL) | August 2022 | Intermediate |
| 43 | Love With No Meaning | Ryan Hunt (UK) | August 2022 | Intermediate |
| 42 | Another One Bites The Dust | Ryan Hunt (UK) | April 2022 | Intermediate |
| 24 | Sunroof | Shane McKeever (N.IRE) | Sept. 2022 | Beginner |
| 73 | Better With Beer | Silvia Schill (DE) & Casey Lee Lowe (DE) | Sept. 2022 | Improver |
| 25 | Mellow Moonlight | Sue Ayers (USA) | August 2022 | Absolute Beginner |
| 33 | Summer Love | Susan Duncan (USA) & Charlie Bowing (UK) | Sept. 2022 | Beginner |
| 54 | Night of a Thousand Stars | The Highlander (UK) | Sept. 2022 | Beginner |
| 82 | Nuh Uh | Tim Johnson (UK) | Sept. 2022 | Phrased Advanced |
| 8 | Eternal Flame | Tina Argyle (UK) | Sept. 2022 | Improver |
| 39 | Beer With My Friends | Tina Argyle (UK) | Sept. 2022 | Improver |
| 86 | Country Looks Good On You | Uli Elfrida (INA) | Sept. 2022 | Improver |
| 80 | Polka Dot Bikini | Wil Bos (NI) | June 2022 | Beginner |
| 92 | Magical Moments | Wil Bos (NL) | Sept. 2022 | Improver |
| 22 | Until I Found You | Wil Bos (NL) & Duma Kristina S (INA) | Sept. 2022 | Intermediate |
| 51 | Celtic Samba | Willie Brown (SCO), Ray Jones (WLS) & Matt Lewis (UK) | Sept. 2022 | Intermediate |
---