Texas and country dancing! I am very excited to bring you a good round-up and just a great resource to find the best places to Two Step and line dance in East Texas! As you peruse this list of great Honky Tonks and dance halls, you'll quickly see that while there are some good spots in Dallas, you'll find yourself in Fort Worth often to check out some of these great places to dance the night away.
While Dallas boasts its growth and urbanization, the city of Fort Worth has chosen to stick to its roots. A quick visit will show that it's all cowboy with a lot of choices for country dancing. And as a special note for any of you total tourists: the Historical Stockyards area boasts a twice-daily cattle drive – right through town!  A great place to visit to get you in the mood for a country night, which of course includes lots of dancing!
The 12 best places for country dancing in the Dallas-Fort Worth area (DFW) include Cowboys Red River Dancehall & Saloon, the Round-Up Saloon, Guitars and Cadillacs, Rodeo Exchange, Lil' Red's Longhorn Saloon, Billy Bob's Texas, 2 Electric Cowboy venues, Southern Junction, and 2 dance studios.
12 Best Places in the Dallas-Fort Worth Area for Dancing At-A-Glance
See below for some quick at-a-glance information about each place. Address, website, and what days to go there for country dancing. Then click on the pictures to jump down to see expanded information about that Dallas-Fort Worth Area dance venue.
Cowboys Red River Dancehall & Saloon
10310 Technology Blvd W, Dallas, TX 75220
www.cowboysdancehall.com/dallas/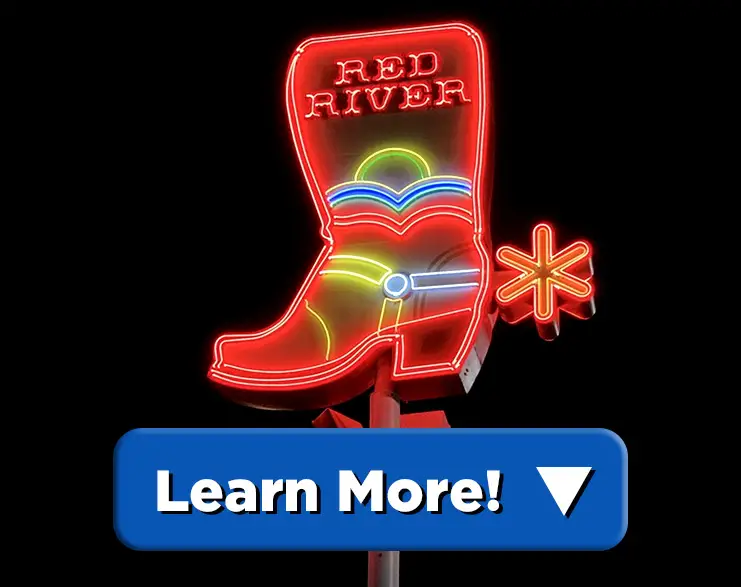 ---
Round-Up Saloon
3912 Cedar Springs Rd, Dallas, TX 75219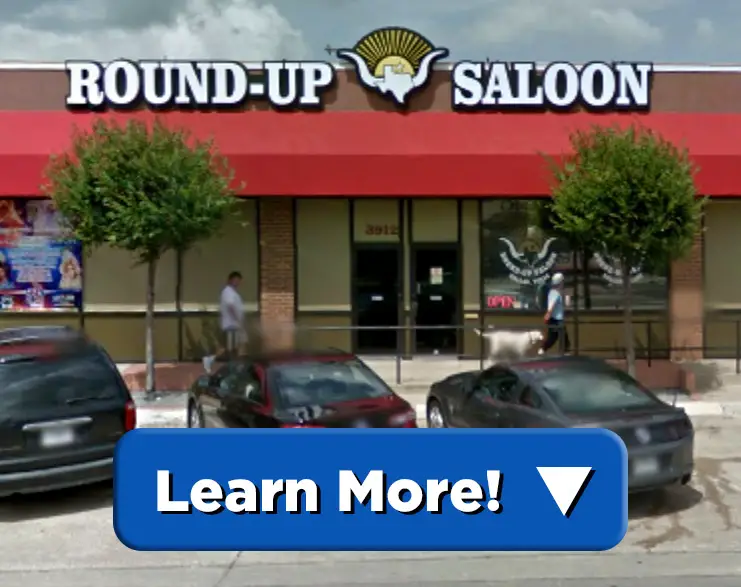 ---
Rodeo Exchange
221 W Exchange Ave, Fort Worth, TX 76164.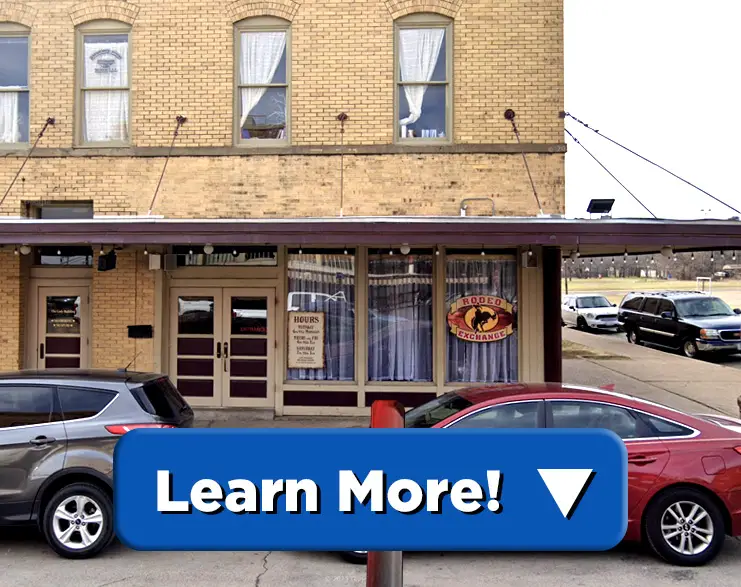 ---
Lil' Red's Longhorn Saloon
121 W Exchange Ave, Fort Worth, TX.
www.longhornsaloonfortworth.com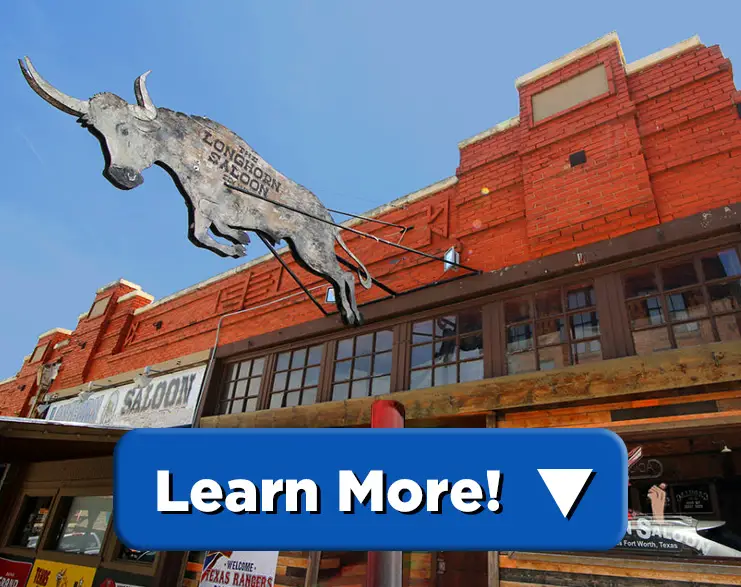 ---
Billy Bob's Texas
2520 Rodeo Plaza, Fort Worth, TX 76164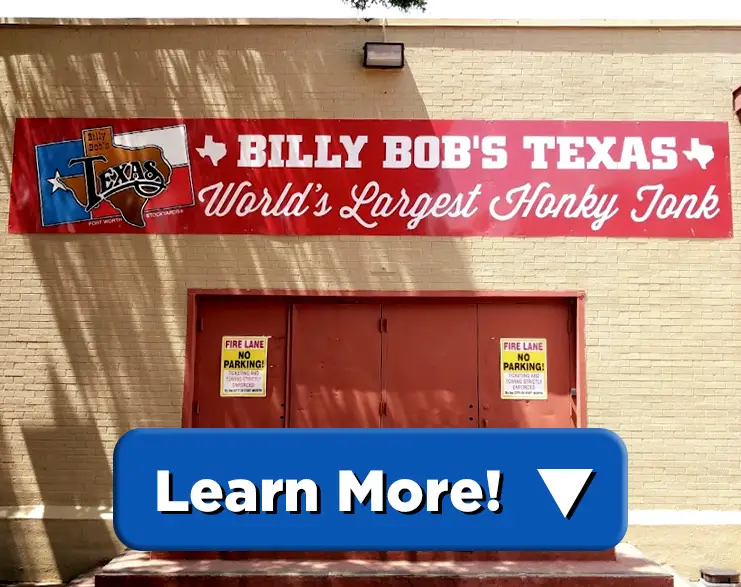 ---
Electric Cowboy – Fort Worth
8740 Camp Bowie W Blvd, Fort Worth, TX 76116
www.electriccowboy.com/fort-worth-tx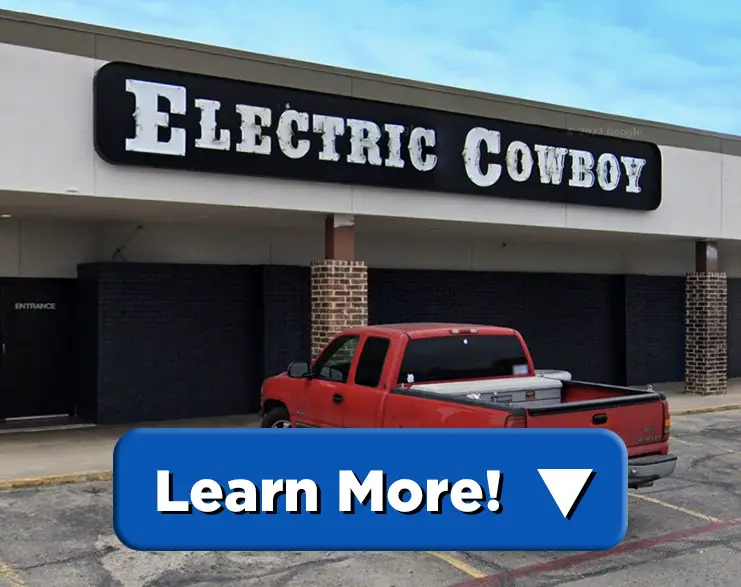 ---
Electric Cowboy – Lewisville
1165 S Stemmons Fwy #130, Lewisville, TX 75067
www.electriccowboy.com/lewisville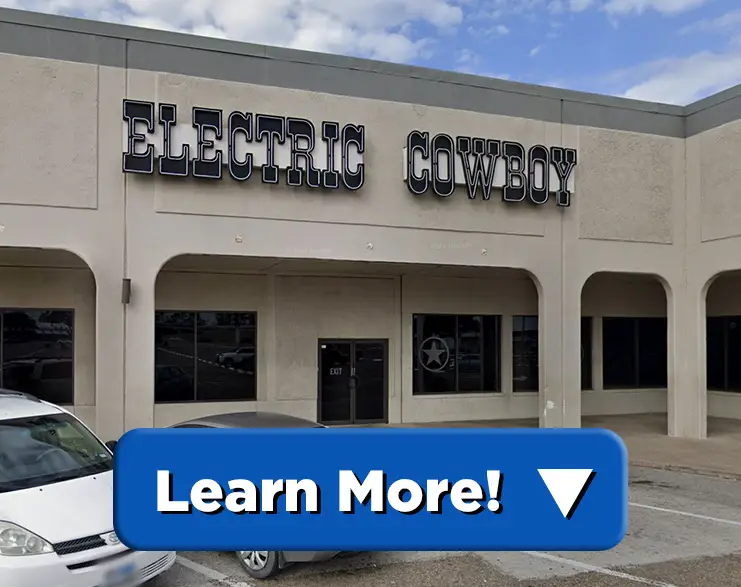 ---
Southern Junction – Irving
101. N Rogers Road, Irving, TX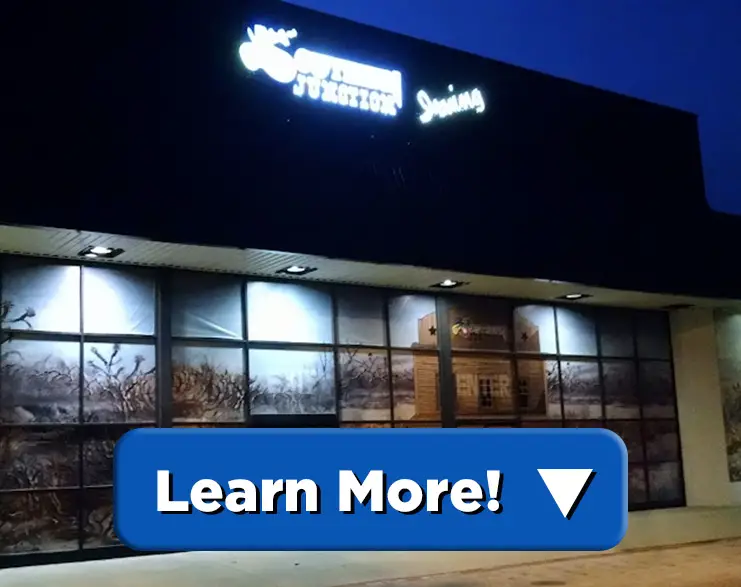 ---
DanceMakers of Texas
6125 SW Loop 820 Ste 140, Fort Worth, TX 76132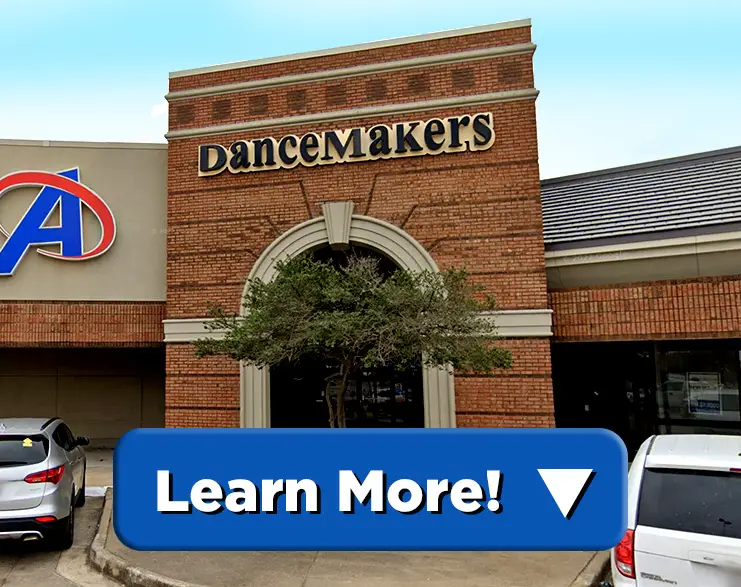 ---
You Can Dance Dallas
14833 Inwood Rd., Ste 600, Addison, TX 75001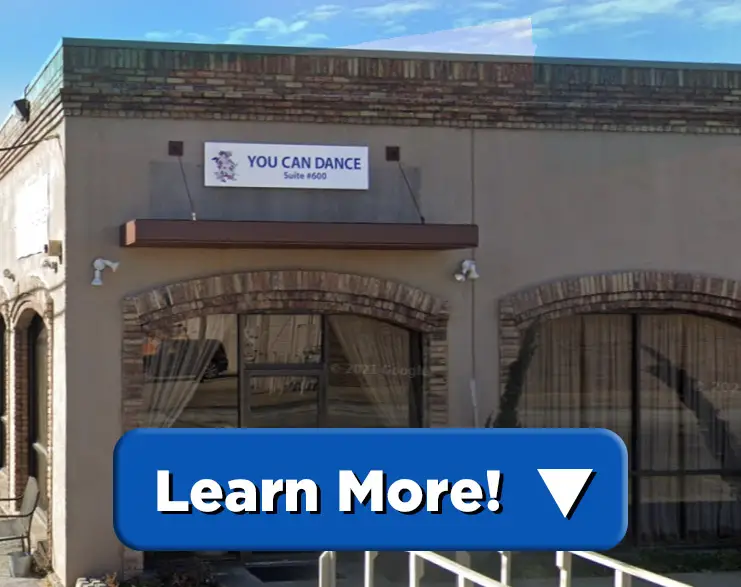 ---
Line Dancing In Dallas
See Locations on the website…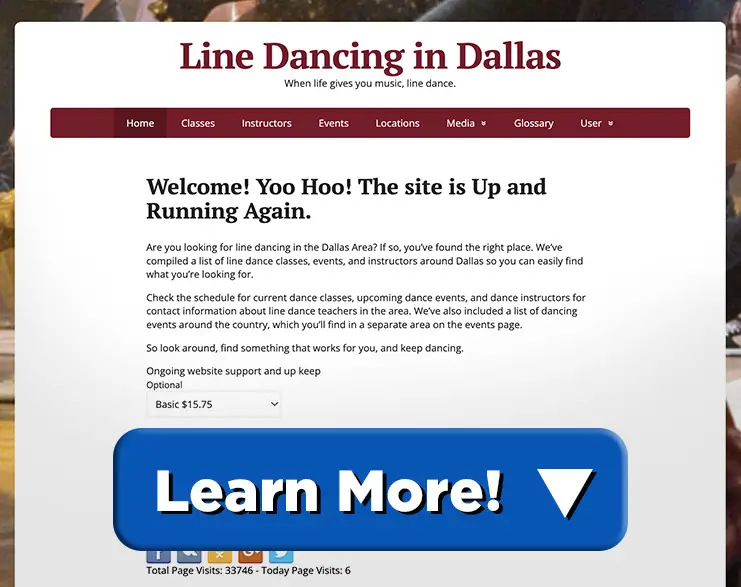 ---
---
1. Cowboys Red River Dancehall & Saloon – Dallas
Considered one of the most popular and beloved spots in the city, Cowboys Red River boasts a massive interior stage and dance floor that can hold more than a hundred patrons at any given time. It is known as an authentic take on Dallas nightlife with a lively crowd and energizing live country music. Also, if you're there on the weekend you can try your luck at riding the mechanical bull.
Doors open at 6:30 pm and you can hang out and dance all the way to 2:45 am! Like many dance spots, they also offer nightly specials ranging from no-cover-charge nights for ladies 21 and up to low-cost drafts nights. The live music includes a house band, Runnin' Behind along with other talented musicians, scheduled from Wednesday to Saturday.
Dance lessons are offered Wednesday-Saturday. Depending on the night you will have the chance to learn either the West Coast Swing, Two Step Basics, and Patterns. Check their lesson schedule for the day you plan on coming.
One thing pretty unique is the race track style dance floor with a bar in the middle! Check out the video below of a Two Step contest they had to see what it's like!
Finally, please note there is a cover charge, varying between $8 and $30. The heavier charges are for the under 21 crowd. But come early (7-8 pm) and get in free!
Be sure to check their schedule when planning your visit. One other thing about Cowboys Red River… There are actually two locations in Texas! The other one is in San Antonio. If you are looking for information about that one click here!
Dance Lessons: Wednesday-Saturday
Wednesday: "Westcoast Wednesdays" with Blake Elder at 7 pm
Cover Charge:
From 7-8 pm FREE
After 8 pm, $8-30
Hours of Operation:
Wednesday – Saturday 7 pm-2:00 am
To read even more about the venue check out a little deeper look into more about Cowboys Red River Dancehall and Saloon!
---
2. Round-Up Saloon
The Round-Up is considered The Home of Good Times – Home of Good People. The Round-Up Saloon and Dance Hall just celebrated 34 years in Dallas as the nation's best gay country western dance hall.
This bar is the most popular gay bar in Dallas, primarily thanks to its: talent-filled karaoke nights, eclectic-yet-refined aesthetic, rotation of musical acts, live DJs, and of course, the dance floor.
There are drink specials, several small bars to choose from, and an outdoor patio area that allows you to get a breath of fresh air between dance sessions.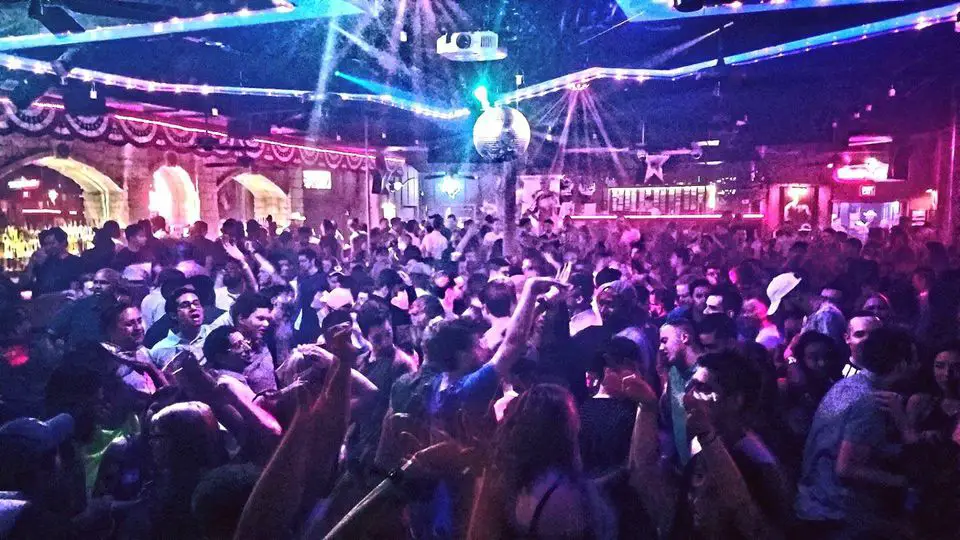 The Round-Up Saloon is located in the Oak Lawn neighborhood of Dallas. You'll find the bar at 3912 Cedar Springs Rd, Dallas, TX 75219. As such, it's only a short stroll from the M-LINE and a half-hour walk from the Market Center DART station.
But about the dancing at the Round-Up Saloon… there is a large dancefloor space and regular live music acts.
Not confident with your dance skills? This bar also offers dance lessons throughout the week. You can learn to line dance, do couples dancing, and much more at the Round-Up. Currently, they have their lessons on Monday, Thursdays, and occasional Saturdays. The Lessons are at 8:30 and 10:30 pm. Check their website here for what line dances or partner dances are on the schedule. Tuesday nights is a dance social night.
They say on their website: "Dance lessons are free and fun! Bring a dance partner or we can help find you one. For best results wear leather-soled shoes and come with a can-do attitude!"
There's unlikely to be a cover charge for entering the Round-Up Saloon, though some special events may require a paid ticket. However, the online calendar for this bar isn't regularly updated, which can make it challenging to plan your visit. Just contact the bar before your arrival to see if there's a cover charge or a ticket price. You can call the Round-Up Saloon at (214) 522-9611 starting at noon every day of the week (except Monday).
On Weekdays, the Round-Up Saloon opens at 3 pm. Be sure to keep that in mind when attempting to call.
Dance Lessons: Free
Monday – Couples dance with Mike
Thursday – Line dance with Yoshi
Saturday – Line dance Lessons at 5 pm
Cover Charge: None, or Ticket Price for Live Music Act
Hours of Operation:
Sunday 12 pm-2 am
Monday-Friday 3 pm-2 am
Saturday 12 pm-2 am
---
3. Guitars and Cadillacs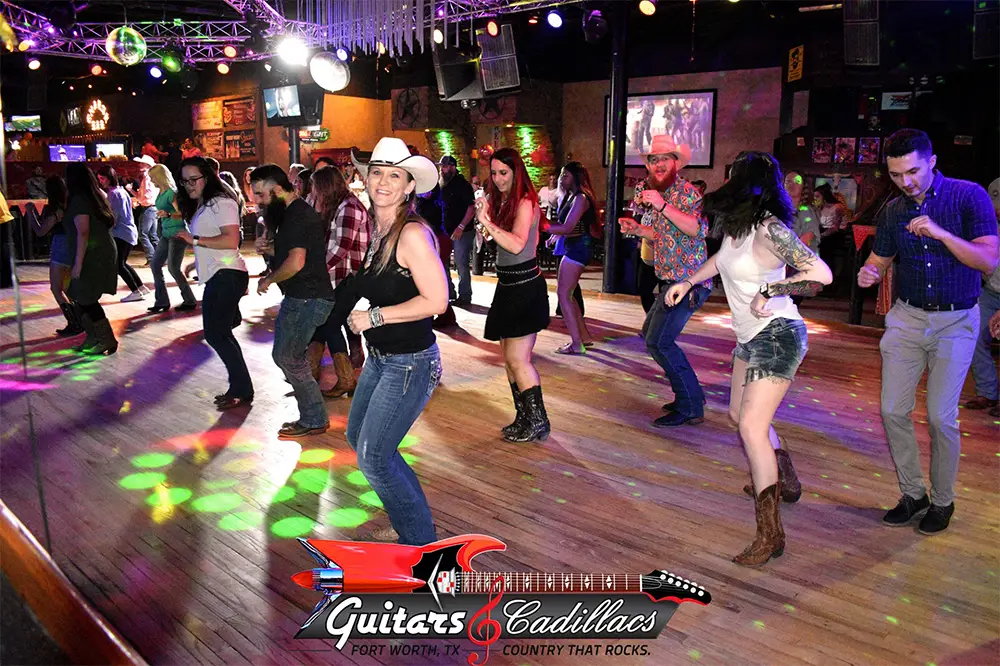 Guitars and Cadillacs is a great name for a country bar, since if you're a country fan how do you not love the Dwight Yoakum homage? Guitars and Cadillacs is a super popular destination and is known to bring you "Country That Rocks". This is the place if you are looking for an upscale nightclub atmosphere. Think disco balls and lots of colored lights.
Open three nights a week: Thursday – Saturday, each day has a different flavor. Thursday is their Best of Texas Country and Red Dirt Music; Friday is your day for dance lessons with their resident instructor, Terri Bordeaux and Saturday is Selfie night – a chance to post your pic on their Instagram account.
Music in this venue seems to be mixed – special events bring out live performers, and the rest of the time it is provided by an in-house DJ with a hi-tech speaker system.
The dancing opportunity at Guitars and Cadillacs is pretty great with their "Texas-sized" dance floor of 2,500 square feet! But if you are looking for line dance lessons plan on Friday night.
Terri Bordeaux is an instructor with many years of experience, as a well-known judge, pro instructor, and competitor. So, you're in good hands! Check out her page on their site for more information.
Friday's dance lessons are $6. Not bad for a chance to learn from this great dance pro!
This dance-friendly bar also even has its own gift shop! Pick up a t-shirt to prove you were there!
Check the Guitars and Cadillacs homepage for detailed information about upcoming events and their related expenses. 
Dance Lessons: 6:30-7:45. $6
Cover Charge: Varies. 18-20: $10-$20. 21+ Free to $6
Hours of Operation:
Thursday 7 pm-2 am
Friday 6 pm-2 am
Saturday 7 pm-2 am
Age Requirement: 18+
---
4. Rodeo Exchange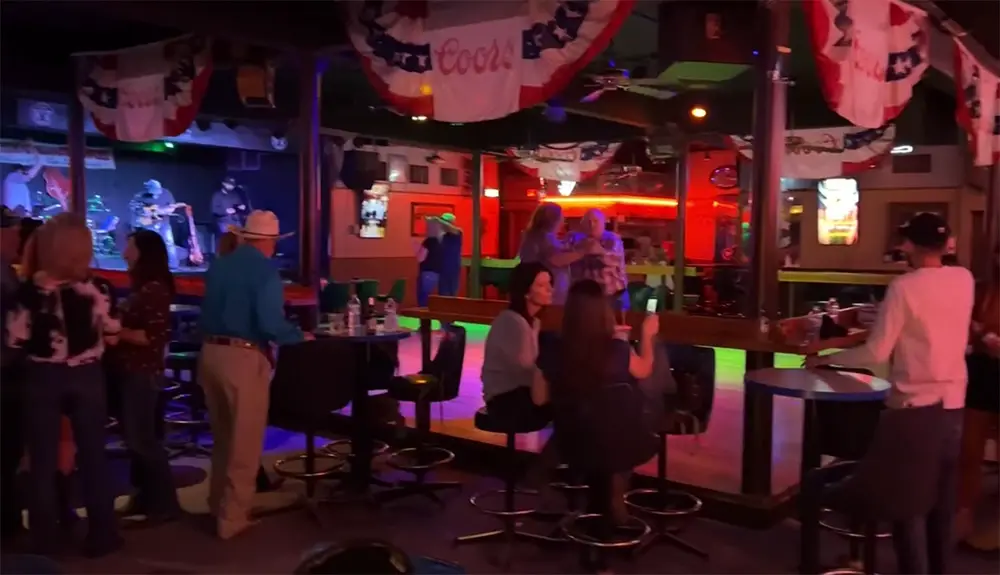 The atmosphere of this dance hall is one of respect and adoration for the honky-tonk stars of the past. You'll find the Rodeo Exchange in an older brick building in the Historic Stockyards area. While the exterior of this dancehall bar might be unassuming, it's a wonderful place for country music lovers and dancers of all ages.
Dance lessons are hosted every Tuesday between 6:30 and 8:30 pm. They offer an 8-week course that includes footwork, frame, and basic social dance moves for beginners as well as intermediate lessons.
Tuesday evening dance lessons are described as being a lot like a country version of the Cheers bar. It's a newcomer, old-comer welcome time. Everyone helps one another. If you don't have a partner, they'll find you one. Sounds super comfortable and fun no matter what your dance level or experience is.
It looks like their lessons may vary from month to month, so be sure to check out the calendar before you head on over. Also, check out that page for more information about the dance lessons and the instructors (just scroll down a bit).
This venue attracts some of the most beloved country music acts, including local musicians that have spent their lives creating music. They regularly host live local performers, such as The Keith Mitchell Band, Niles City, and the Todd Stewart Band. Those looking to enjoy the dulcet tones of an old country song can't do much better than the Rodeo Exchange. The live music starts at 9 pm on Fridays and Saturdays.
Dance Lessons: Tuesdays from 6:30-8:30. Beginner and Intermediate
Cover Charge: Varies, $5 on Tuesdays
Hours of Operation:
Tuesday: 6 pm-12 am
Thursday-Friday: 7 pm-2 am
Saturday: 7 pm-2 am
---
5. Lil' Red's Longhorn Saloon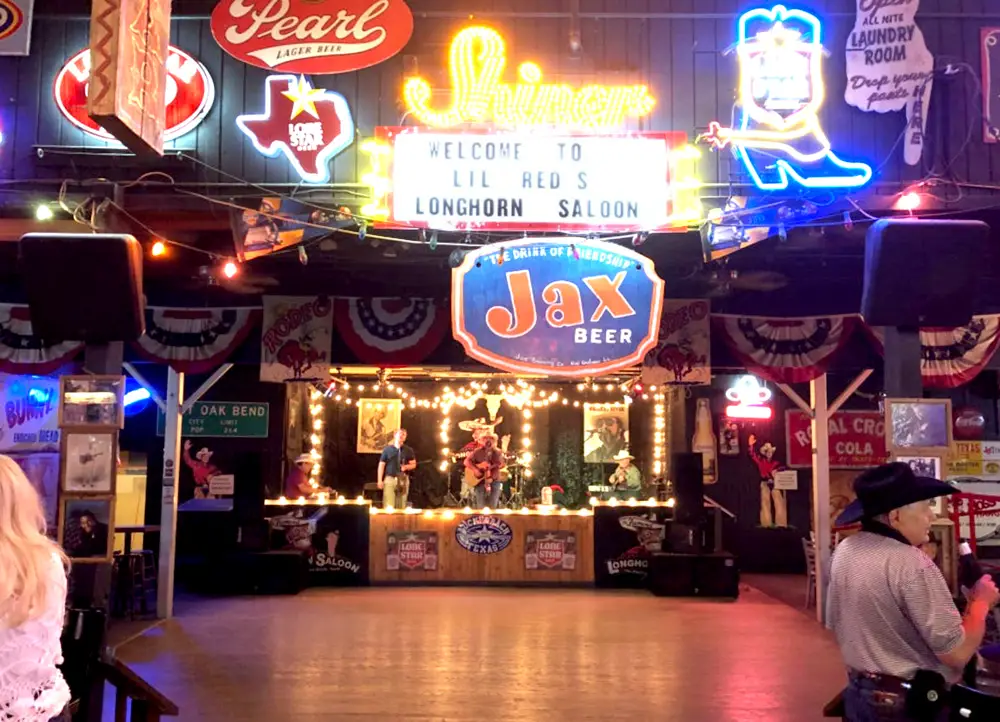 If you're eager to experience a slice of Fort Worth history while enjoying live music, cold beverages, and hot meals, you'll love Lil' Red's Longhorn Saloon. Known as "Y'all come honky-tonk!," the saloon has been serving Fort Worth patrons and stockyard workers for more than a century! Though management may have changed hands over the last hundred years, the feel and purpose of this saloon have stayed the same. 
Lil' Red's Longhorn Saloon hosts live music multiple times each week and posts their events clearly for your information. The current owner of the Longhorn Saloon, Craig (Lil' Red) Copeland lives for providing a good bar with live country music. So, yes "Lil' Red" is a real person who took over the Longhorn in 2012 along with Jane Woods. But to learn more about that just check out the history page for all the details.
While there are no dance lessons offered at Lil' Red's Longhorn Saloon, there's a really cute weathered dance floor in front of the stage, so still, come and enjoy the great social dancing that people love here.
Lil' Red's has a very cool old-time saloon atmosphere and live music in a historic location. It's really a great tourist location and welcomes visitors from all around the globe.
There's no cover charge, but you may need to make a reservation before arriving due to how popular Lil' Red's Longhorn Saloon is. 
Dance Lessons: No lessons at the Lil' Red's Saloon – Just open dancing
Cover Charge: None
Hours of Operation:
Wednesday-Thursday: 4 pm-close
Friday: 12 pm-2 am
Saturday: 12 pm-2 am
Sunday: 12 pm-close
---
6. Billy Bob's Texas – Fort Worth
Billy Bob's Texas is truly the World's Largest Honky Tonk. Opening on April 1, 1981, it is a 100,000 square feet entertainment center. It is large enough to bring in more than 6,000 fun-loving folks of all ages to enjoy entertainment every day and night. Of note are the more than 30 bar stations, actual Pro Bull Riding, and the great Texas-size dance floor.
But of course a big draw every week is the lineup of live country music, often featuring the biggest stars.
The dance lessons offered are as follows: couples on Sunday ($10/couple), and Wednesday is Free Ladies Night with Line Dance Lessons. Saturday you can have lunch and Line Dance at high noon, along with free lessons. 20% discount for dancers in the Honky Tonk Restaurant. Sunday afternoon lessons are the most comprehensive.
The Sunday lessons are beginner 3 Step at 2 pm, Intermediate 3 Step at 3 pm, and Beginners Western Waltz at 4 pm. On Sundays, it is 8 weeks of progressive instruction with the introduction of new moves as well as a variety of fun dances added. It is recommended to bring a partner, but if you can't they will try to match you up. But no promises. To learn more about the lessons check out the dance classes page on the website.
One thing great about the dance lessons at Billy Bob's is that their resident instructors, Bill & Bonnie competed on the UCWDC Dance Circuit for several years! Now, they have taught people to dance in the thousands. What a great opportunity for those of you just starting to dance or who want to improve, to learn from instructors at this level!
Although it looks like you can enjoy just about everything at Billy Bob's their offering of live music is extensive. On Thursday-Saturday nights the House Band performs at 8 pm, before their scheduled concerts. You are invited to come early to dance to the latest country music performed by these up-and-coming bands prior to the show. There is no doubt the music is great – they have been named "Country Music Club of the Year" 12 times.
Wow! This venue has everything. A great place to dance and experience great country music with all the extras. With how big and full of different entertainment Billy Bob's is, it might feel a little like an amusement park despite its honky-tonk boast.
Dance Lessons:
Sunday 2-5: Partner lessons
Wednesday evening: Line Dancing for Ladies (FREE)
Saturday 12 pm: Line Dancing
Cover Charge: None, live music acts require a ticket purchase.
Hours of Operation:
Seven days a week
But wait! Before we leave Billy Bob's, one thing to mention that is pretty cool is that a few years ago the band Midland used the venue as the place to shoot their music video for the song "Burn Out." Check it out below and see if you can tell it's Billy Bob's Texas! Search out their video for "Playboy" too! That one shows footage from a night they played there.
---
7. Electric Cowboy – Fort Worth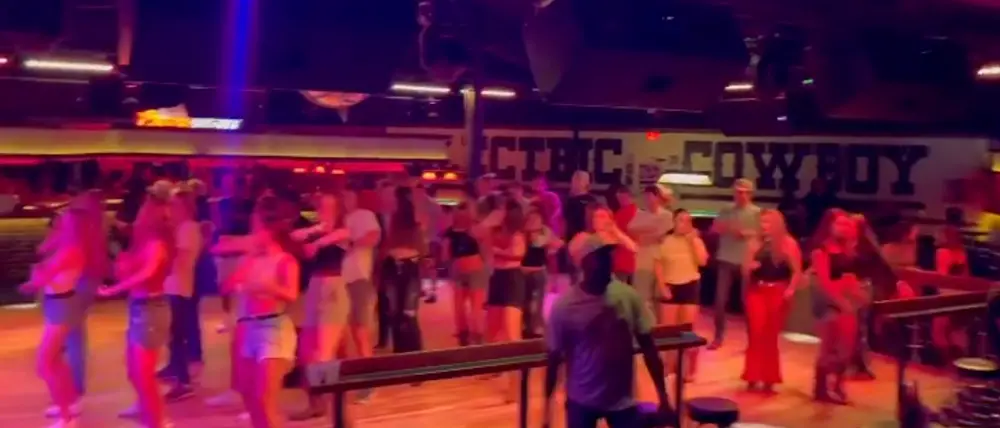 The next venue for dancing in the D/FW area is the Electric Cowboy. One thing interesting about this dance hall and saloon is that like Cowboys Red River above this one also is a franchise chain. But this one is huge with a total of 9 locations, 2 in the Dallas-Fort Worth area.
Every Thursday night they have free dance lessons
The Electric Cowboy is a "High Energy Country Night Club". This is a great place to do some line dancing and partner dancing. But just know this bar, like many these days is serving up a good mix of country and pop music for the dancing.
Dance Lessons: Free Dance Lessons Thursday: 7:00 pm; Ladies Night Friday 7:00 pm 
Hours of Operation:
Thursday-Saturday: 7:00 pm-3:00 am
---
8. Electric Cowboy – Lewisville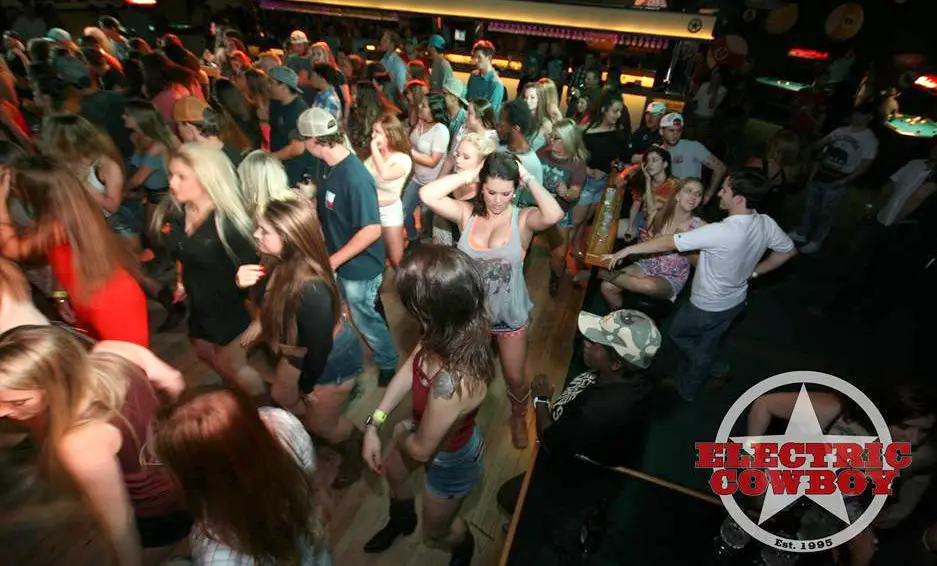 About 24 miles northwest of Dallas driving up the I-35 & about 35 miles northeast of Fort Worth driving up the TX-121 is another Electric Cowboy! Much like others in the chain, this is a great place for dancing.
The Lewisville Electric Cowboy is actually open 5 days a week! So, more opportunities for dancing if you are looking for a place Wednesday through Sunday!
Like the Electric Cowboy in Fort Worth, there's a good mix of hip hop, pop, and country music played. But overall people love dancing here. The floor is big and the staff is really great.
See their Facebook for currently scheduled events and details on upcoming lessons.
Dance Lessons:
Wednesday Nights: Two Step Lessons with Paul
Friday Nights: Double Two Step Lessons with Wes
Cover Charge: Yes, but ladies get in FREE on Fridays, for "Girls Night Out"
Hours of Operation:
Wednesday-Sunday: 7:00 pm-3:00 am
---
9. Southern Junction – Irving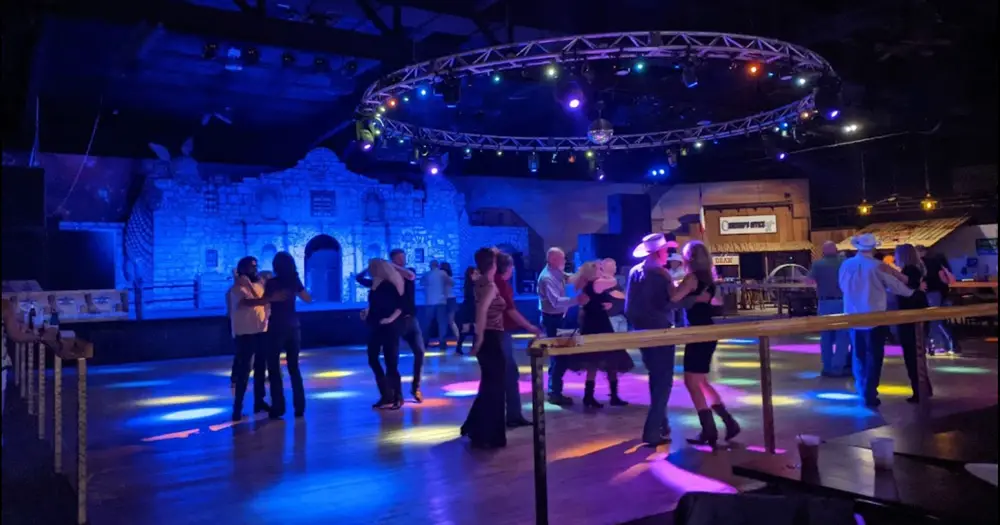 Located in Irving, the junction between Dallas and Fort Worth, it is considered by some the capital of country dancing. It's where "Where Texas Has Fun!"
This is a little bit of everything: Live Music, Dancehall, Restaurant, Events, Farmer's Market.
They have a decent website where they boast one of the largest dancehalls you've ever seen with the biggest real hardwood dancefloor in all of Texas!
The Southern Junction has a consistent lineup of music playing from some of the world's best Country Artists as well as local homegrown Texas Country talent. 
Fridays & Saturdays DJ Jonathan is spinning country music. Check beforehand to see if that night's live music has a ticket price before coming. Check their Facebook page for what is coming up!
Their western theme decorum is very cool and adds a very fun feel to going out for a night of country dancing.
Cover Charge: $5.00
Hours of Operation:
Country Nights:
Friday and Saturday: 6 pm-2 am
---
10. DanceMakers of Texas
For the next two "venues" for country dancing, there are some dance studios for you to get great lessons and meet people in the local dance community. So, first of all, DanceMakers!
DanceMakers is a studio in Fort Worth that is a community of people who love to dance! They offer a broad range of social dance instruction, including two types of Country Western: Classic Country and what they refer to as "Bar Style Country" (Country Swing).
If you opt for the Classic Country, you will learn the two-step and the progressive double two, two dances that are really the foundation for the country-western dance community that we have today. These two dances can be danced to both old and new country music.
The second option is "Bar Style Country." This dance form includes the Three-Step. The Three-Step is very popular in Fort Worth and the surrounding areas. However, where it departs from the Classic Country is that it is more often danced to the newer style of country music. It is country dancing with some swing thrown in. Country Swing is currently exploding and growing. So for sure check their classes out to help you get involved with the latest country partner dance craze.
They also offer West Coast Swing, Salsa, Ballroom, and Latin Dancing. Their classes are taught in a progressive series of four sessions. No partner is needed. They offer two levels of class each week for people who are just getting started up to the advanced beginner.
Prices vary depending on whether you are taking group or private lessons and how many lessons you purchase at once. Their website lists all the options.
Their aim is to provide instruction for a wide variety of interests and goals. Maybe you want to enjoy country dancing in the local venues or need to learn to dance for a special occasion; they can provide the instruction. DanceMakers is a great place to really focus on becoming a serious country dancer.
Lessons:  Only lessonsPrices:  See Website.
11. You Can Dance Dallas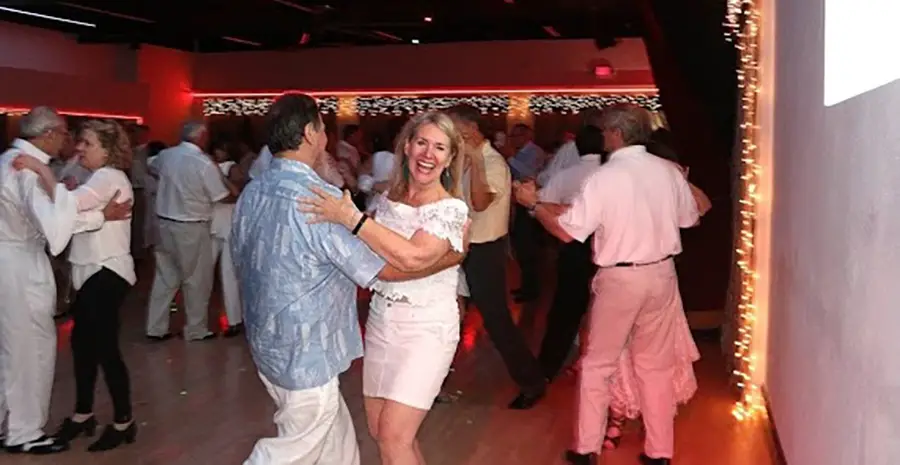 The 2nd studio to mention is in Addison and is just called You Can Dance Dallas! This is a Dance Studio, where you can learn to dance and they cover all genres.
You Can Dance Dallas is a premier social dance studio and can meet you where you're at! Whether you are a beginner or really want to advance in your dance ability, this is a place where you can learn and grow.
You Can Dance Dallas has a great calendar of all the classes (genre & levels) available. Below I've mentioned the country dancing opportunities, but check the schedule to see what you want to do and when it is available.
Saturday nights they have a party that may include a competition, a lesson, and then just a party time where you can join other dancers and have fun together. Looks like there is a charge for the party evening. This is not the place to do country dancing every weekend. However, in March the party theme was Country and Swing for two weekends.
Facebook followers give them lots of praise for their country instructor, was teaching the basics of hearing the beat as well as the actual dance, and for the venue as a place to learn and do social dancing with a great dance floor.
Dance Lessons:
Monday, 7 pm-8 pm: Beginner West Coast Swing
Monday, 8 pm-9 pm: Intermediate West Coast Swing
Tuesday, 7 pm to 8 pm: Beginner Progressive Double 2-step
Tuesday, 8 pm to 9 pm: Progressive Double 2-step patterns
Class Cost: $15 (price break for signing up + one more class)
---
12. Line Dancing In Dallas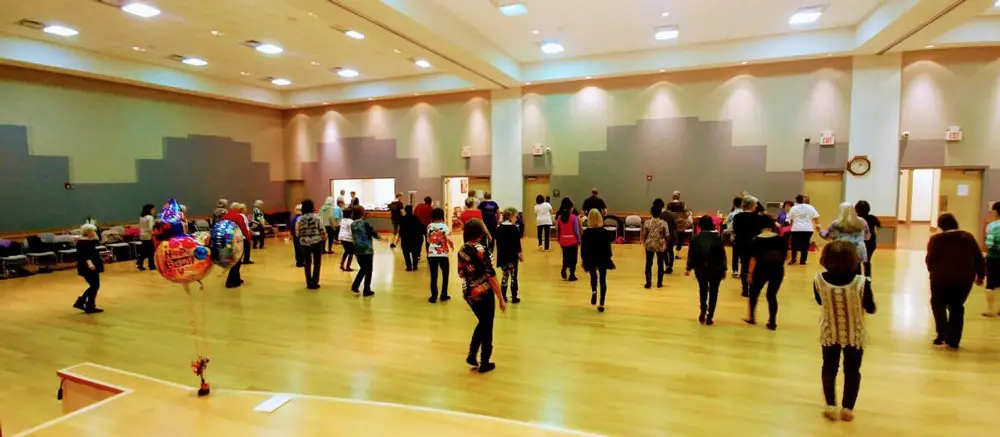 For the last venue for country dancing in the Dallas-Fort Worth area, I've included something that actually isn't a venue, but at the same time many venues! Line Dancing In Dallas is a website that has compiled all the information you will need to find line dance lessons, line dancing events, and instructors around Dallas to learn to line dance and meet with other people in the line dance community.
If you are looking for line dancing in the Dallas area, this will help you easily find what you're looking for. Check the site for the current list of classes.
While the site is primarily focused on people learning to dance, they do advertise a Friday morning open dance time at the Heights Recreation Center. But check the site to see the latest information on this.
The site keeps the information about upcoming line dance events like the Heart of Texas (H.O.T.) Line Dance Event and the Texas Line Dance Jamboree on their site to get the word out!
Dance Lessons: All Levels -Absolute Beginner to Advanced Intermediate
Class Cost: Reach out to the instructors for class fees
Hours of Operation: Lessons are morning into the evenings
---
Conclusion
If you are a resident of the Dallas and Fort-Worth area, there are a lot of great options for finding a dance floor and a great community of country dancers. While Dallas may not have too many, Fort Worth has you covered with plenty of options that include great live country music and both line dance and partner dance lessons. And if you are just starting out and a little nervous about getting out on the social dance floor, the two dance studios DanceMakers of Texas and You Can Dance Dallas, and the great website Line Dancing In Dallas, have your back! In all, there are really too many classes to list! Search out what works for your schedule and location and jump in!
Also, if you are in the Southern California, Nashville, TN, or Chicago, IL areas, check out these other articles that round up even more great places for country dancing! (45 more places to dance!)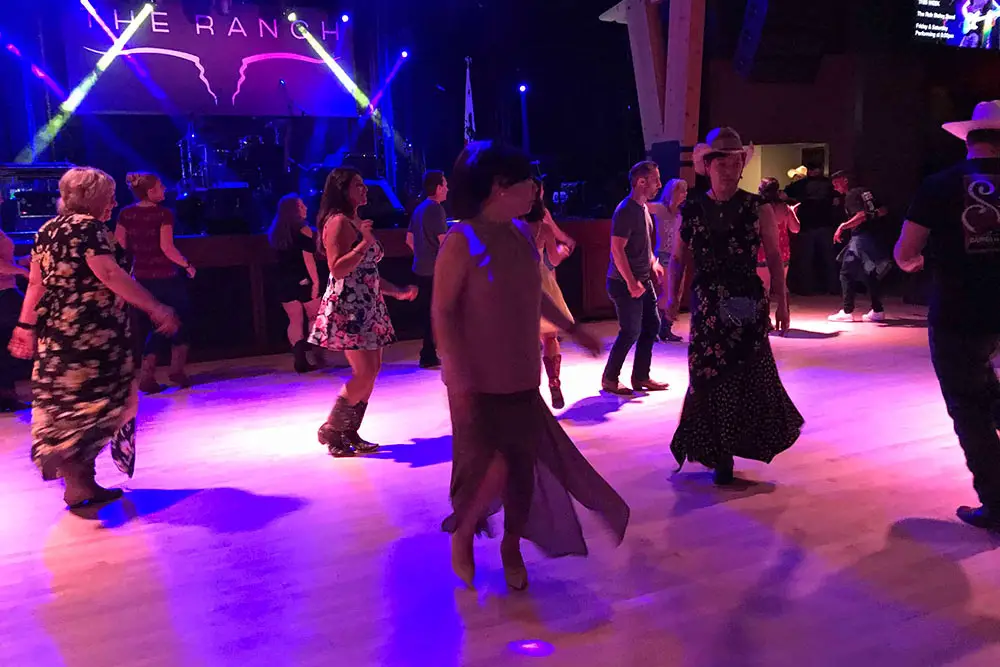 When it comes to country bars with good bands, line dancing, and the 2-step, Southern California has many places to show off…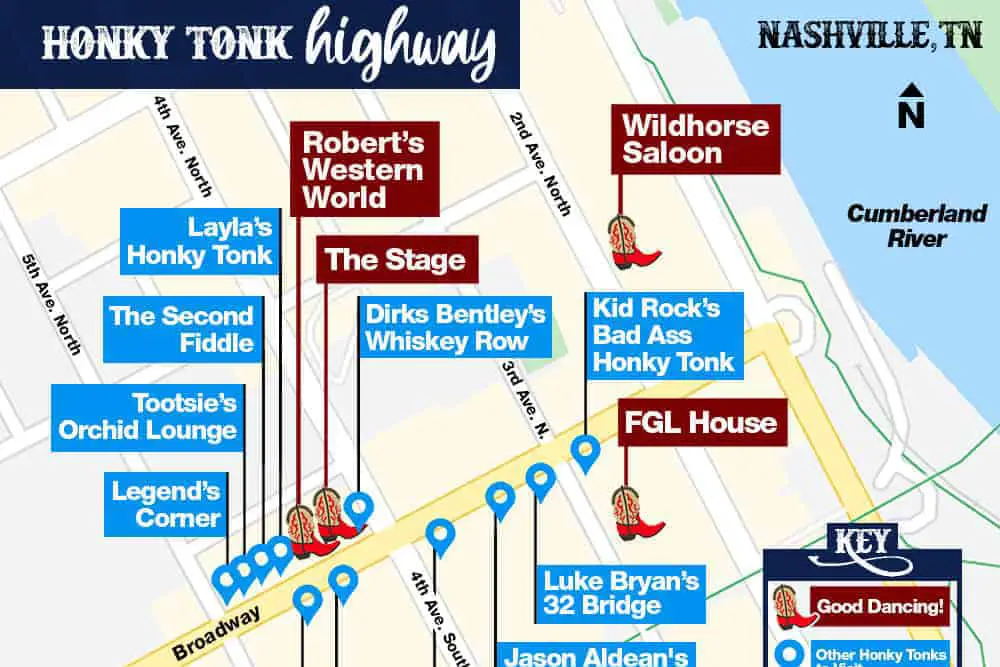 Nashville, known also as Music City, is the birthplace of country music. It also continues to be the Mecca that all aspiring…
Living in the Windy City has tons of perks, but if you're looking for country dancing, both line dancing and partner dancing…
---