When in Dallas, do as Dallasians do! And that means making a trip to the Northwest Dallas district to visit Cowboys Red River Dancehall & Saloon!  
More commonly known as Cowboys Red River, this dance-friendly bar is one of the most popular and beloved spots in Dallas. It has a massive interior stage and dance floor that can hold more than a hundred patrons at any given time.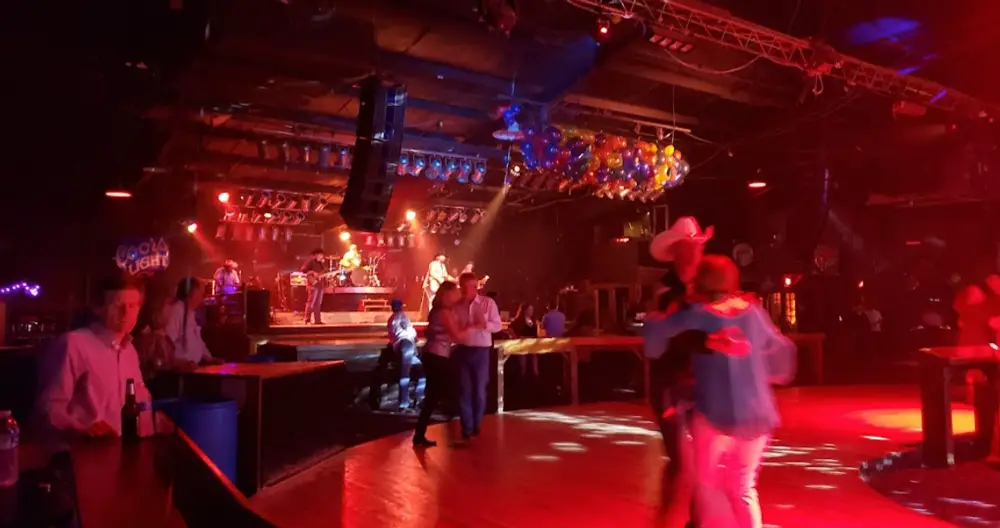 As such, this spot is bound to leave a lasting impression on visitors. You won't find many craft beers or luxurious mixed drinks at this venue. Still, you'll find a lively crowd, energizing live country music, and a remarkably authentic take on Dallas nightlife.

Where Is the Cowboys Red River Dancehall & Saloon Located?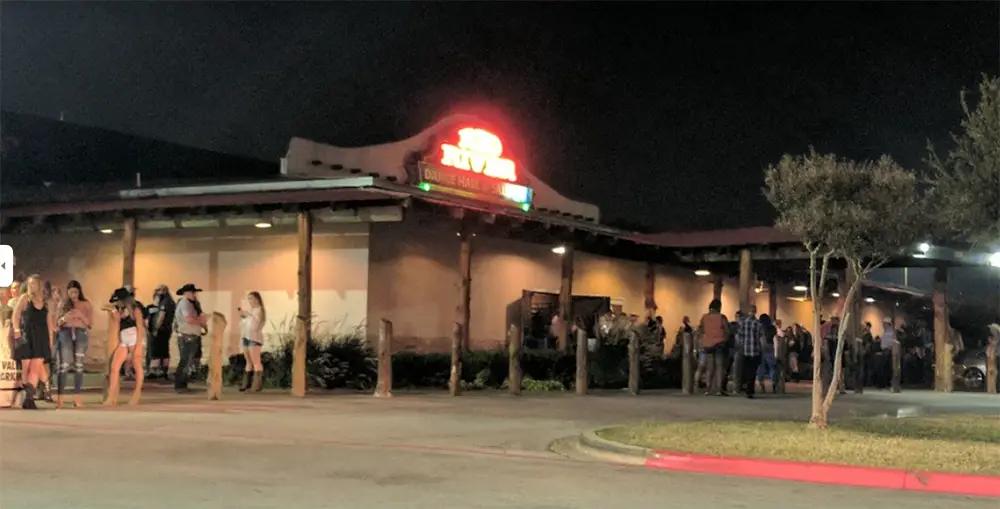 Cowboys Red River Dancehall & Saloon is located at 10310 Technology Blvd W, Dallas, TX 75220. It sits between two major highways, making it a challenging destination for those traveling by foot. 
That said, visitors can easily use a rideshare service to reach this unmissable Dallas destination.
Dallas's rideshare transportation options include:
Dallas Yellow Cab
Uber
Lyft
Curb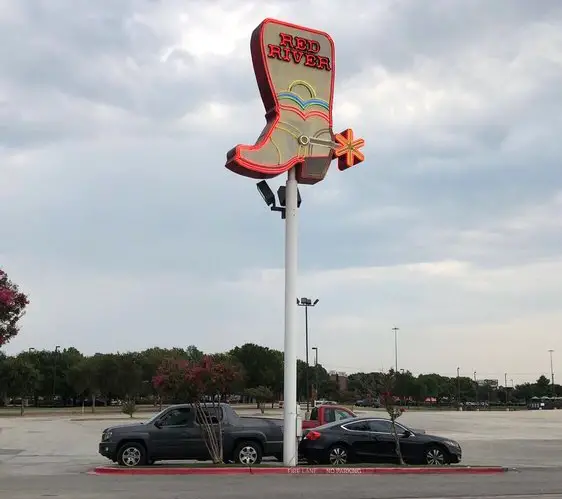 ---
What's Unique About the Cowboys Red River Dancehall & Saloon?
The Cowboys Red River Dancehall & Saloon is unique because it offers free and paid dance lessons to its customers. It also happens to be one of the most popular country bars in Dallas. Anyone looking to dance the night away in this Lonestar State city should consider stopping by this bar.
Another thing that is very cool is the oval race-track style dance floor with the bar in the middle. This made the dance contests held there over the years particularly fun as patrons watching were on the outside, but also in the inside as well. Check out the video below to get an idea of that and also see where you'll be dancing when you go!
If you happen to stop by this country bar during the weekend, why not try your luck at riding the resident mechanical bull? You can also choose to hold a special event or private party at Cowboys Red River Dancehall!
---
Is There a Dress Code at Cowboys Red River Dancehall?
For this, nothing unusual for your typical country bar & dancehall! Just be sure to have sleeves. No cuts. No elastic waistbands or athletic-type shorts. No open-toe shoes.
What Drinks Are Available at the Bar?
A wide selection of wells is available at the bar. The Cowboys Red River Dancehall & Saloon also offers several domestic beers and a handful of international options. For those in the mood for a mixed hard liquor beverage, margarita or vodka soda options are available at the bar.
The drink specials at Cowboys Red River change every day. If you're planning a visit to this dance-friendly bar, be sure to check their daily schedule. Doing so can help you budget for your night out.
---
Are There Daily Specials at the Cowboys Red River?
There are daily specials at the Cowboys Red River, offered nightly. The bar always has constantly-changing specials—these range from no-cover-charge nights for ladies 21 and up to low-cost drafts nights. 
You can check cover charge fees, live events, and drink specials quickly and easily! This excellent website upkeep makes it easy to plan nights out while in the Dallas-Fort Worth area. Cowboys Red River hosts ladies' nights, low-cost wells nights, and a variety of other rotating specials.
---
Is There Live Music at the Cowboys Red River?
There's live music at the Cowboys Red River, typically during the latter part of the week between Wednesday and Saturday. This venue is a popular spot for musicians and revelers, and the dance floor is often packed. Still, the busiest days tend to be Thursday, Friday, and Saturday.
Cowboys Red River also has a house band. Consequently, those looking to get down to live music won't be disappointed when visiting this top-rated bar. Tyler Hammond, Clayton Farhat, and Runnin' Behind are familiar guests on the Cowboy Red River stage, so you might get to enjoy some live music from this local band while you're there.
Is There a Cover Charge?
There's a cover charge when entering Cowboys Red River. However, actual prices vary depending on the day of the week or the event. Be sure to check the online event schedule when planning your visit.
It's also worth noting that the bulk of all cover charges are lobbied at visitors under 21. The primary exception to this unwritten rule is ladies' night when all men entering the bar might be required to pay a cover charge. Charges typically vary between $8 and $30.
---
One of Many Dallas-Fort Worth Country Dance Destinations!
As cool as Cowboys Red River Dancehall and Saloon is, it is actually just one of many amazing country dance venues in the Dallas-Fort Worth area. Check out my extended article on 12 dance opportunities in the Dallas-Fort Worth area!