January 19, 2023 | Country Dancing Tonight | Newsletter #9
Hello Country Dancers! And Happy New Year!
For this first email of the year, I have a very exhaustive recap of my time at the Vegas Dance Explosion last year. Check it out! If you were there you can relive some of the moments, but if not and especially if you've never been to it, or big dance conventions like it, hopefully, you'll get a feel for what they are like and come next time!
The main thing is that it's a place to be exposed to some great new line dance choreography that has only recently been hitting dance floors!
​Vegas Dance Explosion, 2022 – New Line Dances and All-Night Dance Parties!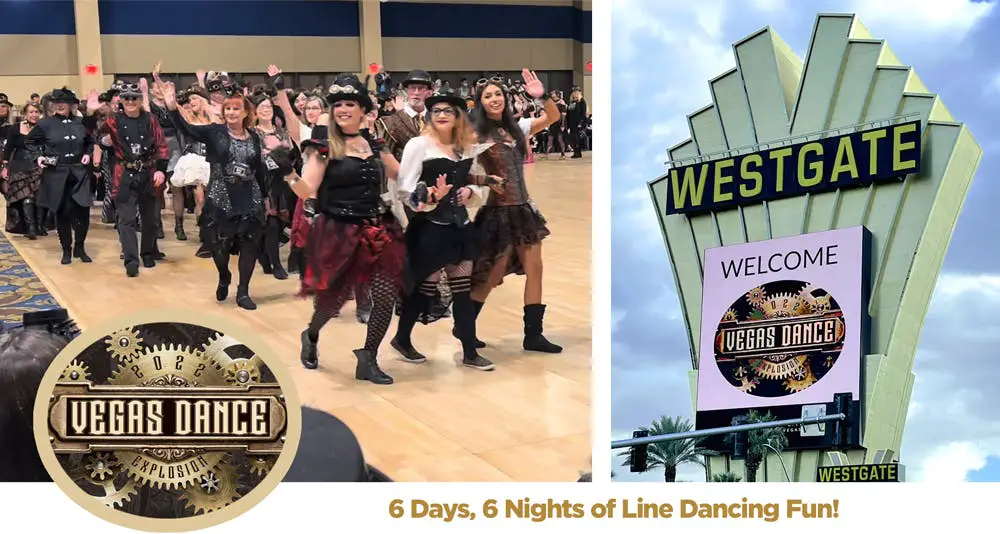 ---
Partner Dances
Also, I wanted to highlight an article that talks about all the partner dances that we love so much at the country bars. Check it out! I've also got a little extra thing now added to this article in the West Coast Swing section for newcomers to this dance! I would be interested in knowing what people think about that!
​10 Popular Couples Country Dances Everybody Loves!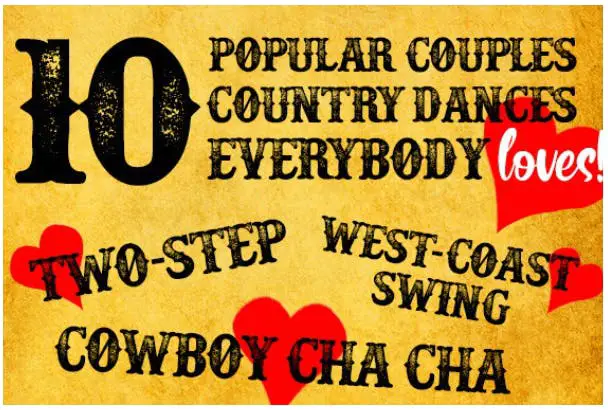 ---
Upcoming So. Cal. Dance Events!
I don't know about you, but for me this year has seemed to start fast! There's so much happening and so much coming very soon! Here in Southern California, two events in progress or coming up are the Edge Dance Convention in March and the Yearly Stagecoach Dance Contests!
THE EDGE
Yes, The Edge is coming! March 10-12, 2023 will see the 4th Annual Edge Dance Event! I love this event and want to let you know you can get your tickets now! Click here to Register!​
Besides all the workshops the Edge also features great dance competitions going on at night in the CRC Barn to challenge and entertain. In preparation for these, there will be some invitational competitions that are already in full swing! Here are the dates & locations!
Dec. 10 Cowboy Country, Long Beach CA (Saturday night)​
​Dec. 16 The Temecula Stampede, Temecula CA (Friday night)​
​Jan. 12 The Barn, Ramona CA (Thursday night)​
​Jan. 21 The Branding Iron, San Bernardino CA (Saturday night)
​Jan. 27 Buffalo Club, Boise ID (Friday night)
​​2/2 Whiskey Row, Gilbert AZ (Monday night)​
2/8 InCahoots, Fullerton CA (Sunday night)​
2/21 Country Nights with DJ Keahi and Debb in San Diego (Saturday night)​
2/24 Mavericks, in Pleasanton CA (Tuesday night)​
2/25 Stoneys, Sacramento CA (Wednesday night)​
​
Even if you are not competing, these are great nights to go enjoy seeing some great dancers compete!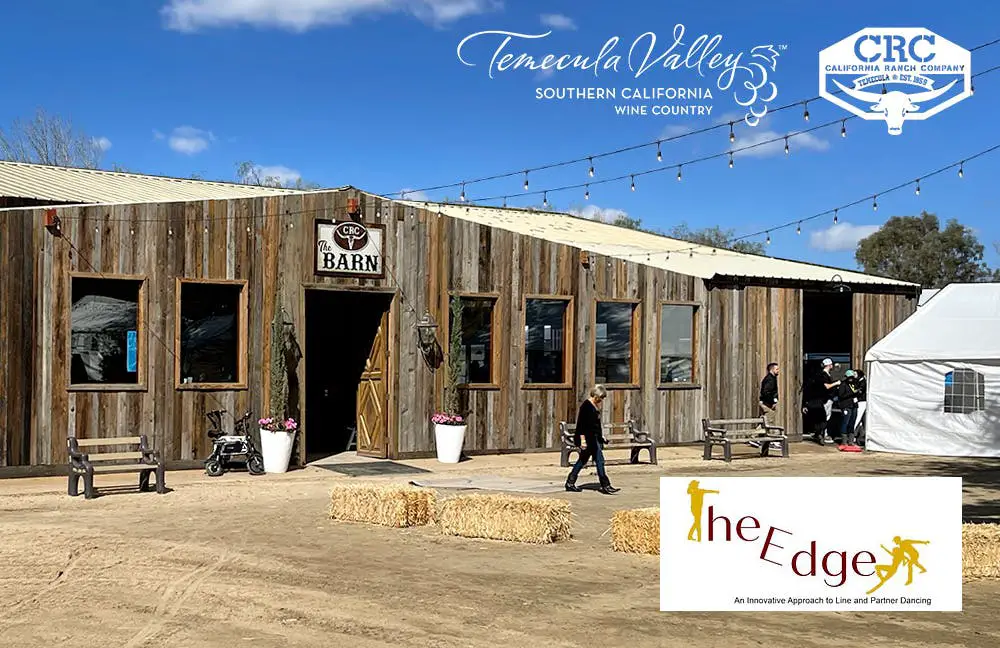 Beautiful Temecula Valley & Country Dance Workshops!
To see what this event is like, check out my blog post recap of it from last year:
​The Edge Dance Event – A Unique Country Dance Convention Experience!​
---
STAGECOACH DANCE CONTESTS!
With the new year here in So. Cal. Country music fans are very excited about the Stagecoach Country Music Festival and with this comes the great dance contests at the local country bars to win a Stagecoach General Admission 3-day Pass & a chance to be on the Stagecoach Honky Tonk Dance Team! Like last year I will soon have a blog post with all the details: The Bars, The Dates, The Dances! But for now, here are the dates/places:
#1 SAT 1/28 Cowboy Country, Long Beach CA
#2 THU 2/2 The Ranch Saloon, Anaheim CA
#3 FRI 2/10 Montanas, San Dimas, CA
#4 FRI 2/17 Brandin Iron Saloon, San Bernardino CA
#5 WED 2/22 InCahoots Fullerton, CA
#6 THU 2/23 Stampede, Temecula, CA
#7 FRI 2/24 BL Saloon, Agoura Hills, CA
#8 TUE 2/28 Moonshine Flats, San Diego CA
#9 THU 3/2 Buckle & Boots, Lancaster CA
#10 SAT 3/4 STONEYS, Sacramento CA
#11 SUN 3/5 Fantasy Springs Casino, Indio CA
So many dance contests! Even if you don't compete, these are super entertaining nights to go dancing and see the best dancers leave it all out on the floor!
---
A Sad Announcement
If you look at the blog much, or saw last month's email, you'll remember the fun "Dancer Spotlight" article we did on a guy named Gregg Tomchick. Sadly we lost Gregg shortly after that to cancer. All of us who had got to know him are so brokenhearted. We are still in shock really. The thing that really sort of started that whole article was how he had gone dancing 13 nights in a row! That was so crazy that I just had to tell that story! We're still processing how we lost him so soon.
In tribute and memorial to him, some of us who knew him thought it would be cool to "beat the streak" in his honor. So…. we're doing it! This coming Monday 1/23 we'll go dancing and we won't stop till 2/5! Below is a plan for all the places we will go for the 14 straight nights or days.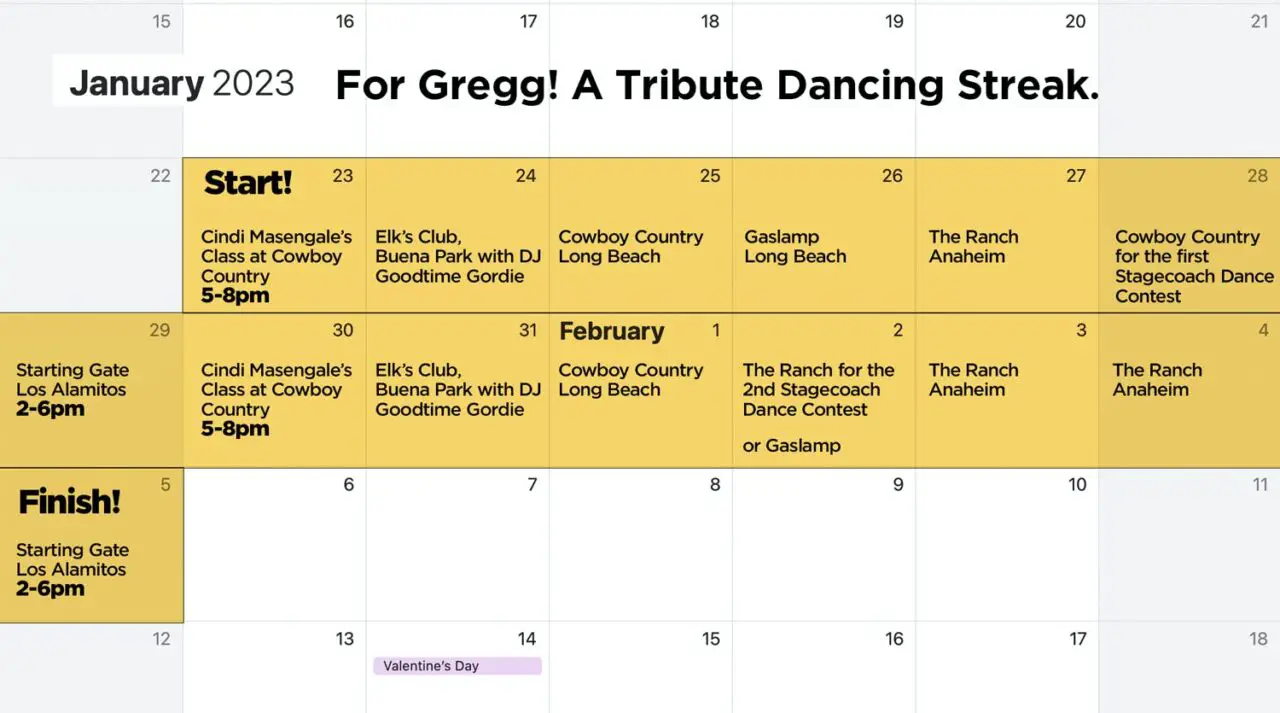 So, if you knew him or just want to come dancing with us, you know where we'll be!
---
Line Dance Instructor Spotlight!
If you come to join us in our 14 nights straight of dancing we will go twice to Cindi Massengale's class. She is a Long Beach line dance instructor at Cowboy Country & The Gaslamp. Check out more information on her classes here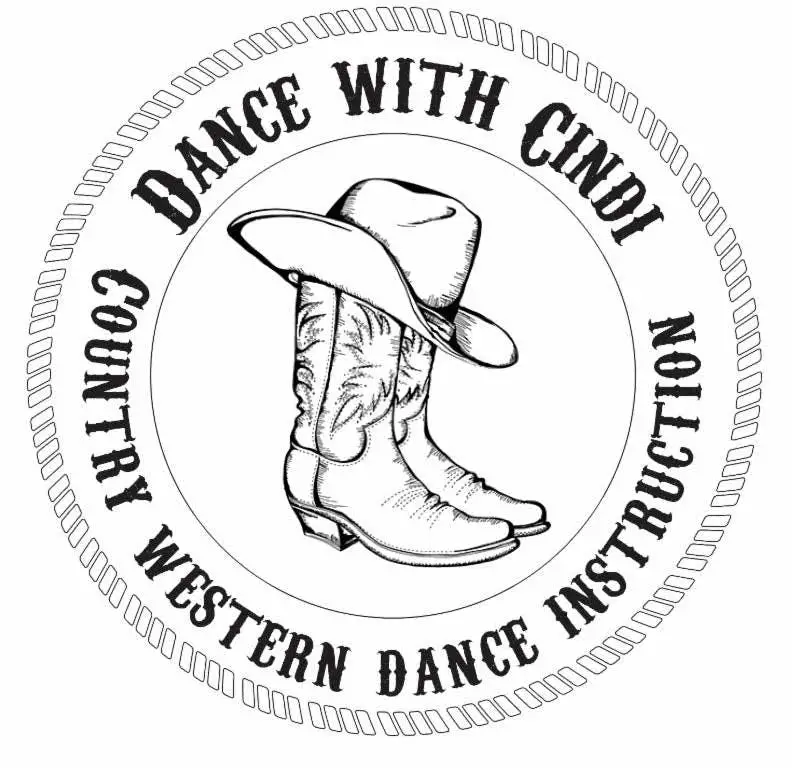 ---
Note: I know I have subscribers from all around and I'm reporting often on the So. California Country Dance Scene. So, please if you want me to mention or announce your event or classes anywhere in the world I would be glad to do so!
Just reply to the email and let me know!
---
Also, when it comes to cool dance halls and dance clubs in other places, please know that I'm on the lookout! Where are the best places to go dancing? Or what great country dancing events are coming up?
And, as a subscriber to my blog please let me know where YOU go dancing! I'd love to know! This might help me create the next giant exhaustive blog post for BEST PLACES TO COUNTRY DANCE in a city near YOU!
Brian