August 19, 2022 | Country Dancing Tonight | Newsletter #5
Summer Two Stepping!
Hello country dancers! Well, I'm back! I know I missed a couple of months there. I was just busy with life! A vacation trip, but then also I just kept getting sick and getting sick again! Ah, life!
Anyway, never fear, the country dancing blog is not dead!
​Check out my latest post:
​39 Great Country Two Step Songs for the Dance Floor!​
I've been excited for a while to put this list out there. There are other web pages out there that do it, but my list has a little more than just the songs! Check it out and if there are some other songs that should be on it let me know! At the least, enjoy some of the classic music videos I've included for some of the great classic up-tempo country hits over the years.
Besides that, there are also some new write-ups on some great country dancing venues around the country! Check them out below.
6 new posts about 7 great country dancing venues across 5 different states: Florida, Oregon, Arizona, California, and Ohio! And as always if you have a fun place you dance and think I should feature it here let me know!
Check out places to dance in these cities:
​Tampa Bay, FL – The Dallas Bull & The Stockyard
​​Orlando, FL – Cowboys​
​Portland, OR – The Ponderosa​
​Scottsdale, AZ – The Handlebar J​
​San Bernardino, CA – The Brandin' Iron​
​Medina, OH – The Thirsty Cowboy​
Lastly, another thing I was up to this summer was checking out the YESSS Dance Convention in Scottsdale AZ. It was similar to The Edge (see my write up on that here) that took place last March in Temecula California. One thing really great this year at YESSS was Robert Royston joining the list of instructors for the weekend (pictured below). I was pretty excited to see this and ended up taking 3 of his classes: Beginning Two Step, Beginning Waltz, and Intermediate Two Step. What a pro! He has a wealth of knowledge to share and takes you to the next level in your dancing. Check out the YESSS website for information about what YESSS is all about and for future events coming up! And check out my exhaustive recap of the event as well!
The YESSS!! Dance Convention – For All Dancers, Beginner to Advanced. A Better Dancer In One Weekend!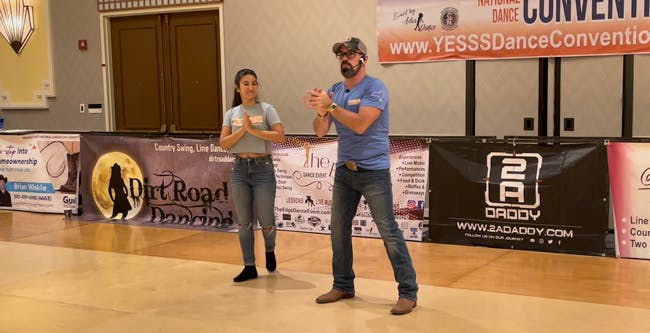 ​
So, that's all for now! We're all caught up! I hope you are all having a great summer and dancing your hearts out where ever you are!
Also, when it comes to cool dance halls and dance clubs in other places, please know that I'm on the lookout! Where are the best places to go dancing? Or what great country dancing events are coming up?
And, as a subscriber to my blog please let me know where YOU go dancing! I'd love to know! This might help me create the next giant exhaustive blog post for BEST PLACES TO COUNTRY DANCE in a city near YOU!
WRITERS NEEDED! Also, for my country dancing blog, I am also on the lookout to hire writers to help me put out some good, helpful content for the dance community!
So, looking for writers and even suggestions for the blog in general!
Thanks for reading!
Brian