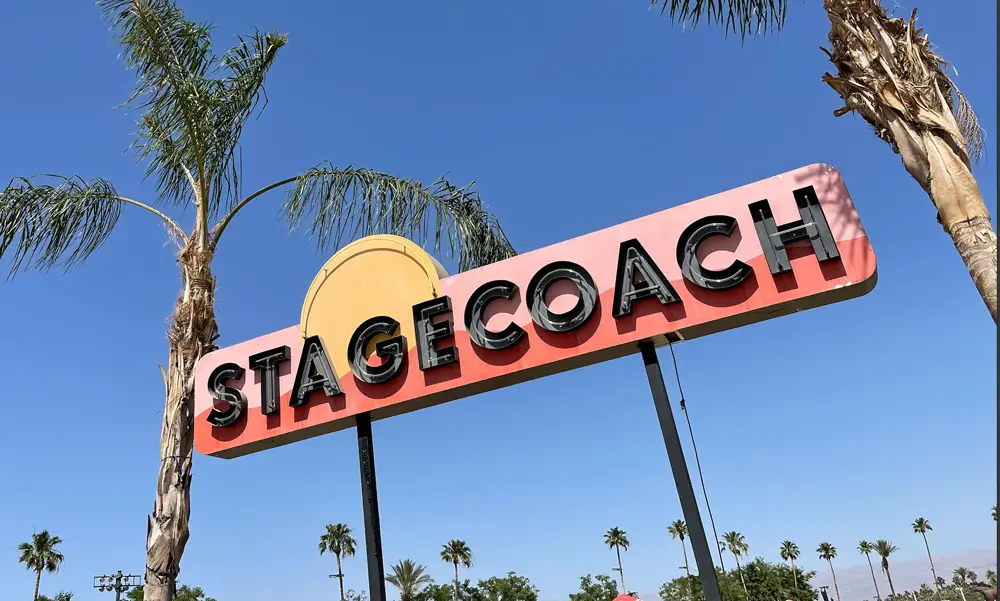 At the end of April, I went to the Stagecoach Festival in Indio, CA. I wanted to go since here in the SoCal area (and Stoney's in Sacramento!), there were dance contests for weeks leading up to this event. Check out my post on this if you missed it!
Winners from the 10 dance contests that were held would have the fun job of being part of the Honkytonk Dance Team which would be entertaining and leading the dancing at Stagecoach.
All that sparked my curiosity and I had to check out this big event and see what it was like.
I'm glad I went. Besides the great country acts in the evenings (Thomas Rhett, Maren Morris, Carrie Underwood, and Luke Combs, to name some of the big ones) the afternoons were open and were a great time to do some dancing.
Annmarie Dunn (program director) does a great job organizing and putting this attraction together for Stagecoach, not to mention all she does to organize the bar contests leading up to it!
The Honkytonk dance hall is a giant air-conditioned building and tent housing what seems like maybe the largest dance floor in the world! Over the weekend there are basically 3-12 hr. days of dancing!
Over the course of the 3 days, the dancing is kept going thanks to 12 different DJs, and 7 line dance instructors who gave lessons throughout. And, lastly, 5 different performance and social dance workshop teams treated the crowds to some cool dance performances as well as led large group lessons for those that were interested. Check it all out here on the Stagecoach site!
---
A Gigantic Dance Floor
As mentioned, the dance floor at Stagecoach was massive. I think this was the most impressive thing to me. However, just walking into the Stagecoach venue is a giant task in itself. The venue is massive! It reminded me of trying to traverse what was maybe 2X the OC Fairgrounds.
Eventually, I found and arrived at the Honkytonk dance hall. After all that walking the AC was a great relief, but then at the sight of the dance floor, my jaw hit the ground and I was ready to dance! Soon after arriving, I found my friend Ceci and we danced a Two Step and only got around the dance floor one time before the song ended! LOL!
Check out the pictures below and video to get an idea of what it was like! But you really need to go and experience it! In addition to the floor there was a bar attached and then some bar height tables to lean against and put your drink on. But not many places to sit really (just along the walls).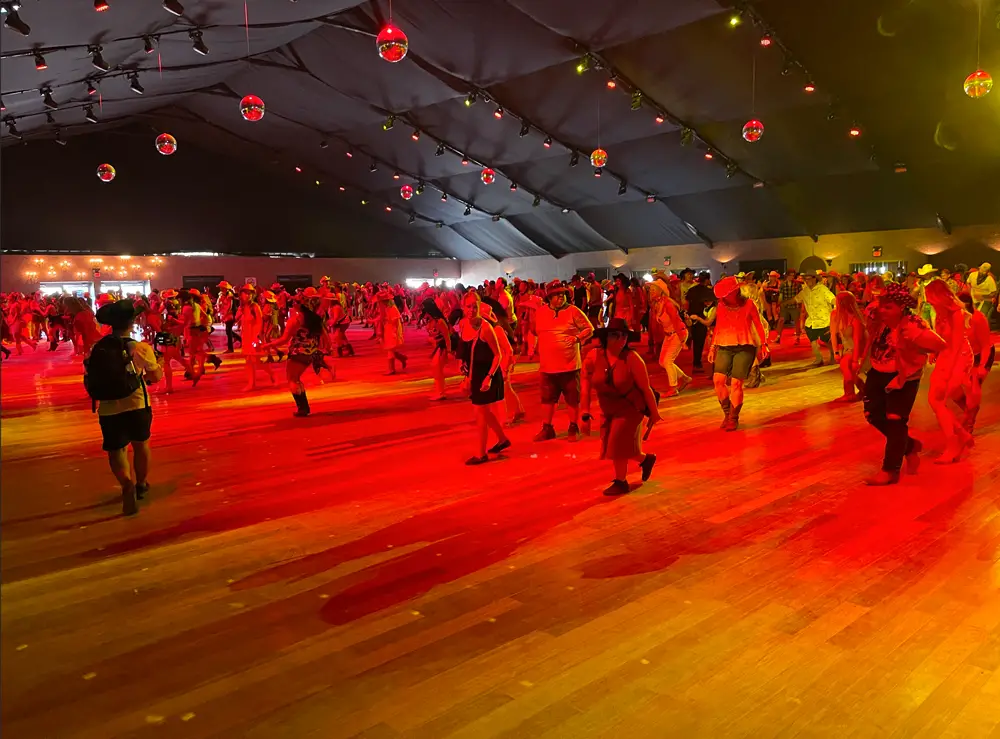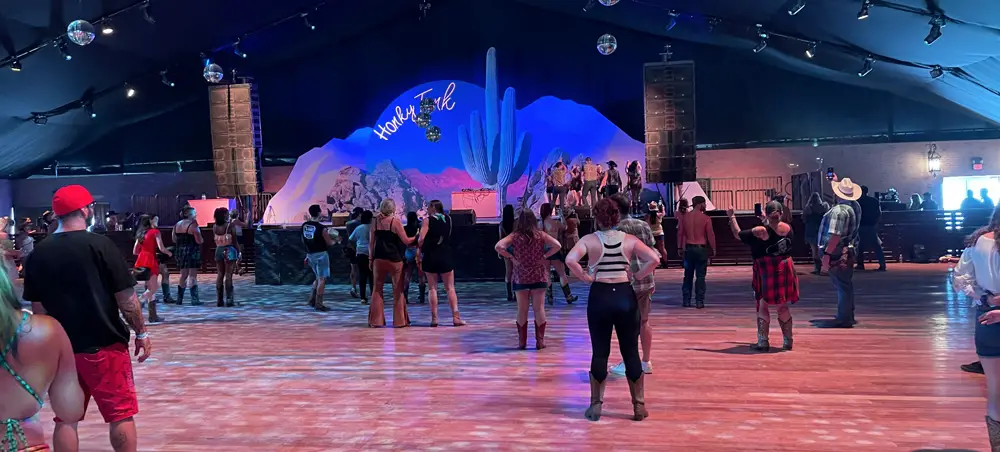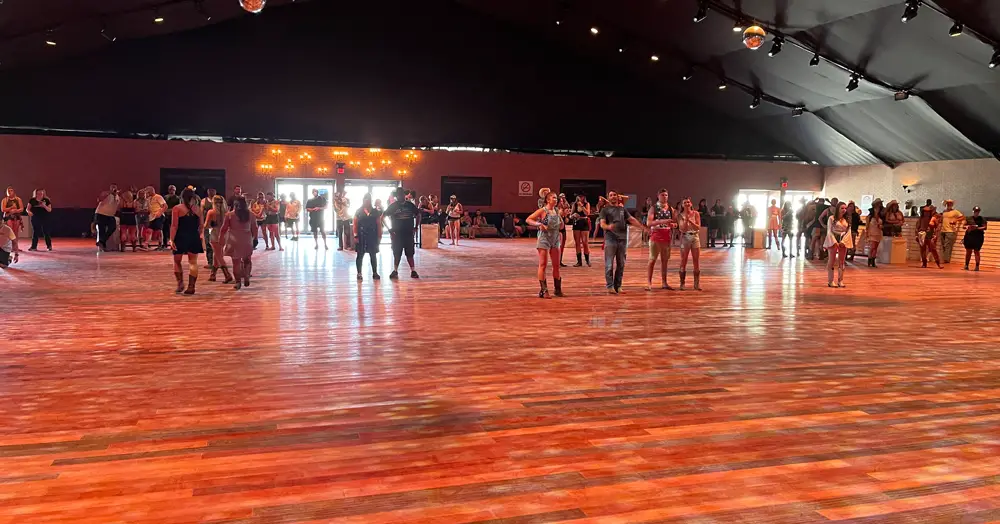 ---
Line Dance Lessons at Stagecoach
Between just arriving to the venue late every day and trying to take everything in I didn't end up taking too many of the lessons, but that was on me! There certainly was a great schedule and lots to learn throughout the weekend! There were 21 line dances taught in all. I was able to take classes from Cindi Massengale (Holler Back), Jonno Liberman (Weekend Vibes), Christopher Gonzalez (Dem Jeans), and Byran Roberson (Freedom was a Highway).
I enjoyed all the lessons I took but was particularly stunned by the scene when Jonno Liberman taught Weekend Vibes. Since the lesson was just later in the afternoon, there were just more people coming in to check out the dancing. He really had his hands full, but was unfazed and taught a gigantic crowd Weekend Vibes.
Line Dances taught at Stagecoach
Friday
Alex Jung – "Blow Me A Kiss" (BEG)
Cindi Massengale – "The Next Girl" (BEG)
Kat Painter – "Smooth Funk" (INT)
Jonno Liberman – "Anything Cold with Alcohol" (BEG)
Christoper Gonzalez – "K is for Kicks" (BEG)
Byran Roberson – "These Old Boots" (BEG)
Annemarie Dunn – "Bambalam" (BEG)

Saturday
Byran Roberson – "Blue Night Cha" (BEG)
Alex Jung – "Gives Me Shivers" (BEG)
Christopher Gonzales – "Turbo Twang" (INT)
Cindi Massengale – "Holler Back" (BEG)
Jonno Liberman – "Weekend Vibes" (BEG)
Kat Painter – "Ah Si" (BEG)
Annemarie Dunn – "Drunk & I Don't Wanna Go Home" (BEG)
Sunday
Cindi Massengale – "I Was On A Boat" (BEG)
Christopher Gonzalez – "Dem Jeans" (BEG)
Byran Roberson – "Freedom Was A Highway" (BEG)
Kat Painter – "Cake" (BEG)
Alex Jung – "Feels Good"
Jonno Liberman – "Best Life" (BEG)
Annemarie Dunn – "Salt, Lime & Tequila" (BEG)

So, overall a great lineup of excellent teachers teaching a great selection of mostly beginner line dances to the Stagecoach crowd. Interspersed throughout were the performances from the social dance teams like X Dance & the Super Twos doing Country Two Step. Check out the whole schedule here.
I also jumped into the Country Swing lesson from X Dance as well as the Two Step lesson from Rob Ingenthron & Team. The Two Step lesson was really great and went over some good basics including inside and outside turns.
---
My Stagecoach Experience
Since it was my first time going to Stagecoach, I learned a lot about just what it is like and also some important mistakes not to make next time. The main thing is to really pay attention to the whole "Yellow Path" and "Blue Path" thing as you come into the venue. It's a little disorienting just trying to leave and find your car at the end of the night!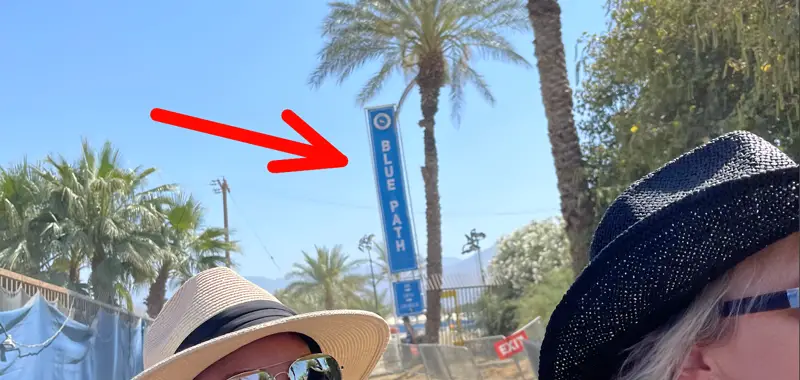 Also, it's just so much walking!! It's crazy. If you like accumulating steps on your FitBit or iWatch/iPhone, then this is your weekend! You will be walking minimally 15-20,000 steps. I noticed some people just come at the end of the day. They have their chairs and blankets and just get there in time for the last two headliners of the night. That seems like a good way to do it! I enjoyed the dancing of course and some of the earlier acts, but by the end of the night, I was toast.
But seeing the great country singers was worth it and I'm sure I'll try to get back to Stagecoach again.